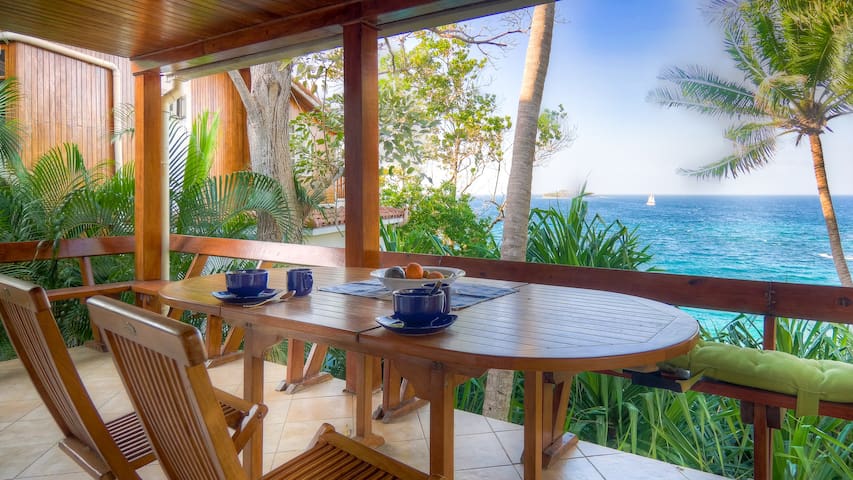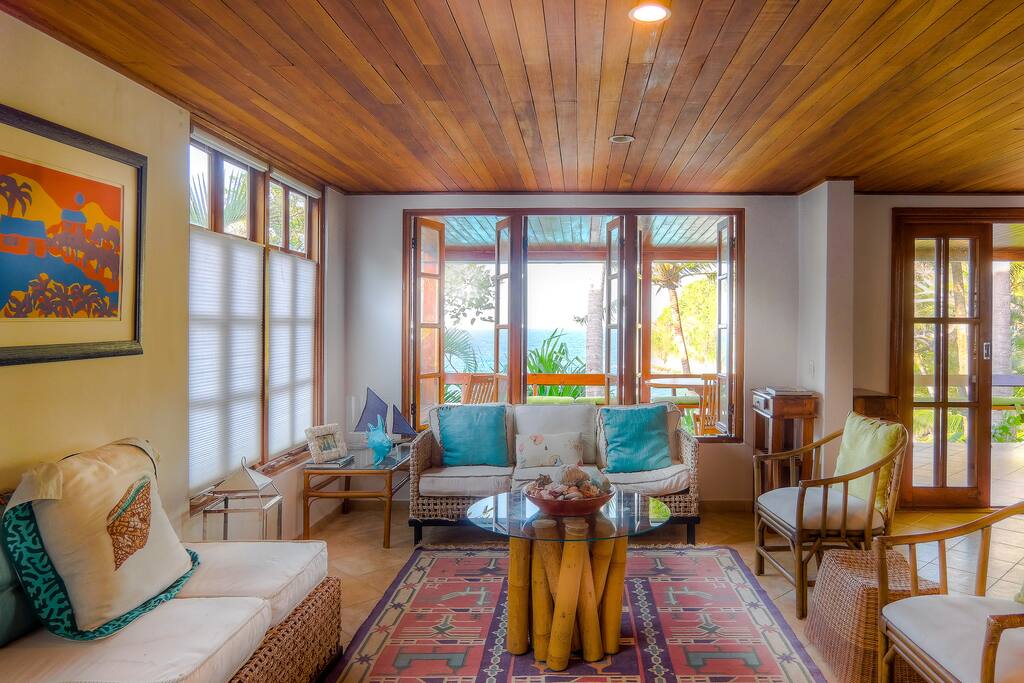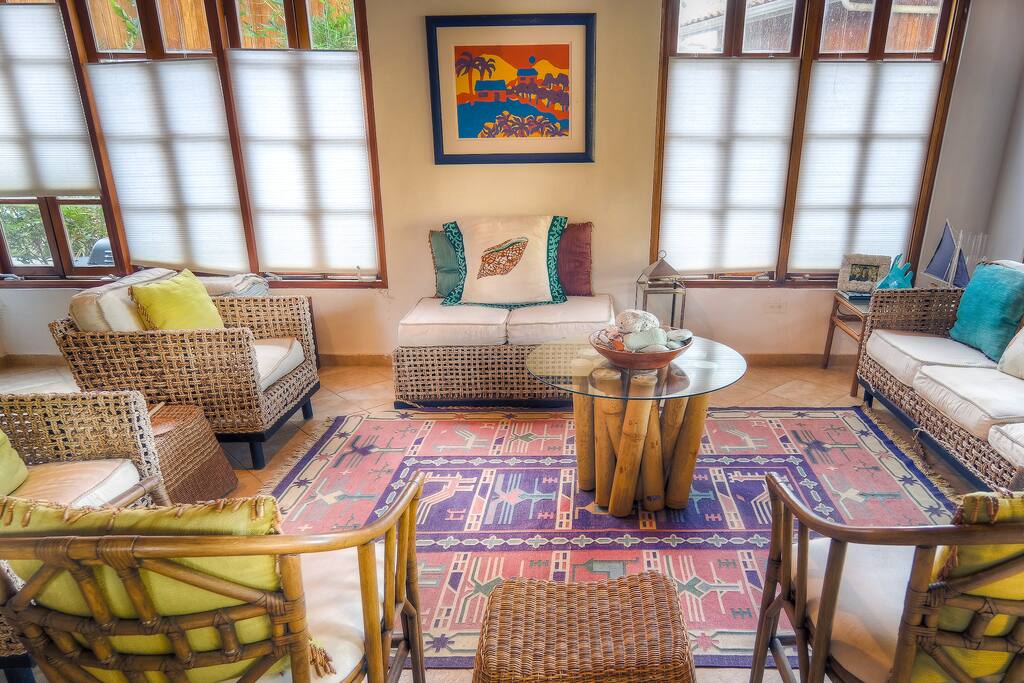 The villa enjoys spectacular ocean views and a direct access to the beach. It's surrounded by gardens and has a pool. Within walking distance you can access the air strip, the ferry, various restaurants, medical center and stores.
Our rate includes the transfers between the ferry or the airport to your villa along with the services of a concierge who can help you organize golf kart rentals, housekeeping, laundry services, food delivery, restaurant reservations and private boat/fishing tours.
房客使用权限
Our guests have access to the entire villa, the pool and have private access to the beach.
与房客的互动
Piero and Julio will be your local contacts. They will welcome you upon arrival (at the air strip or at the ferry landing). They will be always available to help you organizing your stay.
其他注意事项
We can help you organizing your ferry tickets from the city, with golf kart rentals and fishing/boat tours.
---
---
---
Quiet time after 10pm.
Please note that the stairs to reach the villa are quite steep and not recommended for persons with ambulatory challenges.
Please understand that due to the schedule of the ferries and planes the logistics is complicated. Upon arrival you will be able to drop your bags after 10am but housekeeping may need more time (until 3pm) to complete cleaning. On your day of departure, check-out time is 9am but you will be able to leave your bags until 3pm.
Prior to your arrival, your villa has been serviced and inspected. If you find anything that requires our attention, such as damage or missing/broken equipment, YOU MUST contact your local contact at any hour by phone (leave a message), by SMS or Email. That will discharge your responsibility and we will address the situation as soon as possible.
If you encounter any issues at arrival (ie. unsatisfactory housekeeping or
an appliance not functioning), we request that you contact us immediately
and we will address the situation. Our Guest Services staff live only 1
block away. Please note that we will NOT issue any refunds for situations
that were not promptly brought to our attention so we could remedy in a
timely manner.
We provide some basic amenities such as toilet paper and soap to facilitate your arrival but it's our guest's responsibility to replenish if
needed.
Being located in a tropical garden, we cannot guarantee an 'insect free' or 'hypoallergenic' environment. Our property is smoke free and pets are not allowed but we cannot guarantee that previous guests or neighbors haven't broken the rules. If you suffer from allergies, asthma, intolerance to humidity or insect phobia, DO NOT RENT FROM US.
Please make sure YOU HAVE TRAVEL INSURANCE as our policy does not permit any refunds for cancellation including major causes like flight or ferry cancellation, illness, injuries, death etc.
Before you go to Contadora, you should take note of the following points due to the remoteness of the island :
- the wifi signal comes from the pool area where it works well. However networks are not stable and the signal may not reach the villa with enough strength for your device
- the water pressure could be very low, specially after noon. It could be so low that it is difficult to take a shower.
- in some rare cases (end of the summer), there could be little water left on the island (pools may be empty and hot water cut in order to save water)
- please save water. If your water tank has been consumed, it will take a few hours to refill it from our well.
- water on the island is potable but may have a smell of sediment.
- when the occupancy rate is high on the island, you may experience numerous power outages.
- there are no ATMs or banks. Make sure to have enough cash with you as only some restaurants will accept credit cards.
- there are some grocery stores but with limited choice (nothing that compares to your supermarket at home…) and you will have to pay in cash
Please note that we will not reimburse your stay in the occurrence of the above events which are beyond our control.
Thank you for your understanding.
---
---
Jamás en mi sano juicio volvería a hospedarme aquí. Nos han timado cobrándonos por un producto/servicio que no se corresponde con la realidad. La casa parece abandonada. Está saturada de mugre y falta de mantenimiento. Puertas que no cierran o cierran mal. Aires acondicionados que no funcionan o funcionan mal. Cafetera que no funciona. Luces quemadas o que entran en corto circuito al prenderlas (quemándose y saliendo chispas y humo desde un techo de madera). Bichos por todos lados. Mugre acumulada. Sábanas y acolchados mugrientos y con muy mal olor. Casi no hay agua en el establecimiento (cuando las casas de la isla si tienen). Casi no hay agua caliente en el hogar. El dueño no responde los reclamos y Airbnb tampoco se hace cargo del problema. A La puerta de la casa se le trabo la cerradura y tuvimos que esperar fuera por horas para que la "reparen" (dejando la cerradura anulada). El Aire acondicionado de la habitación principal dejo de funcionar el mismo día luego de dos horas y tuvimos también que esperar a que lo arreglen. La tercera habitación está inhabilitada! (Baño fuera de funcionamiento, aire que no funciona y puerta externa que no cierra) y se accede por fuera de la vivienda (parece un galpón abandonado) Realmente una experiencia espantosa que nos ha llevado a decidir no utilizar jamás ni este alojamiento ni los servicios de Airbnb. Lamentablemente no alcanzan las palabras para describir la nefasta experiencia vivida pagando una fortuna por un lugar que supuestamente es de primera.
I am sorry but it's easy to write a long story. But the reality is that you never wanted to move to another villa when we proposed it because this one has a gorgeous ocean view and is just a few steps from the sand of the beach... It's a nice property and I agree with you that some minor imperfection such as a burnt bulb, or an AC remote control out of battery are no reasons to move out. The 'problems' that you encountered were resolved on the spot (we put batteries in the control of the AC, we exchanged the coffee machine, etc). The reality is that you wanted to stay with a full refund and were not even supported by air BnB.
---