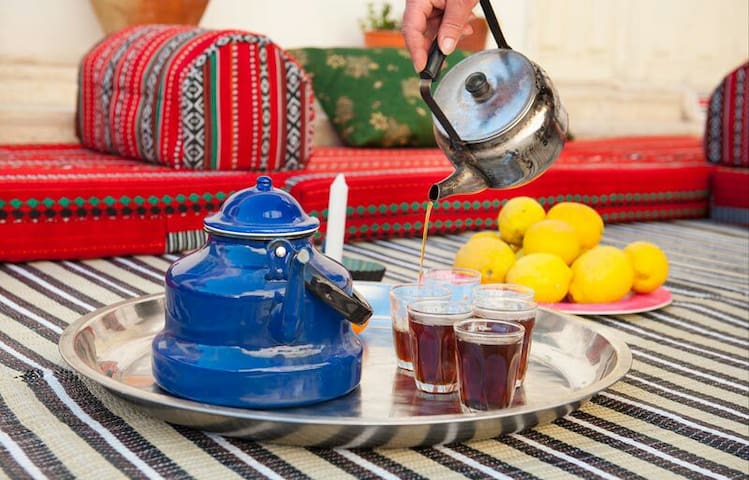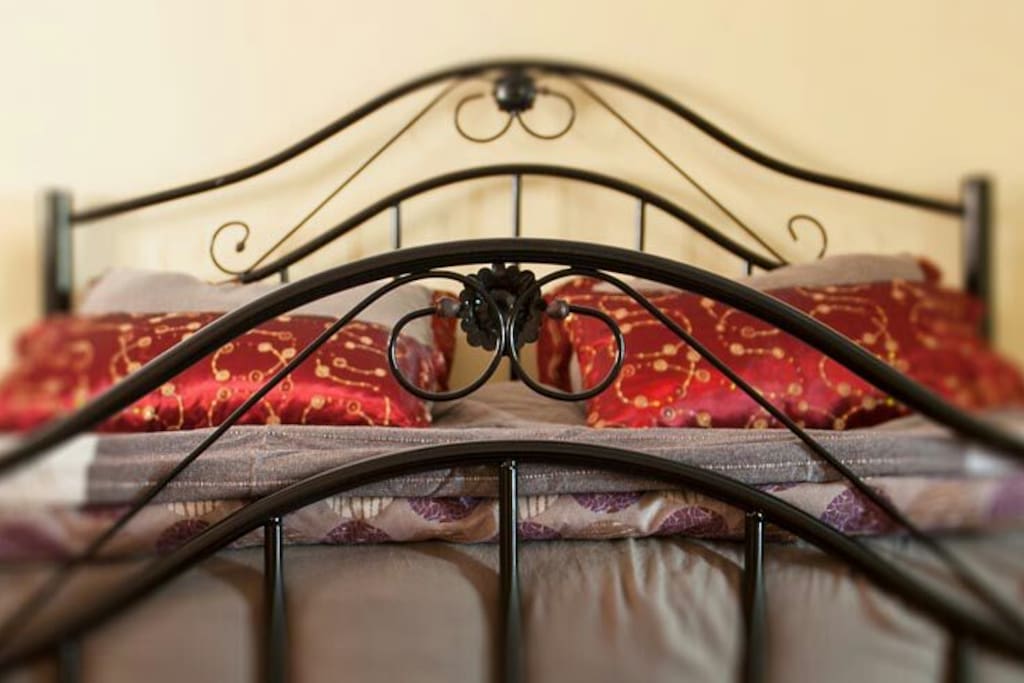 我们迷人的住宿加早餐酒店位于Petra山顶上的真正的Bedouin村庄的心脏地带。在这里,您将体验真正的床上用品生活方式和文化,远离纪念品商店和昂贵的餐馆只有3分钟。步行到佩特拉的入口处。
In the heart of the genuine bedouin village located on a hilltop in Petra, lies our charming B&B. Here you will experience real bedouin lifestyle and culture away from souvenir shops and expensive restaurants only 3 min. walk to the entrance of Petra.
房源
是什么让我们的B&B如此特别的位置在一个活泼的都柏林村庄的心脏地带,由Albdoul tripe的3500个床位。 500年前,他们从也门慢慢地向北移动,直到发现失落的佩特拉城,他们定居下来。他们牧养了他们的山羊,并建造了旧的Nabateans墓穴和洞穴,直到1985年约旦当局为位于俯瞰佩特拉的山丘上的他们建造了这个村庄。 这个村庄给你一个真正的体验,与附近的所有昂贵的餐馆和纪念品商店所在的Wadi Musa非常不同。
What makes our B&B so special is the location in the heart of a lively bedouin village populated by 3500 bedouins from the Albdoul tripe. 500 years ago they migrated from Yemen moving slowly up north until they found the lost city of Petra where they settled down. They shepherded their goats and made homes of the old Nabateans tombs and caves until the Jordanian authorities in 1985 builded this village for them located on a hill overlooking Petra.
This village will give you a genuine experience and are very different from the nearby Wadi Musa where all the expensive restaurants and souvenirs shops are located.
房客使用权限
我们提供免费无线网络连接,一个俯瞰主要街道的阳台和一个拥有阿拉伯语座位的大型户外区域,您可以在那里放松身心并观看乡村生活。
We offer free WiFi, a balcony overlooking the main street and a large outdoor area with arabic sitting from where you can relax and watch the village life.
与房客的互动
我们在这里确保您充分利用您对佩特拉的访问,并乐意为您提供任何帮助。我们有一个4轮驱动器,可以带你到任何你想要的地方。我们还有2只骡子和一只可以带你上山的驴,也许你想在Jebel Hourun之上的星星下睡觉,或者在Nabatean洞穴之一内睡觉。 你喜欢隐私,因为我们也会尊重。
We are here to make sure you get the most out of your visit to Petra and are more than happy to help you with anything. We have a 4 wheels drive that can take you anywhere you want. We also have 2 mules and a donkey that could take you up in the mountains and maybe you would like a sleepover under the stars on top of Jebel Hourun or inside one of the Nabatean caves.
Do you prefer privacy then of cause we will respect that too.
其他注意事项
You are welcome to follow us on Instagram @bedouinandbreakfast
One of our guests, Ashlee has kindly allowed us to share her experiences in Petra when she stayed at our BnB:
ashleetravels wordpress
2017/07/19/
petra-day-23-an-oddly-shaped-sunburn-a-donkey-17-miles-and-desert-encampment/
---
Thank you so much Tine for having me while I was traveling to Petra ~ the place is lovely and the atmosphere so welcoming. I loved getting to know the Beduin Village and to genuinely experience life there for the duration of my quick stay. It was my pleasure to meet you all ~ Hopefully I'll be back soon. Best, P
---
I loved everything about our weekend with Tine and Yasser. They welcomed us with open arms, treating us like family for the weekend. We were the only foreigners in the village, but it made the experience even better, as everyone in the town was respectful and welcoming (we ended up joining part of a wedding our first night here!). Ask to sleep in their lovely tent one of the nights, I think Tine is putting up a listing for that soon; but it was a humbling and peaceful experience. 10/10 recommend. I wrote a blog about my stay there if you want more details ((URL HIDDEN) "Petra").
---
Tine and Yaser were lively, sweet and fun hosts who are great at making conversation! We had a really nice time getting to know their local town and it is within a 25 minute walk to Petra! The room was very nice, clean and comfortable and they made some delicious food which they were very generous with. Tine and Yaser also took us out camping in the desert one night to stargaze which was out of this world! They have a lot of animals which is great for us but it's something to keep in mind if you have allergies because I do not think it's mentioned on the account. There was also a huge financial misunderstanding where we were only charged for half on our Air BnB account and were forced to pay for the other half in person which made for an awkward situation. The host attempted to tell us before but because it was not translated to English very well it made for a much more expensive stay. Have clear communication before going. Over all nice but just a few things to keep in mind.
---
We had a most plessant stay at Tines and Yasers place. We were welcomed most warmly by Tines sister in law Manal, who was an amazing host. Salem took us on a Trip to Petra entering through the backway. This is recommended most highly to everybody who wants to enjoy the real magic of Petra including the most scenic views over the mountains down until wadi araba. During our whole time there we felt perfectly at home and welcome as part of the family. For us it was the perfect stay and this place has to be recommended not only highly but highestly. Thanks again to all of you for making our time in Petra in the
---
Bedouin & Breakfast is hosted by Tine and Yaser. Tine is an Egyptologist who has worked for 20 years as a tour leader in Egypt, China, Uzbekistan, Europe and the Middel East but have now settled down in Umm Sayhoum and married Yaser, a bedouin from the Albdoul tripe who has lived in the caves of Petra the last 500 years. Yaser has worked as a trecking guide all over Jordan the last 11 years. They are the proud owner of 22 goats, 2 mules, 1 donkey and 1 dog.