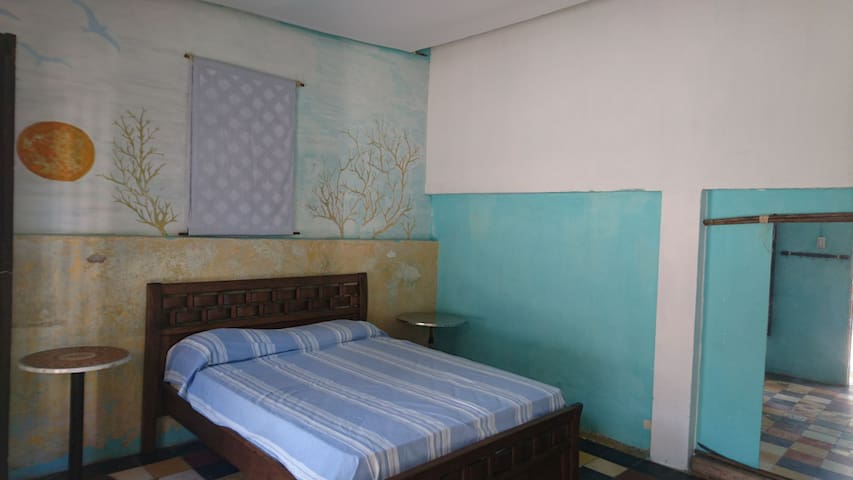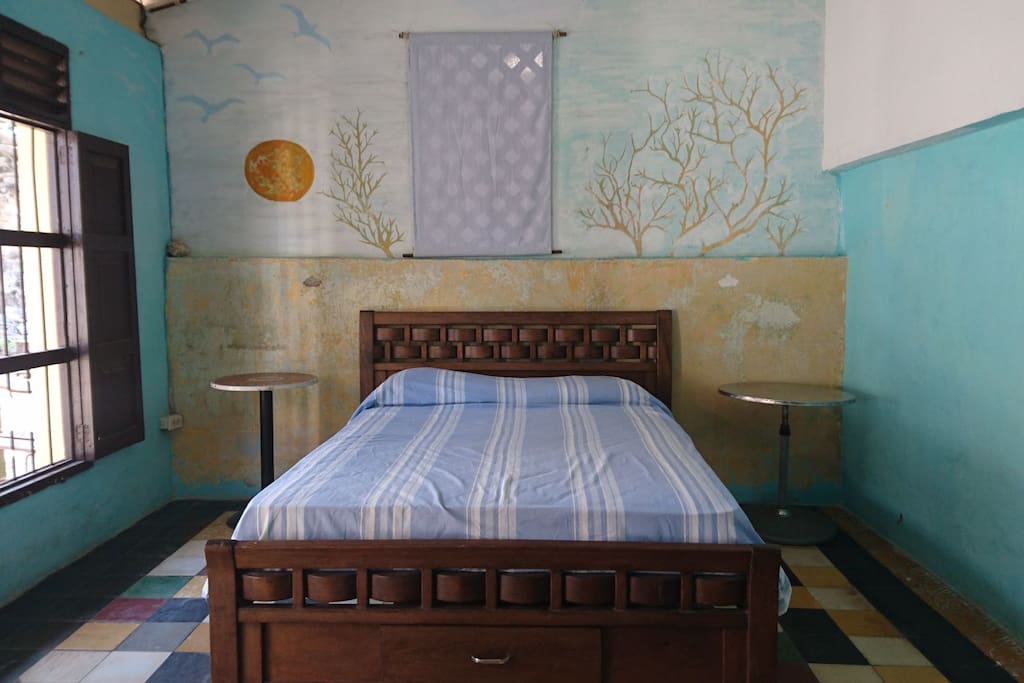 The room is located in my colonial house which im restoring, in the best neighborhood in my opinion. It is has a open patio with fruit trees and many places to chill. The room has everything basic you need. You could find some some harmless insect, some dust from the sky, if you have any problem with this, better go other place.
房源
Its a unique place for special people, with an antique 400 year old tunel. It has arte pieces all around because a lot of artist come to work here, incluiding myself.
房客使用权限
everywhere in the house except the other rooms
---
I have stayed in a LOT of Airbnb houses and this is by far the weirdest one (in a good way). The whole house is creatively built, very colorful and rustic, lot of sculptors and artifacts made of wood/scrapmetal, has a lot of open spaces and I loved it. The description says there's no WiFi but there was a decent wireless network. Sam wasn't around but his mom Adriana was. I had no trouble communicating. It gets super hot/humid in Cartagena and the place doesn't have AC. But there was a fan in my room and I didn't particularly "miss" having an AC. I had a lovely week in Sam's place and will most certainly stay here when I travel to Cartagena again.
---
I enjoyed my stay at Samuels place. The location is great and you do not need to go far in the evenings to enjoy yourself as the plaza down the street is lively in the evenings. Cartagena is very hot and humid so having the fan in my room was helpful but it was still difficult to sleep. Samuel was also responsive to any questions I had and made sure my stay was enjoyable.
---
Samuel's house the perfect spot for my Cartagena vacation. His house is conveniently located in the center of Getsemani; it is a 2 min walk to Plaza de la Trinidad, which is a lively spot to eat, drink and people watch at night. I didn't meet Samuel, but Stefania and Giovanni were there and were wonderful housemates. I highly recommend!
---
Such a great apartment with an awesome location! In the middle of old town. Everything is just close. The house is full of passion and details. Samuel was super friendly and a great host. He was very helpful and gave me good tips getting around. I will definitely come back again. Thanks Samuel !
---
El gran plus de esta habitación es su excelente ubicación. Getsemaní está lleno de casas coloniales de muchísimos colores y su vida nocturna es excelente. Queda a un minuto de la Plaza de la Trinidad (los mejores puestos de comida en la ciudad, en mi opinión) y a menos de 10 minutos a pie de la Ciudad Amurallada. Aunque Cartagena en general no es muy seguro, la zona de esta casa a grandes rasgos sí lo es. La casa tiene una decoración bonita porque está habitada por artistas (Por cierto, súper amables y sociables). El Wifi siempre funcionó muy bien. No hay agua caliente pero parece ser que eso ocurre en toda la ciudad. Algo que puede mejorar es la calidad del baño/ducha (cabe señalar que el lugar es concurrido así que toca compartir todo con bastante gente). El mayor problema que yo tuve fue en la habitación. Aunque no se ve en las fotos, hay un hueco entre la pared y el techo, así que los mosquitos (y el calor) se meten muy fácilmente. En general el lugar es bonito pero muy rústico. Si bien ninguno de estos inconvenientes me afectó demasiado personalmente, entiendo que a otros viajeros más exigentes sí les podría molestar un poco más. Con todo y todo, el lugar es una buena opción de alojamiento y sí lo recomendaría a visitantes jóvenes que estén en Cartagena por un tiempo corto. Gracias por todo :)
---