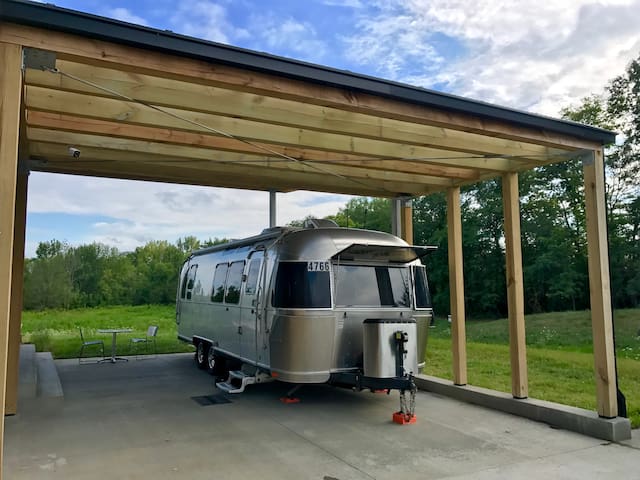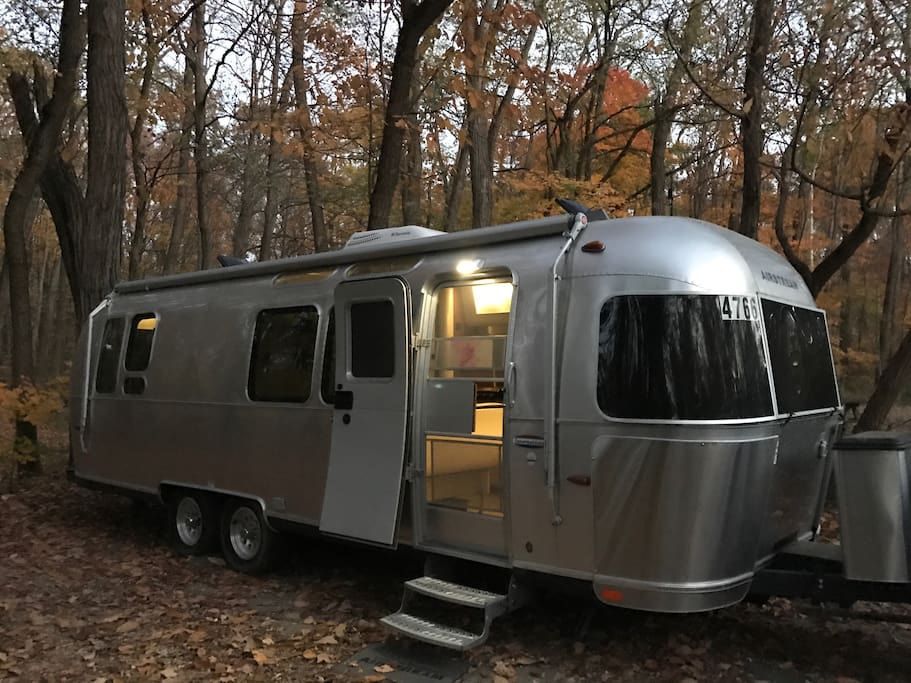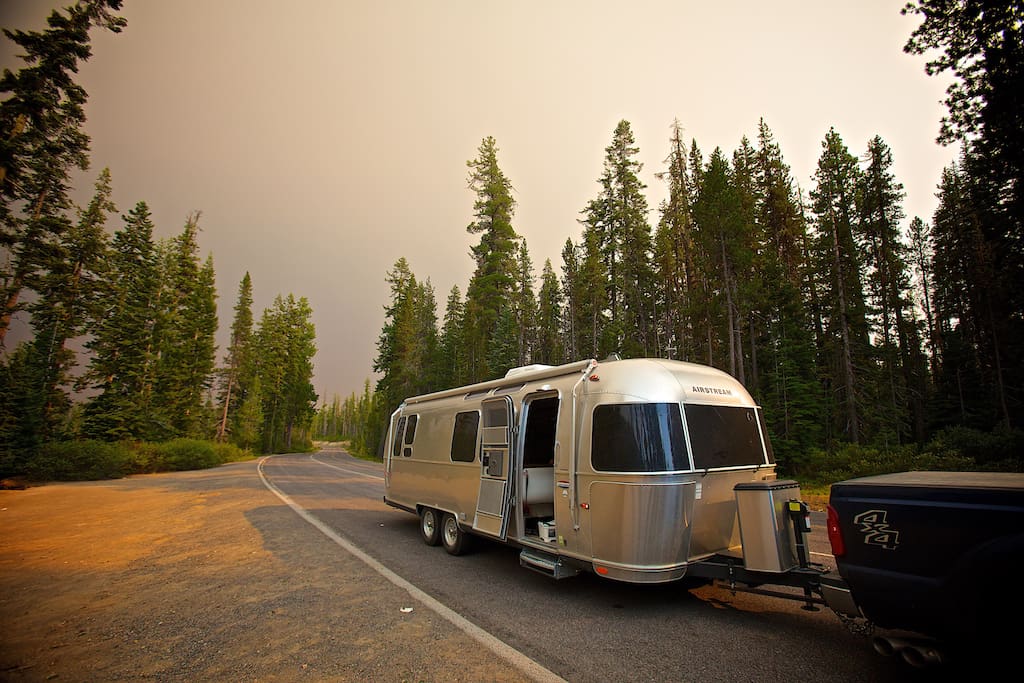 Exquisite, Custom 2014 Airstream near Indianapolis
Our spacious, custom 2014 28' International "Serenity" edition Airstream can sleep 6 in its 3 beds. It has its own kitchen, a bathroom and shower, a dining table, and a comfortable couch. You'll be parked on our 20-acre private lot where you can use a 1200 sqft. deck, explore trails, and enjoy some seclusion—while only being 30 min. from the center of downtown Indianapolis and 25 min. from Indianapolis Motor Speedway.
---
---
---
---
No smoking in or around the trailer, but you're welcome to smoke on the property.
---
---
---
---
Loved the Airstream, which sits on a beautiful plot of land with trees and wildflowers in all directions. But the best part was getting to know Kevin and Rachelle and their very smart, sweet and polite children. Really good people and hosts who live in an uber cool 2016 version of a midcentury modern home.
---
The bed is without question one of the most comfortable I've ever slept on. I actually found myself dozing when I intended to read. Everything was as neat as can be and clearly explained. Unit is close to the home as depicted but if you want to forget the world exists there is still the option of privacy by closing the curtains. I would highly recommend this very simple, comfortable, and unique experience.
---
We had a great time staying in the Airstream for a short visit to see family nearby. Kevin and Rachelle were great hosts, available to answer any questions we had and to help out as needed. "Annie" is located on their quiet and secluded property, surrounded by trees and wildflowers, just outside their beautiful modern home. We enjoyed listening to all the sounds of nature and there was plenty of space for our toddler to roam around; he especially loved the stone creek. The Airstream itself was clean and modern inside with plenty of space to hang out and lots of storage. We found it to be a great space for a toddler as there wasn't much for him to get into. Definitely would recommend to other families! We found many nice neighborhood parks nearby with playgrounds, a spray park and lots of walking trails. The surrounding countryside is gorgeous and it's a fairly short drive to great restaurants and other fun family things to do, such as the Indianapolis Children's Museum. We hope to be back again soon!
---
We were looking for something fun to do before our kids go back to school and when they found out we rented an airstream camper they were SO excited. Our stay was wonderful--everything was clean and Kevin and his wife are warm and inviting. Kevin even took our kids out in his jeep (aka Rambo) I would definitely recommend this experience!
---
Kevin is an awesome host. Very friendly and inviting. He even invited me to play ping pong. If you end up playing with him be prepared to lose. He is really good like pro good! The airstream was an awesome place to stay. My wife and I had never stayed in one before. It was a great experience for us. The bed is really comfortable and the place was spotless. The ac worked really well. Kevin really cares about your comfort while you stay at his airstream. We enjoyed eating at the table. It felt like we were camping. His house is just like the house you would find in dwell magazine. Would love to have spent more time with Kevin as he is a really down to earth person. All in all my wife and I had an awesome weekend. Do not hesitate to stay in his Airbnb.
---