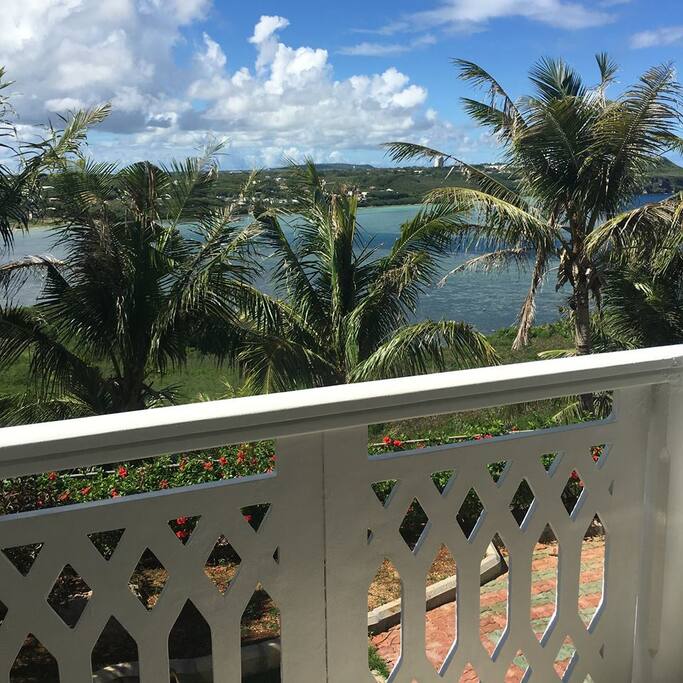 我的地方接近美景,海滩和家庭友善的活动。你会爱上我的地方,因为人,气氛,户外空间,邻里和光线。我的地方对夫妇,独奏冒险家和商务旅客都很有好处。
My place is close to great views, the beach, and family-friendly activities. You'll love my place because of the people, the ambiance, the outdoors space, the neighborhood, and the light. My place is good for couples, solo adventurers, and business travelers.
房源
If you need transportation services please inquire.
房客使用权限
这间公寓位于黄金地段,俯瞰着大部分关岛人无法获得的风景。该物业附近有一个游泳池,可在建筑物的一楼进入。如果您想吸烟(我们所有的公寓都是非吸烟设施),请使用阳台,并注意其他居民。
This apartment is located on prime, private land and overlooks a beautiful scenery that most people on Guam cannot get. There is a swimming pool near this property that can be accessed on the first floor of the building. If you would like to smoke (all our apartments are non-smoking facilities) please use the balcony and be mindful of other residents.
与房客的互动
推荐在关岛租车,特别是如果您需要帮助谁也去,我将很乐意与您的公司分享,价格比最便宜的价格。
Getting a car rental on Guam is recommended especially if you need help with who to go too I will happily be able to share with you companies that offer prices that are cheaper then most.
---
---
HOUSE RULES
• ALL APARTMENTS ARE SMOKE FREE
• Food is NOT allowed at the pool are
• For use of barbeque grill a reservation is required
- Please inform me so I am able to reserve it for you
• Breakfast is delivered to your door every day at 9 AM
- Please inform me if you do not want breakfas(URL HIDDEN)Breakfast is only good for 2 people if you want to add more there is an extra charge
• Smoking is NOT allowed inside any room of the apartment
- Smoke OUTSIDE on the balcony and throw away cigarette butts in the trash bins
- If there is any detection/smell of smoke in the apartment there will be a charge of $500
• Make sure all pots/pans/silverware/plates are washed before departure
• We only provide new towels every 7 days
• If the house key is lost there will be an requested additional charge of $25
• We do not do daily clean-up of the rooms (this is not a hotel)
• Do not take the pots/pans/silverware/plates/towels
- There will be a charge if they are missing
• Please throw out all trash bags in designated trash bins before moving out
• All food items must be removed from the apartments, including the sink and refrigerator
• Check-out must be at 11 AM
- After 11 AM there will be a charge of $25 for the first hour and $50 for the 2nd hour, if by the 3rd hour you are still there we will do a full charge of one whole day
• If there is a sudden power outage in your room/apartment complex please do not worry, Guam is currently undergoing stages of building a newer infrastructure
- Power outages do not happen often but in case it does, the power usually does return within a couple of hours
---
Maria is a really good host. My only issue is the place is very far from the main part of the island and I didn't rent a car. The taxi was $50. Rent a car! Maria had one of her helpers take me to airport. She is a class act and a nice person. Easy to communicate with.
---
바로 앞에 pago bay 가 위치해 있어, 아침마다 바다의 일출을 볼 수 있습니다. 번화가는 아니지만 조용히 휴식을 취하기 좋았고, 투몬베이까지 승용차로 20분 정도면 충분히 이동 가능했습니다. 식기나 수건, 이불 등이 매우 깨끗했습니다. 아침도 매일 가져다 주었고 빵, 볶음밥 등 간단히 먹기 좋았습니다. 다만, 침대가 너무 불편했고, 조리도구 중 칼, 가위 등은 챙겨가셔야 하며, 요리를 할 예정이라면 모든 걸 챙겨가셔야 합니다. 기본 양념이나 오일등 전혀 없습니다. 호스트와 소통은 신속하고 친절합니다. 전반적으로 매우 만족스러운 숙소였습니다 :)
---
Our place was wonderful and has a quiet serenity, it is described exactly as it is, gorgeous ocean view, breakfast (so generous), indeed and a nice beach to relax. We didn't use the pool, my daughter and I went down to the pool and watch the sunsets, we saw some people with their families who were having a get together that Saturday afternoon with their kids, they were nice and friendly. The next day my daughter and I we were going to swim, someone has left scattered used baby diapers on and around the pool premises, was surprised why and who would do such thing, homes are lovely and would be surprised if other tenants did not pick up their thrash, Maybe it was a weekend? And no cleaners on the weekend. Above all, easy to get in and out of the place, plentiful of parking! Very nice host, easy to contact our host, good wifi! Our place was clean and comfortable. I would rent this place again.
---
괌의 동쪽 절벽에 위치한 숙소는 방에서 보이는 굉장히 아름다운 해변뷰를 가지고 있습니다. 방과 거실에 있는 그림들의 선택도 매우 훌륭합니다. 욕실도 깨끗하고 수건 퀄리티는 묵었던 숙소중 가장 좋았습니다. 세면대 위의 도구들도 빈티지한 멋을 자랑합니다. 단, 세면대를 처음 사용할때의 조작법이 생소할수 있습니다. 수도꼭지의 노브는 하나이고 좌우가 뜨거운물과 찬물을 선택할수 있고 위아래로 누르는 것이 온/오프 입니다. 가브리엘과 그녀의 할머니들이 우리를 숙소까지 안내해줬고, 우리는 쉽게 숙소를 찾을 수 있었습니다. 또한 바다가 보이는 곳에 야외 수영장이 있으며 굉장히 아름답습니다. 숙소에 거주하는 개가 한마리 있는데 체크아웃을 하는 날 주차장까지 따라와 배웅해주었습니다. 가격대비 매우 훌륭한 선택이 될 것입니다. 한가지 아쉬웠던 점은 쓰레기통이 없었던 것이 었습니다.
---
Bad-lizard, no hair dryer, not enough towels, no answer from the host, not enough hot water, far from the beach, couldn't find the pool Good- Easy Check-in and direction to the location. Flexible breakfast time. Quiet
Hi Suhyeon! The beach is about 5 minutes from the property there is map attached to the pictures shown in the booking as for the pool it is located on the first floor of the property to your right! As for answering about the hair dryer I do apologize I must have missed your message usually I'm very prompt at replying.
---
Hi my name is Gabby Hizon! I was born and raised on the beautiful island of Guam and come from a real estate orientated family. I studied in Tokyo for University and loved the fact how it was very international. My goal is to showcase our beautiful properties in the best way …
语言:
English、日本語