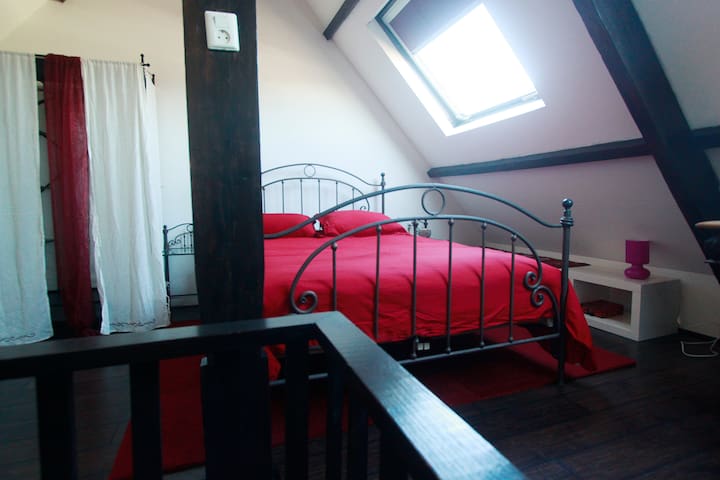 Big apartment for upto 5 people!
If your group consists of 2 couples, or you're a family of 5 or 6 (or perhaps even 7 if you don't mind sleeping on couches) & you enjoy a quiet area close to the city but also close to parks & recreational areas hen our apartment is perfect for you!
房源
I'd like to extend you a warm welcome in advance to fantastic Rotterdam. Thank you for taking an interest in our home! Please know that as well as offering you a comfortable place to stay, I also take great pleasure in being of assistance in any way I can.
There are also 2 bikes (one with a child seat for children 2 - 5/6 years) which you can use whenever you want.
Our place is situated in one of Rotterdam's most popular areas for families, 'The Kleiwegkwartier'. The Kleiwegkwartier, aka Hillegersberg-Zuid, is renowned as a quiet, child-friendly neighborhood and is populated almost entirely with younger middle class families and/or couples in their thirties and forties. This 85m2 fully furnished property has its own private entrance and consists of 2½ floors located on the whole first, half second and whole attic floor. It has a modern interior style with 2 bedrooms and features:
Mosaic tiled, fully-equipped kitchen with:
- Krupps coffee machine & pellets
- little oven for pizzas and baking
- dishwasher
Spacious living room & dining area with
- modern, very comfortable couches (good for sleeping for people 170cm and under, children for example when necessary)
- 36 inch flat screen TV
- TEMPUR single mattress bed
- broadband Internet
- original stained glass windows
- wooden dining table & chairs
Spacious bathroom with
- bathtub with temperature regulated tap
- washing machine
- dryer
Master bedroom featuring
- A-framed ceiling with exposed beams
- queen-size bed
- dark wooden floors
- large windows with curtains that can shut out light
Second bedroom with
- king-size bed
- wooden floor
This property is located in the suburb next to 'Hilligersberg', which is known as the most prestigious suburban area of Rotterdam. Aside from its wide lanes and green parks it offers a variety of cultural activities and excellent restaurants. Supermarkets, specialty shops and numerous playgrounds are within walking distance. Public transport is easily accessible and the center of Rotterdam is only a 10-minute tram ride away. Free parking is in front of the door.
Grocery shopping - there are many different places to do that in the neighborhood. There's the famous Albert Heijn on the kleiweg which has nice things but it's much more expensive that other places. There's a Lidl about 5 minutes bike ride and of course you know that supermarket but what you probably don't know is that in Holland it's tested as the supermarket that uses the least pesticides on fruit and vegetables. The adress is Teldersweg 76, 3052 TL. There's also an organic foodshop on the kleiweg (Zonnemaire) and for a little bit more money than what you would spend at the albert heijn, you can get everything organic. Things like milk, bread, pasta etc are pretty much the same price, sometimes even cheaper.
If you like organic food there's a huge organic food center in the city, it's called De Groene Passage and it's a wonderful place. Big supermarket, bread and cheese shop, butcher, restaurant, gift and new age book shop.
And perhaps one of my favorite places in the Rotterdam area is 'Elysium'. It's a gorgeous, incredibly luxurious sauna complex on the way to the laagse bergsebos (bos = forest). The outdoor heated salt water swimming pool is incredible; just like swimming in the Dead Sea. I fell asleep while I was floating in there... You may have to get used being naked (no swimming costumes allowed but in the relax rooms/dining areas bathrobes are compulsory) but once you do it's so fantastic. And the steam rooms - about 5 different ones - are so good. There's also an oxygen sauna that's so great. It costs around 30 euros to get in but you can spend the whole day there if you want - from 10 - 23.00. At the moment every 3rd Monday of the month are days when a swimming costume is compulsory - if you don't feel comfortable about being naked, and every 1st and 3rd (and 5th when applicable) Monday of the month is Ladies only.
---
---
---
---
No smoking inside please - that's what the balcony is for. No loud music for hours on end and/or after 21.00. Please take the neighbors into consideration, especially downstairs and tread lightly through the living room whenever possible. It's preferable to be without shoes in the house but in any case no high heels on the wooden floor as this just make too much noise. Please treat our home with respect and care and for the rest, enjoy!
---
---
---
---
Julie is very helpful, kind and thoughtful. The apartment is wonderful and it felt like our own home :) the public transport in rotterdam is very good, so you can get easily to the central and the central station. When we come back to rotterdam we will definitely stay at julie's apartment again! It was one of our best accomodations so far.
---
Julie's place was spacious and comfortable for a group of 5 adults. The house had real charm and was in a great neighbourhood with bakery, supermarket etc. We walked to central Rotterdam in 35 mins but could have used public transport located close to the apartment. Finding parking nearby was fairly easy. Julie was a great host who communicated very well. Would definitely stay again!
---
I'm originally from Australia but have lived in different parts of Europe (primarily in Holland) for the past 18 years. Since 2014 I have a home in Amsterdam and because I also spend a lot of time in Greece where my son and his father live and our previous home in Rotterdam is often empty, why not offer it to other families looking for a home away from home?

I love life and many things, some of which are dancing, vegetarian food, photography, being a mum, making treasure from trash and just in general seizing the moment and going for it!
语言:
English、Nederlands