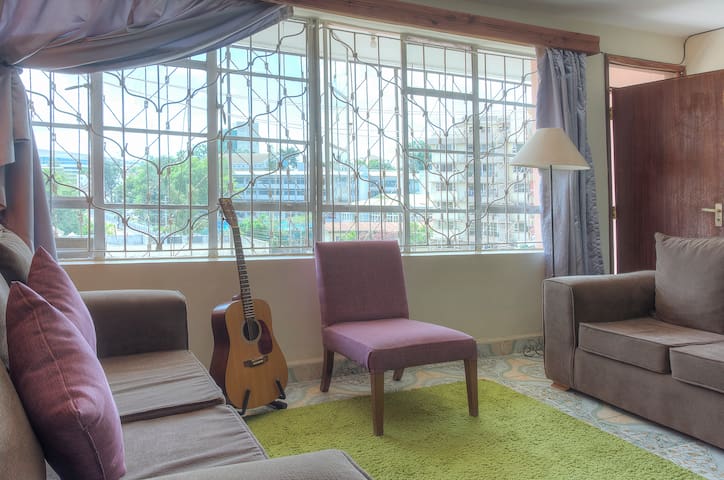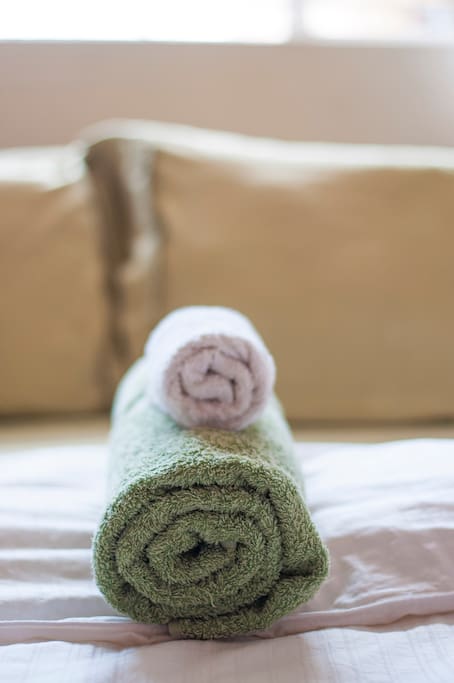 Great location in Westlands with two entrepreneurs
Hi! We're renting out our spare bedroom and would love to have you stay with us! We love it here because the location is perfect - most everything in Westlands - Woodvale, Westgate, Sarit Centre, Diamond Plaza & Parklands proper are all within a 10-15 walk from our place.
An Uber is at your doorstep within 3 minutes, and a matatu line is downstairs for the true explorers. Our place is good for couples, solo adventurers, and business travelers. Look forward to hosting you!
房源
We like our place because it's truly a local community - I'm (Peter) the only 'expat' living in the compound, and it's a well worn but super safe and great space. The other thing is the location - and this is why we'll never leave here. It's so close to anything you need that you can get by on foot super easily and safely, or a quick Uber away from any amenities you need.
房客使用权限
We have a desk with a monitor you can use anytime in the living room, and all our kitchen utensils are open to you as well. We'll have some basic breakfast stuff open for you to use - a French press, coffee, eggs, oatmeal & some fruit - if you'd like some breakfast on us.
The bathroom & shower is not self-contained, but you'll be the only one using it. We have a separate bathroom & shower that Nelly & I use in the flat.
Also, we have a housecleaner who can cook basic Kenyan meals for you as well if you're staying with us for a bit (we'll need to give her a day's notice though for her schedule), and she can do laundry for you too - it'll be handwashed and air-dried.
与房客的互动
We both love meeting new people and while we've never done AirBnB before, we host friends often when they're coming through town. We're both working on our own startups so we're typically early to sleep & early risers, but happy to give you recommendations on things to do & places to check out.
If you're a runner or like the outdoors, there's a running group we can introduce you to (I go every weekend), and we usually do something outside on the weekends if you're down - Karura Forest, or Ngong Hills, or just a cafe outside.
其他注意事项
Okay, the fine print:
First, climate change. Our flat is under water rationing from Nairobi Water due to inconsistent rains in the region. What that means is we usually don't have water in our taps on Sunday & Monday (exactly when depends on how much water our apartment uses from our apartment's shared water storage) - so these are bucket bath days for us (we heat the water in a kettle so it's at least warm). We keep enough stored water in tanks locally in our unit to last several days, so general bathing, flushing toilets, washing dishes, etc. is totally fine during the rationing period - it's just kind of a pain in the neck and out of buckets instead of a tap.
Second, Nelly and I manage the listing but we also have a (super amazing) roommate, a Swiss masters student, who's staying with us too - so it's 3 people in the flat, plus you(s). The bathroom is shared with one person (our roommate).
Third, it's a walkup, 4 floors. I think it's mentioned somewhere else on this listing, but just to reiterate. So you'll get some cardio to & from our apartment.
---
Hi everyone! My wife and I are renting out our spare bedroom and we'd love to have you! We're both entrepreneurs living and working in Nairobi, originally from the US and Kenya. We like to cook and eat good food, be outside to enjoy all the amazing weather and outdoor activities Kenya has to offer, and listen to good tunes. Karibuni!