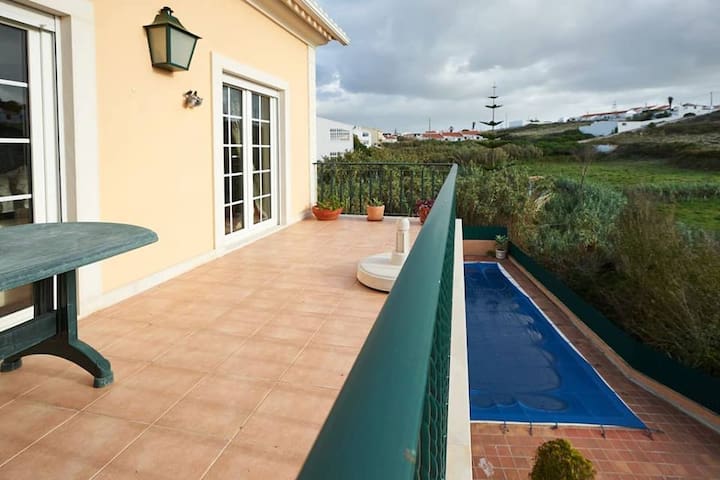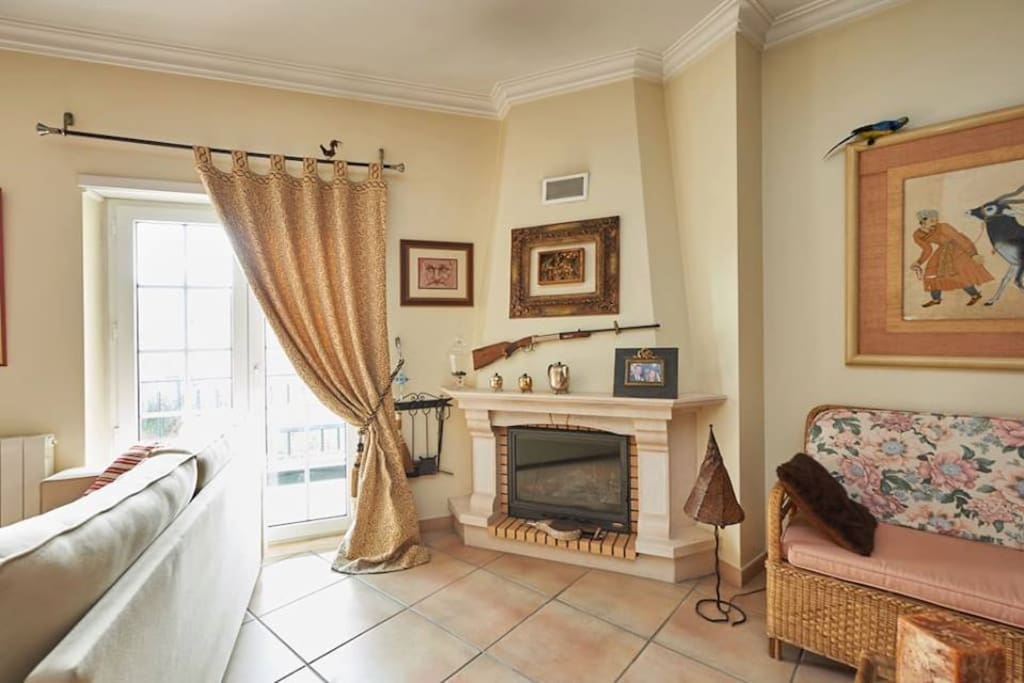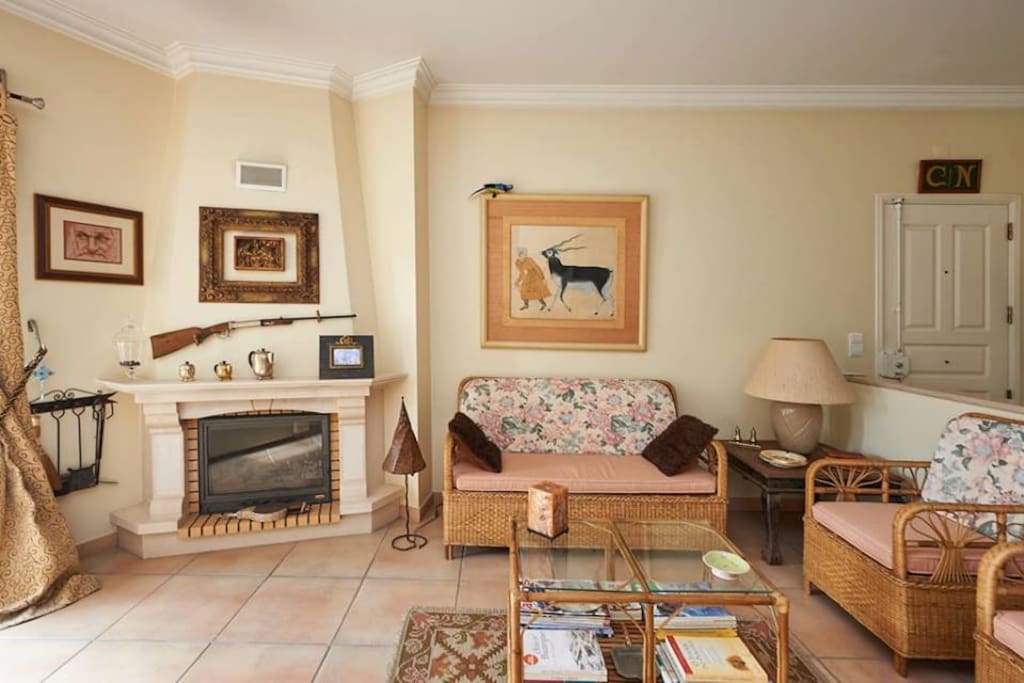 This apartment is located in the 1st floor of a house in São Julião (300 meters away from beach), near Ericeira (7km away) - the best destination for Surf. The apartment belongs to a private condo and it has a swimming pool, barbecue and private garage to park your car. It also has an amazing terrace with a beautiful view over the beach and saw where you may enjoy a good meal. This is the perfect place to surf and enjoy the beautiful beaches of Portugal.
l'appartement correspond aux photos qui sont présentées sur le site. l'accueil a été parfait, nos hotes nous attendait devant la porte pour nous expliquer tous les petits détails de l'appartement et cela avec une grande gentillesse. l'appartement est très bien équipé. l'appartement est proche de la plage (quelques minutes en voiture, un peu plus à pied). il y a également la piscine qui est juste au pied de l'appartement. au niveau de la situation géographique, beaucoup de choses à visiter dans le coin. Nous avons beaucoup apprécié notre séjour et recommencerons avec grand plaisir.
---
La casa está genial. Tiene todo lo necesario para pasar unos días con todas las comodidades. Con piscina, una plaza de garaje, y mucho sitio para aparcar en la puerta. Es una zona muy tranquila y aunque no hay ascensor es buen alojamiento para ir con niños pequeños. La playa de San Juliào está a 300 m bajando por una cuesta un poco empinada. Tuvimos algún problema con la agencia que gestiona el apartamento. Primero el chico estaba de vacaciones y no contestó a nuestros mensajes hasta el mismo dia de la llegada. Y luego nos recibieron los dueños y esperaban a 3 personas en vez de a 5! No había camas para todos(hay un sofá cama pero es muy estrecho, como unos cojines en el suelo). Nosotros hablamos con Airbnb y ellos encontraron una solución a nuestro favor ya que fue un error de la agencia y no nuestro. Luego los dueños que son encantadores nos trajeron un colchón y se preocuparon de que todo estuviese perfecto!
---
El apartamento nos pareció muy cómodo por lo bien equipado que está; menaje de cocina, utensilios, ropa de cama y baño, etc, aunque toda la decoración es muy clásica, y es bastante amplio. La piscina muy limpia, los vecinos amables y muy cerca de la playa que nos pareció muy bonita. Eso sí, para comprar o salir es necesario el coche, aunque a la playa si se quiere se puede ir dando un paseo, porque debe de haber unos 500 metros. Suele tener un fuerte oleaje pero es muy bonita. Para nosotros bastante recomendable el apartamento y la zona, fuimos con nuestros dos hijos y no gustó.
---
Das Apartment liegt an einer stark befahrenen Strasse. Ohne Auto geht es hier aber leider nicht. Die Einrichtung ist sehr antiquarisch und hat einen old school Charme Es gibt zwei Schlafzimmer mit einem 1,40 x 2m Doppelbett und ein 1,20x 1,80 Bett. Das Apartment ist höchstens für 2,5 Personen interessant. Der Pool ist für die gesamte Wohnanlagen. Die Eigentümer sind ein älteres sehr liebenswertes Ehepaar, das sehr bemüht ist und alles sehr sauber gehalten hat. Die Vermarktung haben sie allerdings einer Agentur überlassen, die sehr professionelle Fotos gemacht hat. Leider entsprechen diese Bilder nicht dem eigentlichen Zustand. Die Bildteppiche an der Wand sind eben Geschmackssache. Der Geruch der älteren Einrichtung leider auch.
Awful guest. We told her she needed a car because the house was in countryside and when she got there with no car she started to make all kinds of excuses to leave as she immediately realized that with no car she would´n get around easily. This lady called airbnb saying the house didn´t have beds for 3 people which is a lie, she said the house didn´t have barbecue when it has 2, she told there was no garage when there is and finally on the description of the apartment whe wrote that the pool was for the condo but as we wrote on the apartment´s name private pool she took advantage of that by telling airbnb we had told her it was a private pool just for her. As it is pretty obvious these were all excuses and lies to get out of there as she soon realized that with no car she would be kind of stuck there. I´m terribly sorry but it´s not my fault that people don´t check where is the house they rented. Nowadays there is this thing called (SENSITIVE CONTENTS HIDDEN) maps so there is no excuse to do such a low trick. Besides when she told us that they wouldn´t fit on the 3 beds the apartment has we offered to buy another double sized bed but she refused which proves that the problem was not the beds but the good will of the guest.
---
Tema limpieza excelente, buena ubicación. El apartamento está bien equipado, pero con demasiados objetos personales de los dueños, con una decoración muy recargada que no te hace sentir comodo. Por lo de más todo excelente Aviso: piso en urbanizacion con piscina comunitaria( en el anuncio no queda muy claro)
---
Hi, i'm João and i work for Homing a company that develops its activity in tourism by providing its clients with a whole support service that goes from offering provisional local accommodation in excellent apartments, to support availability throughout their stay in Lisbon. Hence our slogan "All you need in Lisbon". Check all services we offer on our website and visit us at our Welcome Center in Largo do Rato, 7.

Our goal is to provide our guests a unique and unforgetable stay, starting with excellent accomodation and all services they might need in Lisbon.
语言:
English、Español、Français、Italiano、Português