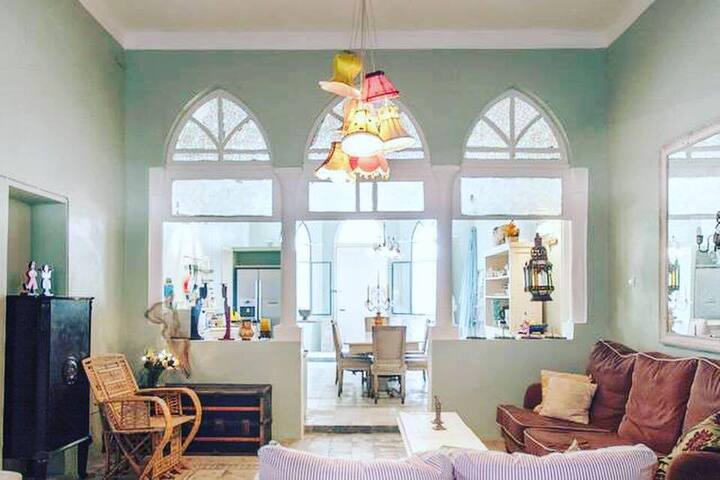 villa sultana is historical place built in 1917 by the turkish sultan and i Restored& Renovated it with love and respect to tradition.the villa has its privat entrance . high cieling . The style of the Design is Original ,Oriental & Romantic . 5 private rooms for tourists who r coming to discover haifa.this is the only place neer the beach that can offer you a vacation in big rooms with other 70 mq of openspace of dinning and living erea in historical place/see other rooms listings in my profile
---
I stayed at the Villa Sultana for 5 nights. The stay was absolutely relaxing! The place is full of love and freedom. The rooms were beautyfull. It was also great to meet Nurit, she was so warm and lovely, I felt completely welcomed, she even did a cake for us. There are 5 rooms so you will meet other travellers for sure. It is a perfect place for travelling alone. I would always recomend the Villa Sultana!
---
We spend a wounderful day and night at Nurit's place ! The home is decorated with style, very cosy and a lot of space in the main room/kitchen. The house is also located at a 3 minute walking distance from the (very nice) beach which is perfect when it's 35° outside ! The house is also easy to find and closeby a train station (not in the city center though), which is very convenient. Nurit is a perfect host, very friendly and interesting. So don't hesitate for too long and book Nurit's place !
---
Judging by the description and photos I had to book a room here! Everything is exactly as described or better. I felt completely at home and relaxed. The house and vibe is so positive and friendly I left with a heavy heart. I enjoyed my morning swims in the ocean (a short walk away) and the water is so warm. There is an awesome bakery nearby that makes great coffee and sitting out on the patio at night is peaceful. Nurit is a lovely person with great ideas to come for villa sultana and she restored it with charm and love for its history. A highlight of my stay in Haifa Brigitte and josh from New Zealand
---
The lovingly furnished room is in a very charming villa where we felt at home from the first minute. Nurit was a great host and always available for our questions. She even cooked delicious cake for all guests. There is a big living room/kitchen for everybody. The villa is located close to the beach and the train station.
---
The villa is beautiful and very near to the beach, about 5 minutes walk. The neighbourhood is quite and safe. The rooms are very big and bright. Nurit herself was in Tel aviv almost our whole stay but it was very easy to talk to her via the phone. Wonderful stay!
---
My name is Nurit and I am an Interior and Fashion Designer. Villa Sultana is a ongoing dream project for me.
It took two years to design, decorate and create a space of beauty, art and craft.
I enjoy films, all kinds of music, animals and travel. I love to cook for others. Welcome !
语言:
English