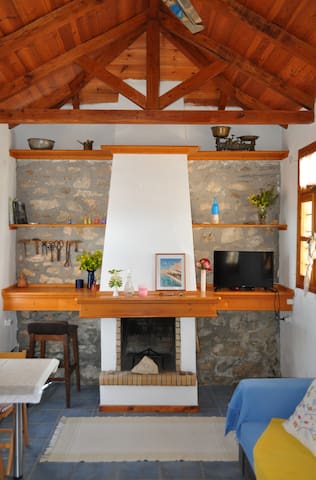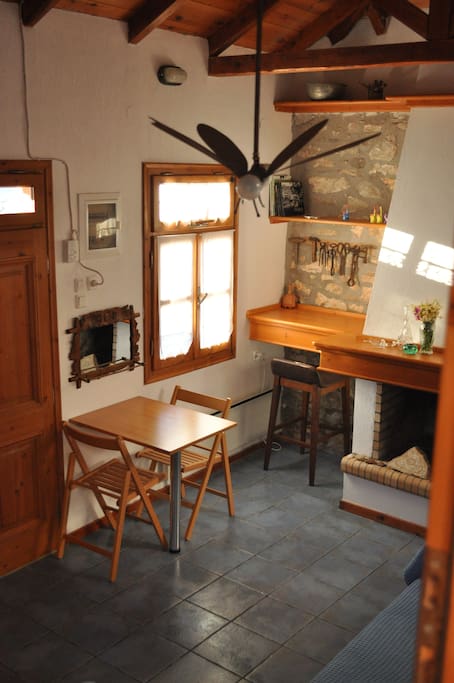 A nice and beautiful studio ideal for a couple. An internal courtyard is available as well as a balcony with a view. The place has a traditional character coupled with a modern touch. It is located in an area 4,5 km away from the sea and on 5 minutes' walking distance from the mountain in case you love hiking.
---
Niovis Place is wonderful! It is very cosy and very well furnished - traditional Greek style - exactly like the village it is placed in. The small yard and the balcony with a view over the Valley and the sea is beautiful. The house itself is not very big (but very cute), for us — as a couple — it was just perfect. We tasted the Olivenoil of Niovis Family, which was very nice aswell. The village is very cute and calm. There mostly live elder people, which leds to the fact that it s very quiet and comfortable. If you are looking for a place to really come down, this is perfect. The beach is about 15 minutes with a scooter. Niovi herself is a wonderful, open, very nice and helpful woman. We had a little problem with our journey, she waited for us for several hours - that was very pleasant. We laughed a lot, she is super nice. We had a beautiful stay and would highly recommend this place for people who are looking for a relaxed place.
---
Our experience at Thassos and Rachoni were more than great! The studio is in old traditional very well renovated house. It is located 5 kilometers from the beach in authentic greec vilage where you can meet mostly local people and culture. The mountain of Thassos is just infront your sight and the sea panorana is romntic and amazing. There is wonderful and not so touristic taverna nearby. The most important jewel of our holiday was the attitude of Niovi to us. She is very kind, hospitable and helpful. We have even the chance to have a cup of homegrown sun tomatoes, and jar of homemade jam. Highly recomended place!
---
Staying at Niovi's studio is wonderful! You have your own little place where you can relax and enjoy the sea view. It's so comfortable and Niovi is such a lovely host! When we opened the fridge, we found delicious tomatoes and paprika from her grandmothers garden, homemade Marmelade from her mother and even more things waiting for us to be eaten and tasted. The island is great, the water very clear and you can easily find great beaches at the sea. Tank you so much!
---
Dear Niovi , thank you very much for your hospitality we enjoyed a lot for your nice house which was very clean , exciting , with a nice courtyard garden, also your mom and grandmom's orange jam, olive oil, bread all were amaizing...we will strongly recommend to all our friends, many thanks....
---
Πως γίνεται ένα ζεστό και φιλικό κορίτσι να μη φέρει την αντίστοιχη ατμόσφαιρα σπίτι της; Μας εξόπλισε με ό,τι θα μπορούσαμε να χρειαστούμε, με φρεσκάδα καθαριότητας, με λιχουδιές, με το τελευταίο καλοκαιρινό κλίμα, και μας αφόπλισε με την φιλοξενία της! Όλα ήταν περισσότερο όμορφα απ'ότι περιμέναμε, το σπίτι, η αυλή, η Νιόβη και η διαθεσιμότητά της, το χωριό, το νησί.
---
This little home on the mountain is ideal for a couple. Niovi is a very polite and thoughtful person. The home is very clean and decorated with a local village style. There is an amazing back yard that will help you relax and enjoy your staying. Overall I would say that if you are looking for a place to get away from the city life then this is the ideal place for it.
---