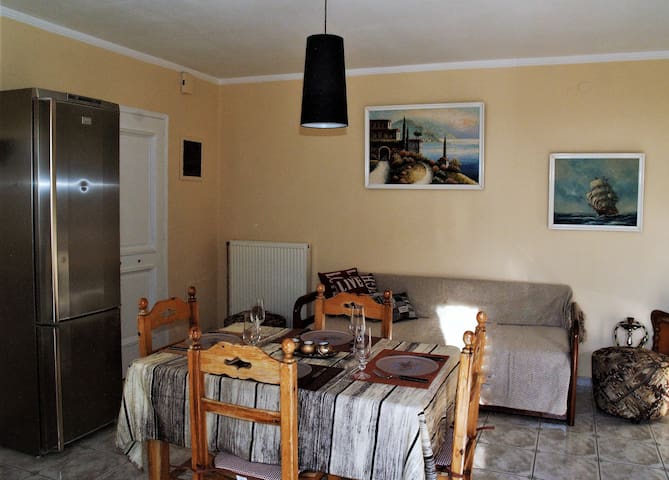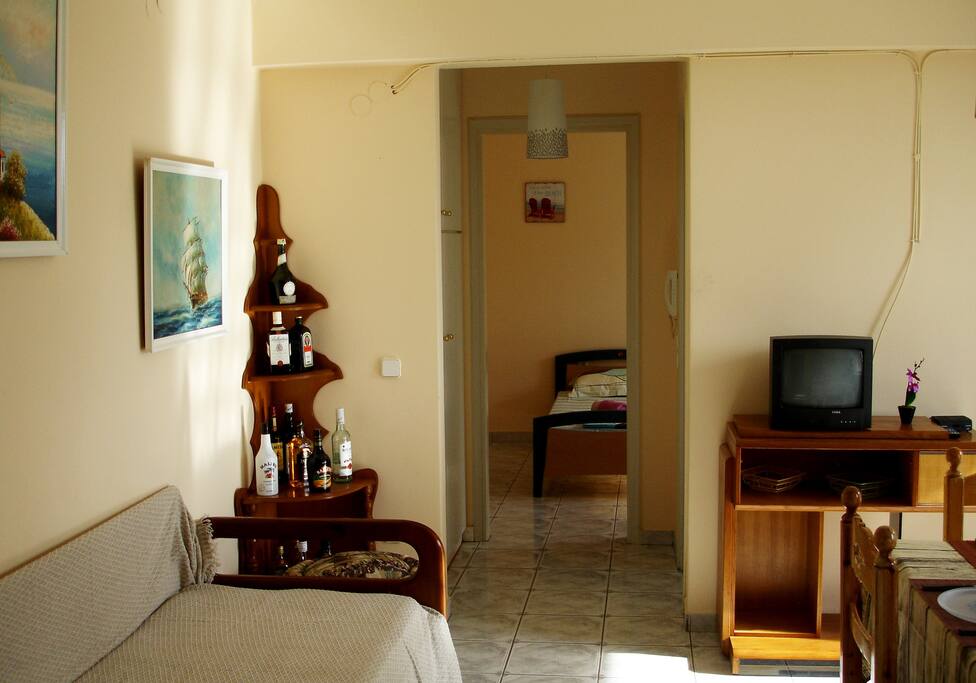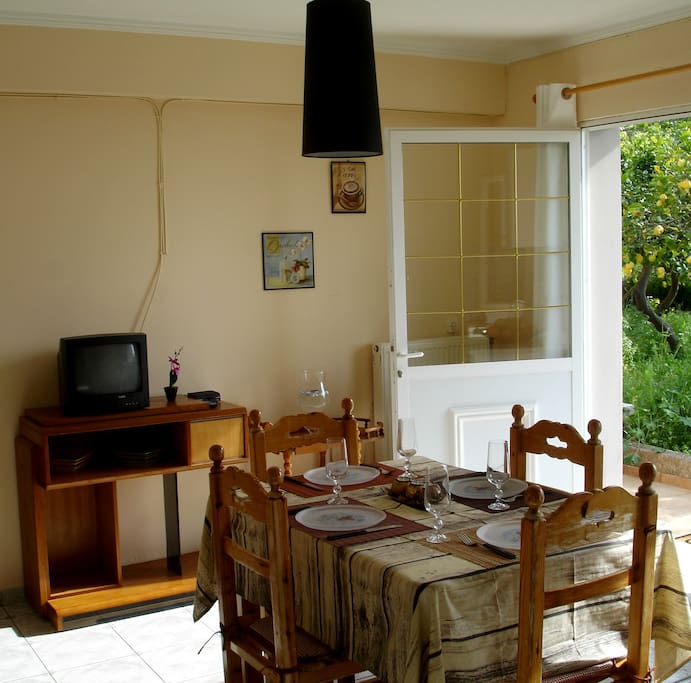 The apartment is ideal for couples or families that would like to relax and enjoy their vacation in a lovely and friendly environment with all the amenities, in one of the most beautiful island of Ionian Islands. It is located about 200 meters from the main road of Lassi and 10 minutes away from the well-known beaches of "Makris" and "Platis Gialos". It is 2.5 kilometers from Argostoli, the capital of the island and 6 kilometers from the airport of Cephalonia.
房源
The apartment has a fridge, a kitchen with oven, air-condition, Wi-Fi, porch that has a complete view of the sunset and parking space for your car or your motorcycle.
房客使用权限
The apartment is located near to several supermarkets, restaurants, taverns and bars. It also provides easy access to many beaches of the island, sights and activities.
---
Our stay at Evan's apartment was fantastic! We met his mother at a time to suit us for check in and she was very welcoming and showed us round the apartment. We also received some of her home made cake while we were staying there which was a great treat. The apartment itself was clean and was actually nicer than it looks on the images. Great value for money and only a few minutes walk to Lassi's restaurants and bars. It is also a 10 minute walk from two gorgeous beaches. On top of all this, when we asked Evan if we could leave the suitcases at the apartment on checkout day (our flight was at 10pm), he was kind enough to allow us use of the apartment all day! This meant we could cook something to eat and have a shower before our flight. I would highly recommend this apartment to all.
---
We stayed in this apartment for ten days. The place is very nice with beautiful sunset and sea views. There is a beautiful lemon garden inside. The center of the village and the beaches are very close. Evan's house is very spacious and has everything you need. We were well four people. The house was very clean, Evan and her mom are very helpful and polite. I would recommend this place to the next guests!
---
Appartamento piccolo ma comodo. Le foto non rendono ragione, molto meglio da vicino. Evan e la madre sono due persone disponibili e precise. Il bilocale da su un giardino con dei limoni, da lontano si vede il mare, bellissimo al tramonto. Eravamo in 4, abbiamo soggiornato per 2 settimane e siamo stati benissimo. Abbiamo ricevuto il servizio di pulizia e cambio biancheria per ben 3 volte, oltre a dei buoni dolcetti fatti in casa dalla mamma di Evan. Cucina bene attrezzata con frigo molto capiente, dentro abbiamo trovato delle marmellate fatte in casa dalla mamma. Comunicazione ottima.L'appartamento é vicino alla spiaggia Makris gialos che a nostro avviso é una delle più belle dell'intera isola, altrettanto vicina al capoluogo Argostoli, centro molto ricettivo e con grande varietà di locali ed attività per la sera. La posizione si presta bene per visitare l'isola come abbiamo fatto noi e per raggiungere le vicine isole di Zante e Itaca. Vi consigliamo vivamente di soggiornare da Evan, ottimo rapporto qualità prezzo anche in alta stagione.
---
Fantastic holiday, amazing site and enviable location. A very welcoming home that offers every comfort is immersed in beautiful sunsets. The location is perfect to reach all points of interest like markets,pub,restaurants and beaches. Evan and his mom are really kind,hospitable and availability makes you feel home, gave us a lot of useful advices.Highly recommend Razis Apartment!
---
Evan was just fantastic: very kind, he made us feel really welcome, and gave us a lot of useful advices. And he has even offered us the delicious jams made by his mother! As for the flat, it is very nice. The lemon trees in the front garden and the sea view are stunning! I would definitely recommend staying at Evan's.
---
Razis apartment was a real deal! The first thing to mention is the amazing view from the terrace - mesmerizing sunsets and the sea view! We went end of june/beginning of july and the sun was setting around 9.30 pm! It is not far from the great sandy beach, 10 minutes by foot; and 3 km from the capital of Cephalonia which is great for night walks. The apartment itself looks much better in person then in the pictures, the furniture is not old as it may appear, it's quite new and the place is designed with a lot of nice details. There was 4 of us in the apartment and it was comfortable enough. There is one room with 2 beds and there is a couch for 2 people in the living room/kitchen area. The great thing is that the mattresses are new and the same on those beds in bedroom and the couch in the living room. Even that we went as 2 couples, it was fine for us, but that depends on the type of holiday you expect to have and on the type of person you are. The only thing is that the doors are really loud and we slightly used to wake up when someone went to the toilet during the night. There is only one bathroom, which didn't bother us too much. The towels and sheets were being changed on every 3 days which was really great, but my only suggestion is that the bathroom should've been cleaned more often as well. Kitchen was really good, it has a big fridge, stove, toaster, kettle and all the dishes you need. When it comes to the host, Evan was really hospitable, gave us all info prior to our arrival and also a lot of tips about the island! And one day we found a fresh baked pie waiting for us when we came back from the beach! All in all - I highly recommend this place, it's a great value for money! We really had a great time on our vacation!
---
Bel appartement, propre et très pratique pour vivre quelques jours. Frigo, salle de bain, cuisine complète. Ça permet de faire une épicerie et de cuisiner nos repas. Communication excellente, il était là pour nous accueillir et il s'est assuré de notre confort tout au long de notre séjour. Le logement est situé tout près des plages, des restaurants/bars et supermarché, très facile d'y vivre et de circuler à pied.
---