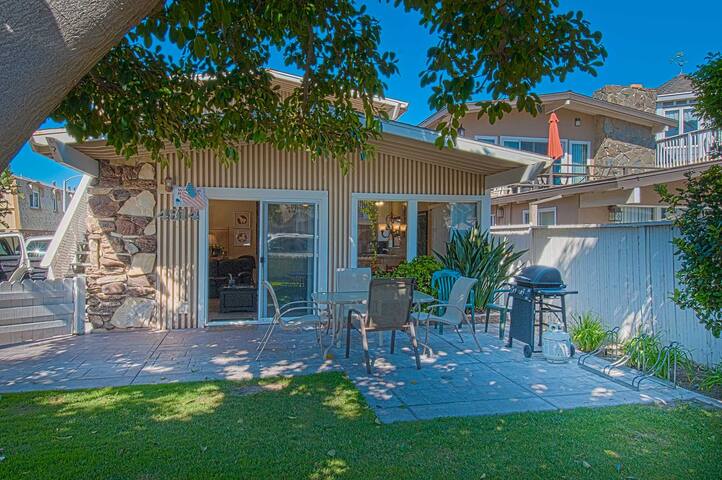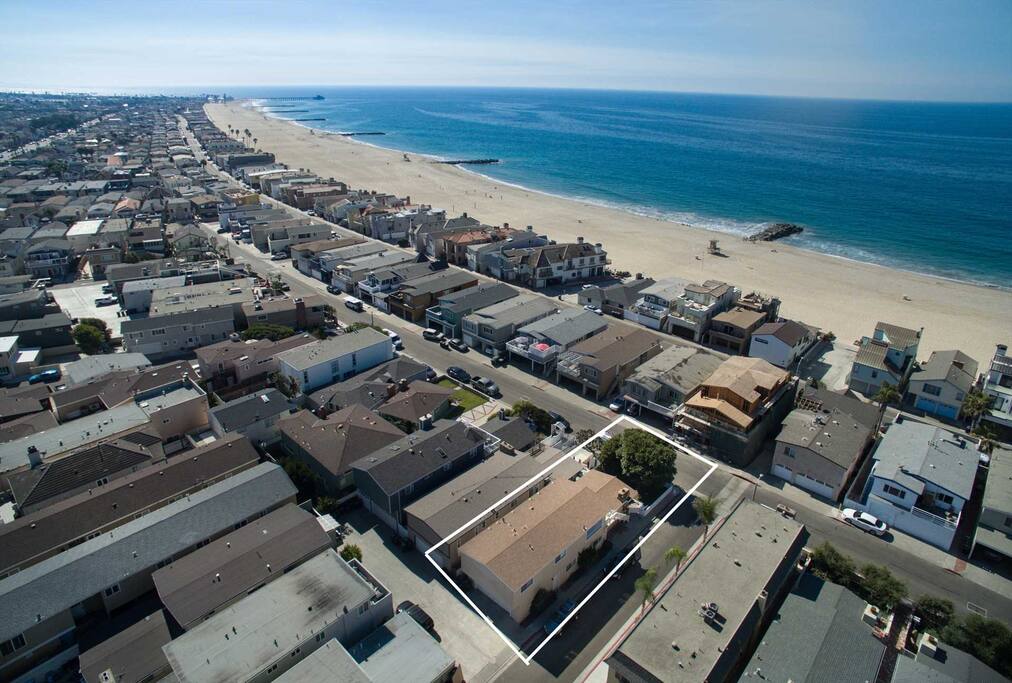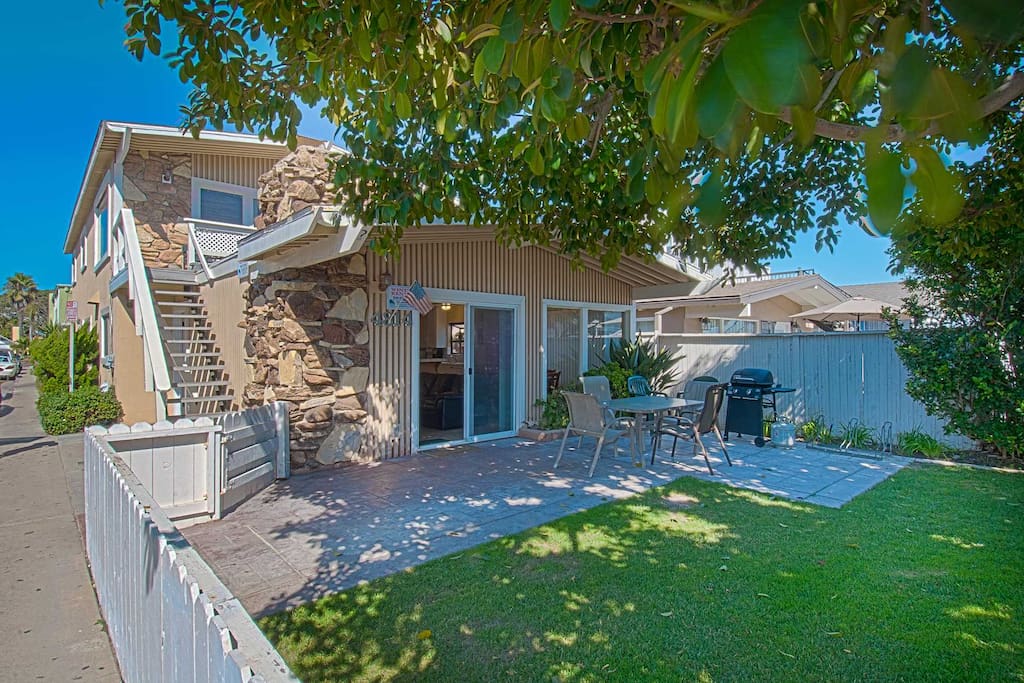 This unique and very charming lower unit will make you feel right at home. When you walk through the door, you will be greeted by the ambience of a beautiful beach getaway. And wait until you step onto the patio with the large tree nestled in grassy yard. Yes, there is grass! A perfect place for kids to run and play in a safe, gated "backyard at the beach"! This unit comes with one car parking in a shared garage with shared laundry. Just 3 houses from the beach!!
General Info:
Parking: 1 car garage parking - This unit provides 1 car shared garage parking
Bedding: Blankets, mattress pads, bed spreads, pillows, sheets and towels are provided!
Kitchen/Supplies: Our kitchens are supplied with all the basic dishes, utensils and cookware needed for everyday cooking. We also stock some cleaning supplies and dry goods such as paper towels, toilet paper, coffee filters, trash bags, foil, etc to help you begin your vacation however you will need to purchase and pay for additional supplies during your stay.
You may want to bring: Beach chairs/equipment, blender and/or specialty cookware, laundry detergent, extra place settings, pens and paper, etc.
LIMITATION OF LIABILITY:
Under no circumstances shall Villa Rentals, Inc. be responsible for any loss, expense, damages, claims or injury direct, indirect, consequential or otherwise whatsoever, howsoever caused or incurred whether arising in contract or otherwise in law or equity as a result of rendering of the services or accommodations as described or substituted and including, without restricting the generality of the foregoing as a result of any delay(s), substitution(s), rescheduling(s) or change(s) in the provision of services or land accommodations by Villa Rentals, Inc. or by reason of military actions, revolution or acts of God, government agencies, or unforeseen circumstances or events, by any agents, owners, employees, subcontractors, servants or services as substituted; Villa Rentals, Inc., at all times will act in good faith and use its best efforts to substitute with accommodations or services of a type as comparable as possible to those contracted. Villa Rentals, Inc. will not be liable under any circumstances, including substitutions, to refund any unused portion of booked accommodations or services. Some activities in which guests engage are especially dangerous and include scuba diving, snorkeling, deep-sea fishing, boating, swimming, boogie boarding, surfing and biking. This list is not all-inclusive, but indicates some of the hazards of vacationing in Newport Beach. Guest and other invitees shall use the Spa (if applicable) at their own risk. Guest understands that there are certain inherent risks to person and property located adjacent to the ocean, including the possibility of drowning. Guest acknowledges that the owner would not rent the property unless the Guest accepted this condition. Guests may also encounter the following risks: slippery floors and stairs, especially when wet, balconies/decks with spaces between rails (dangerous for little children), precipitous drop-offs on ocean floor, faulty electrical or plumbing systems, gas BBQ grills, clean/clear sliding glass doors, and dangerous stairs or pathways, Therefore, each guest agrees that he/she is voluntarily participating in any and all activities, risks, and use of the accommodations, and hereby assumes all risk of injury, illness, damage or loss to person and property that might result, including, without limitation, any loss or theft of personal property. By booking this unit, you acknowledge that in all events and circumstances, Villa Rentals, Inc., its officers and employees shall not be liable. Villa Rentals, Inc. reserves the right to cancel or rescind any rental agreement if it is found that the Guests are conducting unlawful activities, not abiding by the Newport Beach Short Term Lodging Ordinances & House Rules , disturbing others by playing loud music, percussion, audio or instruments, or cause any loud or offensive noises, have made any misrepresentations about the nature or size of the group or use of the group or the use of the property or any other misrepresentations or any other way in breach of the rental agreement.
 
NOTICE OF ABSENCE:
You must tell us in advance if you will be absent from the property for 5 days or more. If you do not give us this notice, you will have to pay for any damage that may result from your absence.
 
SMOKING:
This is a NON-SMOKING unit.  Guest agrees not to smoke in the premises.  Guest agrees to be considerate to the neighboring houses when smoking on the exterior of the premises and to dispose of cigarette butts appropriately.
TELEPHONE:
Telephone service is usually not provided.  Please refer to the website listing for details on whether the unit provides a phone or not.
 
AMENITIES:
Our kitchens are supplied with all the basic dishes, utensils and cookware needed for everyday cooking.  There are also some cleaning supplies and dry goods such as paper towels, toilet paper, coffee filters, trash bags, foil, etc. to begin the vacation. However Guest will need to purchase and pay for additional supplies to last throughout the stay. 
 
AIR CONDITIONING:
Most of the units do not have air conditioning. Please refer to the listed amenities.
 
PETS:
Pets are not permitted on or about the premises.  Violation of this rule will result in immediate forfeiture of the premises upon demand and also result in automatic forfeiture of the security deposit plus the cost of future lost rent, cleaning, de-fleaing and/or other damages to the premises and its contents.
 
DISTURBANCES/NOISE VIOLATIONS & BEACH RULES:
The City of Newport Beach has enacted ordinances concerning parties, loud music, excessive noise and any general disturbance of the peace.  Fines under these ordinances can range anywhere from $500.00 to $3000 or more for police services.  Any fine imposed by the police or city for a disturbance will be charged to the guest, and may delay refund of security deposit until such bills are received by Villa Rentals.  Any valid disturbance reported to Villa Rentals or violation of these ordinances will result in immediate forfeiture of the premises upon demand.  Please refer to the City of Newport Beach Website for full details on not only the disturbance/noise violations but also the beach rules and regulations.
 
SUBLET:
Guest agrees to not sublet the unit or permit unauthorized guests (those not listed on the original contract) to reside at the premises without express permission from Villa Rentals. Violation of this rule will result in immediate forfeiture of the premises upon demand.
 
RIGHT OF ENTRY:
Villa Rentals, Inc. retains the right to enter the premises with reasonable notice, during reasonable hours, to inspect or exhibit or repair the rental unit as required.
 
BUILDING CONSTRUCTION:
Guest agrees to not hold Villa Rentals, Inc. accountable or demand a rent reduction due to neighboring building construction of which is not in Villa Rentals Control.
 
VISITORS:
Guest will be responsible for any and all actions of visitors for the duration of the contract.
 
WIRELESS INTERNET & TV SERVICES:
Guest agrees that the internet connectivity and TV services are provided by 3rd party companies and any issues arising from connectivity failures are not the responsibility of Villa Rentals, Inc.  
 
LOST ITEMS:
Guest agrees to not hold Villa Rentals, Inc. responsible for items lost or left behind during or at move out.  Villa Rentals, Inc. will make every effort to retrieve items that have been reported, however there is no guarantee the items will be found and returned.
 
ATTORNEY'S FEES:
In the event of a dispute the prevailing party may not collect attorney's fees in excess of $500.
 
REPAIRS:
Villa Rentals, Inc. will make every effort to expedite a repair that is needed.  Guest agrees to notify management immediately should something be in need of repair.  If a repair is needed due to damage caused by Guest, Villa Rentals, Inc. and Guest will communicate on how the payment of this repair will be handled.  Guest agrees that some repairs cannot be determined to be a Guests responsibility until the repair man has already been dispatched.  Guest agrees to waive rent compensation for any unforeseen repair that cannot be remedied right away.
 
INSURANCE:
Guest understand that our insurance does not cover your belongings or damage that you cause. You agree that we are not responsible for any loss or damage during the term of the rental agreement. You agree to carry insurance covering all of your personal property located in the unit or bear full responsibility for its damage including damage from fire, water, theft, or any cause.
CATASTROPHIC EVENTS & EMERGENCY EVACUATIONS: 
If a catastrophe (hurricane, tornado, earthquake, flood, etc.) or any situation simply beyond our control impairs the vacation rental, Villa Rentals, Inc. is not responsible for finding alternate lodging for the renter or for the renter's financial losses related to transportation or alternate lodging. There will be NO REFUNDS OR CREDITS FOR EMERGENCY EVACUATIONS. Whether you own property, run a business, or rent a condo in Newport Beach, the threat of an earthquake, flood or tsunami is always present and we all assume this risk. There will be no refunds of any kind for evacuations.
**Inventory and Amenities are subject to change**