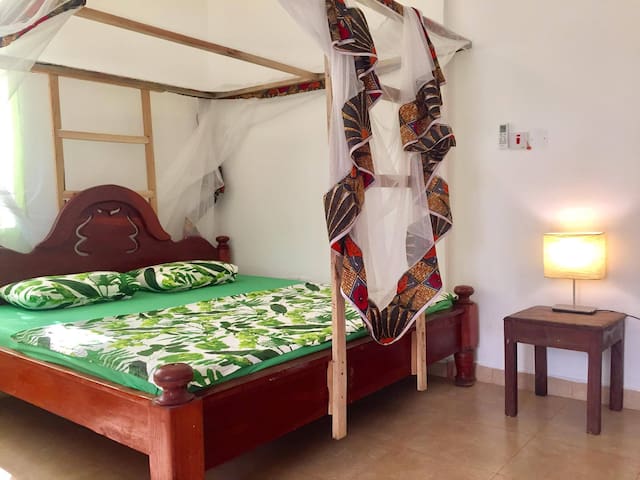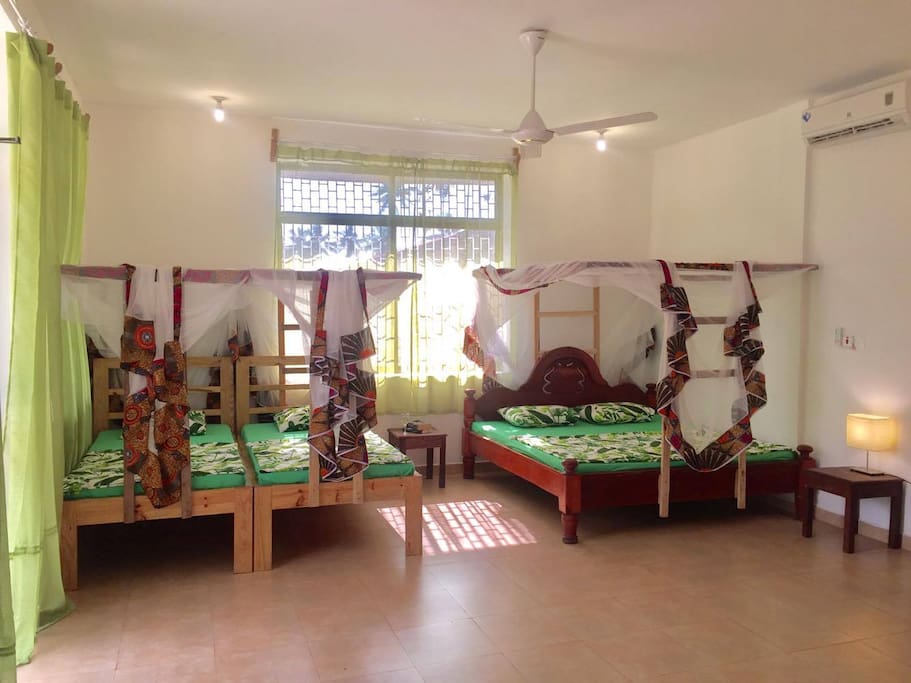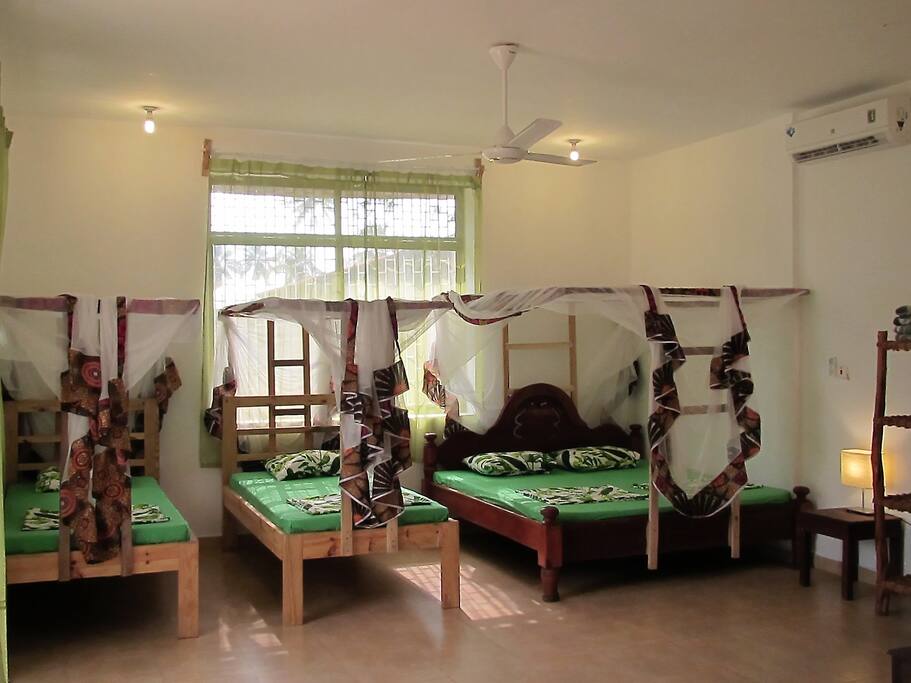 This family house is located almost right on the beach.
Contains one large room combined with living room with 1 kingsize bed and 2 single beds, a kitchen and a toilet/bathroom. All rooms have tiled floors.
The house provides a variety of comforts such as AC, gas stove, refrigerator, kitchen tools, floor fan, ceiling fan, clothes storage, mosquito net and
clothesline on the patio.
The area offers alot of restaurants and bars. Both local and turist places.
Feel at home! Karibu!
房源
The house is rented just as it is, what you see is what you get :) You have access to all spaces. It´s a self containd house which means you take care of yourself. No butler, no nany, no mama :) I gladly share with you everything in the house such as kitchen equipment, bed sheets, pillows, blankets, towels, nothing more nothing less. What's not in the house is consumables such as shampoo, soap, toothpaste, toilet paper, food, beverage and so on. If you want that Hilton hotel is just next to my house. In addition, the house also includes water, electricity and cooking gas. What is not mentioned in this presentation is not in the house. If there is something missing that you want you need to bring it your self. The house is cleaned with clean bed sheets and towels when you check in. If you wish the house to be cleaned and if you need to wash during your stay it could be organized for a small charge. I wish you a lovely stay :)
房客使用权限
In the house you can use everything. There will be clean bed sheets and towels when you check in. If you wish to clean the house or to change your bed sheets during your stay contact Othman and he can help you to organize that for a small charge.
The green towels may ONLY be used inside the house!
The two gray and the two yellow towels can be used to the beach.
其他注意事项
This property is under construction. I plan to build a second floor on top of my existing house. When, I don´t know. But don´t worry the existing house is completely finished and comfortable to stay in :)
- Turn of the AC everytime when you leave the house!
- ALWAYS store food in plastic boxes and use clips to seal food packaging!
- There is 3 rolls of toilet paper and 3 bottles of water when you check in.
Leave 3 rolls of toilet paper and 3 bottles of water when you check out.
- The green towels may ONLY be used inside the house!
The two gray and the two yellow towels can be used to the beach.
Ulla's place is really amazing - everything was pretty same as showed on the pictures... Ulla is a wonderful person with an excellent communication as well as their staff... Restaurant from her sister has a really taste food I recommend. Nungwi is a unbelievable beach with an amazing blue ocean.. Just a little bit sad about the recycle problems on the region. Will stay there again in a future
---
We are more than satisfyed with our stay at Mamas family house. We stayed in two accommodations in Zanzibar. One of them was Hilton hotel, we wanted to treat us selfs whit a luxurious stay. But that was a waste of money due to the fact that Mamas family house has a much higher standard and for a much lower price! The house was very clean and fresh. The furnishing and the decor in the house was very cozy and tastefull, it made us feel at home. The shower was fantastic, the presure was so good and hot water was ready from the water heater in a couples of minutes. The possibility for wifi was a nice surprise! We bought credits in a shop and followed Ulla's written guidelines how to connect to internet. Loved the location of the house, it was located precisely just between the village and the beach and the contrast was vivid! The beach in front of the house was lovely and quiet. There´s a nice bar/restaurant just in front of the house were you can chill and relax. Along the beach there were many more restaurants, bars and beaches to enjoy. Ulla was a great host and very easy to communicate with and Othman the house manager/security was very kind and helpful. We can really recommend Mamas family house.
---
Super Nice private clean house with all you need! Rent scooters was also great and possible via Ulla
---
Nice place to stay and a way better option than staying in the hotels around. Especially Osman is a great man who helped us in every possible way.
---
Me and my family had a terrific time in Ulla's house. It was clean, fully equipped, few steps from the beautiful beach, the local fishmarket and a short walk from the village center. Ulla even set mosquito nets on the beds to our request, as she was dedicated to make our staying the most satisfying and comfortable. The best thing is that here you can get the true face of the village as you meet way more locals then tourists. The organazation was super easy and smooth, Ulla was helpful, precise and fast to repond the messages. I happily recomend this place to anyone.
---
There were positives and negatives... Positives: Othman, the property manager, is the biggest positive. He was so friendly and helpful. Ulla, the owner of the house, was also friendly, helpful and quick when replying to emails. The house itself is basic but nice. Negatives: it was just missing a lot of the basics. For example, the electricity is on a pre-paid meter system but this wasn't paid until our first evening, so we didn't have power all day. It then ran out on our last evening so we didn't have electricity on our last night and morning, which meant no fans, no hot water and we couldn't charge our phones etc. We also had to ask for basic things like toilet paper, towels, bed covers etc. Picking up the keys was also not an easy process. The location isn't great - it's in quite a dirty part of the village and quite a walk to the nice beach. Overall, this was expensive for what you get and compared to similar properties in Znz and the mainland.
Thank you for your feedback Sarah, I really appreciate that you took the time to write the review. I listen to what you say and I will do my absolute best to make my guests feel comfortable. I am sorry that you felt that the basics were missing. As written in my description consumable products such as shampoo, soap, toilet paper and so on is not included. I wanted you to feel comfortable during your stay so I brought you a whole package of toilet paper. I´m sorry that you had problems picking up the key. I always send a message to all my guests with very accurate directions to find where to pick up the key. It´s a shame you felt my house is in a dirty part of the village. I´m doing my best to keep it nice. Every now and then I rent a truck and clean the land in the neighborhood. In my description I ask for understanding regarding this. Nungwi is still on it´s way to develop and to organize proper garbage handling. In the meanwhile we all must help to keep it clean and tidy :) Kind regards Ulla
---
Othman is the facility/security manager. He is a very kind and helpful man. He lives in a house just next to Mamas family house. He is there for your comfort and security and can help you with any questions.
Hi :) I am a happy and relaxed woman. I like to live my life calm and easy together with my cute little dog which I adore. Otherwise I like to meet new peoples to listen and learn from different life stories. I also love the sun and the sea so Zanzibar is totally the right place for me :)