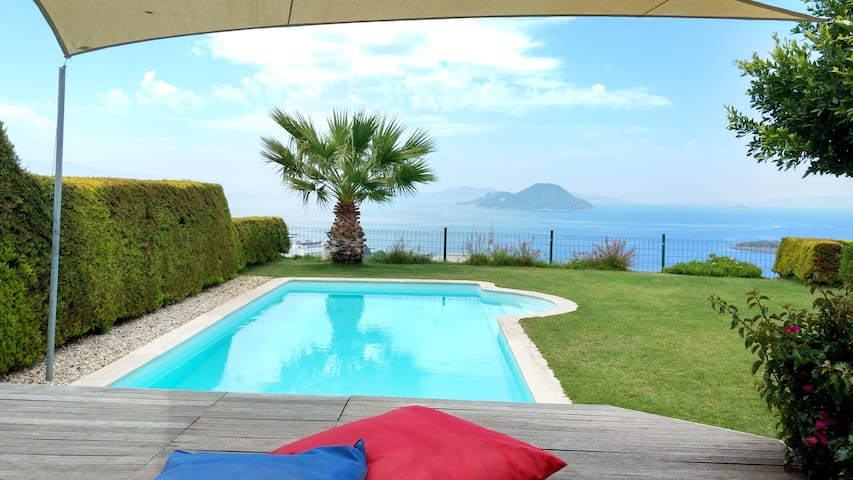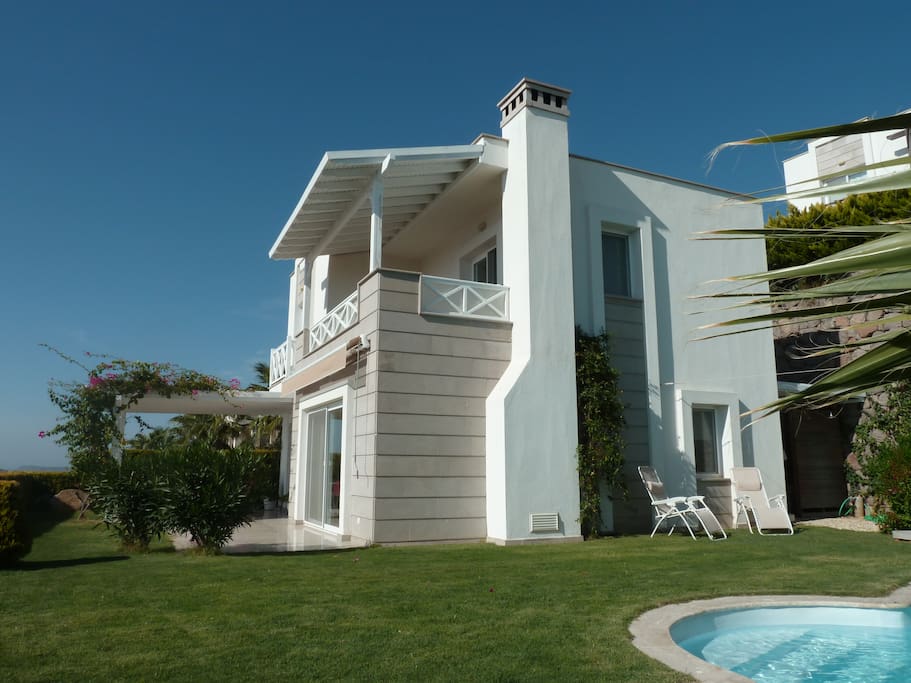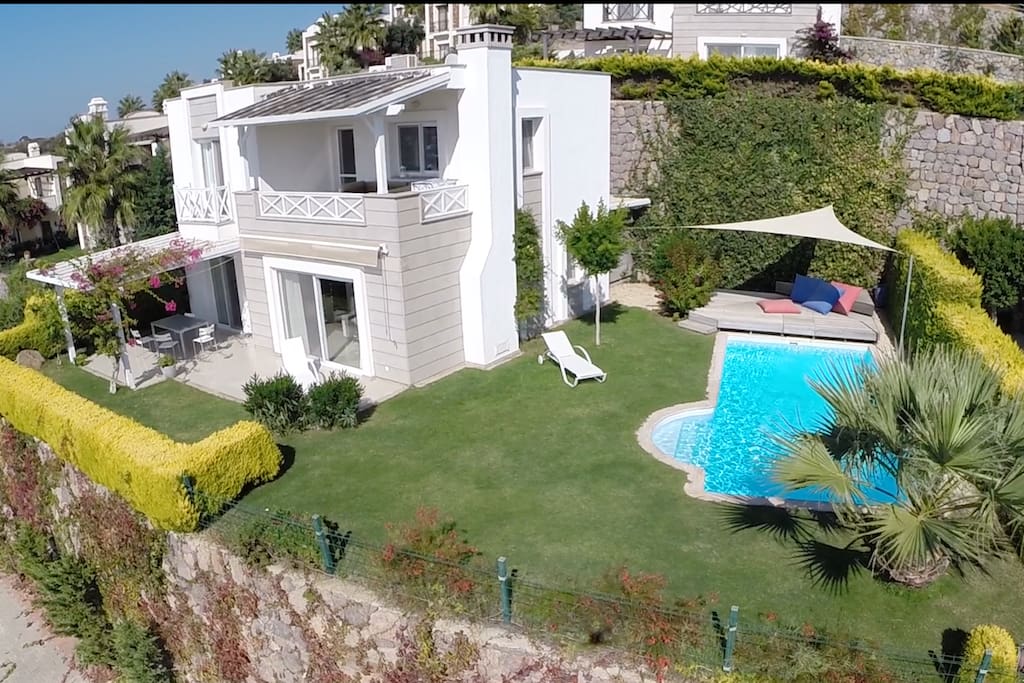 Our Safir Villa is situated in Bodrum-Kadikalesi and has a great seaview. To the beach it's 300 m. You will love our home because it is comfortable furnished and tastefully decorated. You will enjoy the nice pool-area with a lot of privacy and an unforgettable seaview!!!
房源
The comfortable villa offers from all rooms and from the garden area stunning panoramic views of the sea and the Aegean Islands. The detached house is situated in a new residential complex. It has a private pool (8 x 4 m) and has a high degree of privacy. The villa is tastefully and modern decorated. With a total of 3 bedrooms, one with en-suite bathroom, the villa can accommodate 6 people. The south-west facing, open plan living room with panoramic windows is ideal for relaxing. In front of the house is a large, partly covered terrace, upstairs a spacious covered balcony is available. An additional highlight is the wooden platform behind the pool that invites you to relax and sunbathe. The house offers all the amenities: air-conditioning, internet access (wireless), 2 flat screens with satellite connection. In the kitchen you will find a Dolce -Gusto Coffeemashine. Of course there is a barbeque in the garden. During the winter month central heating is available.
Ask for a baby-bed and chair.
与房客的互动
During the sommer months the key handling will be done by our house keeper. If you have any questions or problems he will help you.
During the other months we will do this.
---
E' stato tutto perfetto sia dall'inizio della prenotazione come pure l'accoglienza e l'assistenza in loco. La villa è incantevole e gode di uno stupendo panorama sulle isole Greche. La casa è dotata di ogni confort e corrisponde esattamente all'offerta descritta. La piscina è favolosa, grande e pulita. Il prato verde ben tenuto e la vista mozzafiato! Siamo stati molto contenti e sicuramente torneremo per un periodo più lungo.
---
Fotoğraflarda gösterildiği gibi bir ev. 6 kişi rahatlıkla konaklayabiliyorsunuz. Ev sahibi müthiş ilgili ve yardımcı. Fakat kendisi yurtdışında olduğundan, mevcutta yardımcı olmaya çalışan arkadaş bir o kadar ilgisiz. Havuz, beklenenden daha kalitesiz bir havuz. Seramik yerine mavi beton dökülmüş bir zemini var. Havuz temizliği biz haber vermeden gelip yapılmadı. Mutfak / Banyo her türlü ihtiyacınızı karşılayacak donanımda. Çalışmayan / arızalı hiç bir ürün yok. Evin oldukça dik bir yamaçta olması otopark açısından zorlaştırabiliyor. Sitenin kendine ait bir otoparkı var ve 1 adet kumanda ile giriş yapabiliyorsunuz. Keyifli tatiller.
来自Ingeborg Und Wolfgang的回复:
Lieber Ümit, es freut uns, dass Du angenehme Ferien in unserer Safir Villa verbracht hast. Dass der Pool erst nach Deiner Reklamation gereinigt wurde, tut uns leid. Wir bitten um Entschuldigung. Bei unserem Pool handelt es sich übrigens um einen Markenpool der bekannten französischen Firma Desjoyaux, er ist mit einer hochwertigen blauen Poolfolie ausgekleidet. Nochmal vielen Dank für Deinen Aufenthalt in unserer Villa. Du bist immer wieder ein gern gesehener Gast. Herzliche Grüße Ingeborg
---
Be aware: - it is on the top of the mountain with very steep mountain about 250 steps not recommended it for holiday as after climbing the 250 steps be prepare to take a shower every time as you will sweating hardly - direction to the villa is not easy at all (even the Turkish driver who was on contact with complex manager could not reach the villa) - no facility nearby such as supermarket and you need to go to another city. - not suitable for children, elderly or ppl with mobility issues - car is must not just recommended and way to the villa is not easy and unpaved - no full privacy at garden and pool area as neighbors garden looking directly to yours - bedding is not comfortable - usually a bottle of water and other essential are provided but nothing was there!! As no supermarket is nearby. I believe these information should be clarified at the beginning of the listing before anybody book it otherwise this is a misleading. Do not recommend it to anybody after my experience, better book somewhere else where access is easier and facility are nearby
来自Ingeborg Und Wolfgang的回复:
Dear Talal, Just to make things clear: nobody needs to walk 250 steps to our villa if you park your car right in front of the villa. In our listing we describe that our villa is situated hillside - 40 m above sea level - and we recommend a car (see description and photos in our listing). You ignored our advice and first decided against a car and later could no longer rent one because of the high season. Nearly all the problems you describe are due to this. You cannot blame us for your decision! We are sorry that you did not let us know about your problems at the beginning of your stay. We or our property manager would like to help you find a rental car and also could assist you in case of disturbances by your neighbors. We understand that you are disappointed, but we first heard about your problems after your departure. That's too late to help you with your problems … We are sorry! Finally some of your claims must be corrected: - The villa is located on a slope, but not on the top of a mountain. - The villa is directly accessible by car, there are two easy accesses. You do not have to use the steep driveway or the stairs. - The villa is not visible from three sides, from the house behind it is separated by a hedge. In this way, our holiday home has more privacy than any other villa in the entire residential complex. You can't have more privacy in a site like ours, but you aren't alone. - The villa is suitable for children (and so far they all loved to be there). - In the village center (250 m) there are smaller shops for daily needs and several restaurants. - Before their arrival (in your case 10 weeks before) all our guests get a picture where to find the villa in the site and a detailed description how to get to the mosque of our little village as a meeting point. Every taxi driver knows. There our property manager meets our guests and shows them the different ways to our villa. We don't know what we can do better!? If something does not work as planned we should have known, but we didn't hear anything from you … Kind regards Ingeborg
---