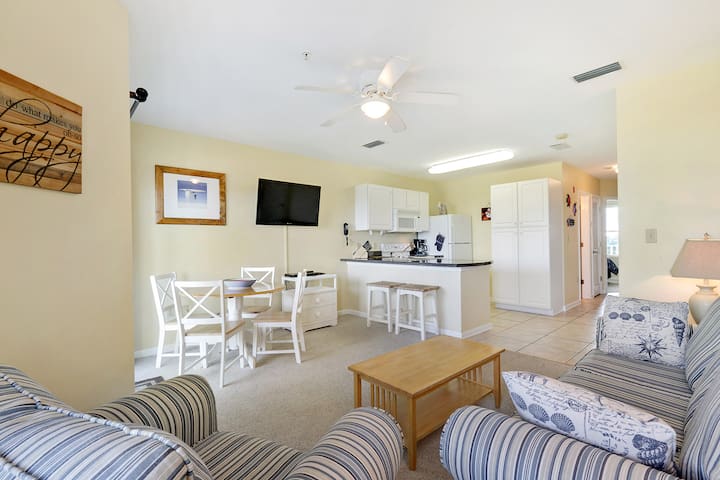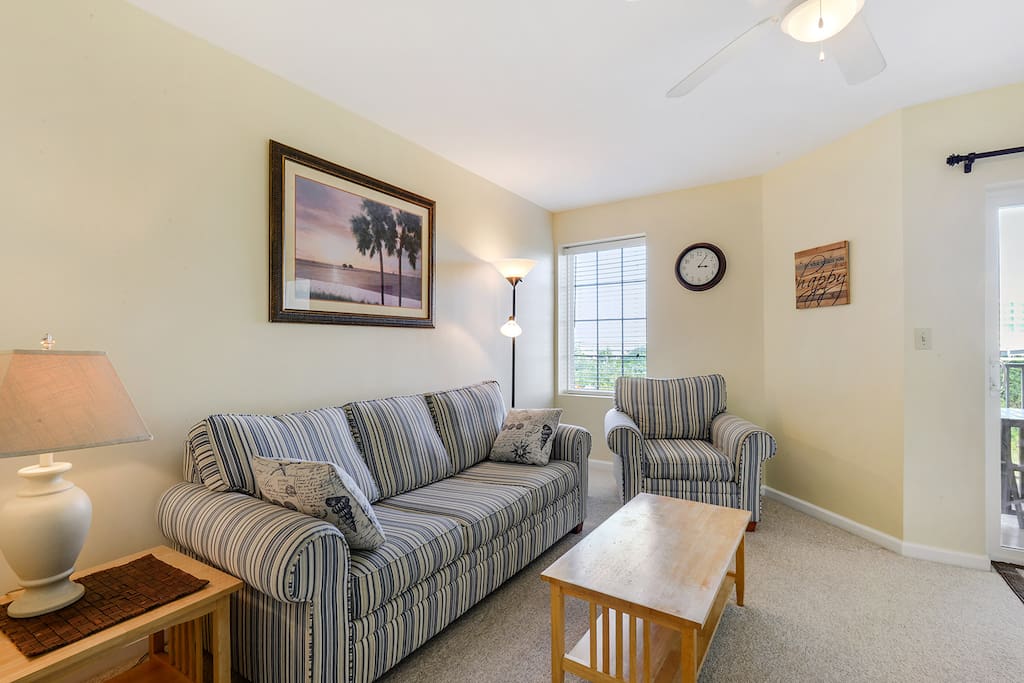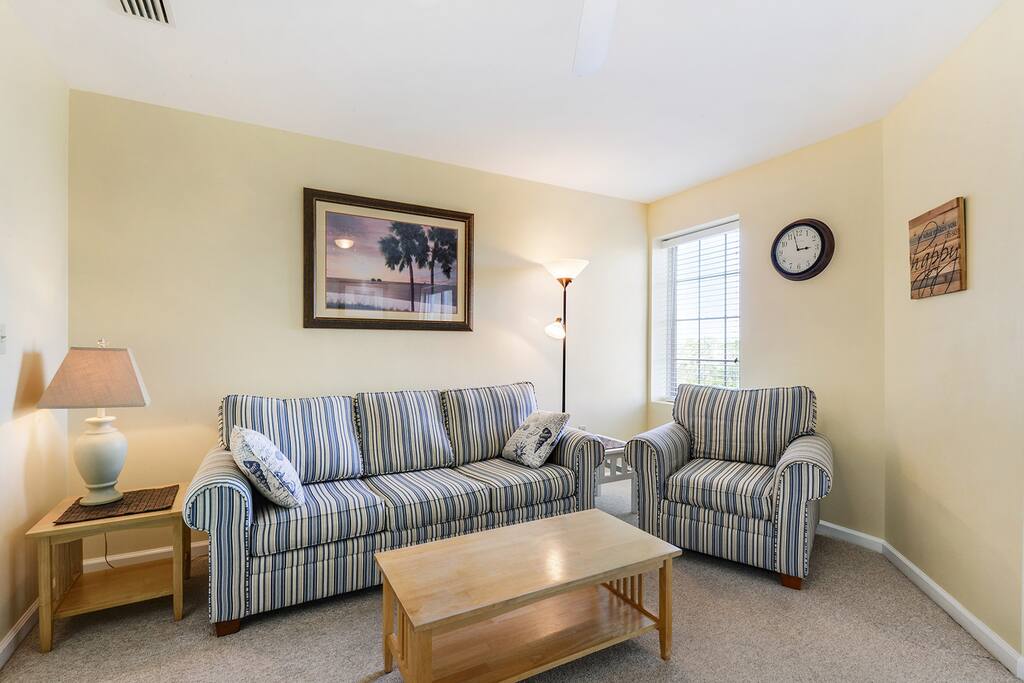 This meticulously maintained, 1 BR/ 1 BA condo at Grand Caribbean is directly across from the Orange Beach Public Beach & close to shopping, entertainment, restaurants, the Orange Beach ball fields, & family-friendly activities, nightlife. You'll love my place because of the location, the cleanliness, and the comfort. There is a BBQ area and pool on the property. Comfortably sleeps 6 (queen in master, 2 built-in bunk beds, & sleeper sofa). Fully equipped kitchen & wifi.
房源
This condo comes with one parking pass provided. If you need a 2nd, it will be an additional $30 at check in. Only 2 cars are allowed per unit.
与房客的互动
My office is a mile from the property so I can usually be there in a moments notice. I can be reached anytime on my cell or at my office.
其他注意事项
We supply enough to get you started until you can make it to the store. This usually includes: one roll of tp per bathroom, one roll of paper towels, laundry detergent for one load, one garbage bag in each can, and one dishwasher soap. You will likely need to visit the store if your stay is longer than 2 or 3 days.
---
Exactly as advertised; host was easy to work with and great with communication. We loved the location, right across the street from the beach!
---
Condo was very clean and everything was timely. Only had one problem, we received two keys and only one would work. Overall, great for the price we paid.
Thanks for staying with us and sharing your experience! We take cleanliness very serious and I appreciate you pointing out how clean the condo was upon your arrival. Sorry about one of the keys not working. Thanks to your feedback, we have double checked all keys and discarded the ones that didn't work.
---
Great cozy place for 2 adults or a small family. Exactly as advertised and great stay for the price.
---
My family enjoyed staying at Bella's place so much that we added an extra night! The condo looked just like the pictures showed. My kids loved sleeping on the bunk beds. The beach was a short walk across the street but because we had two little ones with us we drove instead. The condo floors could have been a bit cleaner but overall a wonderful experience! I would recommend Bella's place to others and would definitely stay again!
Hi my new Texas friends! Thanks so much for sharing your experience! I'm glad you guys had an awesome time and it worked out to extend your stay! Thanks for pointing out how convenient the beach access was to the condo (you can either walk across the street or if you have a lot of stuff and prefer to drive, there is a huge parking lot on the beach). We take cleanliness very important and I was disappointed to hear that the floors were not clean to our standards. Granted this is no excuse, but at the end of the summer, even though the floors are mopped after each guest departs, it is difficult to have them totally spotless as they really need a deep clean (which we do 2-3 times per year) to remove dirt that gets trapped in the grout. Other than the floors, I'm glad the rest of the place was immaculate. Again, thanks for highly recommending our condo and keep us in mind the next time you are in the mood for a beach trip!
---
Bella's place is perfect for a family of four to five. We made sure to take extra garbage bags and laundry detergent and etc, due to the description provided by the owners...Publix was right next to the complex which was very convenient. Nice view of the ocean, my kids loved the bunk beds. The photos on site were on point. Will recommend for future stays.
---
Location is in okay place, close to shops but very noisy street. Can not enjoy the pool at all times.
I'm sorry to hear about the noisy street. This complex is located directly across from the beach on Perdido Beach Blvd which is the main thoroughfare. The pool is next to the street offering beach views. I can imagine there would be traffic noise at the pool at times but the unit sits a good distance from the road and up 3 floors. I have never heard about a problem with traffic noise at the unit. I assume you were referring to noise while at the pool and not the unit. Also, I didn't realize that you had a issue with the wifi. The code should have been listed in the package you received at check-in. The code is "Grand320!" and you connect to the network ending in _EXT. I have added this info this listing so hopefully no one else has this same issue. As for the initial key issue (gave out wrong key), Oops, that one is totally on us and I am VERY sorry. I agree that a key-less entry system is in order and we will look into that.
---
My family would always visit the Alabama Gulf Coast for vacation when I was a child so I was thankful when a job brought me here in 2006. The beautiful beaches, great golf, amazing fishing, and overall laid back southern charm made it impossible to leave. In 2012, we started Bella Beach Properties with the goal of providing the most amazing accommodations so others can experience our paradise (beach vacation rentals), and helping folks find more permanent accommodations for those who want to experience paradise on more of a full-time basis (sales). We love it here and hope you will too.