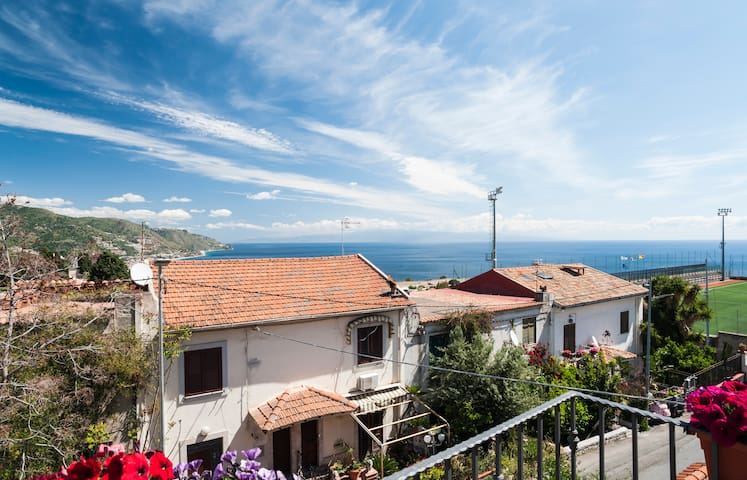 常舒适海景客房非常安静,关闭您的景点(每人每天额外税额1 EURO) 你是内步行到巴士站和公共停车场和私人攀爬3分钟楼梯,你会发现缆车下山到海边从周边的住宿到达的主要道路上,以手吧ECT主要古迹餐馆商店仅几步之遥......
camera con vista mare molto accogliente zona molto tranquilla e vicino hai luoghi d'interesse( tassa di soggiorno extra 1 euro al giorno a persona )
vi troverete a 3 minuti a piedi la fermata autobus e un parcheggio publico e privato salendo le scale troverete la funivia che scende a mare a pochi passi dal vostro alloggio arrivate sulla via principale tutto a portata di mano bar negozi ristoranti monumenti principali ect ...
---
Wow, so much to say about Giuseppe's place! A-MAZING!!! 5 star service through and through. He made me feel like royalty! It was so relaxing and so wonderful to wake up in my room every morning drink my espresso and enjoy wine on the balcony every evening. This beautiful little bed and breakfast is absolute perfection. The home is located outside of the hustle and bustle of Taormina on a lovely side street. It is a 5 -10 minute walk to all of the shopping and restaurants you can ever dream about! I had a view of the ocean and Calabria from my private balcony. It is heaven on earth there! Guisseppe greeted me and brought my bags upstairs and also pointed out on the map some wonderful restaurants. I dined at all of his recommendations and they were the best food in Italy so far. The apartment is located 2 minutes from the gondola/chairlift which brings you down to the beach. I rode it almost every day to swim for 6 Euro round trip. The beach was so beautiful and I will never forget it! Inside the room you have an espresso machine, water, fruit, & yogurt. Every morning at 9am Guisseppe would bring me breakfast that was so delicious. Chocolate croissants, ham/cheese and eggs. So much, that I took a sandwich to the beach everyday. I loved it and I am missing it right now! Everyday he would give me recommendations of what to do and made sure I was very comfortable. Every afternoon I would come home to a clean room as he has the lovely cleaning lady spruce up the room and refill your water and anything else you need. This is by far the best B&B in Taormina and you should book your stay at Casa Aurora!! Trust me, Guisseppe will take excellent care of you, even in ways you didn't expect. ;) xx Wow, tanto da dire sul posto di Giuseppe! STUPEFACENTE!!! Servizio 5 stelle attraverso e attraverso. Mi ha fatto sentire come un regalo! Era così rilassante e così meraviglioso svegliarsi nella mia camera ogni mattina bevo il mio espresso e godere del vino sul balcone ogni sera. Questo bellissimo bed and breakfast è una perfezione assoluta. La casa si trova al di fuori del trambusto di Taormina su una bella strada laterale. Si trova a 5-10 minuti a piedi da tutti i negozi e ristoranti che si può mai sognare! Avevo una vista sull'oceano e sulla Calabria dal mio balcone privato. È il paradiso in terra! Guisseppe mi ha accolto e ha portato i miei sacchetti al piano di sopra e ha anche evidenziato sulla mappa alcuni ristoranti meravigliosi. Ho cenato a tutte le sue raccomandazioni e sono stato il miglior cibo in Italia finora. L'appartamento si trova a 2 minuti dalla funivia / seggiovia che vi porta verso la spiaggia. L'ho cavalcato quasi tutti i giorni per nuotare per un viaggio di andata e ritorno di 6 euro. La spiaggia era...
---
Giuseppe is an excellent host and super attentive. The apartment is less than a 10 minute walk to the main shops/restaurant area and has some amazing views from the balcony. Breakfast every morning and having the apartment cleaned while we were out each day was a really nice touch. Giuseppe's communication was always great and he gave some fantastic suggestions. Would highly recommend this great apartment and host
---
This is a fantastic place to stay. I had the top room of the building which meant that I had zero noise at night. Although it looks like the ceilings are low, they are not other than at the extreme ends of the room, which means that it is easy to walk around the room. The bed is a sofa bed but it's the best sofa bed I've ever slept on - and I'm very fussy! it's a great mattress so you will sleep well. The view from the apartment is adorable and Guiseppe gives a massive breakfast - enough to pack a light lunch! He speaks excellent English and lives on the bottom floor so is on hand at all times for anything you need. Taormina is on a mountain so be prepared to walk up and down stairs. That would apply no matter where you stay, but what I liked with this small B&B was that you were right by the stairs and those stairs came out right by the front of the town's main road. I would highly recommend this place. - and if you're thinking of going to Mt Etna, take a quad bike trip. That is by far the most personal and fun way to experience the volcano!
---
This cute little apartment has a few major advantages. It is incredibly good value, given breakfast is included. It is less than 10 mins walk to the heart of Taormina, yet in a quiet street away from the crowds. Guiseppe obviously cares so much about his accommodation. He is attentive and makes sure things are done even if he isnt there. He pays attention to detail - everything is clean, the coffee is replaced daily. He is friendly and helpful, down to finding free parking for us. Great if you are looking for clean, friendly accommodation in Taormina, without the 5 star price tag.
---
今年内装などをきれいにやり直した可愛いアパートの3階です。ベランダから海が見え、とても気持ちの良い部屋です。ジュセッペさんは一生懸命にサポートしてくれて、好感が持てます。やりとりもとても迅速です。町の中心まで坂を登って行くのがやや難儀に感じる人がいるかもしれませんが、景色が良く我々は楽しめました。 This is a third floor of nice cute apartment. You can see the blue Taormina coast line from the balcony. It is a cozy room. It is walking distance to the bus center and the main street of the town, but you have to climb the steep steps, which is a part of attractive point of Taormina.
---