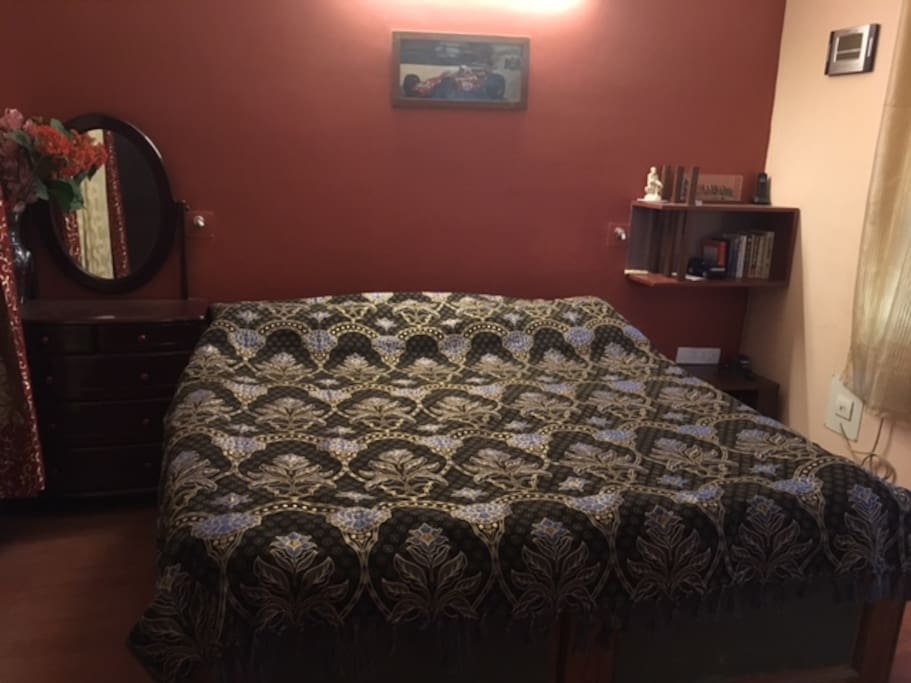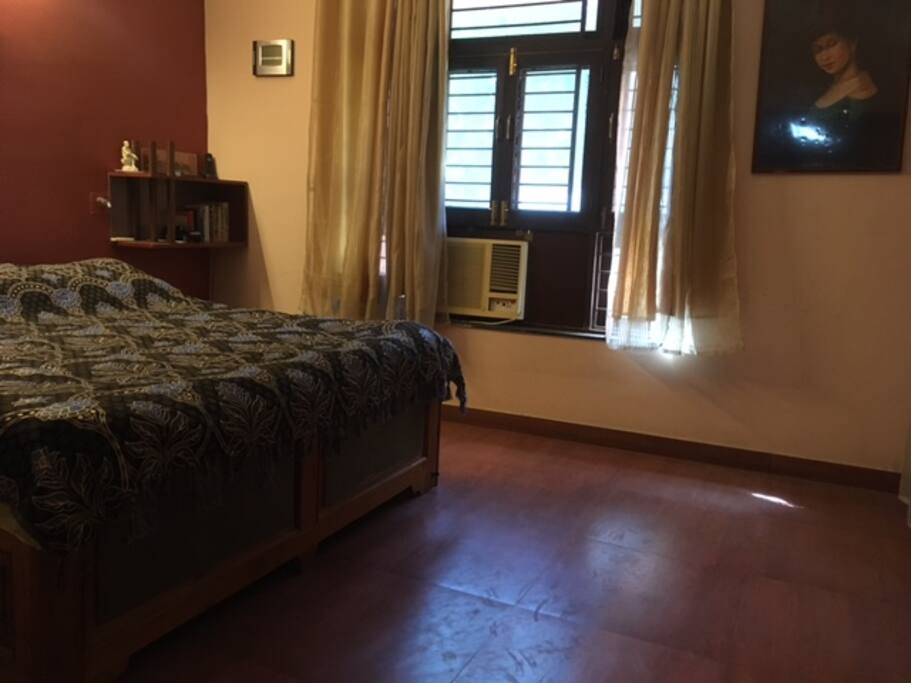 Quite, Elegant and Complete with Amenities
Simple, quite and elegant place with 24 hours support and flexi check in and check out. We have an house help and a friendly German Sheperd who is kept locked and is well trained. With 24 hour water supply, hot water and cold water availability, coffee / tea and breakfast. The location is well located near many lounges, coffee shops and malls.
---
---
---
---
- In case of parties for more than 2-3 guests, a prior notice to the owner is helpful.
- In case of issues with house pet (German Sheperd), please inform us in advance and we can have him locked/away from the guest.
---
---
---
---
Mr Sharma's hospitality has helped me settle in Bhopal and feel at home. I came to Bhopal to work on a project and initially stayed for a week at Mr Sharma's place before extending my stay to a long-term one, as I felt safe and comfortable there. The facilities are clean, modern and the study room was perfect for my work. The room is on a separate floor, which also allows enough privacy and independence. Most importantly, Mr Sharma very kindly made sure I had a taste of the diversity of Indian cuisine as I enjoyed many dinners at home, which Vinod cooks wonderfully (and breakfast was also great). The host's flexibility during my stay, his promptness to solve any issue that arose, as well as Vinod's precious help made a difference and I would therefore highly recommend to anyone having to stay in Bhopal and looking for comfortable accommodation standards as well as a unique experience to stay there. PS: any dog lover will also be fond of Cooper :)
---
I had a comfortable stay at Mr. Sharma's place. Mr. Sharma was courteous enough to let me check-in and check-out late as my trains were at odd times. Vinod, the caretaker was of great help. Special mention to his cooking, awesome food! Not to forget Mr. Sharma's paintings and carpentry skills. Overall, I loved the house and the hospitality. Would definitely recommend to a friend!
---
Very comfortable stay at the space, the study area was very useful and helps when you are travelling for work. The breakfast and help by the caretaker was really great. Would recommend for long term stays as well. The only issue was the bed, a hard mattress, which was also resolved after informing the host. Perfect for a budget stay in Bhopal.
---
We had a lovely two day stay on our very first visit to Bhopal. Duffy, self, wife and daughter. The creative genius of the host Mr Jaiprakash is contagious. From Furniture to Paintings an even the door bell at the main gate... You can see the personal touch of a loving and caring person. The house gives you much more than you expect. The house hold help.. whom the host fondly calls his Son is a superb cook and a multi skilled person (by the way.. so is the host himself). And the angel of the house is Cooper, their GSD. When you leave.. you will "leave inspired". Pandyas.
---
Retired from Senior Position in Min. of Defence.
Fond of Music, have a huge collection of English and Hindi Music. Favourite singer in English Being Engelbert, Jim Reeves, Jagjit Singh, Manna dey and Hariharan. Have large collection of Academy Award winning movies.
Fond of reading, have a good collection of Books. Often write Articles - published in magazines and News papers. Fond of Painting, Wood Work, Sculpture( in Marble) and Adventure. Fond of Games both indoor and outdoor, currently play Billiards and Bridge on regular basis. Member of Arera Club. Involved in Social Work