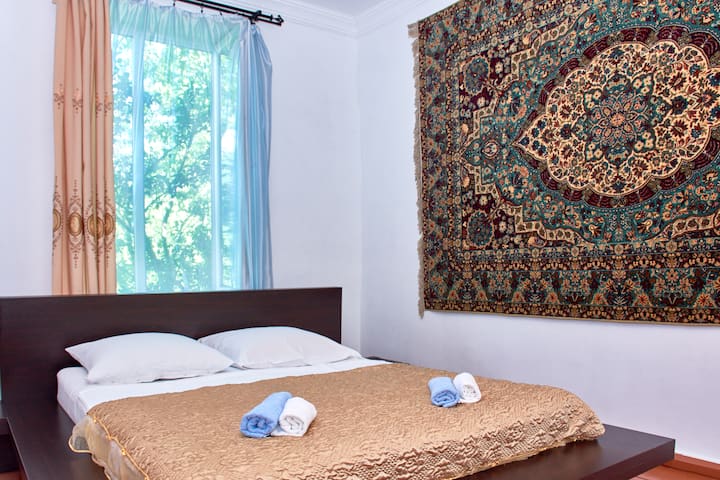 Nazy's Guest House is an established guest house and adventure trekking enterprise 2.5 hours drive from Tbilisi. It is located in the heart of the beautiful Pankisi Valley in the mountainous region of north-eastern Georgia. It is surrounded by dense foothills and overlooked by High Caucasus mountains. The air is clean and the water is refreshing. This is a perfect place to relax or explore the beautiful natural scenery around Pankisi Valley and nearby High Caucasus mountains.
房源细节
Nazy's Guest House offers adventure treks from Pankisi Valley to Tusheti. The trek is by horse or by walking accompanied by an experienced local guide.
We offer mountain bike hire services and tours for guests. Guests can hire excellent quality mountain bikes for exploring Pankisi Valley at leisure or go trail-blazing into the High Caucasus Mountains.
Nazy's Guest House offers cooking classes in traditional Georgian and Kist cuisine. This is a great opportunity to learn how to prepare and make delicious dishes. We have our own vegetable garden, which provides for most of our needs and the produce is organically grown. Our guests can have a tour around our vegetable and fruit garden and pick fresh vegetables and herbs they will use as ingredients.
One of the most exciting attractions in the Pankisi Valley is seeing the mystical ritual of Zikr, which is performed by local Kist women every Friday in a local mosque. Zikr is the name of devotional remembrance in Islam in which short phrases or prayers are repeatedly recited. Nazy's Guest House can arrange for guests to attend women's or men's Zikr in a mosque, where they can meet the participants and watch the Zikr.
房客使用权限
Nazy's Guest House is situated in Jokolo village in the Pankisi Valley, in the mountainous region of north-eastern Georgia. This small region is home to the small Kist community and their village settlements. Pankisi Valley is located in the Akhmeta district in the Kakheti region, which borders Ingushetia and Chechnya to the north, Dagestan and Azerbaijan to the east.
Pankisi Valley can be reached easily by car or taxi from Tbilisi in 2.5 hours (via the Gombori Pass) or by minibus/marshrutka in 3 hours on the same route. The road distance is about 143 kilometres. The main road from Tbilisi heads east then climbs north over the Gombori Pass (1650 metres) and descends through the Gombori mountain range heading north-east to Telavi .From Telavi the Akhmeta-Batsara road runs north-west to Jokolo. A shared taxi can be hired from Tbilisi to Jokolo for 50 GEL (carrying maximum of 4 persons). The price is 13-15 GEL per passenger. The taxi point is located in Isani, in the eastern part of the city.
其他注意事项
Pankisi Valley is known for its love of horses and horse-riding, and tourists can experience short or long horse-trek with our local guides. This region is also rich in wildlife including roe deer, chamois, wild boar, brown bear, wolf, lynx, jackal, red fox and badger. There are 60 species of birds including wood-pigeon, thrush, blackbird, raven, gold finch, several kinds of woodpecker, bearded vulture, griffon vulture, black vulture, goshawk, sparrow hawk, golden eagle and kestrel.
Nazy's Guest House is a NON-ALCOHOL and NON-SMOKING family home and guest house. Guests are not permitted to consume alcohol or smoke anywhere inside the building or garden. We aim to promote a healthy, safe and friendly environment for all our guests and family members.
This was actually my second stay at Nazy's and I would recommend it to anyone traveling in Pankisi. On the first trip, my friends and I took a full day guided horse tour up into the national park. On the second trip, Nazy helped me attend Zikr, a prayer ritual at nearby Duisi mosque. We also went driving into the park, where you can see a waterfall and swim in natural pools formed by the river. When our car got a flat tire, Nazy's father and brother came out to help us! Her family is very welcoming, Nazy's English is great, and the meals are delicious (it is also possible to accommodate dietary needs).
---