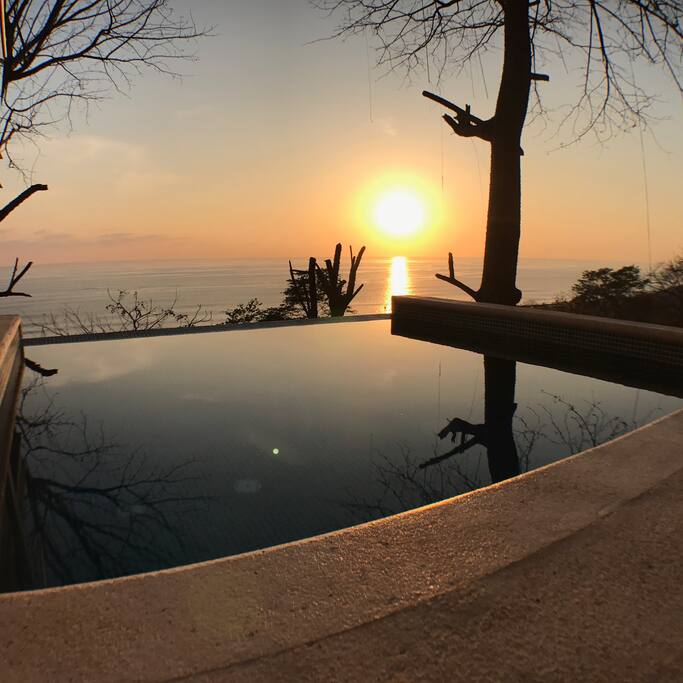 Newly Built Surfer's Paradise in Santa Teresa
Newly Built Surfer's Paradise in Santa Teresa
Newly constructed in 2017, Casa Atrapasuenos offers a modern design with sweeping ocean and white water views from nearly every vantage point in the house. The house is located within the Maramar gated community, located in the center of Santa Teresa directly above the most consistent surf break in town, La Lora. Enjoy stunning sunsets each evening from one of the balconies or while relaxing in the private infinity-edge pool. Perfect for families and couples or group of friends.
---
The house is beautiful, the view amazing (you need a 4x4 to get there), the host and the property manager were great at communicating with us before and during our stay, and you have all you need in the house to spend a lovely family vacation. If you visit this little gem, its going to be hard to leave... We cannot wait to be back.
---
I am the owner and manager of a surf school for women, (URL HIDDEN) I brought a group of 6 women down to surf, shop and explore. If you are traveling to Playa Santa Teresa there is nowhere else I would want to stay. The house and owners are are absolutely amazing. The owners were super helpful is helping us to get situated and putting us in contact with the guest relations manager within the gated community where the house is located. The guest relations manager was able to recommend incredible restaurants, book activities and was always willing to help with any of our needs even on her day off. The coffee maker happened to die and before we knew it she had a new coffee maker for us and we were off and running. The house!!! WOW! It is amazing! You are perched up on the hillside, within in a reserve, just above the main surf break of La Lora in Playa Santa Teresa. The house is impeccable and the views are breathtaking. Sitting on the deck enjoying a cup of coffee while contemplating which peak we wanted to surf, priceless; not to mention that two of the 8 mornings we were there we happen to have howler monkeys right out front, off the deck, along with birds making there nests, and iguanas running around (I wish I could post pictures!). The house is located in a private gated community with 24 hour surveillance which makes it incredibly safe. The house and community are located just at the edge of town and just a 3 minute drive to amazing restaurants and shopping. My clients and I could not have asked for a safer, nicer, and more conveniently located house. I hope to return and would definitely rent this house again!
---
We are a family of 5 who reside in Ojai, California, a little gem an hour north of Los Angeles. We are avid surfers and yoga practitioners focused on a healthy and active lifestyle. Our lifestyle focus drew us to Santa Teresa after traveling extensively throughout Central America searching for paradise. After discovering Playa Santa Teresa in 2005, we completed our dream of owning a vacation home in this tropical paradise in 2017. Year after year we were drawn back to Santa Teresa for its natural unspoiled beauty, white sand beaches, consistent year round surf, abundant yoga studios and diverse and healthy dining option. After renting hillside homes for years, we settled on the luxury development Maramar for a several reasons. First, Maramar has one of the only paved roads in town, a huge asset during the rainy season but also during the dry season when dust can be a problem for other rentals. Second, the gated community has 24-hour security, on-site property management and a large common area pool when we want something more than our home pool. Finally, Maramar is located directly in front of La Lora, the most consistent and highly rated beach break on the southern peninsula. The entrance to the beach is located less than 50m from the front gate.