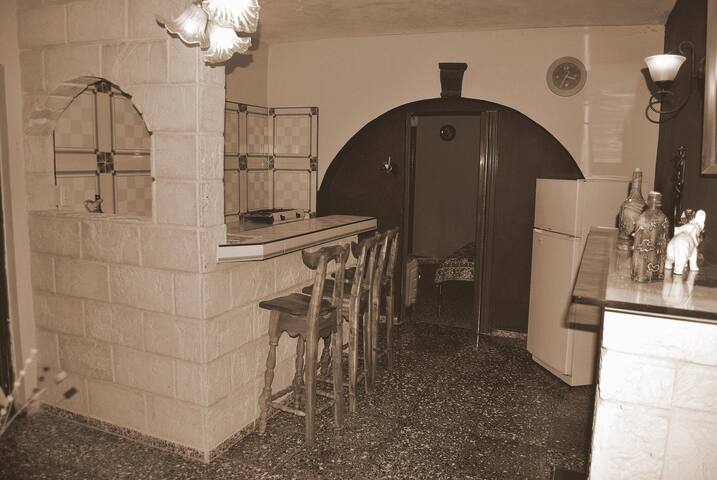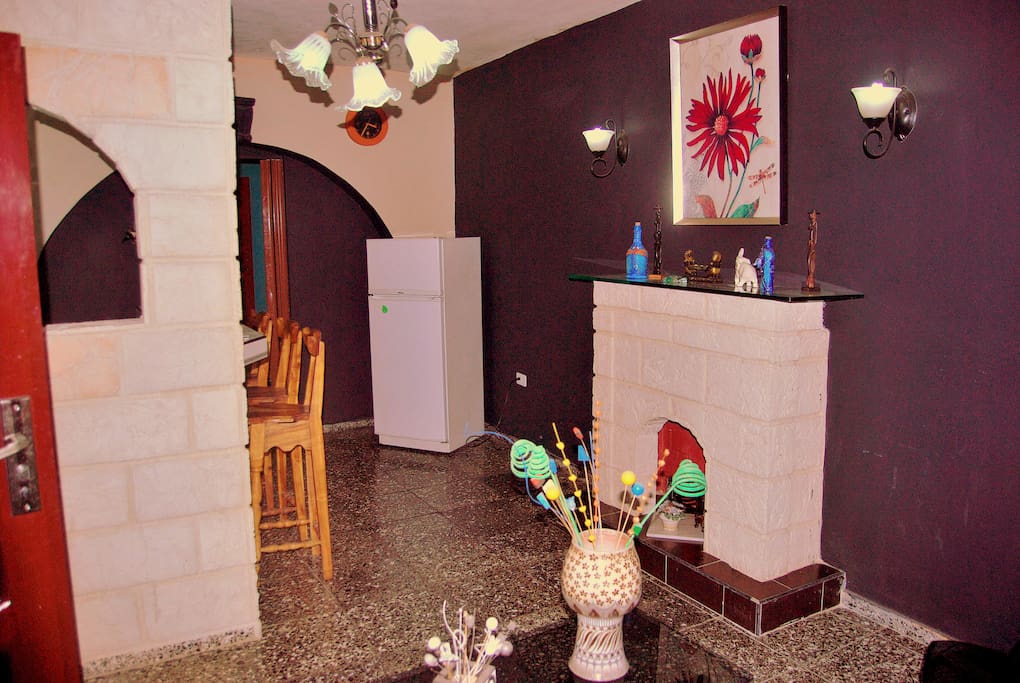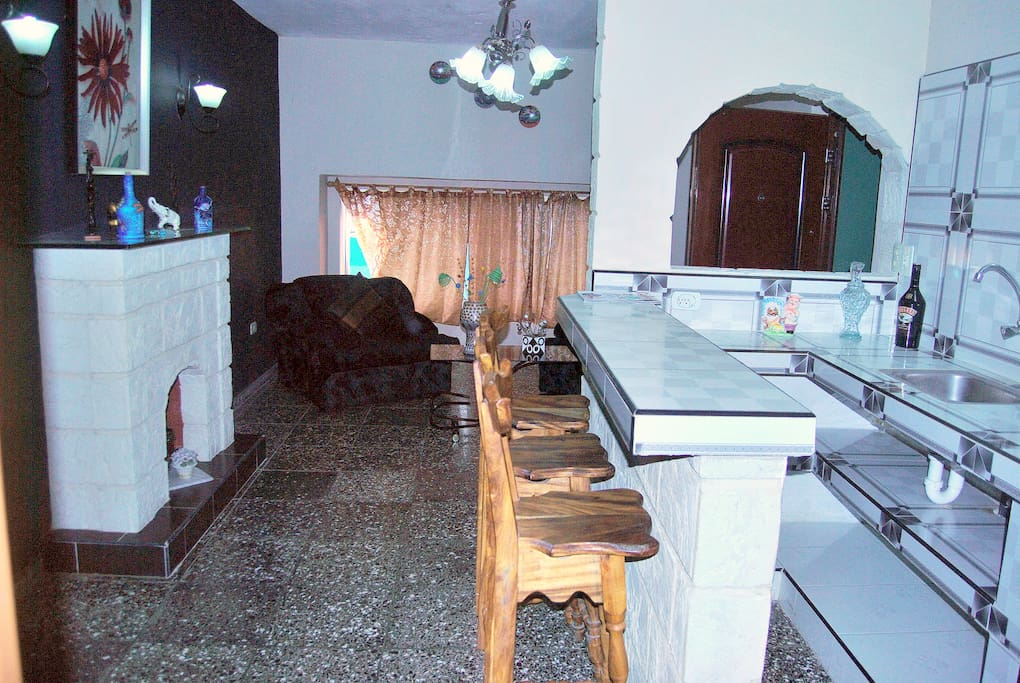 El hostal es de dos apartamentos independientes. Uno es de un dormitorio, sala de estar, barra desayunadora y baño privado, ideal para parejas o si viaja solo, su precio es $30. El otro es apartamento de sala, baño y dos dormitorios excelente para familias con niños o grupo de amigos, su precio es $60 si alquila los dos dormitorios, si solo ocupa un dormitorio su precio es $30, o sea, cada uno de los tres dormitorios tienen un costo de $30. Ambos aptos con aire acondicionado, agua caliente.
房源
Es diferente porque lo común es hospedaje en simples habitaciones dentro de la casa del anfitrión. Estos apartamentos son completamente independientes y no sólo es la habitación, ambos tienen recibidor, comedor. No es habitación simplemente, es apartamento con espacios. Excelente lugar, al lado del Teatro América y Casa de la Música, muy cerca del Casco Histórico, Habana vieja, Capitolio y a solo tres cuadras del Malecón Habanero.
与房客的互动
Siempre estamos disponible para coordinarles lo que necesitan. Paseos por Habana Vieja en autos antiguos, Varadero, Viñales. Cualquier necesidad será atendida.
---
I'm easy traveler. I'm almost never at the apartment I rent, I don't bring people in the apartment or make parties there, I'm always out and about, all hosts who had me can confirm that, I don't expect or needs luxury, I just want clean place where I can take a shower and sleep well. Not hard to please right?! So, Iracema is not there, she just rents this place. Communication with Iracema( actually her husband prior the trip was great). They were replying promptly. Little did we know that another person actually takes care or owns the place, which is not big deal at all. The lady speaks Spanish only, so you better brush up your Spanish, you'll need it. Location was good. On a residential street, but walking distance to Parque Central where you can find taxis and buses and close to Habana Vieja. Apartment is very basic, only beds and towels,no essentials whatsoever, and only one toilet paper roll for the whole stay. It was 4 of us. Luckily we brought some with us. We saw few roaches during our stay. Ok, it can happen, no big deal. The water was a big problem. The first night we arrived, only two of us took a quick shower and it was no water at all. Not even to flush the toilet. The next morning, no water again. We used our drinking water to wash our face and teeth and no shower. The night we came back it was no water again. So I told the lady that there is no water and asked what's the deal. She told me to wait that she will take care of that and we got water within 5 min. So I guess, the host stops the water for whatever reason and every single time you need it you need to tell her that you are in the apartment and you will take a shower or so. That's what we did for the rest of our stay. It was not a problem, but how would one know that if not told? The biggest problem and total turn off is the fact that they try to take advantage of you as a tourist. We realized Cuba is poor and people need to make money in any way possible, but you must be somewhat honest. No one is stupid. Everyone does a research when traveling. The lady that hosted us right away offered us a taxi to the airport to which I replied that we can find our own. The day before we left, i told her that we are leaving in different times, 3 separate groups and if possible the last two girls to leave their luggage there and come to pick it up in given times as they would've go shopping early and they didn't need to use the rooms anymore, but don't like to drag the bags around. Then she offered taxi again, so I told her that we were gonna take...
---
Excelente lugar encontramos el equilibrio exacto entre la privacidad que otorga un apartameto y la gran disponibilidad de Celia e Iracema para orientarnos aconsejarnos y ayudarnos en todo. La calidez humana encontrada, la excelente ubicación del apto, lo espacioso y confortable del mismo hace que sea un sitio muy recomendable para quien quiera recorrer La Habana. Seguro que de retornar a esa hermosa ciudad procuraremos alojarnos con ellas
---