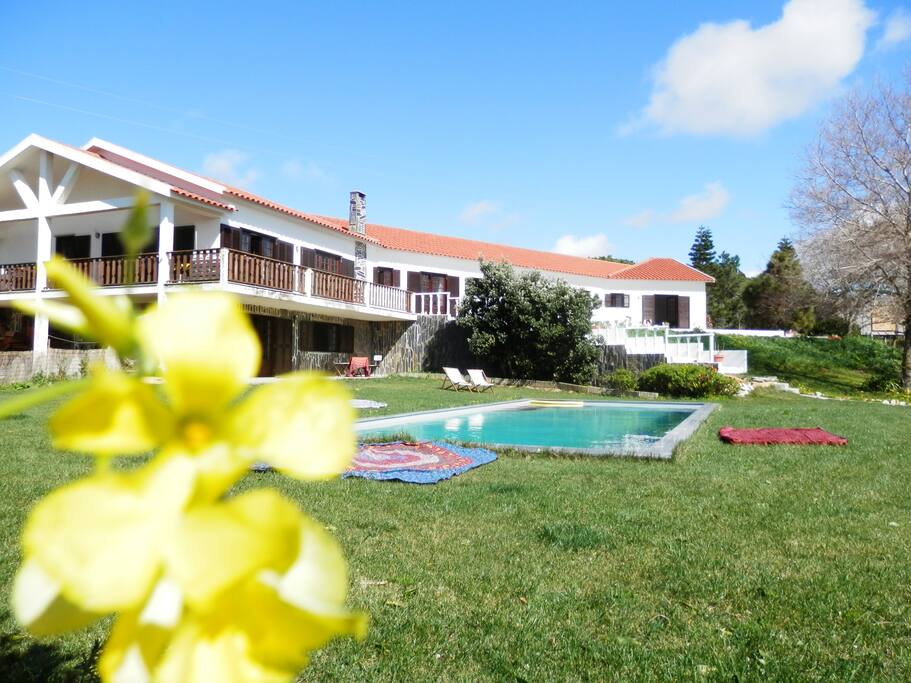 The Elemental Ericeira Guesthouse is a beautiful portuguese house located 350m from the beach "Praia do Sul" in a calm neighbourhood. To the centre of Ericeira it is only a 12min walk by the beach. We have a nice ocean view, a big and beautiful garden with a great saltwater pool.
We rent 5 double rooms with private or shared bathrooms. All rooms have access to the garden and you and can see the ocean even from your bed!
The kitchen, LivingRoom, BBQ etc. are shared spaces for all our guests.
房源
The Elemental Ericeira Guesthouse is a beautiful, old (but freshly renovated) Portuguese house located 350 m from the Beach in a calm neighbourhood on the outskirt of Ericeira. To the picturesque and lively village centre it is only a beautiful 12-min-walk - by the beach.
The Elemental Guesthouse has a nice ocean and country view, a big and beautiful garden and a great saltwater swimming pool.
We have 5 double rooms for rent, with private or shared bathrooms, just the way you prefer it (please also see our other Airbnb advertisements). The rooms have direct access to the garden and you and can see the ocean even from your bed!
The kitchen, living room, BBQ Area and other facilities are shared spaces and available to all our guests.
Therefore, you will be free to prepare your own food whenever and however you like it. The kitchen is spacious and equipped with all you need to have a perfect breakfast on the sunny terrace, or a fresh fish and romantic dinner under the trees at sunset!
OR... you can join the occasional "Elemental BBQs" or the "Chefs' Nights" with a choice of different meals influenced by internationally experienced surfing-chefs.
Well, if none of this is an option to you, you can always take a short walk by the beach straight to town, where numerous restaurants and bars will give you a warm welcome and serve you Portuguese food and drinks as good as they get! You may also want to join a live show on the main square or listen to nice acoustic tunes while having a drink or two.
The short walk home after all this will definitely help clearing your head, to wake up fresh after a good night sleep for another day of your vacation!
In fact, Ericeira is known for 3 things:
1 - Its picturesque fisherman village centre and stunning landscape
2 - its great kitchen with fresh fish and meat, what makes Ericeira also wildly popular among many people from the Lisbon area to spend their weekends here.
3 - and of course, last but not least, quite surely some of the best surf you will get anywhere in Europe. Being Europe's first "World Surfing Reserve", Ericeira and its waves are now a protected stretch of coastline!
The variety of surf spots suits all levels and ages of surfers, from beginners up to the very Pros who you may quite likely see in the water and watch their action live once the waves start pumping!
For beginner levels the summertime (June-Sept) is probably the best time of the year to come, try it out - it may change your life!
For intermediaries and all other levels of surfers we rather recommend the spring or autumn months, when swells tend to be bigger and more frequent, while the sun is still nice and warm and rainfalls are still few.
And pssssssttttt….. of course, there is surf all year long!
But obviously it is not all and only about surf, right?!
Besides chilling in the pool and hanging in a hammok under the trees there are quite a few options to pass the time and spend a relaxed vacation @ Elemental Ericeira:
- Surfclasses
in cooperation with certified, local Surf schools we can help arrange your surf classes, either private or group lessons, at the beach of your choice, including transportation, rental of equipment, etc.
- Surfari(URL HIDDEN)
jump in the Van and explore different surf-spots with us. Get to know the area and we will try our best to bring you where the surf is best for you!
- Surf-shots
skilled photographers in- or outside the water catching your best moves and providing you with a remembrance that will bring a smile on your face every time you look at it !
- Yoga and Pilates classes
start the day relaxed with a class of Yoga, or Pilates, or even Yog-ilates if you like! Would you prefer to practice it here in the Guesthouse or maybe rather down at the beach?
- Elemental Surf Clinic
try out different health and beauty treatments of Traditional Chinese Medicine.
Is your shoulder hurt from all the paddling? Or would you like to flatten out some of these sorrow lines on your face in a very natural way?
Talk to Nina, our certified and well experienced therapist, and experience firsthand what wonders a few acupuncture needles can do, if you know how! If you are scared of needles, don't worry, there are also more gentle ways of getting you back in shape!
- Slackline
Train your balance and overall body strength for 1 h a day under the trees in our garden and you will feel the difference when you step back on your board!
- Skateboarding
cruise along the coast or head for the famous Quicksilver skate park and charge the vertical pool!
- Boule aka. Petanque
The French enjoy this game mostly with a white wine, while the Portuguese would probably go with red.. or rather a glass of fresh fruit juice? either way, you can have a pleasant afternoon playing boule right here in our garden!
- Rentals – surfboard, bike, scooter, car...
in Ericeira you will find many different rentals. you can rent a street cruiser, Mountainbike, scooter or car to explore the area or reach comfortably your favourite beach!
Yes, you can even rent a Segway, wear a funny helmet and drive up and down the city, if that is what your perfect vacation looks like!
- Beach Bus
From July until September the Beach Bus passes aprox. 250m from the Guesthouse. It stops at all beaches between Foz do Lizandro and Ribeira d'Ilhas and also at the city center.
- Day trips
you can also do daytrips to several nearby towns with historical meaning like Mafra, Sintra or Obidos, or go and visit "Cabo da Roca" the most western point of continental Europe. If you prefer organized tours, we can also hook you up with several tour providers
- Golf
there are also different golf clubs with different degree of difficulty within a 40min drive.
- other activities….
fishing, tennis, mini golf, air hockey, climbing park, laser tag, carting,
… you name it!
See you soon @ ELEMENTAL ERICEIRA
房客使用权限
The kitchen, living room, the garden, BBQ Area and other facilities are shared spaces for all our guests.
与房客的互动
we are living in a seperate bungalow on site, and are availiable for your needs at most times - unless surf´s up..
其他注意事项
meet our friendly, hairy family member "Rasta". She is a happy, little dog and already very much looking forward to meet you..
---
---
---
- - DISCLAIMER Your stay at Elemental Ericeira Guesthouse is at your own risk. Elemental Ericeira Guesthouse herby disclaims any and all reponsability or liability for any damage of persons and belongings that may arise from your stay at Elemental Ericeira Guesthouse
- - ADDIOTIONAL GUESTS subject to availability of extra beds. Kids under 14 can stay in their parents room without any additional costs.
---
---
---
Perfect place, anyone coming to Ericeira should definetly stay at the house: EVERYTHING IS PERFECT!! Maik and Nina are such sweethearts, helpful, cheerful, amazing hosts! The breakfast was stunning and very fresh every morning (and we are french so basically food means the world to us!) The house is so peaceful we had a lovely time sunbedding by the pool and chilling out in the garden. Beside, the location is perfect: very close to the beach and nice walking distance by the sea to town. The rooms is very clean and the beds very comfy. We loved the atmosphere overthere, definetly good vibes in the house! Don't think twice, book your stay there! If we could rate it i'd put 10/10!
---
hey,
my name is maik, we live in ericeira since 2014. after almost 18 months of heavy renovation works, we are now finally ready to open our brand new guesthouse Elemental Ericeira. obviously it was our love for the ocean and the surf what has brought us to this beautiful corner of the planet. We are well travelled and know exactly what our guests need and expect when visiting us for their vacation.

any questions?? Just ask, we gladly support you with whatever you need...

We are very much looking forward to meet you soon! Here @ Elemental Ericeira Guesthouse.

best regards
语言:
Deutsch、English、Español、Français、Português