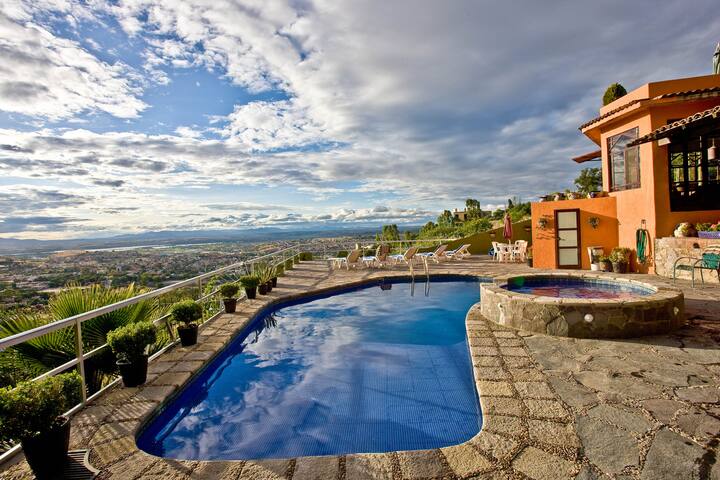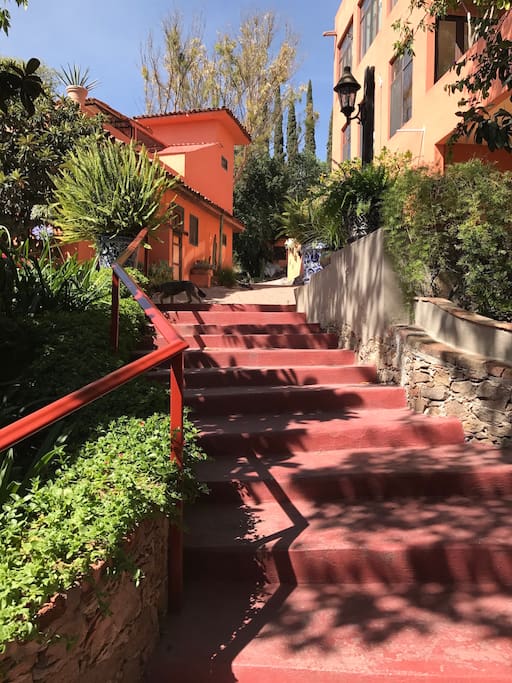 ********** AMENITIES with the house **********
Heating: Yes - Gas Fireplaces & heaters
Coffeemaker: Yes
Ceiling fans: Yes
Refrigerator: Yes
Maid service: Yes
TV: Yes, basic cable channels
Private Bath: Yes
******** AMENITIES on the property for your use *********
Swimming pool & Jacuzzi shared with all the rental units
BBQ pit for grilling shared by all of the rental units
Interior secured parking : by reservation and for a fee of US$20.00 per day
Gardener & Maintenance man
房源
2 bedroom / 2 baths .. completely stocked unit over looking the most amazing views San Miguel de Allende has to offer ! Swimming Pool shared with all the rental units* Majestic views / Beautifully gardens * WIFI * Cable TV * Heating * Ceiling Fans * Kitchen * Living room * Coffeemaker * Heaters * Microwave* Refrigerator * Oven / Stove * Maid service daily * Parking * Concierge Service * BBQ Pit *
Casa " TITO " …. 2 bedrooms / 2 baths
********** AMENITIES with the house **********
Heating: Yes - Gas Fireplaces & heaters
Coffeemaker: Yes
Ceiling fans: Yes
Refrigerator: Yes
Maid service: Yes
TV: Yes, basic cable channels
Private Bath: Yes
******** AMENITIES on the property for your use *********
Swimming pool & Jacuzzi shared with all the rental units
BBQ pit for grilling shared by all of the rental units
Interior secured parking : by reservation and for a fee of US$20.00 per day
Casa Cordelli in San Miguel de Allende, a choice of travelers for 20 years: a unique property & home complete with swimming pool & Jacuzzi, BBQ pit for grilling, interior secured parking, gardener & maintenance man, and secured electric fencing. An easy 10 min. walk down to the main square and Jardin and a taxi is only $50.00 pesos in San Miguel... walk, bus or taxi safely to restaurants, movie theater, super markets etc. Panoramic views from the pool of the old church tops around the central square and the countryside are especially rich at sunset. (URL HIDDEN) is our complete website of all our rentals
• Easy 10 min walk down to main square and Jardin
• Swimming Pool & Jacuzzi
• BBQ pit by pool for everyone
• Maid Service
• Internet Wi-Fi
• Cable TV service
• Overhead fans & heaters in all rooms
• Gated property /24 hr. security
Many features of this rooms and homes are the abundance of light and it's incredible location. Furnished with ample appliances, everything you need in a rental! Incredibly cozy... We have everything you could possibly need to make your stay as comfortable as we like to be.
房客使用权限
Casa Cordelli Villas in San Miguel de Allende, a choice of travelers for 20 years: a unique property & homes complete with Swimming pool & Jacuzzi shared by all the rental units, BBQ pit for grilling shared by all the rental units, Interior secured parking for an extra daily fee, Gardener & Maintenance man, Security Surveillance and secured electric fencing. An easy 10 min. walk down to the main square and Jardin and a taxi very inexpensive in San Miguel... walk, bus or taxi safely to restaurants, movie theater, super markets etc. Panoramic views from the pool of the old church tops around the central square and the countryside are especially rich at sunset. Many features of homes and rooms are the abundance of light and it's incredible location. Furnished with modern appliances, everything you need in a rental! Heat in every room.... incredibly cozy... We have everything you could possibly need to make your stay as comfortable as can be. This property offers an extremely quiet environment and will offer undisturbed sleep. You are close to Centro, but at the same time, away from all of the regular night time noise ( traffic, partygoers ) that can be hard to adjust to if you are new to San Miguel. But please note the town celebrates many holidays and special saints days throughout the year. There are usually fireworks, etc, when these events happen. There is no escaping them. And no matter how far away you are from centro you will hear them.
与房客的互动
I live on the property, so it is easy to contact me. I have a very strict cancellation policy because I have multiple requests for bookings. If you check in and decide to alter your trip plans I cannot refund your money because I would have refused other requests to rent the property. So please be sure of your plans before booking my home.
其他注意事项
This is not a noisy neighborhood, and it is expected that guests will be respectful of this. No smoking and no loud parties! The apartment is fully furnished, and it is expected that guests will keep furniture and all other items in excellent condition! No pets allowed.
---
We had a great stay 4 day stat at Casa Coredelli. The house was great, the views incredible. The place was very clean and made up everyday. My 8 year old daughter loved the place and we explored the beautiful grounds. San Miguel, was as great as ever. We enjoyed the pool and the Jacuzzi. The house is conveniently located and 12-15 minute walk to the Jardin. Waling up will burn your thighs a bit, but helped burn off a few of the calories we consumed at the great restaurants in town (well worth the walk to have the awesome vistas/sunsets!). The staff was extremely helpful and cordial. They booked a massage for my wife, helped out with the Jacuzzi, booked our ride back to QRO airport, and entertained and were patient with my efforts to knock the rust of my Spanish skills. Susan was very attentive and responsive to my queries prior to the trip which was very much appreciated. Great stay, will will be back at some point and will definitely check to see if Casa Coradelli has availability.
---
En general todo bien, notas importantes no sirve el WIFI, la alberca no es exclusiva para el alojamiento y hay un burro que se la pasa haciendo ruido en el predio vecino, sé que no es responsabilidad directa de la persona que renta pero si se podría hacer la observación, no nos dejó dormir una noche entera.
Estimado Rodrigo, Lamentamos los inconvenientes que tuvieron durante su estancia. En cuanto al burro, hemos tratado de que lo saquen de ahí pero no nos han hecho caso. En cuanto al WiFi, lo probamos antes de que llegaran y otros huespedes estuvieron haciendo uso de este sin ningun problema. Como se le comentó a su llegada, efectivamente la alberca no es exclusiva de la casa, si no de uso común, una disculpa por el mal entendido. Seguimos a sus órdenes y esperamos poder atenderlke en alguna otra occasion en que visite nuestra Hermosa ciudad.
---
We have been in the hospitality industry for 20 years. We are Nice, Polite, and always helpful. I am originally from NY and my husband from Ohio. We reside full time in San Miguel de Allende as of 17 years ago. We married in the courtyard of our downtown B&B back in 2001, just da…