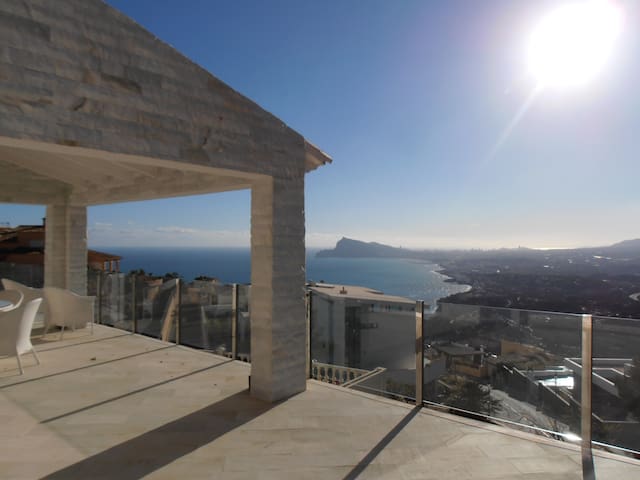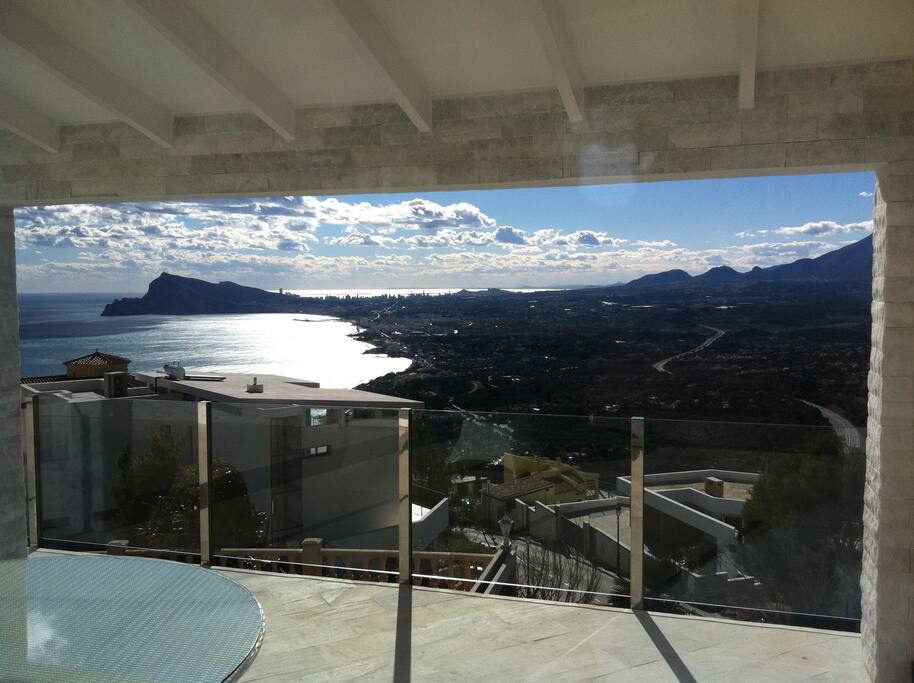 VILLA DE DISEÑO EXCLUSIVO INTERIOR CON VISTAS FANTASTICAS AL MAR Y A LAS MONTAÑAS!
房源
Villa amplia, luminosa y confortable con piscina privada para 8 personas, para pasar unas vacaciones agradables en la costa entre familia o amigos. La villa está situada en una zona residencial a 10 minutos de la playa.
La villa tiene 4 dormitorios, 6 cuartos de baño (2 con bañeras, 2 con duchas y 2 aseos) distribuidos en 2 plantas. Hay un jardín acogedor, una piscina maravillosa y unas impresionantes vistas al mar y a la montaña. El confort, privacidad, sitios para salir y lugares para ir hacen de esta villa un alojamiento ideal para pasar sus vacaciones en la costa blanca!
Planta baja:
- dormitorio con cama doble, un sofá y baño en suite, ambos con salida a piscina
- dormitorio con cama doble, escritorio y baño con ducha
- el comedor con mesa grande para 8 personas
- cocina con cocina eléctrica, horno eléctrico, microondas, lavavajillas, frigorífico, cafetera, batidor y tostador
- despensa donde puede guardar la ropa con maletas
- cuarto de lavadora con una ducha y aseo
- un aseo para invitados
Primera planta:
- dormitorio con cama doble y salida a terraza
- dormitorio con litera y escritorio para 2 personas, ideal para niños
- salón de estar con televisión y DVD
- cocina con cocina eléctrica, frigorífico pequeño con comedor pequeño para 6 personas
- un cuarto de baño y un aseo
Sotano:
- sala de cine con un sofá, pantalla y proyector con DVD
- sala de estar
Exterior de la villa:
- parcela vallada
- piscina privada de 8m x 6m
- jardín con césped y árboles
- BBQ place
- 2 terrazas, de las cuales 1 cubierta
Más información:
- aeropuerto más cercano: EL ALTET DE ALICANTE a 50km de la Villa
- no se admiten mascotas
- alojamiento no accesible para sillas de rueda
Actividades deportivas
- tenis (a menos de 5 kilómetros de la villa)
- golf (a menos de 5 kilómetros de la villa)
IMPORTANTE
Las plantas del alojamiento están comunicadas por unas escaleras interiores.
Hay un desnivel entre la calle y la entrada de la casa. Hay unas escaleras. La parcela no está apta para sillas de rueda.
Hay un desnivel entre la casa y la zona del jardín. Hay unas escaleras. La parcela no está apta para sillas de rueda.
Existe un depósito de garantía especial para grupos de jóvenes y eventos especiales.
El importe oscila entre 100 y 300 euros por persona en función de la calidad de esta Villa para garantizar el perfecto estado de este alojamiento de vacaciones.
与房客的互动
Estoy disponible para ayudar a los huespedes en cualquier asunto! Puedo organizar la recogida en el aeropuerto, etc.
---
---
- Horas de silencio de 14.00 a 17.00
- ¡Se puede fumar solo fuera de casa!
---
Вилла потрясающая! На самом деле выглядит еще лучше, чем на фото! Удобная локаци- до Бенидорма 20 минут на машине. Прекрасные планировки, две большие гостиные с панорамными окнами. Много света! В доме есть все -от фена, гладильной доски до любой посуды. Большой бассейн, уютные спальни. Но главное - это фантастический вид на море горы и Бенидорм! Можно бесконечно сидеть на террасе и наслажаться таким видом!! Не хотелось уезжать! И хочется вернуться!!
---
The upstairs of the villa is very modern with the sitting room having a small kitchen which is ok for breakfast and light lunches but you have to use the larger kitchen downstairs to cook a family meal this is also where the larger fridge and freezer is so you do find you have to transport items up and down stairs a bit. The stairs can be quite slippery if any things gets spilt and you do need to be careful with children if they are going out of the pool and upstairs with wet feet. The downstairs of the house is less modern and does have a slightly damp odour, but this did not stop our 11 year old from using the cinema room for his xbox but just to mention the wifi signal does not reach this area of the house and can seem quite remote for children if you are upstairs. There is also only one sofa in the room so if you where a larger family you would have to sit on the floor. There are only a few English channels on the TV mainly news so you will need to take plenty of dvds but, we also used our laptop via a cable which allowed us to access a little bit more. The air conditioning upstairs in the bedrooms was excellent as were the showers and bathrooms. We had a few things go wrong that needed fixing such as the wifi and the electric gates, but Alevtina was always quick to respond and attempted to resolve any issues. The villa feels very safe and secure and the surrounding area is well maintained with a security entrance on to complex. There are no restaurants within walking distance so you do need a car or use a taxi service. Alevtina recommended one which we found easy to book and very reliable and reasonable, for nights out. There is a local supermarket but not within walking distance and if you need a larger shop you do need to go into Calpe or Altea, so a car is a must. The welcome basket was a lovely surprise and the addition of items such as shampoo, soap and cleaning supplies is an added bonus. Alevtina as a host was excellent, always available and ready to help with anything we needed and I think this is a big plus for this villa, even though we had a few things go wrong with the villa she was always responded promptly to help and resolve the issue which gives you added security that help is at hand if you did need it.
---
Die Villa ist weit oben an den Altea Hills gelegen und verfügt über eine wunderschöne Aussicht auf das Meer, die anderen Villen an den Altea Hills und die Berge rundherum. Ob bei Tag oder Nacht, die Aussicht ist einfach faszinierend. Das Haus selber ist in einem sehr guten Zustand und verfügt über viele technische Spielereien (Wasserhahn mit LED-Beleuchtung, Heimkino, Sound-Anlage, viele Lampen in diversen bunten Farben, Regendusche, Disco im untersten Stock etc.). Der Wohnbereich ist gross und hell. Darin bieten schöne weisse Ledersofas ausreichend Sitzmöglichkeiten. Die Schlafzimmer sind alle relativ gross und nach unserem Geschmack stilvoll eingerichtet. Besonders das goldene Schlafzimmer mit der Fensterfront inkl. Ausgang direkt zum Pool und das dazugehörige top-moderne Badezimmer sind wunderschön. Im Haus sind insgesamt zwei Küchen verbaut, wobei eine davon keinen Dampfabzug hat. In beiden Küchen hat es je einen Kühlschrank, jedoch sind diese ziemlich kleine Exemplare. In der Küche im unteren Stock ist ein Gefrierschrank vorhanden. Auf dem Balkon sind Esstisch, Stühle und eine ausladende runde Liege mit verstellbarem Sonnendach aufgebaut. Die drei Liegestühle auf der unteren Terasse sind für 4+ Gäste eventuell zu wenig. Der Pool ist sauber und ausreichend gross, zudem wurde er während unserem einwöchigen Aufenthalt einmal gereinigt. Vor dem Haus kann das Auto bequem in der Einfahrt abgestellt werden. Die Gastgeber waren jederzeit sehr zuvorkommend, beantworteten unsere Nachrichten per SMS innerhalb von wenigen Minuten und hatten immer ein offenes Ohr für unsere Anliegen und Fragen. Check-In und Check-Out waren sehr flexibel. Einen enormen Minuspunkt gibt es aber aktuell im Haus: Die Klimaanlage im unteren Stock. Diese ist defekt und wurde während unserem Aufenthalt trotz Bitte unsererseits nicht repariert. Ein angenehmer Aufenthalt/Schlaf war wegen der brütenden Hitze im schönsten Schlafzimmer im ganzen Haus nicht möglich (Zimmer mit Ausgang direkt zum Pool). Auch im dazugehörigen Badezimmer herrschte eine brütende Hitze. Wir fühlten uns wie in einer Sauna und der Schweiss lief uns aus allen Poren. Eine funktionierende Klimaanlage dürfte man in diesem Haus definitiv erwarten. Zudem gibt es weitere kleine Mängel im Haus, welche uns aber nicht weiter störten wie z.B. die zerbrochene Glasscheiben-Tür im Eingangsbereich oder eben die Küche ohne Dampfabzug. Sobald die Klimaanlage repariert ist, können wir die Villa uneingeschränkt empfehlen und wir sind überzeugt, dass sie auch anderen Gästen grosse Freude bereiten wird.
---
После проведённых трёх недель на этой вилле не хочется уезжать. Потрясающий вид, красивый дом в котором всё продуманно до мелочей, радушные хозяева, которые окружили нас своей заботой начиная с приезда и в течении всего пребывания старались выполнить все наши пожелания. По приезду мы были приятно удивлены не только самой виллой и видом который открывается с террасы, но и угощениями которыми нас встретили, нам даже не пришлось в день приезда заезжать в супермаркет, вся бытовая химия также была запасена в необходимом количестве. По нашей просьбе нам купили даже газовый гриль. Ну что сказать дорогие путешественники, мы вам завидуем, т.к. ваше путешествие на эту виллу ещё впереди! Надеюсь туда вернуться ещё т ещё!!!
---