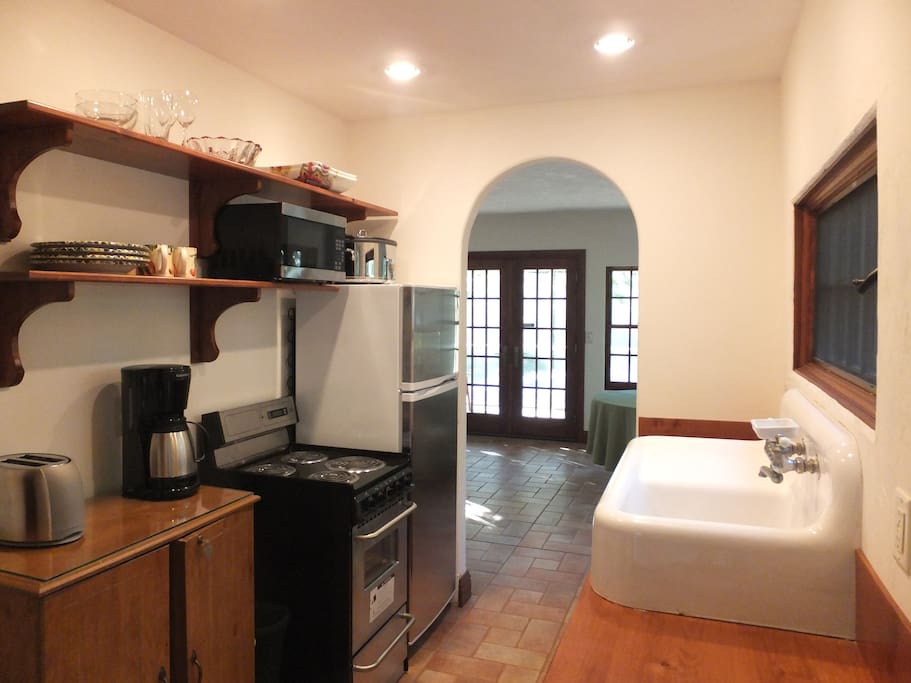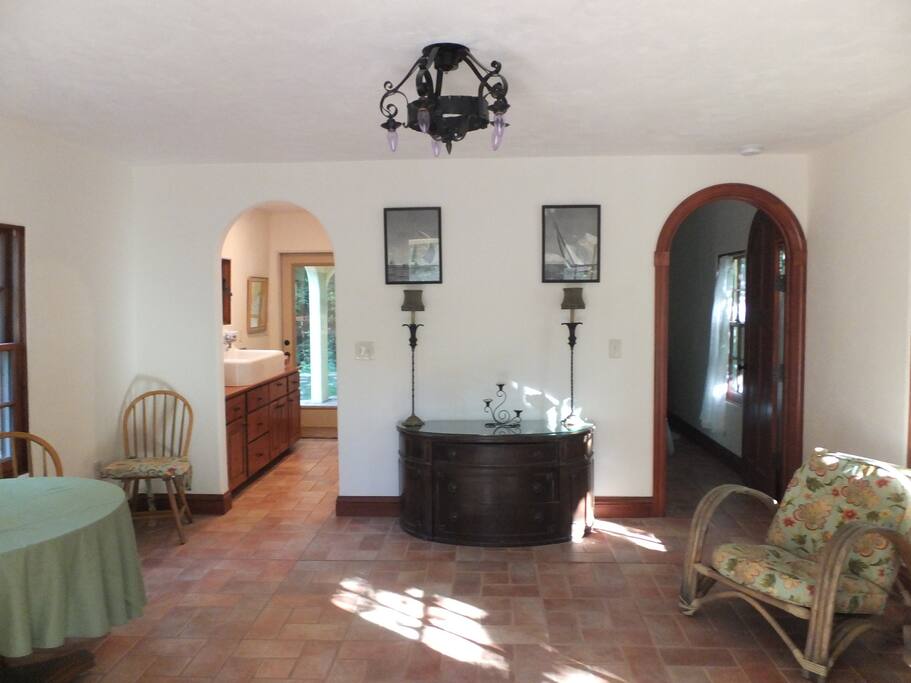 "Casa del Camino" Guest House
Chiquita is a vintage cottage which was recently renovated. Camp Miniwanca is your neighbor to the South and it's literally a a two minute walk to Benona Beach and the sandy shores of Lake Michigan. The property is in close proximity to West Garfield Road, however the cottage is well insulated and the back patio and deck provide a good amount of privacy. Chiquita is a wonderful location for couples or for solo adventurers looking for quality beach time and outdoor activities.
---
---
---
---
VACTION PROPERTY RENTAL AGREEMENT
Casa del Camino LLC
Chiquita Guest House

The parties desire to form a short-term vacation rental agreement for the licensed use of the stated property and stated term in this Agreement. Now, therefore, in consideration of the mutual promises and agreements set forth below, intending to be bound by them, the parties agree as follows:
ARTICLE I
OCCUPANCY
1.1 Term. This Agreement is for a Term specified and confirmed via Airbnb.
1.2 Property. This Agreement entitles the Renter the use of the vacation guest house "Chiquita" and exterior grounds of property ("Property"). The Property for this rental agreement does not include use of the main house and its features nor the garage with the exception for use of parking. The Property is located at: 9136 W Garfield Road, Benona Township, MI Rental Payment. The total amount of rental payment to be paid via Airbnb.
Inclusive is a nightly rental rate, $50.00 Cleaning Fee and a provision for a $200.00 Security Deposit. Casa del Camino LLC, c/o E.J. O'Leary, 2240 Flint Creek, Cumming, GA Maximum Occupancy. The maximum number of overnight guests allowed at the property is 3.
1.5 Utilities. Water, Electricity, and Gas costs are included in the rental cost. Phone and Cable services are also provided within the Rental amount, any additional charges to these services by Renter that have not been provided by Owner will be billed to Renter.
1.6 Assignment and Subletting. The Renter shall not assign this Agreement or Sublet any portion of the Property without prior written consent of Owner.
1.7 Cancellation Policy. Deposit will be refunded if a cancellation notice is received 90 days prior to the rental period. If Renter wishes to cancel reservation within the 90-day period, the deposit will be refunded at 50%. If cancelled with less than (thirty) 30 days prior to the arrival date, Owner reserves the right to retain the entire deposit.
1.8 Disclosure of Property. The Owner represents the Property is being rented as listed or described by the Owner to the Renter, with no warranties as to the actual specifications of the Property, its features, or amenities.
1.9 Rental Rules. See attachment "Exhibit A" for specific Rental Rules.
ARTICLE II
RENTER'S LIABILITY
2.1 Maintenance of Property. Renter shall keep and maintain the Property in a clean an sanitary condition at all times, and upon the termination of the occupancy term, the Renter shall return the Property to Owner in as good a condition as when received, ordinary wear and damage by the elements excepted.
2.2 Repairs. Repair and maintenance problems must be brought to Owner's attention within 24 hours of occupancy or by occurrence, or Renter will be held liable for all such damages or repairs. Owner will not be responsible for any unauthorized expenses incurred by Renter or his guests. Owner is not responsible for compensation of any part of the Renter's fee due to failure of fixtures or appliances resulting in short-term inconveniences.
2.3 Damages. The Renter shall be responsible for any damages or alterations caused by the Renter's negligence and that of any occupant or guest of the Renter.
2.4 Access for Repairs. Renter and his guests will allow Owner access to the property for the purpose of repair and inspection. Owner will exercise this right of access in a reasonable manner. If Renter or his guests fails to allow Owner access for repair and inspections of the property, Renter shall be liable for damages resulting from obstructing the Owner from access for repairs and maintenance.
2.5 Contents. The Owner owns all contents in and on the Property, excluding items brought onto the Property by the Renter and his guests. If Renter or his guests remove Owner's contents, Renter agrees to reimburse Owner for the replacement of the contents.
2.6 Indemnity. Renter agrees to defend, indemnify, and hold Owner harmless from any and all liability, claims, loss, property damage or expenses, arising by reason of any injury, death or damage sustained by any person, or to the property of any person, in or on the Property during the Term of this Agreement, where such injury, death or damage is caused by a negligent or intentional act of Renter, additional guests or visitors of Renter.
2.7 Ordinances and Statutes. Renter, all occupants, and/or guests shall comply with all statutes, ordinances, and requirements of all municipal, state and federal authorities now in force, or which may hereafter be in force, pertaining to the use of the property.
2.8 Attorney Fees and Costs. If owner employs legal services to enforce any condition of this Agreement to collect any amounts due, or because Renter takes action to recover funds not due, Renter shall be liable for reasonable attorney's fees and costs incurred by Owner.
2.9 Causes for Eviction. The Renter and all parties with the Renter will be subject to immediate eviction from the Property if the Renter or parties of the Renter violate any terms of this Agreement. In the event of eviction from the Property, the Renter shall forfeit all amounts paid and will not be refunded.
ARTICLE III
GENERAL PROVISIONS
Section 3.1 Applicable Law. It is the intent of the parties hereto that all questions with respect to the construction of this Agreement and the rights, duties, obligations, and liabilities of the parties shall be determined in accordance with the applicable provisions of the laws of the State of Michigan without regards to conflict of law principles.
Section 3.2 Captions. Subtitles of this Agreement are non-binding on this Agreement.
Section 3.3 Pronouns. All personal pronouns used in this Agreement, whether used in the masculine, feminine, or neuter gender, shall include all other genders; the singular shall include the plural, and vice versa.
Section 3.4 Severability. Every provision of this Agreement is intended to be severable. If any term or provision hereof is illegal or invalid for any reason whatsoever, such illegality or invalidity shall not affect the validity or legality of the remainder of this Agreement.
Section 3.5 Counterparts. Separate copies of this Agreement constitute the same agreement.
Section 3.6 Entire Agreement. This Agreement contains the entire agreement between the parties hereto relative to subject matter hereof. No variations, modifications, or changes herein or hereof shall be binding upon any party hereto unless set forth in a written document duly executed by or on behalf of such party.

EXHIBIT A
RENTAL RULES
Prohibitions on Property
Activities and items listed below are strictly prohibited on the use of the rental property. Special accommodations may be made with written prior consent from the Owner. Failure to follow these prohibitions will result in the renter being held liable for damages and repairs for the action.
Prohibited Activities and Items:
• Smoking inside of Property or its enclosures;
• Pets in the home;
• Refrain from feeding squirrels, as eventually they will make their way into the house.
• Use of fireworks, fire crackers, sparklers, and all other forms of firework classifications;
• Firearms and other dangerous projectile weapons; and
• Wild game hunting.

Special Events, Weddings, Family Reunions
Must receive prior approval from owner.

Courtesy and Noise Restrictions
Renter and guests must adhere to a reasonable standard of courtesy and noise levels for the consideration of the Property and its surroundings.
Post-Stay Information
• Keys: Place in same location as received.
• Please remove all perishable items.
• Lock all windows and doors.
• Dispose of all garbage, pick up is on Monday 7:00am, garbage cans are located next to yellow garage.
---
---
---
---