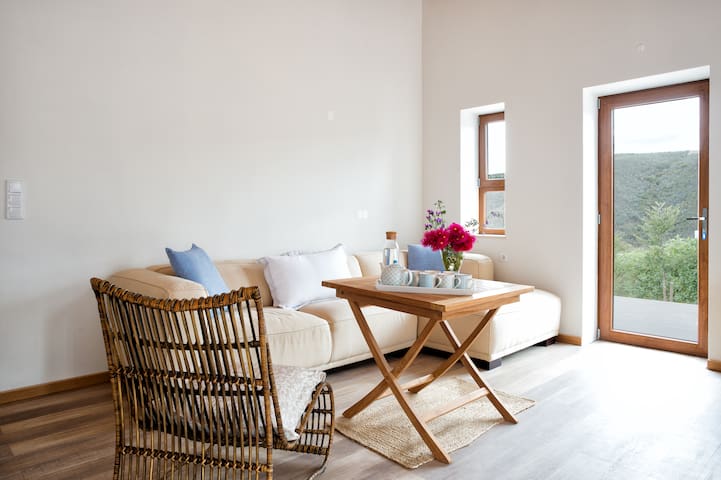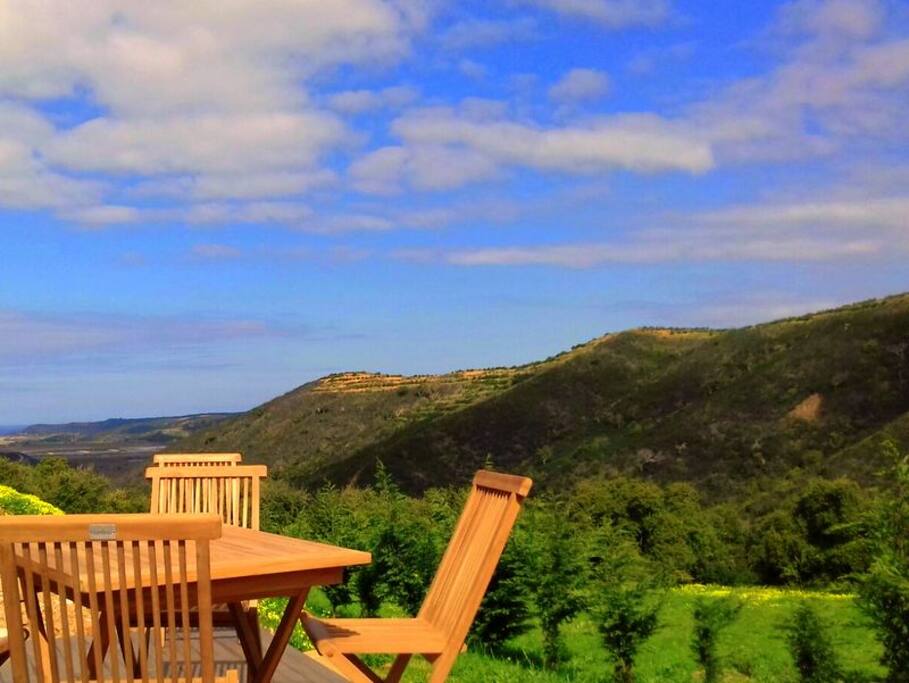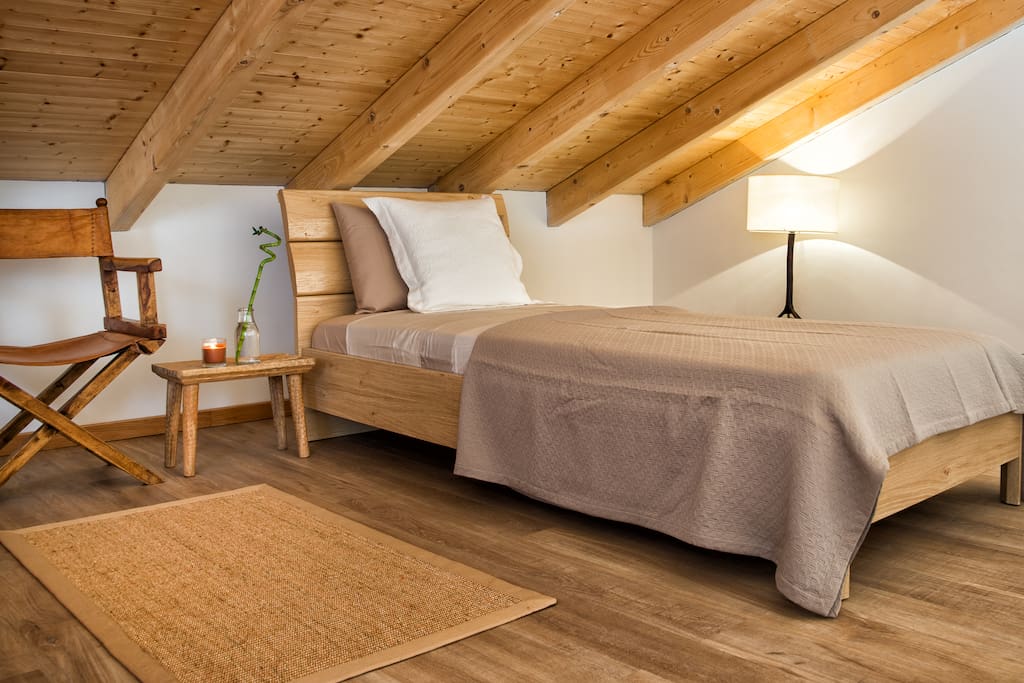 Shanti apartment, West Algarve
Shanti apartment is 1 out of 2 large private and separate apartments in Surf Shanti Lodge. It lies in a hidden untouched valley surrounded by a pristine private land and dreamlike views. Just minutes away from 3 world-class beaches and 5 minutes from the village of Aljezur. Surf Shanti's secluded and exclusive property is located in the West Algarve Natural Park. Surf Shanti provides a peaceful sanctuary from the disturbances of the hectic modern life.
---
---
---
Quiet after 10 pm.
No access to other rental or touristic business nearby.
No more than 4 persons in total.
---
---
---
最少住宿3晚。
从2017年7月01日 - 2017年9月30日起最少住宿4晚。
---
Einfach großartig! Sehr empfehlenswert für alle Naturliebhaber, die keinen Urlaub von der Stange wollen. Hier ist man mitten in der puren Natur, hört das Meer rauschen und genießt absolute Ruhe - fernab des Massentourismus'. Stephanie hat uns sehr freundlich empfangen, das stilvolle Haus ist liebevoll eingerichtet und voll ausgestattet. Im süßen Örtchen Aljezur mit der kleinen Altstadt gibt es alles was das Herz begehrt; die Marktstände in der kleinen Markthalle sind ein absolutes Muss für alle Freunde der frischen und regionalen Küche. Die tollen Strände der Westküste sind im Nu erreichbar und nicht nur für Surfer ein Paradies. Kurzum: dieses Fleckchen Erde ist der perfekte Ort, um dem hektischen Alltagstrubel zu entfliehen. Man fühlt sich hier schnell "zuhause". Wir kommen definitiv wieder!
---
This was truly an incredible place to stay. The apartment is super clean and a modern minimalist dream. I enjoyed having wine on the deck every morning/evening and enjoying the view and the sunsets. You feel the peacefulness of being in nature, but are also very close to Aljezur (for groceries, gas, etc.) and a short drive to some of the most beautiful beaches I've ever seen. Stephanie set up surf lessons for me and we had an extremely relaxing yoga session. I hope to return again someday.
---
The place was amazing and the house is full-equipped, clean, new, modern, quiet, ....better than our own home.... The welcome, support and assistance were just excellent. A great place to recommend and to come back
---
Very very nice apartment! You will enjoy! A beautiful terrace, you can see an hear the ocean. The apartment is very nice and we enjoyed 10 days in this absolutely quiet area. Don't forget to watch the stars in the night!
---
The location is amazing, great view, close to a lot of beaches, super quite and relaxing area. The house seems to be brand new or has been recently renovated. It's tasteful and has the potential to be very comfortable but it fall short on 3 aspects: 1. The mezzanine is not ventilated, even when it was fresh outside it doesn't cool-down. It should have a roof window or AC, it's unbearable. We were staying in the Mezzanine with our 1 year old and we had a rough time. The lack of shadows on the outside don't allow you to use it during daytime and the sun goes directly into the apartment that heats up a lot. 2. Considering the river proximity, the windows should have proper mosquito nets, it would allow the windows to be opened in the evening and help to keep the house fresh. Overall, awesome potential but needs a bit of work. I wish the best of luck to this project.
We welcome reputable and considerate feedback.We are glad that overall Ivo and his party of 4 adults and 2 kids did enjoy their stay at Surf Shanti. Yes the place is brand new and in fact Ivo was our first ever guest. Brand new sheets, linen, all kitchen and towels everything is brand new and never used. I think this is in fact a very strong selling point in this apartment together with the amazing natural surroundings. Regarding the temperature in the house. It is very important and most relevant to note here that Portugal during that very week experienced extreme temperatures and the whole country was in fact suffering a major heatwave ! (19-21th June ) that made international news.see excerts below: - European heat wave with conditions in the region reaching over 40 degrees. world news. Europe sizzled in a continent-wide heatwave on Wednesday, with London seeing Britain's hottest June day since 1976 - Portugal s worst ever forest fire\ - The Guardian. There is in fact good ventilation at the apartment with the cool sea breeze off the Atlantic almost always the prodiminent wind direction. Unfortunelty this group was just was very unlucky that week with the unfortunate conditions of which we of course cannot control and really it was quite exceptional and extreme indeed. We did however buy some extra fans that very same day and mosquito nets were installed and now fully operational. BTW heres what our other guests staying next door at exactly the very same time had to say. "Surf Shanti is a very special place. Waking up and looking out across the beautiful valley to the sea, and hearing the rush of the waves, is a great start to the day. The house is well appointed with plenty of space for the family. There is everything you need for a great stay and you are within a few minutes of two great surf beaches and within 30 minutes of dozens of secluded coves or other surf breaks. It really is a magical place where you can chill out, connect with nature and have a fantastic holiday " Please note, We value our guests experience greatly here and have done our utmost to create a high spec house with very modern and well equipped spaces. This was achieved in fact with a considerable financial cost. We have decided now after this booking to restrict the number of adults in the apartment due to this complaint. Please note this is a 1 bedroom apartment with one bedroom for 2 adults and mezanine for 2-3 children.
---