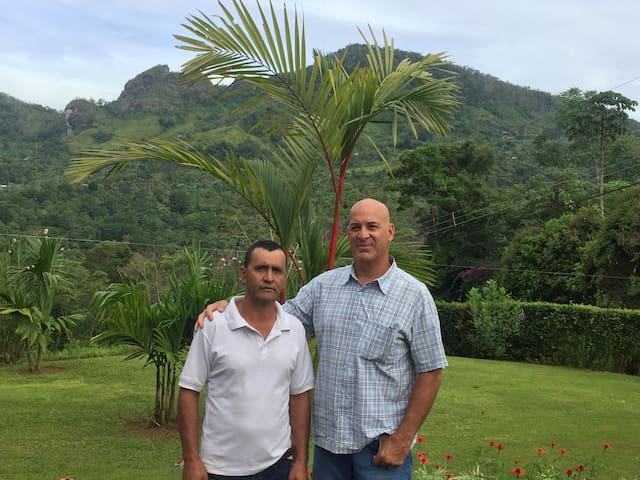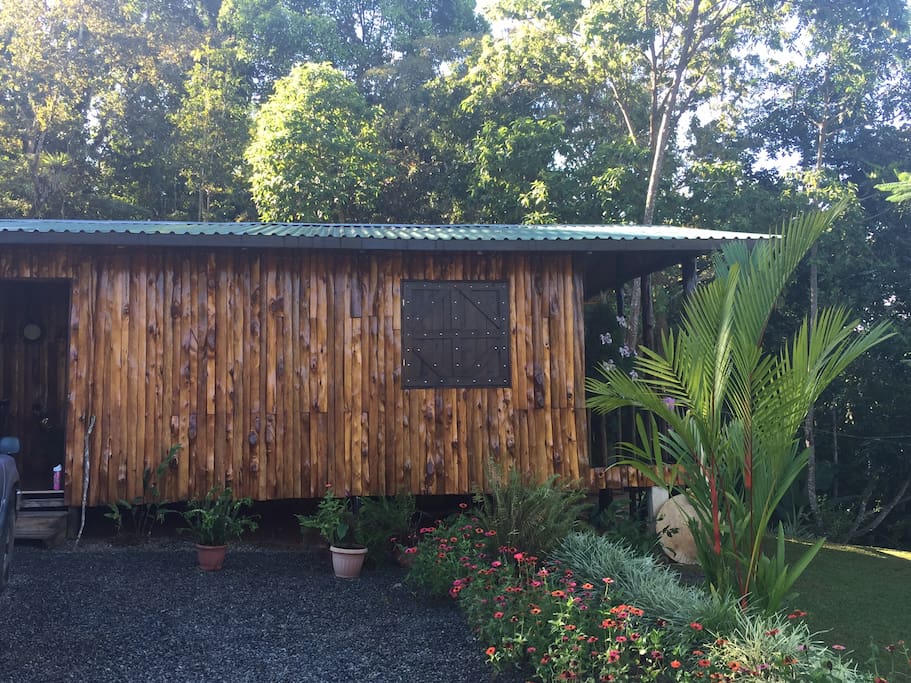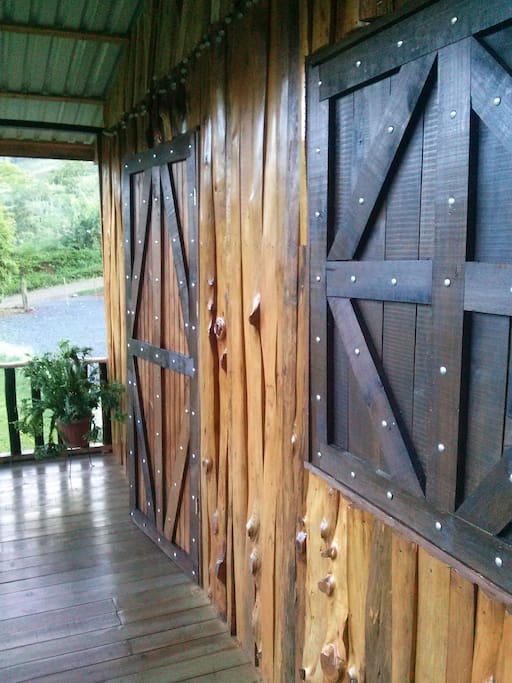 The REAL Costa Rica Mountain cabin B and B.
The REAL Costa Rica Mountain cabin B and B.
NEW Mountain cabin in a private reserve at an elevation of 3500'. The REAL Costa Rica with daily visits of 30-40 species of local birds. Views of the 'Sleeping Indian' and 12k ft peaks from your private porch. Bed and Breakfast (optional Dinner for a nominal fee). Minutes from biological preserve with miles of trails, rivers and waterfalls. Zip lines, thermal hot springs and Downtown San Isidro. The book "The Birds of Costa Rica" was written in our area. 35 minutes from Southern beaches.
房源
'Casa del Arbol' - Located on the Pacific slope of the Talamanca mountains near the bustling city of San Isidro de El General Is a newly built cabin (Mar. 17') on the edge of a virgin forest with an elevation of 3500'. Situated at a little more than a eleven hundred meters above sea level, the climate is perfect for those not wishing the heat and humidity of the sea coast, with temperatures ranging from 18-20 at night and 25-27 during the day, yet it is only an hours drive to a string of idyllic and un-crowded beaches, and less than two hours to Manuel Antonio National Park on paved highways. The cabin is ideally siuated next to a private preserve with giant and rare local hardwood trees (Coco-bolo, Ron Ron, Robles, Amarillon, Mayo, Chancho Blanco etc.). Positioned under a huge Fig tree ('El Arbol') which shelters many species of nesting birds. When giving fruit hundreds of birds including Tanager, Warblers, Honeycreepers, Toucans, Trogans and more can be seen feasting on its abundant fruit. Our bird feeders have been in place for years and are located around the cabin for an endless variety of our aviary friends. They come all day and everyday for a bird lovers paradise. Even if not a bird lover our place is sure to impress with the shear numbers of song birds.
房客使用权限
Your private cabins' terrace was designed for bird watching and viewing of the 'sleeping indian' and mountains. You have full access to surrounding walkways leading to fruit trees with tangerines, oranges, mango, papaya, guanabana, star fruit and so much more. Enjoy a second area with mountain views for your home cooked meals.
与房客的互动
Bernie and Nela- Your local caretakers live on property grounds in their own home. They can and will assist with any questions, preparing your breakfast (optional meals available). We can cater to special diets by requesting and informing us of that diet. As a recent guest said... "Nela and Berni are great and getting to know them will always be a peak experience of this entire trip. Your location is stunning. The variety of birds at both feeders was also a peak experience, as were the nightly cries of baby sloths"....
They are a great source of local folk lore and customs and can be a great conversation experience in enjoying REAL Costa Rican hospitality. Also available for a nominal fee is transportation to local attarctions, villages, beaches and more. They will patiently wait for your adventure to end so they can bring you back home. No worries PURA VIDA. NICE!
其他注意事项
Costa Rica has two seasons: the wet season with cooler temps and the dry season with hotter temps. Our location at 3500' is cool at nights with temps in the low 60s and warmer in the afternoon with temps in the mid 80s year round. During any season theres a chance of rain. Chances increase during the wet season which runs from April to November. Theres a usual break in the pattern in June know as their Indian summer. So bring a light jacket when staying with us. But when visiting us dont forget that the hot springs and beaches are all less then 40 minutes away so also bring your bathing suits.
---
Very nice cabin with a great view on a valley and mountain. Cabin is simple, but every thing you need to relax and watch the birds is there. Cabin is near the house of the carekeepers/hosts. Very friendly people, we met in the town, and the guided us (drove in front of us) to the cabin. Homemade dinner and breakfast is lovely, one of the best we had in Costa Rica. Had a same conversation about our trip, our house and homeland via translate on internet (wireless wifi (wireless router) availible). Multiple bird feeders on the property, one of them a few meters from the cabins terras. Saw multiple birds all day long. To name a few: tanager (4 different species), doves, hawk, squirrel cuckoo, motmot, woodpeckers, ect. Also saw multiple squirrels (one stealing a complete banana from the feeder). Got some fruits from the hosts during bird watching. We were really pampered, very nice and comfortable. Loved this place and the hosts. Highly recommended if you need a place to relax and watch some birds (and get great food).
---
The cabin with a separated entrance and parking space is located right in the mountains close to San Isidro General. On the property up the hill also live the hosts. It's perfect if you wanna hike in the reservation areas closed by. The cabin is really spacious and completely new! From the terrace you have a wonderful view to the mountains an birds come to visit you in the morning! Bernie and Nella (good friends of Julio) picked us up in San Isidro. They speak only Spanish but with the (SENSITIVE CONTENTS HIDDEN) translator it worked very well! They made everything feeling us comfortable. They are one of the most friendliest hosts we had in Costa Rica! They prepared such a tasty and healthy dinner and breakfast with everything fresh from their garden! Best Tico food we had in Costa Rica!!! 100% recommendable!
---