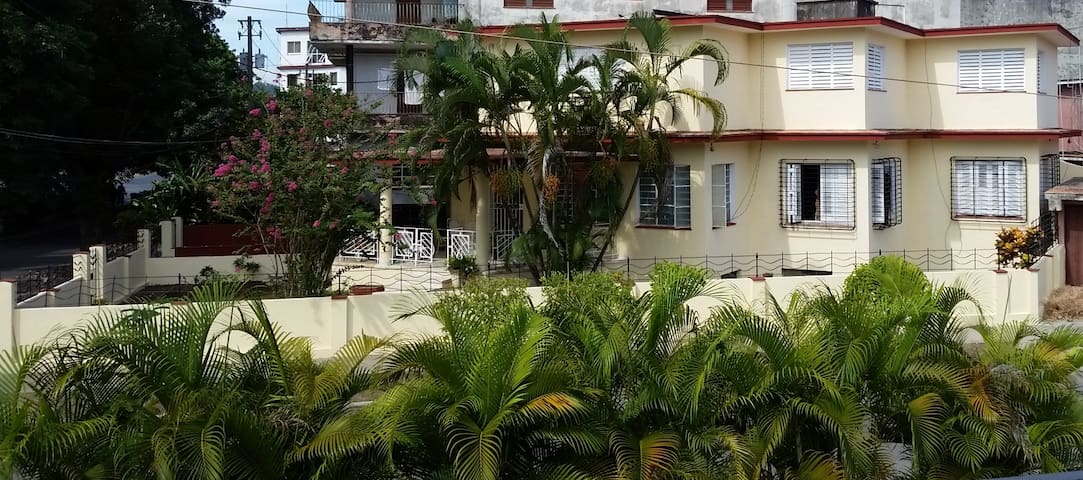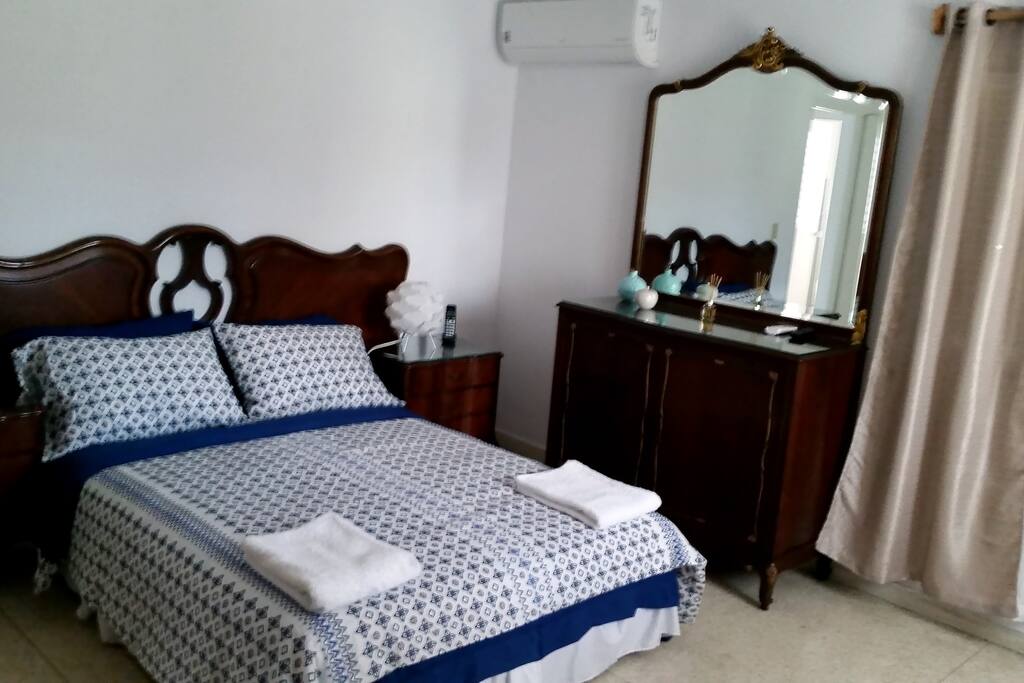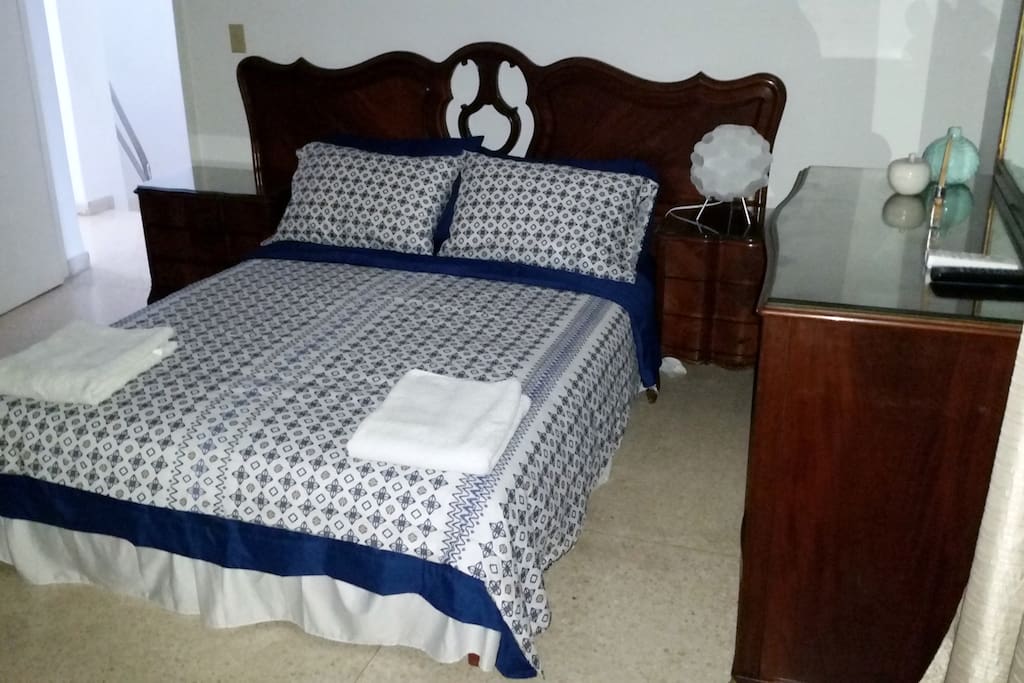 Two comfortable and private rooms and bathroom on private floor with living-dining room and balcony available.
Visit us and enjoy a beautiful 1950s house with granite floors and a beautiful garden, having all the comfort you deserve.
Multiple breakfast options available for a small fee. Please contact me if you would like to get a price with breakfast included.
房源细节
Separate floor with granite floors, private rooms with state of the art AC and private bathroom. Enjoy a spacious private living room and balcony to rest after full days of Havana exploration.
For five guests, the first room will have a single bed and a queen bed, and the second room will have a queen bed. For up to four guests the first room will have two single beds, and the second room a queen bed.
房客使用权限
Bedroom, bathroom, living room and balcony. All located on the second floor of the house, where you will have guaranteed privacy.
与房客的互动
We are always there to help. Just let us know what you need and we will do our best to accommodate your needs.
其他注意事项
Did you know the man who built this house was so jealous that he built a small chapel in the back of the house so his wife did not have to go out to church? Come visit us and get a chance to see it by yourself!
Leonardo and Adita are lovely hosts. Very attentive and professional - always available for any need or question. The house is very clean, and spacious, with lovely air-conditioned bedrooms, and a beautiful balcony. Leo speaks very good English, too! A good breakfast was prepared for us for $5 CUC per person, per day and included eggs, fresh fruit, and toast. When we asked for recommendations for dinner, we were referred to a restaurant up the street called Magy's - but guests beware, as I would not recommend this restaurant to anyone. (While it was clean and quaint, and the service was fine, it was very overpriced and the food was terrible.) Deborah's home is very comfortable, and if we are ever back in Havana, we would happily stay here again. My only disappointment with our stay at the house was a little awkward moment on the day we arrived. I have a cousin in Cuba who drove us to the house and came inside to accompany us while we unpacked and settled in. Within an hour of our arrival, he was pulled aside by the hosts and told that only 4 house guests were registered, and if he and his wife would be staying longer than an hour or two, they would need to be registered as visitors. Realizing we were in a foreign country with different rules, we took it in stride, but it was a stark reminder of the differences in our day to day freedoms, and made us feel a bit uncomfortable. I wish they had addressed their concern directly with me, rather than my cousin. For anyone with family or friends in Cuba - please be aware. Other than that, our stay was delightful.
---
For those of you going for the first time to Cuba.......pack light because it is HOT......but at "The Yellow House" the AC is cold and the people are friendly. The upsatairs accomadtions are perfect for weary travelers who want comfort and privacy. Every morning we were served breakfast and we sat with the family. We were welcomed into the home like long lost friends. I am sure we will be returning and I know we will ONLY be staying here. If you travel with children, this is it folks, hands down they love the kiddos at "The Yellow House"
---
I had a great time at Deborahs family apartment. The service is excellent, and the people are amazing. The house is beautiful. The room is huge with comfortable beds and pillows. The breakfast was superb! I will stay over there on my next trip for sure. I strongly recommended the Yellow House to anyone who is willing to stay in a quiet neighborhood very close to downtown Havana.
---
we were a party of four friends traveling to Cuba for the first time from the US. we rented both rooms so we had the whole second floor to ourselves. It was absolutely beautiful, clean, and spacious. The pictures don't do it justice. Each bedroom was huge with lots of dresser and closet space. air conditioning, aTV and a chair and table in each room. Beds in both rooms were very comfortable. There was a living area with a couch, two chairs, coffee table, a little dining table and chair. There was also a beautiful balcony which locked as did each of the bedrooms. We couldn't have felt safer. There was ample supply of toilet paper and soap. No problems with hot water.. the shower was amazing! We also had a fully stocked fridge with beer, juice, water, and cola. They were very reasonably priced and were added onto the breakfast bill each morning. We did have the breakfast each morning at a small charge. It was convenient and delicious with a great variety of food. The location of the house couldn't have been more perfect! It was close to everything, bars, restaurants, a bakery with a deli which was a daily 1/2 block walk for us, a chicken eatery, the Jazz club, Fabrica de Arte, the Zoo and much more as we walked and explored the area feeling very safe. Havana is a short taxi ride away. It seemed a bit more congested with tourists and cars. Vedado was a little quieter, more of a neighborhood. Our adventure walks around Vedado were the highlights of our trip. Besides staying in the Yellow house which was an experience all of it's own. We instantly fell in love with everyone as we were treated as family but still had our privacy. They were so very helpful. Leonardo answered all questions we had, helping hail taxis, even taking the bus with us so we didn't get lost, went to church one night(another great adventure), another night we were all singing the star spangled banner with Leonardo who is learning English but does really well, and on the morning of my 50th birthday they presented me with a lovely cake bringing me to tears. It personalized the trip for us. We can't stress enough how lovely this family was and that staying with them at the Yellow House totally made our trip! We highly recommend staying here and we all will definitely be back! Muchos gracious!!!
---
We met with Leonardo and Adita, who were our hosts during our stay. They were very friendly and helpful. They also made breakfast, which was delicious and contained fruits, ham, eggs, toast, coffee, juice. Deborah's place is very neat and spacious. There is also a terrace upstairs where you can chill out at the end of the day. The apartment is not far from the city center. I recommend Deborah's place to anyone visiting Havanna.
---
Hi, my name is Deborah, and I am welcoming you to The Yellow House. It is located in Nuevo Vedado, a quiet yet well positioned neighborhood, close to downtown Havana. I was a University Professor for many years, and now I work as a freelance technical writer and translator. Writing is my passion, in fact, I am finishing my first fiction novel. The Yellow House has been a source of inspiration for my writing; I grew up there. Even though I am not presently living in Havana, the Yellow House is my home. Now my family would gladly receive you to make your stay pleasant and unforgettable.

Hola, mi nombre es Deborah, y le doy la bienvenida a la Casa Amarilla. La casa está ubicada en Nuevo Vedado, un barrio tranquilo, pero bien situado, cerca del centro de La Habana. Yo fui Profesora universitaria por muchos años y ahora trabajo como redactora técnica y traductora independiente. Escribir es mi pasión, de hecho, estoy finalizando mi primera novela de ficción. La casa amarilla ha sido una fuente de inspiración para mi escritura, allí crecí. Aunque actualmente no vivo en La Habana, la Casa Amarilla sigue siendo mi hogar. Ahora mi familia le recibirá con gusto, para hacer su estancia agradable e inolvidable.

语言:
English、Español