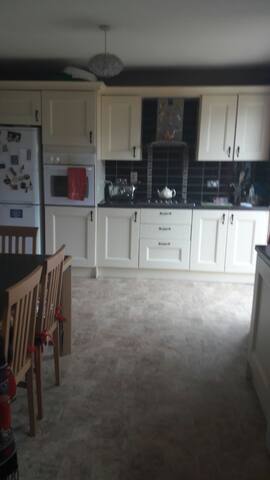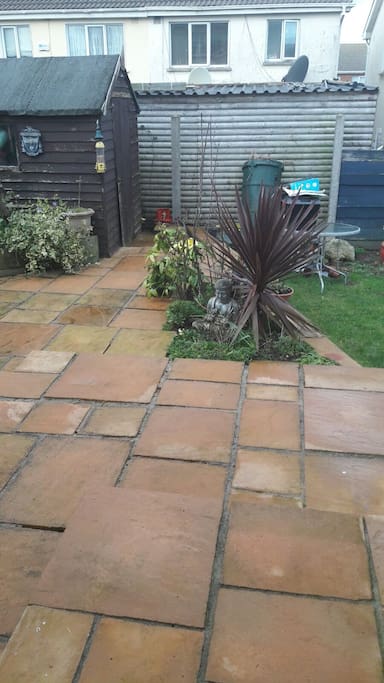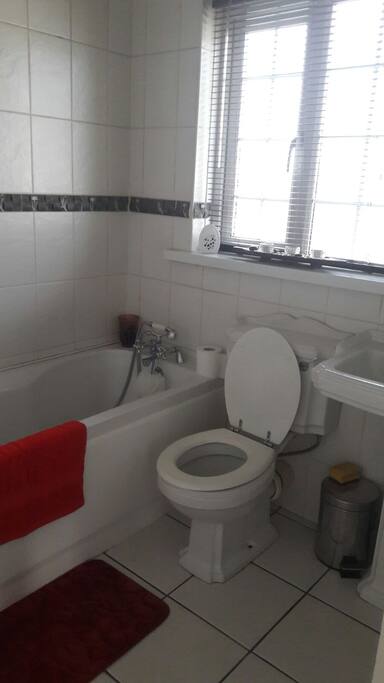 欢迎! 我提供了一个舒适的双床卧室,共用浴室和淋浴楼下的家庭住宅靠近Balbriggan海滩,millfield购物中心和ardgillen城堡。 我15分钟步行到公共火车交通和5分钟步行到巴士。 距离M1高速公路有5分钟路程,距离都柏林机场有20分钟路程。 在路边停车场提供早餐选项。
Welcome!
I offer a comfortable twin bedroom with a shared bathroom & use of shower downstairs in a family home close to Balbriggan beach, millfield shopping centre & ardgillen castle.
I am 15 minutes walk to public train transport & 5 minutes walk to the bus.
5 minutes to the M1 motorway & 20 minutes from Dublin airport.
On street parking with breakfast options available.
房源
享受舒适的双床卧室,共用浴室,衣柜空间,街边停车位和早餐选项(茶,咖啡,麦片,面包,水果)。
Enjoy a cosy twin bedroom with a shared bathroom, wardrobe space, on street parking & breakfast options (tea, coffee, cereals, bread. fruit).
房客使用权限
卧室,浴室。楼下淋浴和厨房面积可用于早餐(大陆)直到上午10点
The bedroom, bathroom. downstairs shower & the kitchen area can be used for breakfast (continental) up until 10.00 am
---
---
---
不适合儿童(0-12岁)入住,或不能为儿童提供安全的住宿环境
---
---
Bernie is absolutely amazing! She was so helpful with anything my sister and I needed in Ireland and was apt on giving us bits of history about places we visited in Dublin. She also provided breakfast for us, including her homemade raspberry jam that was great! And even helped us figure out how to navigate our way to different places in Balbriggan/Dublin. Bernie is a very welcoming and informative host and made our stay so much more cozy and intuitive on what to do in Ireland. I highly recommend Bernie's home if you are looking to stay in Ireland and want to be out of the city. Tips and Recommendations: •Listen to Bernie on what bus to take. We made the mistake of buying a bus pas at the airport thinking it would be nice to have in the city but the only bus (33) that is available with that pass takes almost two hours to get to Balbriggan where Bernie lives and we basically just walked everywhere in Dublin. The 101 on the other hand was just under thirty minutes and is well worth paying each time (or online). •Plan accordingly if you fly in late that you may have to take a later bus. It may be hard to find Bernie's house the first time in the dark. Bernie was so great though and stayed up late to make sure we got in. •Do not buy the bus pass from the airport as it is a waste of money looking retrospectively. •Make the most out of your time with Bernie. She is so fun to talk to and will give you a more wholesome Ireland experience!
---
Such a great stay with a great host. We felt welcome and cared for as if by our own grandmother. Bernie checked in with us often, made sure we found activities that suited our tastes, and even upgraded our room! As lovely as Bernie's home is, it's only improved by the location. Balbriggen is what Bernie described as "a sleepy little town". We found it to be so quaint and enjoyable, right along the coast for great little adventures (like the running track along the sea shore or the paths to walk to local castles), and I think it's a place worth exploring.
---
If you are looking for a less expensive stay and will be just coming in to sleep and leave early morning, you may be alright at Bernie's. It is not the place if you plan on staying to see the sights. There is nothing in Balbriggan, and the bus and train to Dublin are not cheap. Also, be aware that the shared bathroom means You will have to go into the other guest's room to use the shower. We were there 4 days, and the heat went on only one evening. The rest of the time we were cold. We tried to be considerate and stay in our room, most of the time. We didn't get as early a start each day as we would have liked since I didn't feel my best, and sleeping was not the most comfortable. At one point, Bernie called me out and told me, in a very insulting and demeaning manner that this was her home and not a hotel and that she had things to do and didn't want us there while she was gone. She said she was leaving in a half hour, so we had to hurry and leave for the day. We never experienced anything like this before in all our Airbnb travels, of which we have had many, and we've only ever had great reviews from our hosts. We are very thankful that we had 2 more days in Ireland at another Airbnb location or we would have thought Irish people were very unfriendly. We had a great stay with a wonderful host. I have reported our problem with Bernie to Airbnb, and they assured me that we were not the ones at fault and that they would address the problem.
Balbriggan is a lovely friendly town that is situated 25 miles from Dublin city centre. In fact, it is the last town before you leave the county. I would advise to double check the location and distance to where you would like to visit before booking so far away. The town is coastal and has a famous sandy beach, beautiful walks, restaurants & bars. Everything that you would expect in a small town 25 miles from Dublin. An adult return train ticket costs €10.80 and takes about 45 minutes to Dublin city centre. Just to clarify. At no point did Frances or her daughter have to enter another guests room to use the shower as the room was unoccupied. There was also a shower downstairs that was offered & available to use. The heating was not on because it was not cold. If Frances had voiced this concern it would not have been a problem to turn on the heating or provide extra duvets. When Frances initially messaged me to book I was told it was for a European mother/daughter holiday & they would like to see as much as possible. They said they require no more than a "safe and clean place to sleep, eat meals, and get ready for our day out". I was happy to accept this although my experience was quite different than what I was expecting. For the 4 days that Frances & her daughter stayed in my home they rarely left the house. They spent 80% of their time sitting in the bedroom day & night with little interaction & so I am not surprised Frances & her daughter didn't see what Balbriggan has to offer. I feel they would have been more suited to a hotel & not a family home.
---
Bernie is the Irish grandma we all wish we had! After staying at her place for only a couple days, My friend and I not only felt at home; but also, felt like we were semi-part of the family. She is a lovely lady, very hospitable and really takes the time to get to know your story. Her home was accurately described and very "homey" and close to the Balbriggan beach. Also, she is within walking distance of all public transportation, so it's very convenient. I would highly recommend Bernie and definitely would stay here again!
---