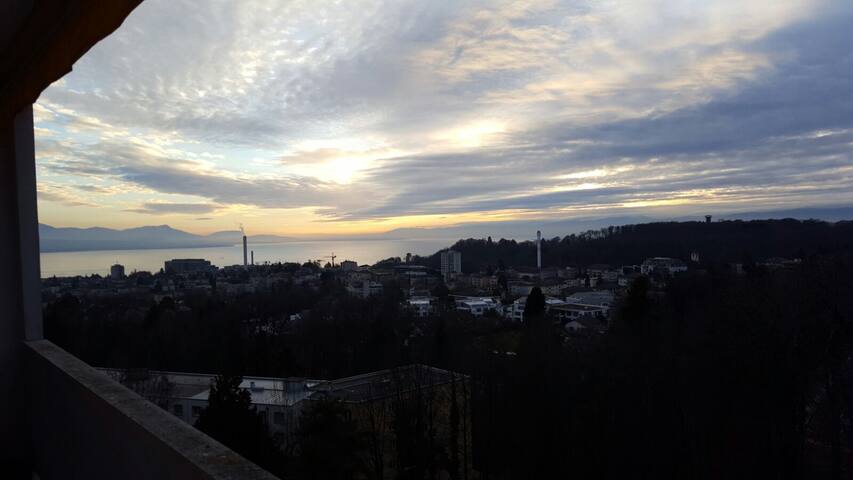 Room for your first months in Lausanne
- 20平方米的房间,配有棋盘,私人阳台和美景! - 在一个150平方米的共用复式公寓(布置和100%操作,3间浴室,并与其他4名年轻研究人员/ EPPL,UNIL,CHUV,EHL的年轻人共享); -CHUV为10分钟,市中心为15',EHL为25',IMD为30',UNIL为35',EPFL为40'。 - 如果你搬到洛桑,需要一个地方留下你的头几个月(弹性持续时间待讨论,但每月:1 - 31日); - 欢迎来电
-Furnished, 20m2 room, with cuboards, a private balcony, and a nice view!
-in a 150m2 shared duplex apartment (furnished and 100% operational, 3 bathrooms, and shared with 4 other young researchers/young pro from EPFL, UNIL, CHUV, EHL) ;
-CHUV is at 10 minutes, downtown is at 15', EHL at 25', IMD at 30', UNIL at 35' and EPFL at 40'.
-Perfect if you're relocating in Lausanne and need a place to stay for your first months (elastic duration to be discussed but monthly: 1st-31st);
-Couple welcome.
---
John is an amazing host and has everything perfectly organised. During the summer (when I stayed) there was a lot of activities which he got the "citizens of Simplemont" to partake in. There is a real sense of community. The room itself was nice, with plenty of storage room and a nicely sized work desk. There is a sizable newly refurbished kitchen/living-room/eating area for all to share and a big balcony which is perfect to lounge on. The location is very good, quiet and close to the city center, 10-15 minute walk. There is a bus stop about a 100m down the road which takes you to the city center. Everything you need is close by (metro, supermarket, cafes and restaurants). The parking situation is just like in most of Lausanne, not very good, but there are blue zones near by where you can park for free from (PHONE NUMBER HIDDEN) everyday except Sunday when it's free throughout the day. There's usually a lot of free spots available. This is an ideal place to stay when you are coming to Lausanne and need a place to stay for the first months before you find a permanent place.
---
I AM a Swiss fella, in his 30's, currently doing a PhD and working in International Relations. My girlfriend Sam and I are lucky enough to have a 5 room apartment downtown Lausanne in one of the most fancy part of the city, but unfortunately, it is waaay too expensive for us alone. Or fortunately actually, since months after months, year after year, it has become a fabulous opportunity to meet, host and live with facinating people of all walk of life and coming from all over the world. Most people I nowadays consider as close friends.

MY PURPOSE (beyond covering my rent!) is to help foreigners settle in Lausanne area by providing them with a safe place to crash at in the first month(s), and some advises to move on with their settling. As I already hosted and helped many people here, I do have some experience and contacts.

STAYING AT MY PLACE - PHILOSOPHY
1. My place is not a hotel nor a hostel:
This is my homey and I want to share it with mates, not anonymous. I hold no reception hours or room service. We hold diner or parties altogether every now and then.
2. My place is not a "flat sharing" horizontal community either: I've invested a lot of effort, months of work, and money to make this place cosy. You will only spend a few weeks or months here. So I expect my things to be cared for, and my rules considered.

HOW TO MAXIMIZE YOU CHANCE
I don't do castings. I receive a continous flow of requests and have rooms turning free every now and then. And I fill them up with as much diversity as possible (because I like it!): gender balance, contrasting background, nationalities and ages. So LUCK has a lot to do with it.
Still, at the end of the day, we have to choose someone, so be it said:
I FAVOR people who:
-want to stay between 1 and 3 month;
-acknowledge they took the time to read my profile and ad descriptions;
-speak several languages and have had apartment sharing experience before;
-seem grown up people;
-raise good questions;
-have a nice project (not only a need);
I DON'T ANSWER to:
-request from people with an empty profile who do not care to introduce themeselves;
-copy-past request asking 5 questions which answers are all in my ad.
语言:
English、Français、Português