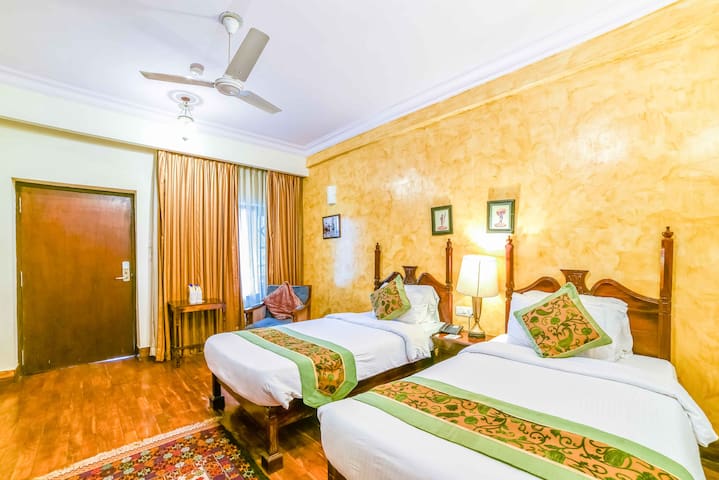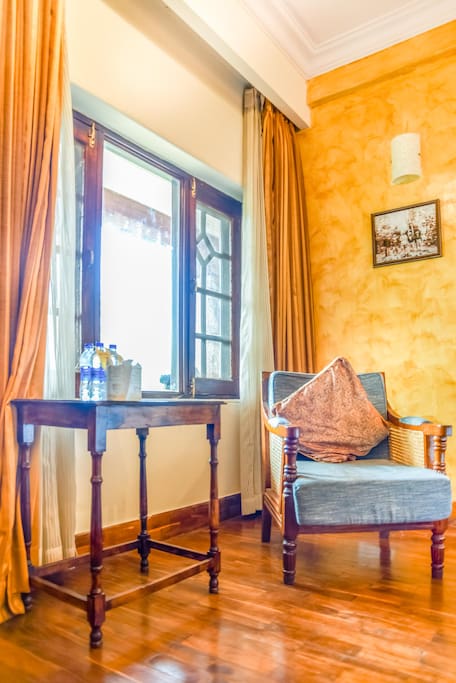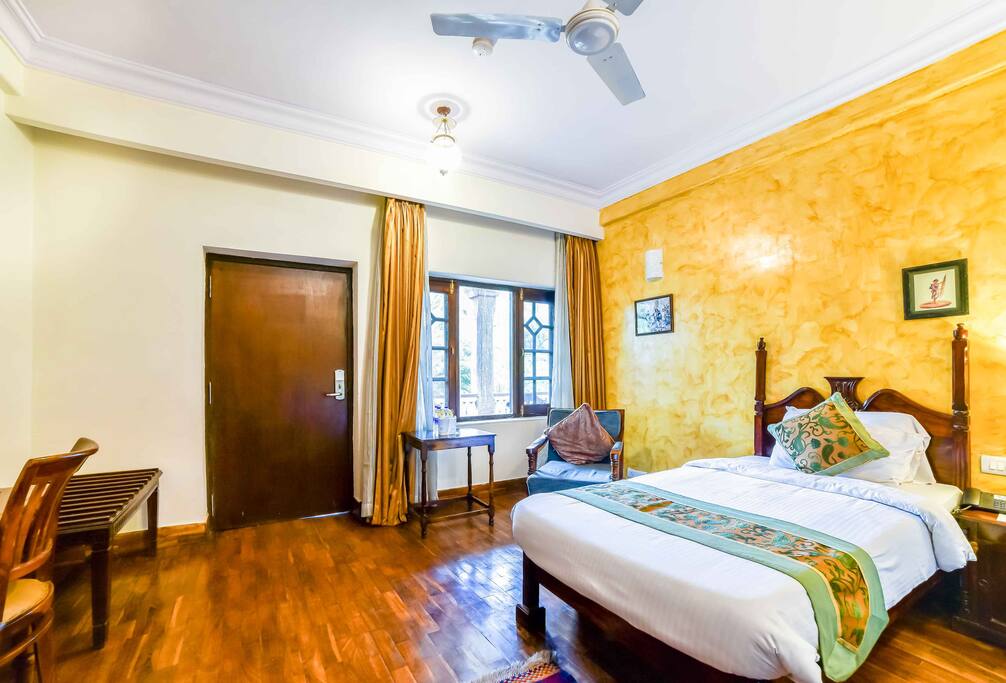 Beautiful Club Twin Room in Heritage Palace!
This Heritage Property is Jodhpur's premier Hotel certified by the Ministry of Tourism, Government of India.
Built at the turn of the last century for Maharajadhiraj Sir Ajit Singh Ji, this magnificent palace captures the prevalent colonial influences of its time and immerses them in the echoes of another bygone era.
Here are few more Listings:-
https://www.airbnb.co.in/users/107238892/listings
---
---
---
---
- No Smoking in the rooms. (Allowed in the common areas such as Courtyard and swimming pool).
- Please turn off all the lights to save energy.
- Kindly leave your keys at the reception desk while going out for your excursions.
- Kindly respect the privacy of other guests staying in the property and keep the noise down.
- Kindly refrain from bringing your guests or inviting them over.
- Kindly respect the Heritage Property and the furniture/artefacts kept in the rooms. You are requested to not cause damage to any of these.
- You are requested to share your medical condition (if required ) while check-in with emergency number.
- Kindly refrain from indulging in any form of behaviour which can be harmful/disrespectful to the guests or the staff.
- Check-In and Check-Out is at the solo discretion of the management.
- The Management has the right to request any guest to vacate his/her room or other areas of the Heritage Property forthwith, without previous notice and without assigning any reason whatsoever, and the guest shall be bound to vacate when requested to do so. In case of a default, the management has the right to remove the Guest luggage and belongings from the room occupied by him/her.
- Things such as Gambling, contraband, prostitution, weapons, explosives, flammable objects, poisons, drugs, animals and pungent food are strictly prohibited on our premises and liable for strict action as per law.
- Nothing herein above shall continue or be deemed to constitute, or create any tenancy or sub-tenancy, or any other right to interact in the premises or any part of portion thereof, in favour of any Guest or resident or visitor, and the Management shall always be deemed to be in full and absolute possession of the whole of the premises.
- Guest are requested to observe, abide by confirming to and be bound by all applicable acts and laws and Government rules and regulations in force from time to time.
- Maintain discipline in the building.
- In the case of opening of your room window doors, you agree that you will solely be responsible for any consequences.
- The management reserves to itself the right to add to, or alter or amend any of the above terms, CONDITIONS AND RULES WHICH ARE A PART AND AN ABSTRACT OF THE LODGING ACT.
- Mandatory gala dinner on Christmas eve & New Year's eve.
---
---
---
---
I have been into hospitality for about 10 yrs and am always eager to host and help every guest who comes and stays with us.
Jodhpur being my home town gives me an added knowledge about this place and how you can explore to its best.
A traveler , music enthusiast are some of the words that can define my personalty to the core.
Looking forward to have you all come and stay with us.