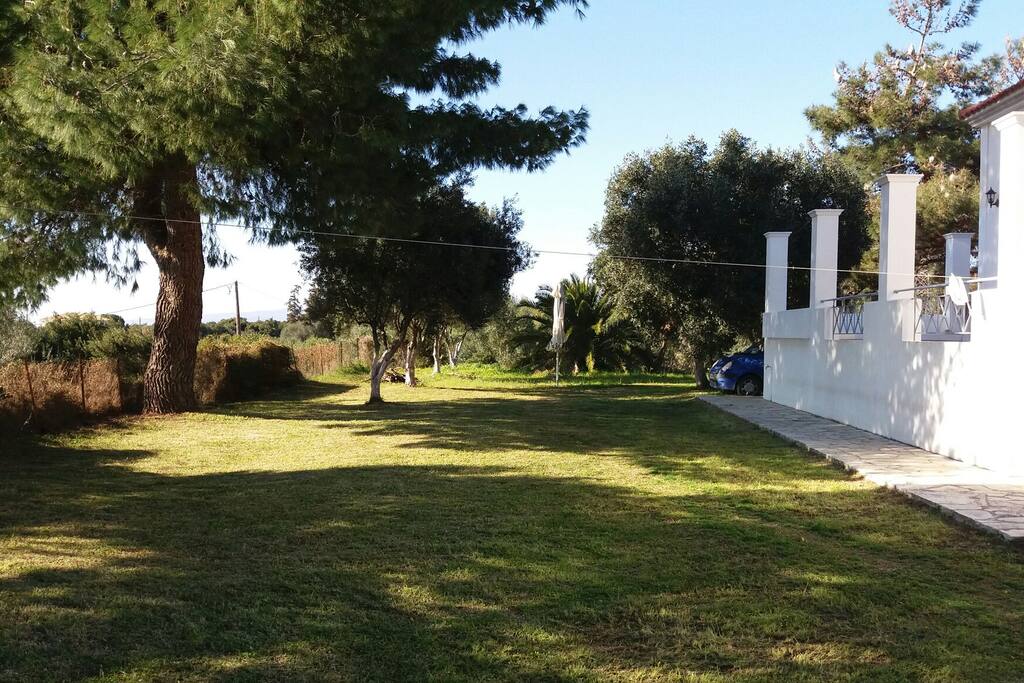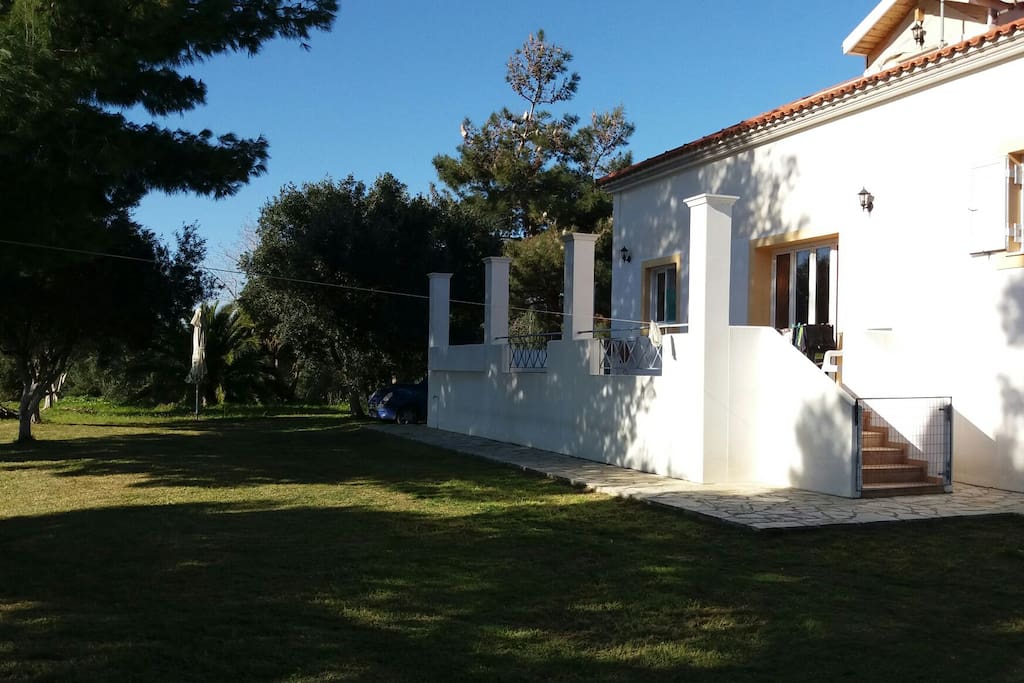 Villa Dionisia is situated near the airport and only two minutes from Ammes beach.This newly built 3 bedroom villa is in a four acre area, a very big secluded garden provided which gives the opportunity to kids to enjoy and explore nature while parents can feel secure.
The two bedrooms are on the ground floor and the third one is a loft on the first floor. Amazing sunsets from the terrace.
The capital of the island Argostoli is 8km away.
房源
Villa Dionisia is an ideal place for your vacation.
It comprises of an open living-dinning area, fully equipped kitchen, two bedrooms on the ground floor and bathroom, third bedroom on the loft (first floor) which provides a panoramic view. Memorable sunsets can be enjoyed at the terrace.The villa is shrouded by olive trees and pines, creating an oasis of calm and relaxation.
A magical scenery for memorable moments.
房客使用权限
Guests will have access at the whole area (garden-terraces-loft) besides the basement, which is unavailable.
---
Litsa is a wonderful Airbnb host! We had an excellent stay because she was so charming and helpful. She helped our group rent a car, order food, negotiated prices with locals who wanted to scam us, and fixed any problems in a timely way and with a huge smile. I highly recommend Litsa's house and especially Litsa herself as a treasure. Her house is a 7-minute walk from a gorgeous beach called Ammes Beach. She also gave us excellent recommendations for wineries, activities, restaurants, and everything else we might need. The only thing travelers should be aware of in advance is that Litsa's house is very secluded (which is great), but you'll almost certainly want to rent a car in order to be able to get around the island. Fortunately this is no problem since her home is near the airport and the half-dozen car rental agencies that serve it.
---
Me and 4 other friends have been fortunate to have a airbnb experience with Litsa in Kefalonia for 4 nights. All of us had numerous airbnb experiences, and we all agreed on that Litsa's house has been the best house we did airbnb. The house is very stylish, has a very big yard. It is at a very nice and safe location that is close to the airport, and the big yard also makes it isolated from the neighbor houses which makes it great if you also like quiet and peace. She was also very helpful, very friendly. She helped us about the island, suggested things to do. Our arrival time was late in the evening and she accommodated the time accordingly. In fact, she did more than expected, and she provided us food, assuming that we wont be able to shop late night. We really loved litsa's house and her personality. We really recommend her house if you would like to have wonderful stay in Kefalonia.
---
During their stay, the guests will be able to contact us at any time and we will be pleased to help them.
We welcome our guests with a bottle of wine and a basket with fruits. For those whose accomodation is more than two weeks we offer a BBQ or a traditional greek dinner at the villa.
Cleaning service is provided.
Hello, I am Litsa.
My name as referred in my ID is Sunday Togia, at my account you will find me as Litsa Menagia.
As the day Sunday, I am a happy, optimist and full of positive energy person. I am a mother of two boys…. I love cooking and that's why my friends call me "CookLitsa"…. In general I love creation, nature, animals, people of all colours, languages. I am a volunteer, I have offered my services as a Samaritan of Red Cross and I have been also trained in Firstt Aid. I am communicative and I love travelling. Rest of the comments are yours…it will be my pleasure to be given in person. I will be waiting you with a big warm smile.

Είμαι η όνομα μου όπως αναφέρει η ταυτότητα μου...είναι Κυριακή Τογια....Στο λογαριασμό μου στο ..litsa Menagia.
Όπως κ η ημέρα Κυριακή , είμαι ένας χαρούμενος ,αισιόδοξος κ γεμάτος θετική ενέργεια άνθρωπος. Είμαι μητέρα δυο αγοριών. ,αγαπώ πολύ την μαγειρική γι αυτό και οι φίλοι μου με φωνάζουν..'CooKLitsa ".......Γενικά μου αρέσει η δημιουργία , αγαπώ τη φύση ,τα ζώα , αγαπώ τους ανθρώπους σε όλα χρώματα , γλώσσες ,ιδιαιτερότητες. Είμαι εθελόντρια. , έχω προσφέρει τις υπηρεσίες μου στους σαμαρειτες του Ερυθρού Σταυρού. και έχω εκπαιδευτεί στις πρώτες βοήθειες. ότι λένε οι γύρω μου , πολύ θετική ενέργεια . Είμαι επικοινωνιακή , μου αρέσουν τα ταξίδια. Τα υπόλοιπα σχόλια.. δικά σας που θα χαρώ πολύ να μου κάνετε..Από κοντά. Σας περιμένω με ένα μεγάλο ζεστό χαμόγελο.
语言:
English、Ελληνικά