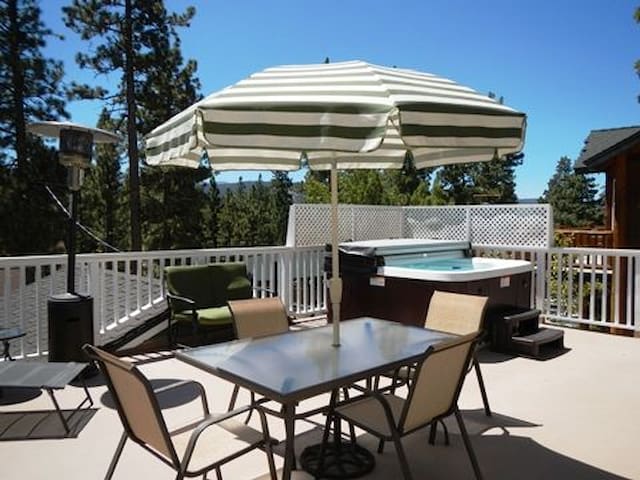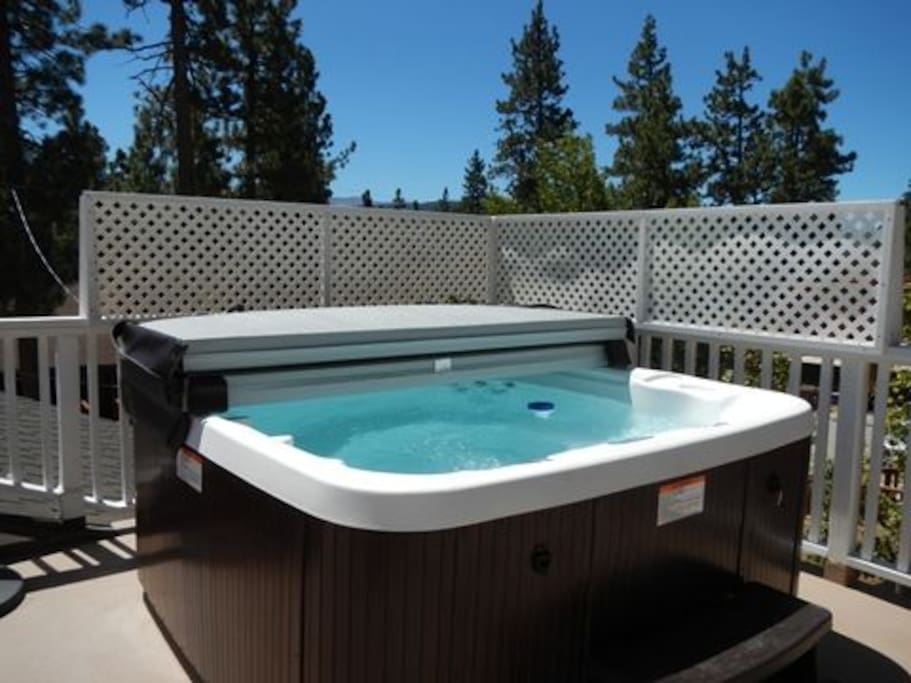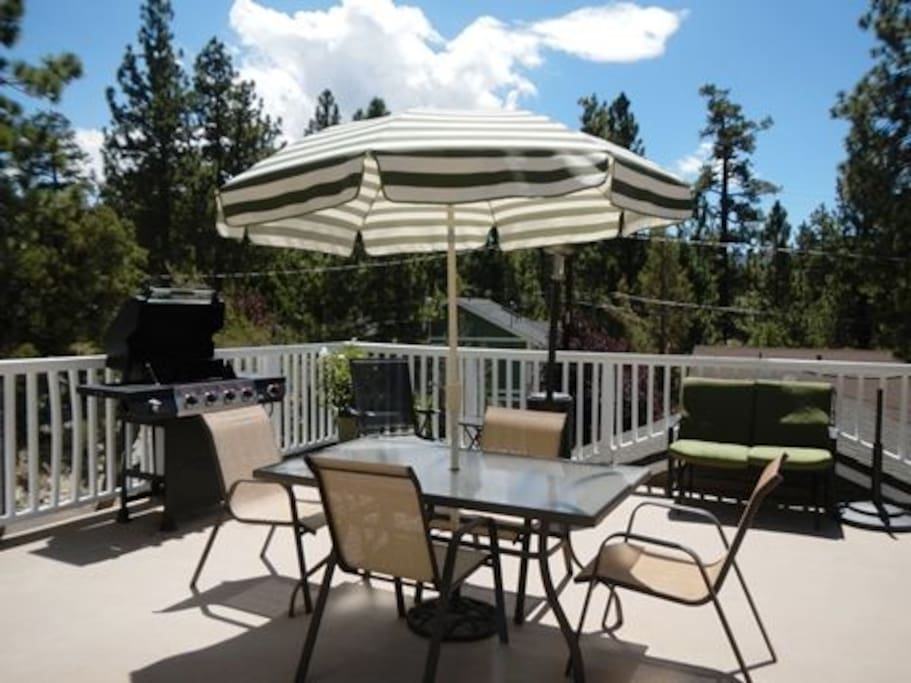 Per the city of Big Bear Lake, the maximum occupancy for this home is 16.
A True Luxury Getaway - Enjoy your vacation in style by renting this luxurious custom built six bedroom home. You'll appreciate all of the amenities that this home has to offer including a gourmet kitchen, upscale furnishings, two game tables in the garage area, a spacious deck with patio furniture and a private outdoor hot tub.   
房源
Smoking is not permitted on the premises of this home – particularly the deck. Any evidence of smoking or burn marks on the deck will result in a fine of up to $300.00.
* Hot Tub with beautiful deck for star gazing at night! 
* Away from it all and nestled in the mountain side
* Luxurious Mountain Getaway - 6 large bedrooms!
* Custom Built home with great mountain views
* Gourmet Chef's kitchen with upgraded appliances
* Sloping Yard - perfect for sledding in winter months
Mountain Luxury 
This spacious multi-level home is perfect for families, couples or small groups. You will love the open great room with soaring ceilings and large windows letting in the mountain sun. There is a wood burning fireplace, Large Flat Screen TV, Wii w/ fit board and 4 remotes! There is even a chess set for two. The upgraded kitchen is a chef's delight. With granite counter tops and brand new stainless steel appliances you will fall in love with this kitchen. There is a double oven for all of your large family meals and with the large dining room table, there is seating for everyone.
6 Spacious bedrooms & 4.5 Bathrooms
Each bedroom in this home is tastefully and beautifully decorated. The first four bedrooms are located on the upper level of the home. The spacious master bedroom features a king sized bed, a full sized futon sleeper, a private patio, a gas fireplace, and a TV w/ cable and a DVD player. The master bedroom also features its own private bath with a jacuzzi tub, dual vanity, and shower. The second bedroom also features a king sized bed along with a stereo system and private bathroom. The third and fourth bedrooms both offer queen sized beds and convenient access to the upper level hallway bathroom. The other two bedrooms are located on the middle level of the home. The fifth bedroom offers a queen sized bed and a TV with cable and a Wii. The sixth bedroom also offers two queen sized beds and both bedrooms offer convenient access to the middle level hallway bathroom. 
Perfect Retreat 
Just on the outskirts of town, you are away from it all while still only a 7 minute drive into town. With so much to do you may not know where to start. Only 6 miles away are the Baldwin Stables - enjoy a horseback ride through the mountains. Perhaps take a tour on Snow Summit's Scenic Sky Chair or shred the white wave during the winter. The lake has lots of activities to offer - from fishing, swimming, boating, parasailing, jet skiing - there is something for everyone. 
Plenty of Parking
This home offers garage access for parking 2 vehicles. Four more vehicles easily fit in the driveway. (This supplies parking for up to 6 vehicles max.)
---
---
---
始终通过爱彼迎进行交流
为了保护您的账号隐私和付款安全,请不要相信其它任何平台的折扣或优惠券代订,并始终在爱彼迎站内转账和交流。
了解更多
---
Our goal at Big Bear Getaway is for you to have a memorable vacation that is worry free and as pleasant as possible. All of our properties are checked and re-checked between each guest visit in order to meet this goal. If you should have any questions or concerns, we are available to respond 7 days a week during our office hours, and should an emergency arise outside of our office hours while you are our guest, you will be provided with an emergency contact number at check-in. We appreciate your feedback at all times regarding our service and properties. With this in mind, it is important that we outline our policies to ensure your vacation meets these expectations.

We look forward to providing a wonderful vacation experience and upon your arrival, we request that you contact us immediately with any questions or concerns that might arise.
******************************************************************************************************************************************

Big Bear Getaway
Private Home Vacation Rental Lease Agreement

This agreement constitutes a binding contract entered into by and between the renter(s),hereafter referred to as Guest, and Big Bear Getaway, Inc. (dba Big Bear Getaway) as Agent, hereafter referred to as Agent.
Please read this Private Home Vacation Rental Lease Agreement thoroughly. Any monies received by Agent for occupancy of a vacation property indicates your acceptance of the terms and conditions of this Private Home Vacation Rental Lease Agreement and Big Bear Getaway Rental Policy set forth Airbnb website. It is the responsibility of the Guest to be familiar with all policies within this agreement and Big Bear Getaway Rental Policy.
Booking and Check-In Requirements
The adults in your group MUST be over 21 years of age to rent from Agent (unless a higher age is noted for a specific property). Agent, however, reserves the right to refuse rental, not allow check-in, or to terminate occupancy if, in Agent's opinion, the occupancy may be detrimental to the premises. Agent reserves the right to refuse to rent a property to any one including, but not limited to, party groups or younger groups. There is Airbnb a security deposit on all properties.
The name on the reservation must match the name on the reservation. That individual needs to be over 21 years of age (unless a higher age is noted for a specific property), needs to be the person who personally checks in at our office and presents their drivers license for verification at time of check-in. Please contact us if you have any questions.
1. Reservation Requirements -Reservations are not considered "confirmed" until all of the following conditions are met:
a. You have accepted the terms outlined here, read and signed (electronically on Airbnb or otherwise) this vacation rental lease agreement,
b. Payment of 100% is received by Agent,
c. The Agent has approved and accepted the reservation.

2. Payment - To be handled by Airbnb
The person confirming the reservation will be required to present a valid and matching ID for security deposit.

3. Cancellation Policy - Airbnb Super Strict 30. We reserve the right to cancel reservations for any reason within the first 48 hours of booking or at any time prior to arrival in the event a property becomes unavailable for any reason (i.e. property is damaged, sold, etc.). We will try our best to find you an alternative listing if this occurs.

4. Security Deposit - Is included on your Airbnb reservation. Any damage done will be submitted to the resolution center to be reconciled.

5. Confirmation of Reservation(s) - Confirmation of the reservation will be emailed separately from Airbnb (faxed or mailed if necessary). Guest may also print confirmation from Agent's website after signing and returning the Vacation Rental Lease Agreement. Please read the confirmation for accuracy of Property selected, dates of stay, number of guests and vehicles permitted along with the details and amenities of your selected accommodation. Your acceptance of the dates, Property, rates and charges along with our terms and conditions is indicated unless any errors are reported to our reservations department immediately (within 24 hours). Your confirmation will include all details regarding check-in and key pick up along with directions to our office.

6. Age Requirements - Guests under the age of 21 (unless a higher age is noted for a specific property) unaccompanied by a parent or legal guardian will not be permitted to check-in and will lose all funds paid to Agent. Any reservations made under false pretenses will result in loss of advance payments and possible removal of guest from rental unit. No Fraternities, No Sororities, No Bachelor/Bachelorette Parties, No Weddings, No House Parties, No exceptions! Violations of this will result in immediate eviction with no refund of any monies. The Agent reserves the right to refuse service to anyone.

7. Authorized Use - Guest will use the Property only as a personal vacation residence. Guest will use the Property for lawful purposes only and will comply with any and all Legal Regulations (as defined herein). Guest will not damage or destroy the Property (or permit another to damage or destroy the Property) or create a nuisance on or about the Property. Guest will not permit the Property to be occupied beyond the Maximum Occupancy designated for people and vehicles. Only Guest and Guest's authorized guests may reside at the Property. Guest is prohibited from assigning any interest in, or sublet any part of, the Property. For purposes of this Private Home Vacation Rental Lease Agreement and Confirmation Agreement (this "Agreement"), the term "Property" means the Property and any and all Equipment (as defined herein); the term "Legal Regulations" means any and all laws, statutes, ordinances, codes, regulations, orders, rules, covenants, conditions, by laws, easements, declarations, leases, liens, and restrictions directly or indirectly affecting or concerning the Property and/or the Property's use, renting, occupation, maintenance, ownership, and/or control; the term "Equipment" means any and all furniture, furnishings, appliances, televisions, hot tub (if applicable), and all mechanical, electrical, gas, and plumbing fixtures and equipment located on or at the Property.
ALL Big Bear Getaway properties are NON-SMOKING properties and there is a fine for violation, plus any additional cleaning charges or repairs required to return the Property to its original condition prior to check-in. You may smoke outside, please properly dispose of butts or any other smoking materials. There is a fine for smoking materials found in the Property or on the grounds after your stay. If you find them on the premises upon your arrival, let our office know.
8. Occupancy - Each property has a maximum number of people and vehicles allowed. Exceeding this number is considered a violation of City or County code and subject to a fine, towing and/or eviction. The vehicles allowed must each display on their dashboards parking passes that have been provided by Agent at check and must be parked in the designated area(s) on the Property.

9. Additional Parking - Please be advised that any additional parking arrangements beyond the authorized number of vehicles for the Property reserved will not be the responsibility of Agent and Agent does not provide for overflow parking. Parking outside of the designated Property's parking areas or on neighborhood streets is a violation of the City or County code specific to Private Home Rentals. Options for additional parking offered by the City or County may be available, check with us.

10. Furnishings -Furnishings are subject to change without notice. Furniture, electronics, game tables, bedding, utensils or any other property supplied with Private Home Vacation Rental Property must not be moved, taken out or transferred from one property to another. Loss of these items, as well as cleaning or repairs required to the Property or its contents in excess of normal wear will be charged to the Guest.

11. Kitchens - A basic supply of pots, pans, dishes, glasses, utensils and flatware are provided. Dish soap, hand soap, sponges, dish towels are also provided. All pots, pans, dishes, flatware, etc. are to be washed prior to check-out and food is to be removed from the refrigerator and cupboards. All unwashed dishes and/or food left behind will be subject to a minimum fee.

12. Linens - Sheets, pillows, comforters or blankets and bath towels are provided in each Property. Bed linens and bath towels are not changed during your stay and the supplies of bath soap, shampoo, conditioner, dish soap, toilet tissue, paper towels and trash bags are not replenished during your stay. Please contact the office if you have questions.

13. Items Guest Should Provide - You should bring any personal use articles (including hair dryers, curling irons, clothing irons, favorite pillows, etc.), food and drink items, including coffee filters, condiments, etc. Specialty items such as crockpots, woks, roasting pans, etc. are not considered basic items, so you may wish to bring those types of items if needed.

14. Administrative Reservation/ Processing Fee/Cleaning Fees - All reservations are subject to an administrative processing fee of .00, a cleaning fee which varies by property, and all applicable Resort taxes, assessments and fees.

15. Pet Policy - For our properties that allow dogs, we charge an additional nonrefundable cleaning fee. Dogs are not to be left unattended in or on the Property during your stay. Please be aware that even if the property you select allows pets, any and all pets must be confirmed with us prior to your arrival. Pet policies vary by property, and are usually limited to one dog, but be advised that not all breeds, sizes, ages or numbers of pets are allowed. Violation of any no-pet policy will result in a .00 fine, plus any charges for additional cleaning or repairs. Please call or email our office for specific details as they relate to your pet and the Property you are considering. Our No Pet homes do not allow pets anywhere in the Property or on the premises. IMPORTANT: Unauthorized occupancy of pets will result in a fine, immediate eviction and loss of all rents and security payments.

16. Firewood - Rental properties featuring wood burning fireplaces are not provided with firewood. It can be obtained from our office at check-in or at local markets at reasonable rates. Burning wood in non-wood burning fireplaces will result in a fine plus costs of repair of any and all damages.

17. Barbeques - Rental properties featuring propane barbeques will be supplied with propane. If your Property has a charcoal barbeque, you will need to provide your own charcoal and lighter fluid. Due to the continued drought, please check local conditions as there may be restrictions on "open fires"which can include charcoal barbeques.(URL HIDDEN)
18. Pest Control - Big Bear is located in a rural, forested mountain area. Please be aware of your trash and its abilities to attract uninvited critters. During the year some pests, including but not limited to ants, spiders, mice, etc. may move indoors looking for food, water and shelter. If you find any of these nuisances when you are visiting, please call our rental office right away so we can try to remediate the situation as quickly as possible. Please note that the appearance of uninvited critters of any nature and at any time is not compensable.

19. Listings and Pricing - Information regarding individual listings is believed accurate but cannot be guaranteed. We have made every effort to ensure that all the information on Agent's website(s) iscurrent and accurate. Rates, furnishings, fees, and taxes are subject to change without notice.

20. Indemnification and Hold Harmless - Guest and their invitees agree to indemnify and hold harmless the Property Owner and Agent for any liabilities, theft, damage, cost or expense what so ever arising from or related to any claim or litigation which may arise out of or inconnection with Guest and invitees use and occupancy of the Property including but not limited to any claim or liability for personal injury or damage or theft of property which is made, incurred or sustained by Guest and invitees.

21. Violation of Agreement - If Guest violates any of the conditions of this Agreement, Agent may terminate this Agreement and enter premises. Upon notice of termination of this Agreement, Guest and invitees shall vacate the Premises immediately and forfeit all rents and security deposits.

22. Security Deposit Agreement -You agree to pay all rent, charges, repair fees and fines (if applicable) related to the Property rental. You accept all terms of the lease agreement and accept all liability for rent, charges related to Property rental, as well as any additional fees for use above and beyond normal wear and tear during the term of your lease with Agent. You understand that these costs will be charged to your security deposit. We do encourage you to enjoy your stay and make yourself comfortable in your home away from home, so please let us know so we can work with you if you have any situations arise during your stay causing any breakage or damage to the Property beyond normal use.

Please be aware that altering wiring or rewiring electronic devices or moving furniture and/or game tables is not permitted and carries a .00 fine plus the cost of any replacement or repairs required as a result.

23. Trash Removal - Please be aware that curbside trach pick-up is not available anywhere in Big Bear and the Guest has trash removal responsibility. There is a map provided with your check-in information showing the locations of trash disposalsites. A per bag fine will be charged for trash left behind.

24. Refund/Compensation Policy- Neither Property Owner nor Agent shall be liable for events beyond their control which may interfere with Guest occupancy, including but not limited to Inclement weather, Acts of God, acts of governmental agencies, fire, strikes, terrorism, or war. No compensation or refund will be offered in these circumstances. Agent cannot guarantee against mechanical interruption or failure of heating, hot tubs, TVs, Cable Service, Internet Service, Satellite Receivers, DVDs, or other equipment or appliances. Please report any in operative equipment to our office immediately. Agent will make every reasonable effort to have repairs done quickly and efficiently. Guest shall make no assumption of refunds or rent reductions due to interruption or failure of appliances or equipment, early departures (less days than reserved), delayed arrival or for reducing the number of nights reserved. Please be advised that properties in Big Bear do not offer air conditioning.

25. Rental Assignment Change- Agent reserves the right to change Rental Assignments without prior notice or liability in the event of a sale of the rental property, or if the Property becomes unavailable. When comparable accommodations are not available, Guest will have the option of selecting from available properties or receiving a complete refund.

26. Lost and Found - Neither Property Owner or Agent will be responsible for Guest personal property left behind or lost during stay. If we are able to find an item left behind, we are willing to ship it to the registered Guest upon request. Shipping charges will be charged to the Guest once we are given a valid credit card number (Visa or MasterCard only). Items unclaimed will be held fora maximum of 14 days at which time Agent reserves the right to dispose of or may elect to donate the item(s) to a local charity.
During your stay: For urgent matters or emergencies after office hours while you are our guest, you will be provided with a contact telephone number to reach us when you check-in.
We look forward to hosting you!
---
---
---
---
Our philosophy is simple... we offer a beautiful house at a reasonable rate, and our guests come back again and again. We feature great "home away from home" vacation options in Big Bear Lake, California.
Each of our Vacation Homes are ready to enjoy with fully equipped kitchens and BBQs. We provide all sheets, towels, paper products, soaps, shampoo, and hair conditioner for each of our vacation homes. Many of our Big Bear Cabins and Vacation Homes are pet friendly. You'll also find great amenities at many of our properties including hot tubs and game rooms!
Our Big Bear Cabins and Vacation Homes come in all sizes, with accommodations for families and groups ranging in size from 2 to 16. And, we have vacation cabins and rental homes that are located near each other that can be combined to accommodate up to 40 people!
We have lakefront cabins, lake view cabins, ski cabins, secluded cabins, cabins that are close to the slopes and cabins that are close to the Village. If you are coming to Big Bear Lake to enjoy the mountains any time of the year, we have just the right Big Bear Cabin or Vacation Home for you.