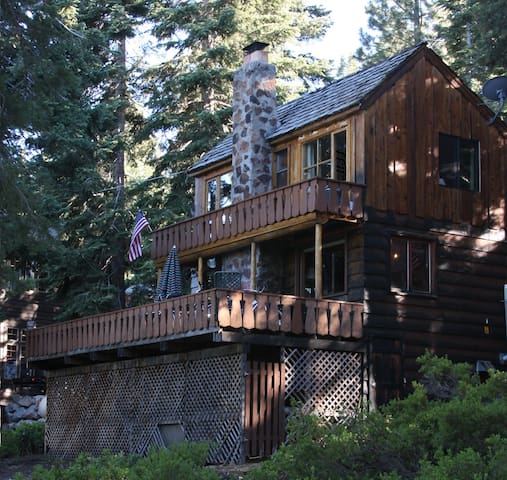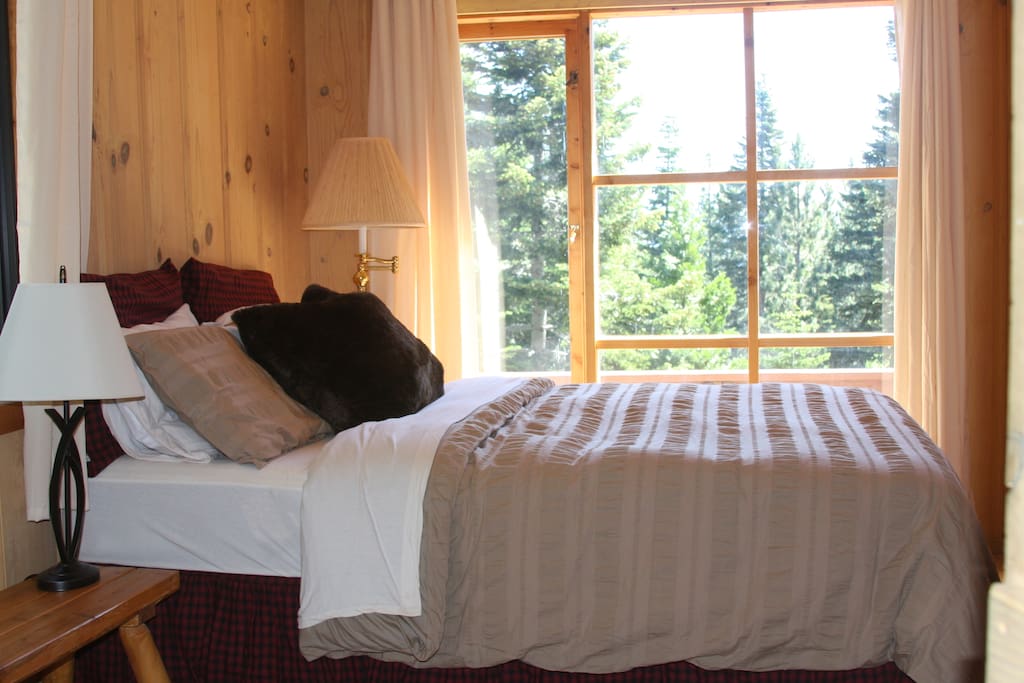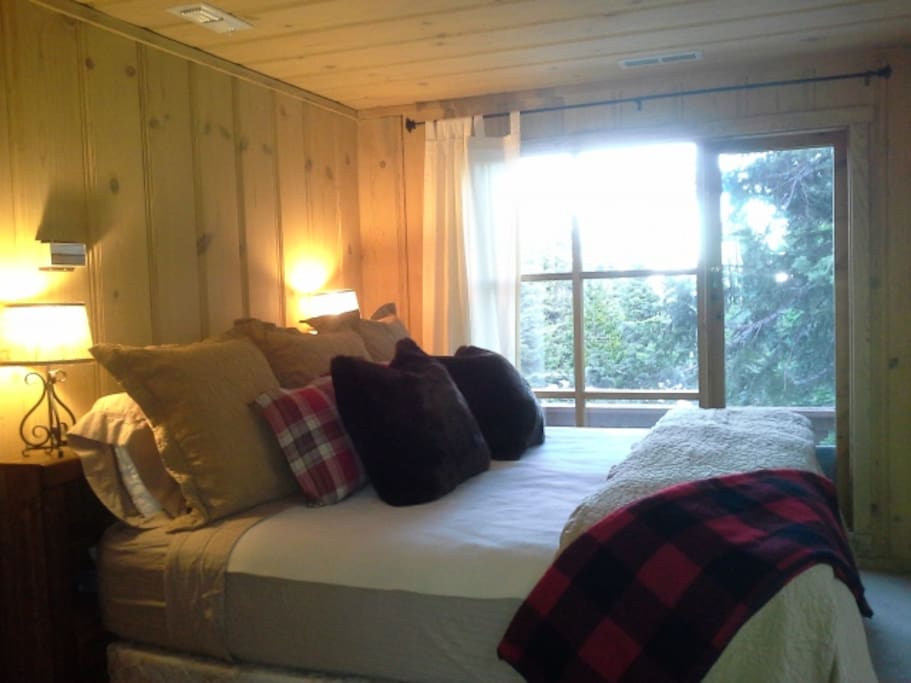 Charming cabin in the woods of pristine Rubicon Bay. Short walk to Rubicon Bay's beautiful private, sandy beach with pier and volleyball court. Three bedrooms, 1.5 baths, sleeps 6. Close drive to Emerald Bay, Sugar Pine Pt., and DL Bliss State.
房源细节
Charming, rustic cabin with classic Tahoe ambience and Swiss chalet design, just a short walk from Rubicon Bay's pristine beach.
Rubicon Bay is one of Tahoe's most beautiful areas. With a private, sandy beach with a pier for boating and a sand volleyball court, it's known as one of the nicest areas in Tahoe. It's a quiet community that's a close drive to Emerald Bay, Sugar Pine Point, DL Bliss State Park, Chamber's Landing or Homewood. It's also one of the only areas in Tahoe with an easy drive to both North and South Shore restaurants, ski areas and casinos.
The cabin is located on the lake side of Hwy 89, in the center of the highly sought-after Rubicon loop. It's just a five minute walk to the beach. The pier is available for boat users, and buoy rentals are available through Rubicon Tahoe Owners Association.
This is a great family vacation rental with three bedrooms and 1.5 baths. There's a kitchen/dining room/living room that's open and comfortable with knotty pine interior and rustic furniture. The dining room table has ample room, and there's a large deck with a BBQ grill and outdoor dining set that's a perfect setting for enjoying any time of day.
There's a small bedroom ideal for kids, with a bunk bed, futon and adjacent half bath. And there are two spacious bedrooms with a queen and king bed, plus one full bath, all with partial lake views.
July-August six night minimum.
Sept.-June: two night minimum.
Maximum # of adults: 6
不适合婴幼儿(2岁以内)入住,或不能为婴幼儿提供安全的住宿环境
Marc was a great host. He responded to questions quickly, and he was very accommodating when we requested a late check-out, so that my son might get in his nap before we headed for the airport. The house's location can't be beat. As described it is a few minutes walk to the HOA's beach. It is also located within just a short drive to Emerald Bay, D. L. Bliss, and Sugar Pine Point State Parks. However, renters should take note that the house lacks a pretty basic safety feature. The guardrail around the deck is only 24" high (not the typical 42"), and on some sides the drop-off is around 10' or more. Overall, it was a good value, but I probably wouldn't return with children or clumsy adults (which is pretty much what my family consists of).
Thanks for the review, Meredith. I'm glad you enjoyed the cabin. Regarding the railing, while it met building codes at the time it was built, and we've had no problems with it in the 45+ years that we've owned the cabin (and we're not aware of any problems before then), we are planning to replace the deck, and we'll put in a new railing then. I'll let you know when that's done, and we hope to see you again!
---
Our family of four (2 adults, 2 children) stayed here for 2 1/2 weeks and it was so, so relaxing! The location is magical. The cabin is very comfortable. The beds and bed linens felt clean and cozy. The kitchen supplies available to guests for cooking/dining were above and beyond what we're used to in similar (size) cabin rentals. Marc, the owner, was very easy to communicate with and always helpful. We will be back. Thank you for sharing your special place!
---
We had the best experience at Marc's place. Lake Tahoe is absolutely stunning and the walk to the beach was quick and easy. Once on the beach, it was pleasant and not crowded. The beach was clean and had the crystal clear water. The cabin was cute and rustic and had everything we needed for the weekend. I 1000% recommend this place if coming to Tahoe.
---
My family of 4 enjoyed our stay at Marc's cabin. It is exactly as depicted in the site, and the location was very private and the beach was awesome compared to the more crowded public beaches. The fridge was broken when we arrived but Marc was very responsive and made up for the minor setback. Our family had a great experience at Marc's cabin and will be back as the location and atmosphere can't be beat at any casino or hotel in South Tahoe.
---
We had a great family vacation at Marc's cabin. Marc provided us with all the information needed prior to our stay. We found the house just like it looks on the pictures. Located in a quite neighborhood with easy access to a wonderful private beach with volleyball court, the cabin is cozy and comfortable and has a great outdoor patio. The house is well equipped with everything you'll need for your stay, including wi-fi. We'd love to come back sometime. Thank you so much!
---
We had a wonderful time at Marc and his family's cabin. Marc was very attentive both before and during our stay. He even had internet installed some days before and let us know so that we could have wifi access during our stay. The cabin is very well equipped with everything one needs to spend a good time there. The house was very clean and comfortable. It was great to have access to washer and dryer so that we could go back home with everything clean (no extra work upon our arrival back home :) The beach is amazing!!! It is a private sandy beach (a treasure in the area), and the lake has very few rocks and they are big so, it is very easy to swim and for the kids to play. And the view is breathtaking. A real gem! Thanks Marc and Family for making our stay such a pleasant one!
---
My family (myself, husband, 4 kids and 2 grandparents) had a wonderful time at the cabin. It was just like the pictures in the website. It was a cozy and comfortable cabin. The cabin location was great and very close to the lake and Emerald Bay. My kids also had fun at the HOA private beach. The washer and dryer was a plus after long hikes and beach days. The kitchen was well stocked with basic kitchen supplies. Thank you so much.
---
My father bought the cabin over 40 years ago, and since then, it has been the center of our family vacations in both summer and winter My wife Ann and I love coming up to the cabin with family and friends to go hiking, biking, rafting, boating, skiing, skating, sledding, or just to hang out in Rubicon Bay at the beach and in the cabin.