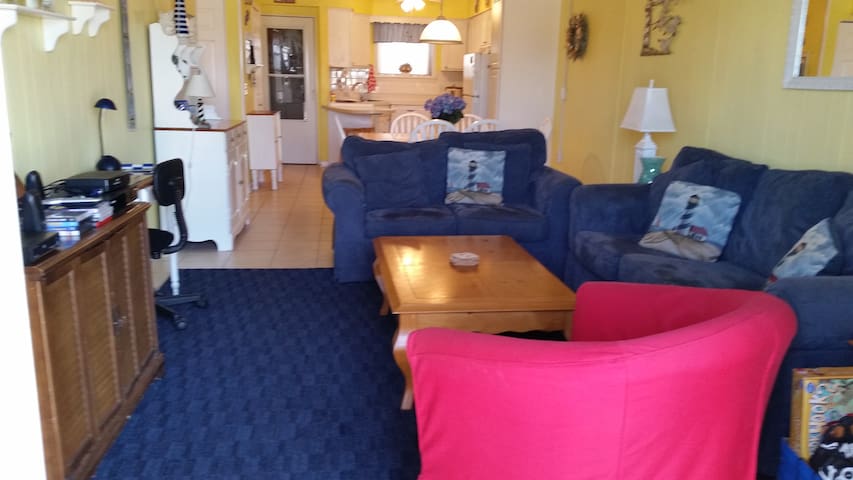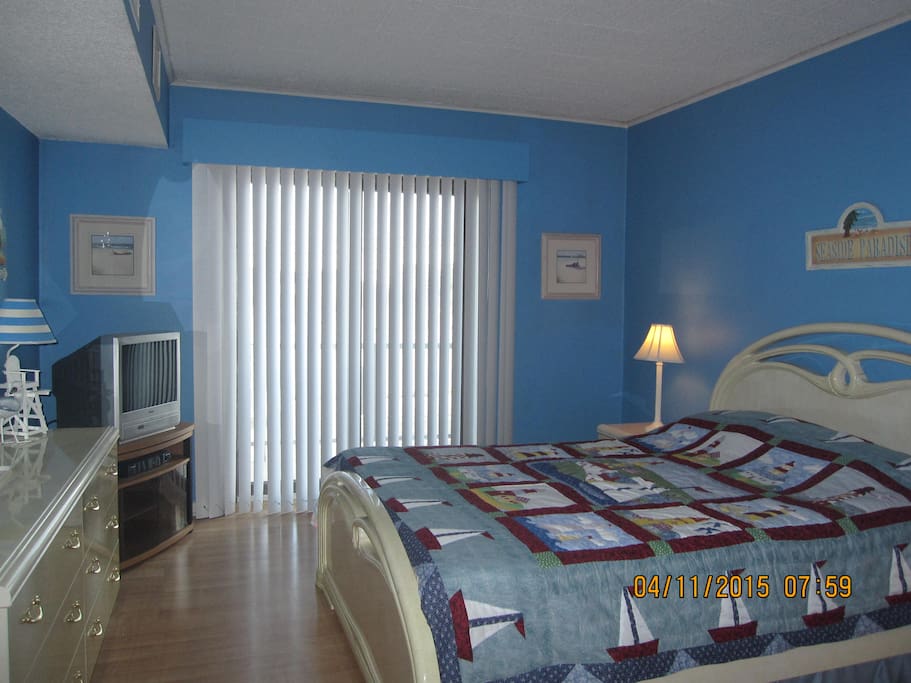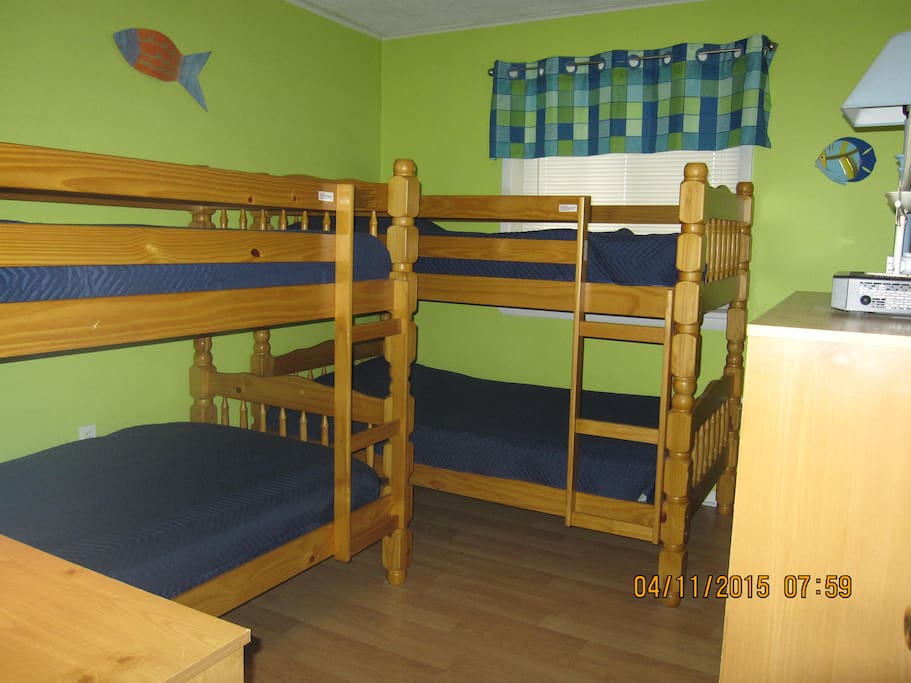 Family oriented. Elevators, security entrance. Use of Beach and Pool badges during your stay in the summer. Pool closed after Labor Day - not available during winter rentals. Very clean and maintained condo. Walk to everything. Boardwalk offers entertainment, shopping, restaurants, night life. Fireworks on the beach! Movies on the beach! MAX 5 PEOPLE. JULY & AUGUST FULL WEEK (SATURDAY TO SATURDAY) RENTALS ONLY. LEASE REQUIRED. CLICK MORE UNDER GUEST ACCESS TO PRINT LEASE.
房源
Family oriented and fun for all ages.
房客使用权限
Our mercantile license allows for 5 people only at all times. We cannot accommodate any extra people beyond 5.
Pool closed during winter rentals.
No Proms
No Underage Drinking
Age Requirment: 25 and older
$100 Cleaning fee, $500 Security applied to your total along with Airbnb Service Fee.
Lease Agreement under "Other Things To Note" please print, complete, sign and return.
与房客的互动
Property Manager on site if there are any problems.
其他注意事项
THIS LEASE AGREEMENT MUST BE PRINTED, COMPLETED, SIGNED AND MAILED BACK TO ADDRESS BELOW ALONG WITH CLEAR COPY OF DRIVER'S LICENSE UPON BOOKING IN ORDER TO ENSURE YOUR RESERVATION.
SHORE GETAWAY, LLC
6 Horseshoe Road, Whitehouse Station, NJ
Website: (EMAIL HIDDEN) - "The Lighthouse"
LEASE AGREEMENT
"THE LIGHTHOUSE"
51 Hiering Avenue - Unit #A-13 - Seaside Heights, NJ 08751
Renter's Name:_________________________ Rental Period: __________
Renter's Address________________________ Rental Rate: $______ PLUS $100 cleaning fee and $50 service fee
Refundable Damage Security: $500.00 handled through Airbnb only.
PAYMENT METHOD THRU AIRBNB:
50% DEPOSIT UPON BOOKING. BALANCE ALONG WITH $500 SECURITY DEPOSIT DUE 30 DAYS PRIOR TO ARRIVAL.
Lease mailed to: Shore Getaway, LLC and sent to 6 Horseshoe Road, Whitehouse Station, NJ 08889
NO SMOKING ALLOWED (A SANITATION FEE WILL BE DEDUCTED FROM YOUR SECURITY)
NO SUBLEASING ALLOWED
NO UNDER AGE DRINKING ALLOWED
NO PETS ALLOWED
NO PROM RENTALS ALLOWED
NO INDOOR POOL AVAILABLE DURING WINTER RENTALS
CHECK IN: 3:00 pm
CHECK OUT: 10:00 am NO LATER
SORRY BUT WE CANNOT ALLOW ANY EARLY CHECK INS OR LATER CHECK OUTS
INCLUDED WITH THIS RENTAL:
•WiFi INTERNET SERVICE. BASIC CABLE WITH LIMITED TV CHANNELS ONY. DVD PLAYERS PROVIDED. BRING YOUR OWN MOVIES.
BASIC CABLE TV SERVICE AND WiFi SERVICE ARE NOT GUARANTEED. HOWEVER, EVERY EFFORT WILL BE MADE TO RESTORE THE SERVICES AND REPAIR APPLIANCES IN THE VENT OF MECHANICAL FAILURE. PLEASE DO NOT REMOVE THE CARD INSIDE THE CABLE BOX OR SERVICE WILL BE LOST. RENTER IS RESPONSIBLE FOR LOST OR STOLEN CABLEVISION CARD.

•USE OF 5 BEACH BADGES AND 5 INDOOR POOL BADGES DURING SUMMER RENTALS.
BEACH ADMISSION FOR 11 YEAR-OLDS AND UNDER IS FREE.

INDOOR POOL IS ONLY OPEN FROM JULY 1 – LABOR DAY AND AT SPECIFIED LIFEGUARD TIMES. POSTED RULES MUST BE OBSERVED AT ALL TIMES. POOL CLOSES AFTER LABOR DAY AND IS NOT AVAILABLE DURING WINTER RENTALS.
BEACH AND POOL BADGES AND POOL DOOR KEY ARE LOCATED IN CONTAINER ON SHELF IN THE KITCHEN BY THE W/D. BADGES MUST BE WORN AT ALL TIMES BOTH AT THE POOL AND AT THE BEACH.
ALL BADGES AND KEY MUST BE LEFT IN THE CONDO UPON YOUR CHECK OUT OR REPLACEMENT COST WILL BE DEDUCTED FROM YOUR SECURITY. REPLACEMENT COSTS AS FOLLOWS: BEACH BADGES $60 EACH, POOL BADGES $35 EACH, POOL DOOR KEY $25.
NOTE: The security is NOT applied toward rent. It will be handled in accordance to lease agreement provided the following provisions are met.
a.No damage or theft is done to the condo or its contents or any part of the premises.
b.No fines issued to owner on behalf of the renter(s) due to contraband, collection of rents or services rendered during renter(s) stay or any illegal activities occurring in the condo or on the premise.
c.No subletting to other people
d.No fines issued to owner on behalf of the renter(s) due to drunken disorderly conduct. No underage drinking.
e.No fines issued to owner on behalf of the renter(s) due to disrespect to other occupants of the complex.
f.No fines issued to owner on behalf of the renter(s) by the El Con Condo Association or Seaside Heights Township.
Should there be any damages, theft or fines, incurred by renters or their guests/visitors, renters agrees to pay all expenses from their security deposit. Should expenses exceed the security deposit, renters agree to pay all additional costs. Should the renters be evicted by the owner (or representative of the owner), the local law enforcement, or the Property Management Company employed by the El Con Condo Association, renters forfeit any refund and full security deposit.
In addition:
1.All debris, rubbish, and discards are to be disposed of in the dumpster at the end of the back parking lot.
2.All dishes, pots, pans, etc. are to be left clean and stored away in cabinets.
3.Drain, dishwasher, oven, stove, microwave, refrigerator and all other appliances are to be left clean and in working order.
4.No food is to be left in cabinets or refrigerator.
5.All beach badges and pool passes along with pool door key are to be left in clear container on hall shelf.
6.The entrance door is to be left locked upon check out and the 2 keys left in Shur-Loc box attached to doorknob.
CANCELLATION POLICY: Failure of the renter to pay the balance 30 days prior to check-in, authorizes the owners to retain full deposit and charge the balance to renter's credit card. Last minute cancellation or early departure does not warrant any refunds. Any cancellation must be made 90 days prior to arrival date. Monies will be refunded minus a 20% fee of the full rate. No refunds given for any types of mechanical failures, inclement weather, acts of God or nature.

RULES AND REGULATIONS: Because this apartment is part of a Condo Association, condo rules and regulations are posted inside the unit and renters agrees to abide by them at all times. In addition, please observe the following rules in order to make your stay more pleasant:
•Renters shall not cause or allow loud or excessive noise, music, etc. that will cause a disturbance to other residents of the condo complex.
•Nothing is to be hung over the balcony railings at any time, ie clothes, towels, etc.
•No alterations, additions, or changes to the condo shall be made i.e. walls, furniture, wall hangings, etc..
•Neither the owners, the El Con Condo Association, members of the Board of Directors, nor the Property Manager will be held responsible for accidents or injuries to renters, any members of their party, their visitors or guests or for loss of money, jewelry, or other valuables during their stay.
•Owners shall not be held liable in any way if any other owners, members of the Board of Directors, or Property/Maintenance Manager of the El Con Condo Association report a renter to the Police or Code Enforcement of SSH nor shall they be held liable for any arrests, fines, or lawsuits incurred by such.
OCCUPANCY LIMITS: Our special use permit allows for only 5 people. If renters arrive with more people in their party than specified in this lease agreement, no one will be permitted to enter, no refund will be issued and the full security deposit will be withheld. The law makes it a crime to defraud the owners or building management, and having more people in the condo than have registered is a violation of the Municipal Code of Seaside Heights and subject to a civil penalty of not less than one hundred dollars ($100.00). If such a violation occurs renters will also be held responsible for the penalty fees.
RESPONSIBILITY OF RENTERS: NO DAILY MAID SERVICE. Renters must abide by the Rules and Regulations posted in the condo and those in this lease agreement and set forth by the Condo Association. This condo is being rented fully furnished and in excellent and clean condition with all appliances in full working order. BLANKETS AND PILLOWS ONLY ARE PROVIDED. Renters must provide their own bed linens, towels, washcloths, beach towels, personal toiletries, trash bags, dish and laundry detergents, paper towels and toilet paper.

CAUTION: Staying in Whirlpool tub too long or heating the water too high is dangerous. Children may NOT use Whirlpool feature. Tub is deep – NEVER leave children unattended.
RENTERS ASSUME ALL RESPONSIBILITY FOR ACCIDENTS and THEIR SAFETY THROUGHOUT THEIR STAY.
Upon departure, renters are responsible in leaving the condo in the same condition as upon their arrival and per the terms of this lease agreement. Please make sure you take all your belongings and valuables. Neither the Owners, Condo Association, nor Property Manager are responsible for any items left behind, lost or stolen. There will be NO replacement or compensation.
We (the renters) understand our responsibility as renters and accept full financial burden for any damages and any items broken or lost due to theft during our stay in this Condo Unit in Seaside Heights, NJ, caused by us, any members of our party or any visitors. By signing below, we (the renters) allow the owners to pay for repairs of all damages and replacement of all items broken or lost caused by us, any members of our party or any visitors during our stay out of our security deposit. If cost of repairs and replacement value exceeds security deposit, we (the renters) agree to pay for all additional costs. Such
damages, broken or lost items will be reported in writing to us. If, upon arrival, renters notice any problems and/or damages, etc. renters must notify owners immediately and give a list of the existing problems/damages to avoid responsibility for same.
BY SIGNING BELOW, I, THE RENTER AGREE TO ALL TERMS AND CONDITIONS OF THIS AGREEMENT.

____________________________________________________ DATE___________________

RENTERS MUST BE 25 YEARS OF AGE OR OLDER TO RENT AND ACCEPT RESPONSIBILITY FOR THE CONDITION OF THE CONDO. IF RENTERS ARE UNDER THE AGE OF 25, A PARENT OR GUARDIAN MUST SIGN RENTAL AGREEMENT AND ACCEPT FULL RESPONSIBILITY.
SIGNATURE OF PARENT OR GUARDIAN IF RENTER IS UNDER THE AGE OF 25
_____________________________________________________ DATE___________________

PRINT NAME:___________________________________RELATIONSHIP:_________________________

IMPORTANT: THE FOLLOWING INFORMATION MUST BE PROVIDED: PLEASE PRINT
RENTER:_____________________________________________________ AGE_________
GUEST: ______________________________________________________ AGE_________
GUEST: ______________________________________________________ AGE_________
GUEST: ______________________________________________________ AGE_________
GUEST: ______________________________________________________ AGE_________
THE FOLLOWING INFORMATION MUST BE PROVIDED ALONG WITH A
CLEAR COPY OF YOUR DRIVER'S LICENSE AS PHOTO ID:
HOME PHONE: ___________________________________
CELL PHONE: _____________________________________
E-MAIL ADDRESS____________________________________

PLEASE REMEMBER TO INCLUDE PAYMENT AND CLEAR COPY OF YOUR DRIVER'S LICENSE AS PHOTO I.D. WHEN RETURNING THIS LEASE AGREEMENT
---
My children and I had a wonderful time this week at "The Lighthouse." It was clean, comfortable, and nicely furnished. You do need to bring your own sheets and towels, but blankets and pillows are provided and the beds were very comfortable. The kitchen has all the basics, and everything worked beautifully. We especially loved that it is just a block to the beach and the boardwalk! So fun and easy with kids! (Also the CVS is right around the corner for basic groceries, RedBox movie rentals, and beach gear.) Maria was very attentive and lovely to talk to. We really felt at home and hope to come back next summer!
---