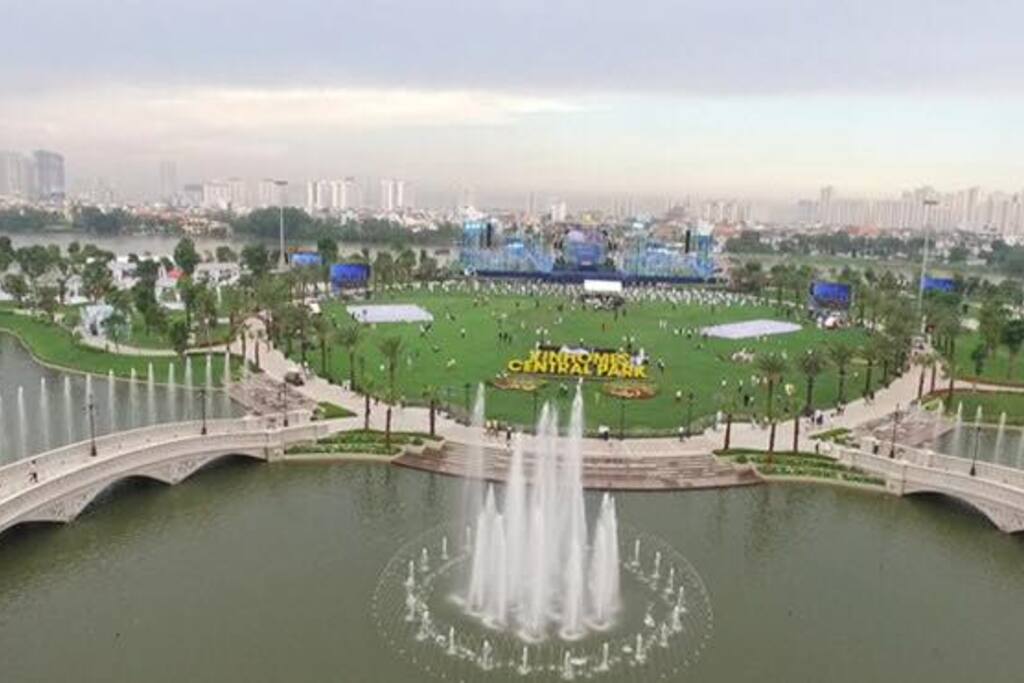 此房源的描述已由谷歌翻译从英语翻译成您的语言,但谷歌翻译并不能保证翻译的准确性。
灵感源于纽约市着名的中央公园,总面积43.9公顷,位于长达1公里的西贡河畔长廊上,维霍斯中央公园承诺将为居民带来理想的生活环境 - 与自然和谐相处一个5星级的城市生活方式(3br转换成巨大的1br单位)
距离CBD区(1区)仅5分钟路程,提供完善的服务和保障,是短期停留旅游和商务外籍人士的完美选择。
其他注意事项
建筑物和公寓通过访问控制卡,拇指打印和访问代码进行保护。我确实需要为了安全起见向客人注册客人,因此,当您确认预订时,我将要求您提供护照/个人联系信息。根据越南法律,为了安全起见,必须在酒店/家庭登记客人(例如,如果酒店在火灾,消防局需要知道有多少客人在建筑物中,并且已经准备好了肯定没有人被困在里面)
---
---
---
---
这个地方纯粹是为客人和旅客准备的。
它也可用于商业用途的拍摄/拍摄,但一次会议(8:00至9:00)的费率为500美元+单位内容的保险+不超过15人的船员
缔约方和活动可通过直接查询进行谈判
---
---
---
---
MARTIN APARTMENT IS VERY NICE ( AS PER THE PICTURES ) AND HE IS A SUPER HOST . MARTIN SENT ME A TEXT MESSAGE TO MAKE SURE I MADE IT TO HIS PLACE SAFE . THE LOCATION IS GREAT , VERY CLEAN , LOCATED IN A NEW AREA WITHIN 5 MINUTES BY TAXI TO DISTRICT 1 . MARTIN CAME TO INTRODUCE HIMSELF ON THE FIRST WEEK END ( I RENTED FOR 2 WEEKS ) . HE BROUGHT A FEW THINGS ( BEERS , CHOCOLATE ) AND RECOMMENDED A FEW GOOD RESTAURANTS TO DISCOVER . I DO RECOMMEND HIS PLACE & WILL DEFINITELY RENT HIS APARTMENT AGAIN DURING MY NEXT TRIP IN HO CHI MINH ( PROBABLY IN MARCH ) AS LONG AS IT IS AVAILABLE !
---
There was major issues in the cleanliness of the apartment which the cleaner revisited and a supervisor revisited But still not clean. Soiled Men's underwear left on washing machine, Mouldy food left in the fridge, Shower trap blocked with hair and other disgusting material and door nearly falling off, Stove not clean, microwave not clean, food stuck on utensils, stains of food left on bench and coffee table including drink coasters, Lint filter in clothes dryer 2 inches thick, Bed sheets not changed, Falsely advertised with Cable TV but didn't have, paid nearly $ 1000 for 7 nights no where near the standard for this amount of money left after 2 nights Highly disappointed.
Dear Shaun, If you were that unsatisfied you could have checked out straight away and cancel the booking on the first day. You have stayed for 3 days 2 nights. You booked in a wrong location and it took too long to commute to District 12 in Saigon traffic. Cancellation half way through the booking shall only give back 50% of the cost. Next time please check out the location carefully before you make the booking. I have reflected your bad review and false accusation to the Resolution Center of Airbnb. Regards,
---
Martins place was as described. Highly recommended if you need a want to get away from the hustle and bustle of D1. Had a problem with the internet and Martin sent someone to fix it right away. Excellent service and stayed in touch throughout the stay. Next time I'm in Vietnam will definitely book again!
---
We really enjoyed our stay here. The place is definitely amazing. Made us feel very homely and comfortable. It's close to everything you need. The park is also nice to walk around in. Martin was a real help from the beginning. Kept in contact throughout our stay. Would definitely recommend this place.
---
Martin was a great host! He was extremely responsive and provided me with all of the information I needed for a care-free stay. His apartment is spacious and even more beautiful than the pictures. The gym & pool were welcome amenities for a weary traveler. I stayed there for 2 weeks for business trip and will recommend it to colleagues in the future. Its centrally located next to a fantastic park on the river with a peaceful japanese garden.
---
40 year old. Professionals. Born in Saigon. Grew up in Sydney. Studied in Ludwigshaften Germany, Resident of California, USA and somehow live and work in Hanoi at the moment. :) never know where life takes you. Love travel. Been to 30 countries and 145 cities. But i must admit i have not used much of Airbnb but mostly :)

Love Cooking. Good food. Nice wine. Photography. Very homy person so i put lots of effort into my Home and my Kitchen. You'll see ! Am in construction business, which makes me travel all the time. Therefore try out Airbnb :)

I love tech so you shall see many of my home have automation. I love Masterchef so my kitchen is always a top notch investment. Hope you treat them nicely too :)


语言:
English