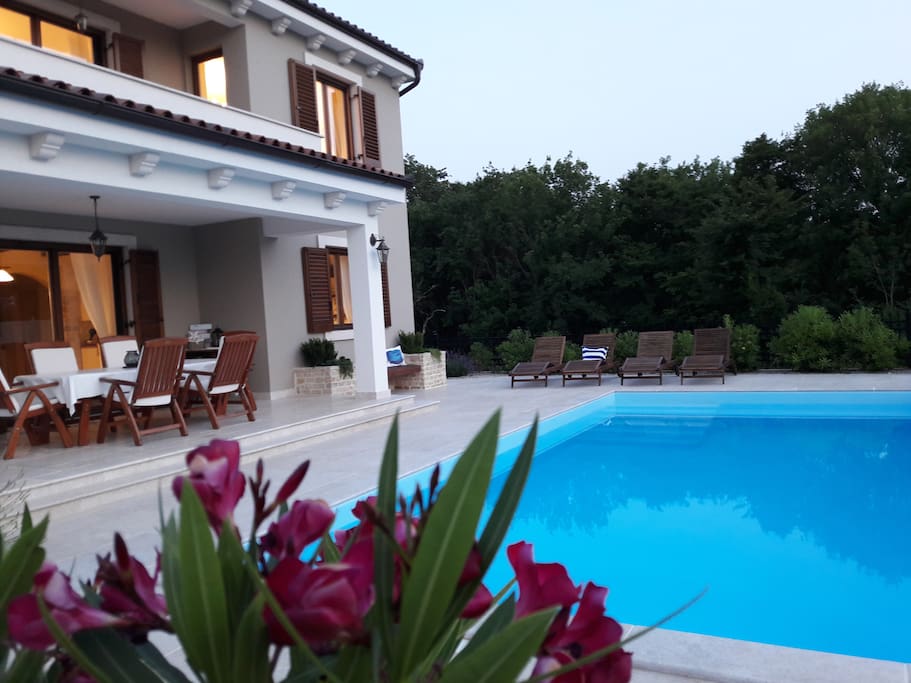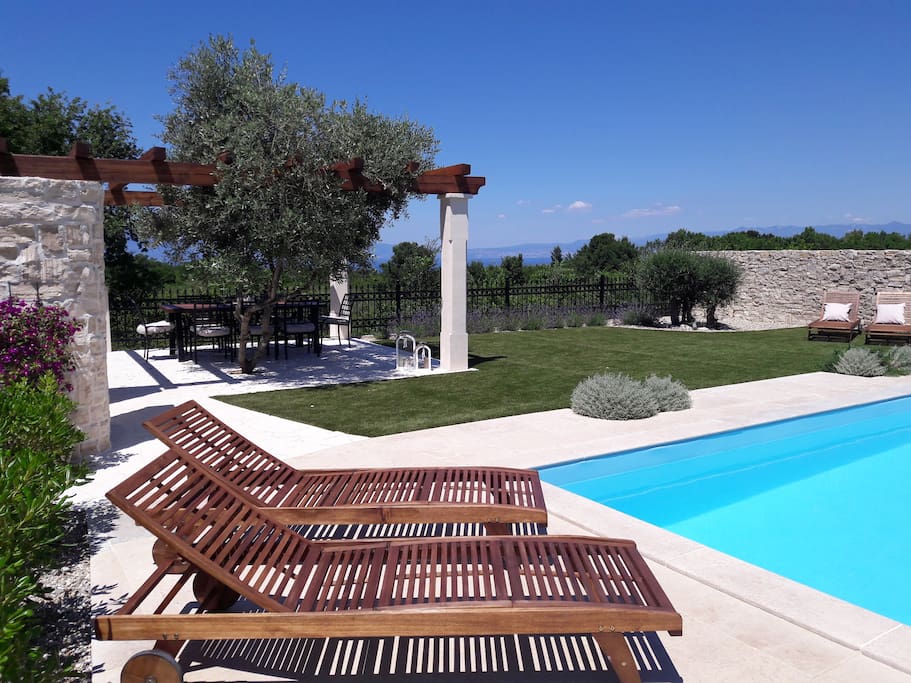 Villa Lia is completly newly build house for 8 with large swimming pool located at the end of the village Žgombići close to Malinska, in quite area where there is a beautiful view on greenery, olive trees and Kvarner bay.
---
We enjoyed a wonderful week staying at Sasa's beautiful house. This really is an exceptional property: The location has a magnificent sea view and the gardens are beautifully landscaped with a lovely size swimming pool to cool off in. There are many outdoor seating options so you can always find sun or shade. There is a wonderful large gas Webber BBQ in the garden which we used most nights and dined al fresco. The house interior is beautiful, fresh and tastefully decorated-every detail has been considered to make it a comfortable stay. Well appointed kitchen with brand new appliances, bedrooms with large soft beds, ample storage space, large and beautifully appointed bathrooms. The master bedroom has a balcony that we enjoyed sitting on to soak up the sea view with a morning cup of tea. We explored the island by car, visiting many of the beaches, our favourites were Punat and Baska. We visited the wine region of Vrbnik - the local wine is delicious. Krk is also a very attractive and historic town and worth visiting. The closest town Malinska is around 10 -15 minutes walk away and there is a lovely harbour with cafes, bars and restaurants to enjoy and a local supermarket to get all your provisions. Overall, we would highly recommend this house and the island of Krk for a beautiful holiday and Sasa is a most charming and helpful host who provided lots of helpful tips to ensure we had the best time. Thank you Sasa.
---
Saša's place was wonderful! We where two families sharing the home and it fit perfectly. The four bed rooms where right in size and the space in the house is well planned with details in styling and functionality making it a home away from home. The outdoor area is great for relaxing around the pool and provides enough space and options to sit in the sun or get some shade when needed. The house provided all the comfort elements we need and on top of that the attention to detail made it feel very cozy. Saša was also a wonderful host. She was available before and during the stay and provided us with some great insights to the surrounding area from where to rent a boat, restaurant recommendations and any other needs that we had. We really had a pleasure well above expectations. I would strongly recommend it and would stay there again given the opportunity.
---
We spent our honeymoon at Sasa's villa. The villa is amazing, everything inside is beautiful and aesthetic. The terrace in front of the villa is so cozy, that we almost spent all our time there and swimming a lot in the pool. There is also a big grill available on the yard. The neighbourhood is very quiet and offers a lot of privacy. We are very happy that we chose Sasa's villa for the honeymoon, we felt amazing there. Sasa and her family are very nice and kind people, Sasa responded to each message within a couple of minutes and was very helpful. We were also allowed to borrow their scooter which was convenient when we wanted to get to Malinska fast or to the big "Market". By walk to the beach and city center in Malinska it takes 20 minutes which was also very comfortable. We already now know, that we will come back soon and we will recommend the villa to all of our friends and family. So if anyone stumbles upon Sasa's villa, don't look any further, its the perfect place to stay!
---
We are a Slovenian family of four, with two teenage daughters and this is our holiday home. When we are not working we are spending our family time in our getaway place.
We are in love in Adriatic Sea, its' crystal clear water and the locals that live there. We started building this house and we tried to combine all of our different styles into one. The same way we do with our family, since we have various personalities. We never imagined that this house would have become our second home.
During the winter we enjoy hanging out with our friends, having a drink near the fireplace. And during the summer time we enjoy relaxing by the pool or we go for a walk to the center of Malinska for a good meal accompanied by a glass of good wine.