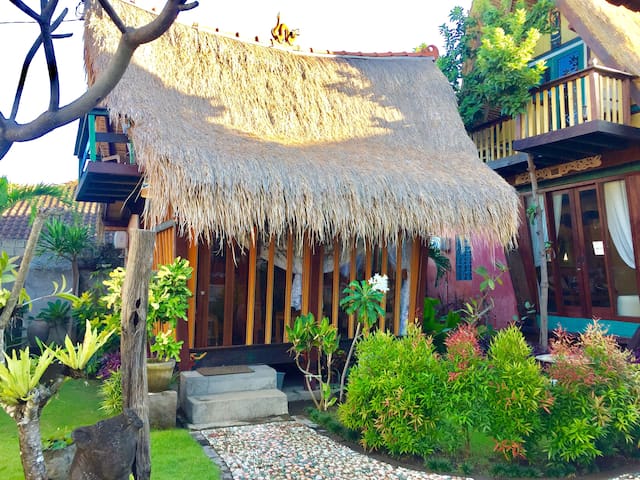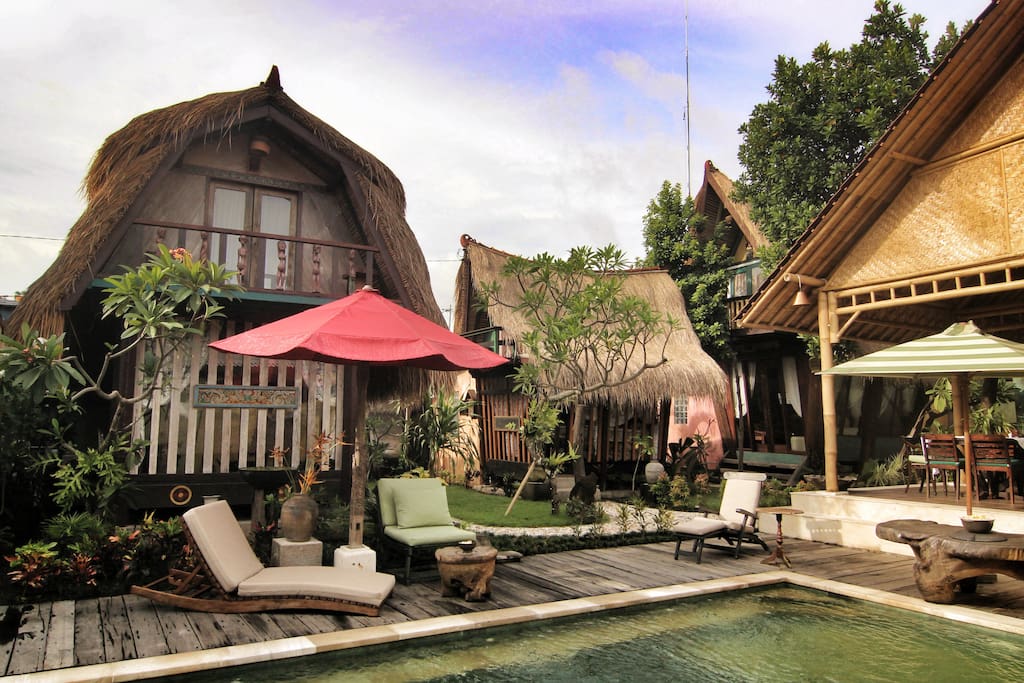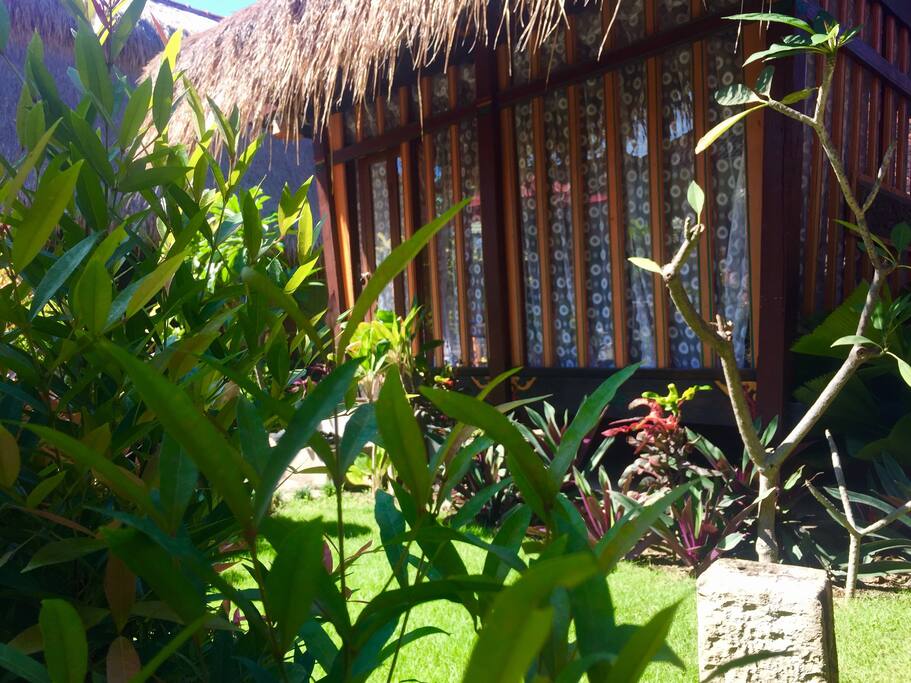 Rumah Lumbung Writer's cabin in Sanur
Tiny refurbished Sumatran (Mt. Kerinci) rice house.
1 bed, breakfast in bed, wifi, parking space, writing area (also suitable for a relaxing reading holiday or a me-time break), hot/cold shower.
This area was previously our home & decor workshop, Hape Interior Design, but now turned into a b&b with 4 traditional houses. These are century-old wooden house, which were used to keep rice or "padi" back in the days. Compare to the other houses (see in my listings) this one is rather special for me.
---
---
---
---
1- Toilet paper: please be noted toilet paper should not be flush. It will cause overflow because the plumbing system in Indonesia is just not up for it. We do not yet have the accomodating pipes like in Europe or the USA. So please put toilet paper, napkins and non-natural waste in the bin provided.
2- Air Conditioning & Electricity usage: please be considerate while using the AC inside the lumbung (cottage house). Make sure the door is shut when AC is on, and turn it off when you're out. We provide sufficient power for the lumbung (cottage house) enough for a week.
---
---
---
---
Great place, the most relaxing and peaceful I found in Bali. Totto was not there but promptly responded to any of my questions, and her mother who was there had been very helpful and kind. It is close to the beach and restaurants, and you can rent a modern scooter directly from there. All other facilities really make your life easier, and I think that's a great place to stay when you want to have a bit of relaxing time. Eventually, they arranged my drive to the airport and it could not have been smoother. recommend this place to anyone stopping in Sanur. Thanks to Totto and her Mum.
---
We had such a lovely stay. The hosts go above and beyond to make you feel welcome. The house is simple, but beautiful, and has everything you need. The location is great, and within 15-20 minutes walk to the beach, as well as a large shopping and eating district with plenty of options for eating out. We really enjoyed our stay, and would happily stay again. Thank you!
---
I stayed here for 3 weeks and I would highly recommend it! The place looks even better in real life. It's just lovely, warm (except for the cold showers ;)) and so well decorated. The location is a bit far from the beach and restaurants so a motorbike is a must, especially if you stay longer. Totto and her family are very friendly, helpful and generous. Trisna even took me to the Art festival in Denpasar. I would definitely stay here again, thank you!
---
We stayed in Sanur for two days. Sanur is a good last stop before heading to one of the islands cause the fastboats leave from here! The homestay is a bit hard to find but it's 100% worth to stay here! 3 original "Lumbung" houses with great local and traditional furniture are waiting for you! Also a great pool and a really calm and relaxing backyard! A small paradise just behind the busy streets (which you won't hear at all)! Unfortunately we didn't had a chance to meet Desak in person. Instead her parents are the main host who were really welcoming, caring and friendly! You can reach the beach, main street with warungs and other restaurants in just 3 min by scooter. You can rent a scooter directly at the accommodation which was really nice. We definitely can recommend this place to stay and relax ;-)
---
Hi! I was born in Bali, but have lived in India and Singapore before ended up in Sweden. While studying, working and living in Stockholm, I often fly home to Bali as me and my family just re-furbished our old interior workshop into a homestay. It consists of 4 traditional wooden houses. I also travel few times around Europe for a short break and weekends. So being in this community is an absolute joy for me!
语言:
Bahasa Indonesia、English、Svenska