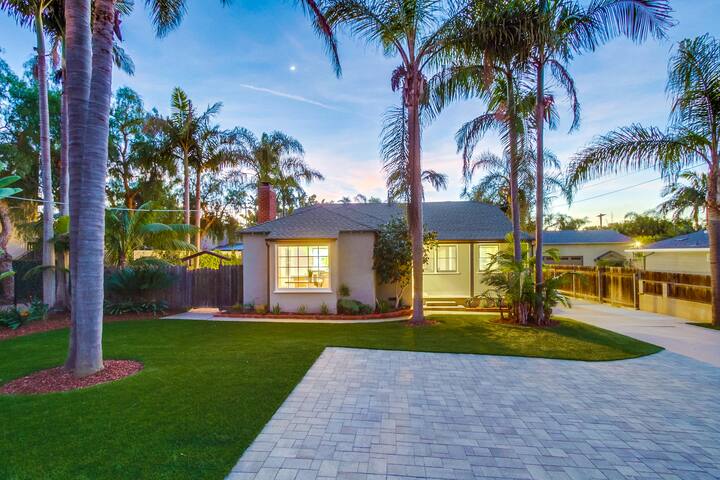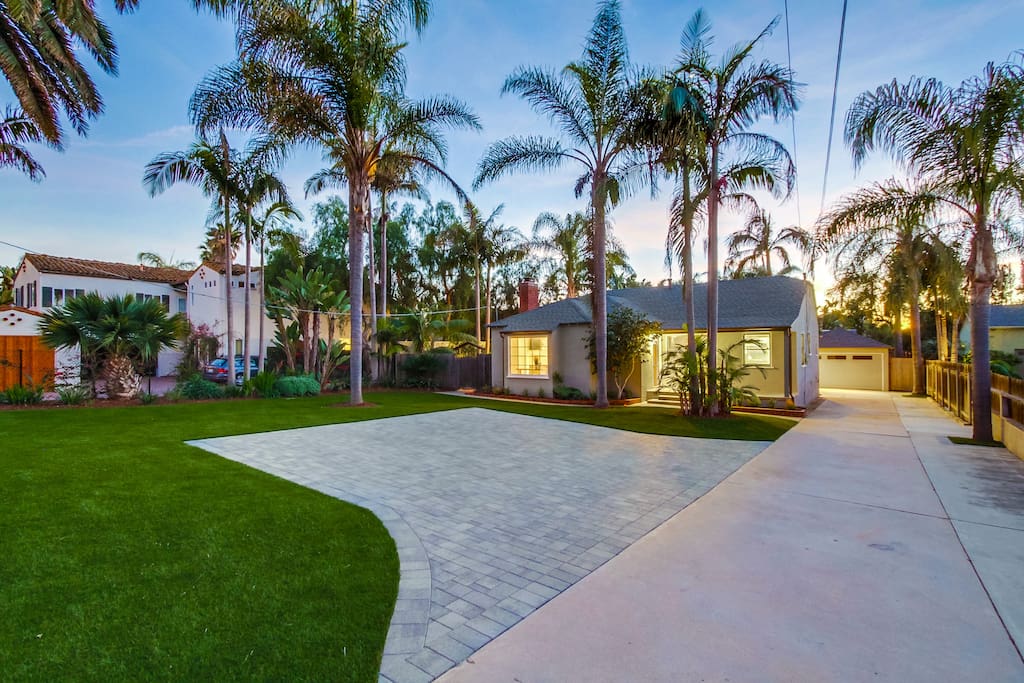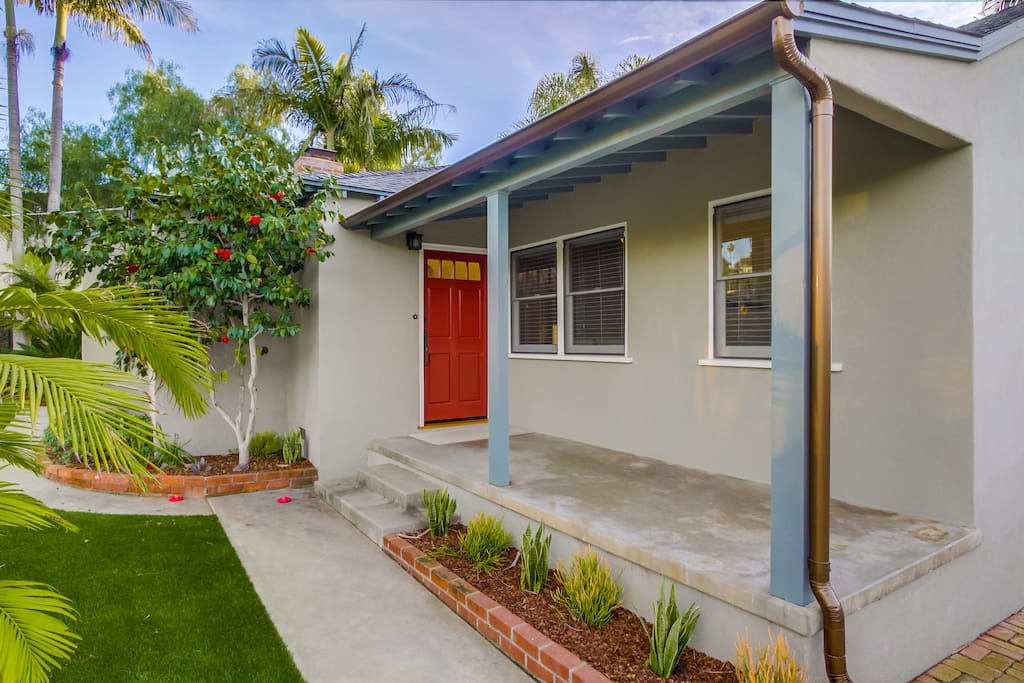 Solana Beach is one of the best beach communities in San Diego County and only minutes from Del Mar Fairgrounds, Legoland, Sea World, and the Zoo. The house is near breweries, shopping, and of course, the beach! Enjoy the outdoor shower after a day at the beach and relax in the huge backyard. The guest suite has its own full bathroom and a kitchenette to boot. This place has it all.
房源
The lot is really large, so you can park probably 5 or 6 cars if necessary. Kitchen appliances, utensils, pots, pans, etc. are all provided for your use.
房客使用权限
Any part of the property is for your use and it is fenced and private.
与房客的互动
Minimal or more; whichever is your preference.
---
---
---
---
- PLEASE READ THOROUGHLY -
Excessive noise, house parties, or violation of any of the terms of this agreement will be grounds for imposition of a minimum $500.00 fine and/or immediate termination of occupancy and/or forfeiture of the Security Deposit. Tenant/Guest agrees to closely read and abide by the Terms of the Agreement and assumes the responsibility to ensure their guests and any visitors abide as well. As consideration for the booking and use of Vacation Rental Property during the lease term, Tenant agrees to pay Manager for all items specified.
RESPONSIBLE PARTY: Manager and Tenant agree as follows: Tenant is an adult at least 25 years of age (Valid government I.D. must be presented upon request) and will be an occupant of Vacation Rental Property during the entire reserved period, unless other arrangements are approved in writing by Manager. Tenant assumes responsibility for all actions of other occupants and guests. No keys or entry code will be issued to anyone who is not an adult 25 years of age. Persons not falling within the foregoing categories will be required to vacate the Vacation Rental property immediately without any refund. Any reservation obtained under false pretense will be subject to forfeiture of advance payment, deposit and/or rental money, and the party will not be permitted to check-in. Tenant agrees to comply with all posted condominium or homeowner rules and regulations applicable to use of the Unit and the common areas.
CHECK IN: Check in time is 4:00 PM Early check-in is allowed only with prior written approval. Keys or entry code will be provided once all fees and charges have been collected. If for some reason, the home is not ready for check-in you will be notified. Please do not attempt to check-in or visit the home prior to notification that the home has been cleared for check-in as it may result in further delays. Once you arrive at the vacation rental property, please notify Manager so we may follow-up and make sure everything is to your satisfaction.
CHECK OUT: Check out time is 10:00 AM. There is no holding over. PRIOR WRITTEN APPROVAL IS REQUIRED from Manager for late check-out. A $75 hour fee will be charged for each hour (or portion thereof) past the required check out time and Tenant will be liable for any additional damages incurred, but not limited to the cost of alternative housing for arriving guests.
CHECK OUT / CLEANING PROCEDURES: Each vacation rental property will be inspected, sanitized and cleaned prior to your arrival and after your departure. The cleaning fee you have paid will provide for normal cleaning at check-out so that you can enjoy your vacation up to the last moment. Adhering to the Check-Out Time is very important to ensure the cleaning and maintenance crew can prepare the unit for the next guest's arrival. Tenant is required to leave the property in the same general condition at Check-In meaning: a) Any debris, rubbish and discards removed from the home. b) Dishes cleaned and put away. c) Strip all used beds and place linens and towels on the floor in the laundry or in bathtub. d) Put back any furniture or items that have been rearranged (inside and outside home). e) All remote controls left in the rooms with the TV's in plain sight. f) Refrigerator and unit should be left clean and free of perishable food. g) Any toys, bikes, lounge chairs equipment, etc. cleaned and put back in place. h) BBQ cleaned with brush. Gas turned off. i) Turn-off lights, heater, air conditioner, fans, appliances, etc. j) All doors and windows closed and locked. k) Leave keys, garage openers and parking passes (if applicable) on the kitchen table. l) If unit has a lock-box, return keys to the lock-box. Specific and/or additional cleaning procedures may be found in the Guest Information Binder. If additional cleaning is required, fees will be deducted from your security deposit at the rate of $50 per hour. A $50 per item fee will be charged for each lost key, garage door opener and remote control that is damaged or not left at the Property upon check-out.
OCCUPANCY: Tenant understands and agrees that Vacation Rental Property shall be occupied by no more than the number of individuals (including children and infants) indicated on this agreement, and day/evening guests are limited to 4 persons. A charge of $100 per day per person may be imposed for excess occupancy. All day/evening guests must vacate the premises by 10:00 p.m. Should Tenant wish to entertain or have more than 4 guests; Tenant must obtain pre-approval by Manager in writing. Tenant's request must be received by Manager no less than five (5) days prior to the day of the event. At Manager's discretion, Tenant`s request may be denied or modified. An additional event agreement is required for larger gatherings or events, and a fine imposed if pre-approval is not secured.
AMENITIES: The property is fully furnished and includes bedspreads, linens, blankets, pillows, towels, as well as an equipped kitchen. Furnishings and amenities may or may not be the exact same as represented due to replacement, substitution or other reasons. Under no circumstances may any furniture be removed from the house. Personal toiletry items and, soap, dish detergent, laundry soap, shampoos, and other consumables are to be provided by the Tenant. Since only a limited supply of toilet paper, paper towels, and other dispensable items are provided, Tenant should plan to shop to replenish these items as necessary. No reimbursement will be made for unused consumables left at the premises. Manager assumes no responsibility for the quality or contents of any food products left on the premises and Tenants use and/or consumption of same shall be at its and its guests own risk(s). Towels (except beach towels, if provided) and linens are not to be taken from the units. Tenants Security Deposit will be used for replacement of any missing or damaged items other than consumables.
DISTURBANCES: Tenant and their guests shall behave in a civilized manner and shall be good neighbors respecting the rights of the surrounding property owners and shall not create noise or disturbances that interfere with the quiet enjoyment of their property. Creating a disturbance of the above nature shall be grounds for fines and/or immediate termination of this agreement, forfeiture of rent and deposits and Tenants shall then be required to immediately vacate the premises. Quiet hour starts at 10 PM and pool (if applicable) and outdoor noise should be kept to a minimum regardless of the hour and in compliance with the San Diego County or other local Noise Ordinances. Properties with ground or roof decks must be vacated by 10 PM.
TENANT'S NOTIFICATION RESPONSIBILITIES: Tenant agrees to call Manager upon arrival to vacation rental property to confirm arrival. Upon arrival, Tenant agrees to examine the Unit, all furniture, furnishings, appliances, fixtures and landscaping, if any, and shall immediately report to Manager if any are not in operating condition or in disrepair. Tenant also agrees to immediately notify Manager of any occurrences that may cause damage to Property or adjacent units and to take any measures as are reasonable to mitigate damage, and be responsible for damages for failure to do so. Tenant acknowledges that unless Manager is notified on day of check-in of any damage or cleaning concerns, Tenant will be liable. Any and all damages, breakage, lost or missing items or concerns to the Unit during the occupancy will be Tenant's responsibility and must be reported to Manager and paid prior to departure. Manager has the right to deduct appropriate sums from the security deposit or credit card on file if damages exceed Security Deposit Amounts. It is recommended that Tenant considers the purchase of Damage Insurance.
MULTIPLE HOME RENTALS: Should Tenant or acquaintance of Tenant rent another house in proximity to Unit, no items shall be moved from house to house. Guests moving between the premises will refrain from loud noise and boisterous behavior. Guests from two or more rentals will not spend the bulk of their rental time at a house other than the house in which they are sleeping (violation of the occupancy rules). Having too many guests in one house creates extra wear and tear, risk of sewer problems and noise complaints.
GARBAGE: Tenant shall dispose of all waste material generated during the rental period in a lawful manner and put the trash in the exterior trash bins provided for pickup. See the Guest Information Binder in the unit or contact manager for garbage collection days. Tenant is cautioned not to leave trash outside for long periods of time because it attracts animals.
SUBLEASING: Tenant shall not sublet the property.
SMOKING: No smoking is allowed on the premises. If smoking does occur on the premises, Tenant is responsible for all damage caused by the smoking including, but not limited to, stains, burns, odors and removal of debris. Smoking by Tenant or guests is a breach of this agreement and occupants may be required to vacate the premises and forfeit the right to return of any Security Deposit. Smoking inside is grounds for an immediate eviction. THERE WILL BE A MINIMUM $500 CHARGE TO LESSEE'S SECURITY DEPOSIT OR CREDIT CARD. At no time is marijuana smoking allowed.
PETS: Pets are prohibited unless a separate Pet Addendum has been signed in advance of occupancy. Only certain properties permit pets for a fee. If an unauthorized pet is found on the premises, Tenant is responsible for any and all damage caused by pet(s), including pet allergen remediation, noise complaints arising a pet barking, or bodily injury caused by a pet. Under no circumstances is the property owner or Manager responsible for any illnesses or otherwise that a pet may encounter while inside or outside the property. Unauthorized pets on the premises constitute a breach of this agreement and occupants may be required to vacate the premises, and Tenant will forfeit the right to return of any Security Deposit.
TRANSIENT OCCUPANCY: Tenant expressly acknowledges and agrees that this Agreement is for transient occupancy of the Property, and that Tenant does not intend to make the property a residence or household.
OWNERS PROPERTY: Tenant agrees not to access the "owner's closet", even if unlocked, which contains owners personal property and may contain cleaning supplies and chemicals that could be hazardous to children and adults.
FIRE EXTINGUISHER: The property may or may not be equipped with a minimum of one (1) fire extinguisher. If equipped, the fire extinguisher was fully charged at last inspection. It is the duty of the tenant locate fire extinguisher, notify all other occupants and guests of the location, and to inform management immediately should the fire extinguisher be missing, or be less or become less than fully charged.
SMOKE DETECTORS/ CARBON MONOXIDE DETECTOR: The property has smoke detectors and a carbon monoxide detector installed and they are believed to function properly at the time of rental. Tenant will notify management without delay if detectors are missing, uninstalled, "chirps" or have a low battery condition.
PARKING: Tenant is advised that in many high density beach communities, parking is at a premium, and garages and parking spaces can be smaller than normal. Tenant is advised to ask for measurements if parking is needed. No refunds will be given if vehicles do not fit in designated spaces. Please do not block garages or park in the red at any time.
SECURITY: Tenant shall see to their own and to the Property security by locking doors, windows, garage doors, etc. when it's prudent to do so and always when all guests are absent or the property is vacated.
NEW LOCKS OR ALTERATIONS: Tenant shall not make or permit to be made any alterations to the Premises or change or add any lock without prior consent of Manager.
LOST ITEMS: Manager shall have no responsibility for lost, stolen or abandoned items. Every reasonable effort will be made to contact the Tenant for return. There will be a $25.00 charge plus shipping costs for any items returned at Guest's request. Manager shall not be held liable for condition of said items. If items are not claimed for longer than 21 days, they shall become the property of the Manager.
CABLE/INTERNET/SATELLITE: If provided, no refund of rents shall be given for outages, content, lack of content or personal preferences with regard to cable/internet/satellite service. Services are provided as a convenience only, and are not integral to this agreement. No refund of rents shall be given for outages, content, lack of content, speed, access problems, lack of knowledge of use, or personal preferences with regard to service.
AIR CONDITIONING / HEATING: Most beach vacation rentals are not equipped with air conditioning. If so equipped, Tenant agrees that Air conditioning shall not be set below 72 degrees and heat shall not be set above 78, and that the fan setting shall be "Auto". Doors and windows shall be closed when either heat or air conditioning is in operation.
SYSTEM(S) FAILURES: In the event the rental unit sustains a failure of a system, including but not limited to water, sewer, septic, electrical, gas, plumbing, mechanical, appliances, heat pump, ventilating, pool, hot tub or other system or structural systems, neither the property owner nor the Manager shall be liable to Tenant for damages, and no refunds will be given for such failures. However, Manager will make an effort to promptly repair or replace the failed system or equipment, and in such event, Tenant agrees to permit Manager or its service provider to have reasonable access to the property to inspect and make such repairs.
NOISE: Tenant is aware if Unit is located in a high-density neighborhood (as are many beach vacation rentals) and is therefore subject to noise from adjacent residences/businesses. If Unit has another unit adjacent or above, noise may travel between walls and/or floors and cause disturbance.
UNFORESEEN OCCURRENCES: Manager does not accept liability for any loss or damage caused by weather conditions, natural disasters, pests, construction, acts of God, or other reasons beyond its control. There shall be no refunds of rents because of shortened stays or ruined expectations due to work and family emergencies or other reasons. It is highly recommended that Tenant considers the purchase of travel insurance.
SALE / LEASE OF PROPERTY: If unit is actively listed for sale or lease, Manager may notify guest to schedule and show property.
WAIVER OF LIABILITY: for spa, hot tub, Jacuzzi, whirlpool, pool, sauna, pond herein referred to as special feature. If so equipped, it is the tenant's responsibility to learn about safety precautions, warning signs of water conditions, and safety procedures concerning swimming in or being around the special feature. Tenant understands that there are special risks that may be involved in using the special feature, as well as using other areas of the property, in particular, you understand that there are potential dangers that the special feature may present to children who are not carefully supervised, as well as to any person using the special feature, or if a person has health risks, uses the special feature while intoxicated or using any kind of drugs or medication, or if pregnant. Tenant agrees to explain the risks of using the special feature to any guests at the property. Tenant agrees to assume all responsibility for Tenant and Tenant's guests for the consequences of those risks and to be fully and solely responsible for any accidents that may occur. Tenant agrees to waive any claim whatsoever against property owner or Manager for accidents or claims arising from you or your guests' use of special feature. Tenant also understands and agrees to be responsible and liable and will pay Manager upon request for any damages that occur to the special feature and its support equipment through Tenants or Initial Tenant's guests' misuse and/or negligence, for example, but not limited to walking on the hot tub cover or damaging the liner, or allowing the water level to become too low, removing pool cleaning equipment from the pool, or causing water overflow inside the house.
RESERVATIONS ARE NOT FULLY GUARANTEED: If for some unforeseeable circumstance, the Vacation Rental Property is not available or becomes unavailable or uninhabitable prior or during your stay, every effort will be made to locate substitute accommodations with an equal number of bedrooms. If the substituted property rents for more for the same period or remaining period, respectively, there will be no additional charge. However, if the substituted property rents for less for the same period, the difference will be refunded to Tenant.
DOUBLE BOOKINGS: In the unlikely event that your reservation for a vacation rental unit overlaps or matches the reservation of another Tenant, Manager reserves the right to relocate you to a different property within the Manager's rental program or within the rental program of another company. Every effort will be made to ensure that the replacement property is comparable or better than the original rental property. The Manager shall have the sole right to select such replacement property and agrees to pay any additional charges that would be due in excess of the rate for the original booking. Tenant will have the option to accept the replacement property (together with any refund of amounts paid in excess of the replacement rental property costs) or to accept a refund of all rents and fees paid for the original booking. Tenant agrees that its choice between these alternatives will be the sole remedy for all damages, liability, or inconvenience arising out of the double booking.
TERMINATION: If Guest or any member of Guest's party or visitors violate the terms of this Agreement, Manager may terminate this Vacation Rental Agreement with no refunds. Manager has the right to inspect the premises without prior notice at any time to enforce the terms of this agreement. Should the Tenant or their guests use the unit for any illegal or unlawful purpose including, but not limited to the possession, serving, or consumption of alcoholic beverages by persons less than 21 years of age, house parties or keg parties, beer pong, or use of common areas in a manner contrary to the provisions of this agreement, or the rules of the homeowners association, the rental period shall be terminated immediately with no refunds. The Tenant shall waive all rights to due process for failure to vacate the premises upon termination of the rental period. Manager or its agent may enter the premises and remove Tenant, the members of Tenant's party, and their belongings. Tenant is notified that all individuals occupying the Unit will be subject to immediate eviction procedures under State law. IF LAW ENFORCEMENT IS DISPATCHED TO PROPERTY DUE TO ANY ILLEGAL ACTIVITY OR DISTURBANCES EMANATING FROM THE PREMISES OR GROUNDS, THERE WILL BE A MINIMUM $500 CHARGE TO LESSEE'S SECURITY DEPOSIT OR CREDIT CARD, AND SUCH AN OCCURRENCE WILL BE CONSIDERED GROUNDS FOR IMMEDIATE EVICTION. HOLD HARMLESS: The Tenants and Tenants` Guests shall hereby indemnify and hold harmless the Manager and property owner against any and all claims of personal injury, property damage or loss arising from use of the premises regardless of the nature of the accident, injury or loss. Tenants expressly recognize that any insurance for property damage or loss which the Landlord may maintain on the property does not cover the personal property of Tenants, and that Tenants should purchase their own insurance if such coverage is desired. Properties with pools or spas - Manager is not liable for any bodily injury or death that may result from using a pool or spa. Any and all injuries must be reported to the Manager immediately. Claims arising after your departure date will not be honored.
ADDITIONAL TERMS AND CONDITIONS: The undersigned, for himself/herself, his/her heirs, assignors, executors, and administrators, fully releases and discharges Manager and Owner from any and all claims, demands and causes of action by reason of any injury or whatever nature which may have occurred to the undersigned, or any of his/her occupants or guests as a result of, or in connection with the occupancy of the premises and agrees to hold Manager and Owner free and harmless of any claim or suit arising there from. In any action concerning the rights, duties or liabilities of the parties to this agreement, their principals, agents, successors or assignees the prevailing party shall be entitled to recover reasonable attorney fees and costs.
WRITTEN EXCEPTIONS: Any exceptions to the above-mentioned policies must be approved in writing by a Manager in advance.
DISPUTES: under this Agreement shall be governed by and interpreted in accordance with the laws of the State of California. Any action relating to this Vacation Rental Agreement shall be filed only in the San Diego County court in California in which county the Unit is located. Both parties consent to the exclusive venue and jurisdiction of such court. Tenant agrees to pay all reasonable costs, attorney`s fees and expenses that shall be made or incurred by Manager enforcing this agreement. Facsimile signatures are deemed original signatures.
---
---
---
We loved our stay at Nick's house! It was spacious and beautiful, the back yard was big and all the furniture was super comfortable. Nick was extremely responsive and organized, he accommodated our early arrival which was much appreciated by those coming from far away. We will definitely come back and stay again, this time for longer. :)
---
Nick was a fantastic host and was very responsive! And this place was darling! We loved the beautiful and big back yard, the separate guest house and the location of the home. Solana Beach is a beautiful area, close to conveniences and has a fantastic beach. We also loved how close we were to San Diego and Encinitas. Two other places that we love.
---
We had a great week staying at Nick's place. The space was large enough to comfortably accommodate our 5 adults and 3 children. The location was fantastic as it gave us close proximity to great beaches, lagoon, train line, Legoland, and Safari Park. The front and back yards are beautiful and lend themselves to be enjoyed by adults and children alike. Nick was incredibly accommodating and responsive. We really enjoyed our stay thoroughly.
---
We stayed for a week with our twin toddlers. The house was perfect for small kids. The enclosed yard was amazing and private, my kids loved running around all the palm trees. The house itself is very clean and charming with lots of perfectly maintained 1940-50s details. Nick was super easy to communicate with and all the instructions were simple to follow. In fact, this was the easiest airbnb check in and check out we have had so far. Thanks also for the fruit and pastries, they were a lovely touch. We definitely plan on returning to this lovely house the next time we are headed to solana beach.
---
My family of 11 stayed in this perfect Solana Beach home and guest house during a memorial time for a lost loved one. Nick and crew went above and beyond to make the trip as easy as possible for our family. Each room and bed was spacious and comfy. The outside area was our favorite part of the home. We would spend hours outside laying in the grass and enjoying the weather. We had two small children with us and they also enjoyed being about to run around and enjoy the yard. Some days we would take a 10 min walk to the perfect beach, shopping, breweries, and great food or we would walk just down the road to the very beautiful lagoon nature trails. Within a mile we were connected to all of the groceries or other needs we needed and only a minute further from the main highway. We have too many good things to say about this listing, my family will never stay at a hotel after an experience like this one! This home opened its heart to us while we were grieving... we will always cherish these memories and will always remember this special home. Thank you Nick. Thank you!
---
We had a great stay at Nick's place. We had our extended family with us, including 5 children. The large outdoor space in the back and front was perfect for the kids to play hide and go seek on a daily basis. Nick had the house well stocked with towels and detergent, which was much needed since we went to the beach daily. The outdoor shower in the back was great as well to prevent bringing sand in the house. Nick responded to any of our questions in a timely basis and was for helpful. This is a great house for a large group and access to some of the best beaches in San Diego is just a few miles away.
---
Hi! We're excited to have you be a part of our lives. Our properties are always in excellent condition, clean, and come with fast WiFi and everything else you need. We cater to your needs and if there's anything we can provide, it's exactly what we want to do.
语言:
English