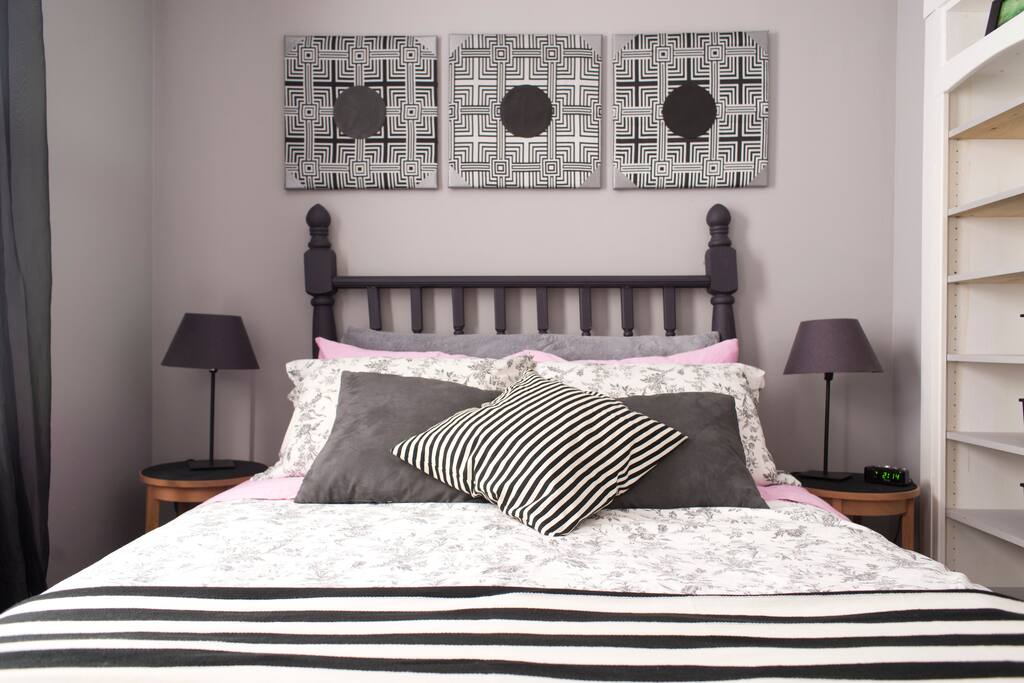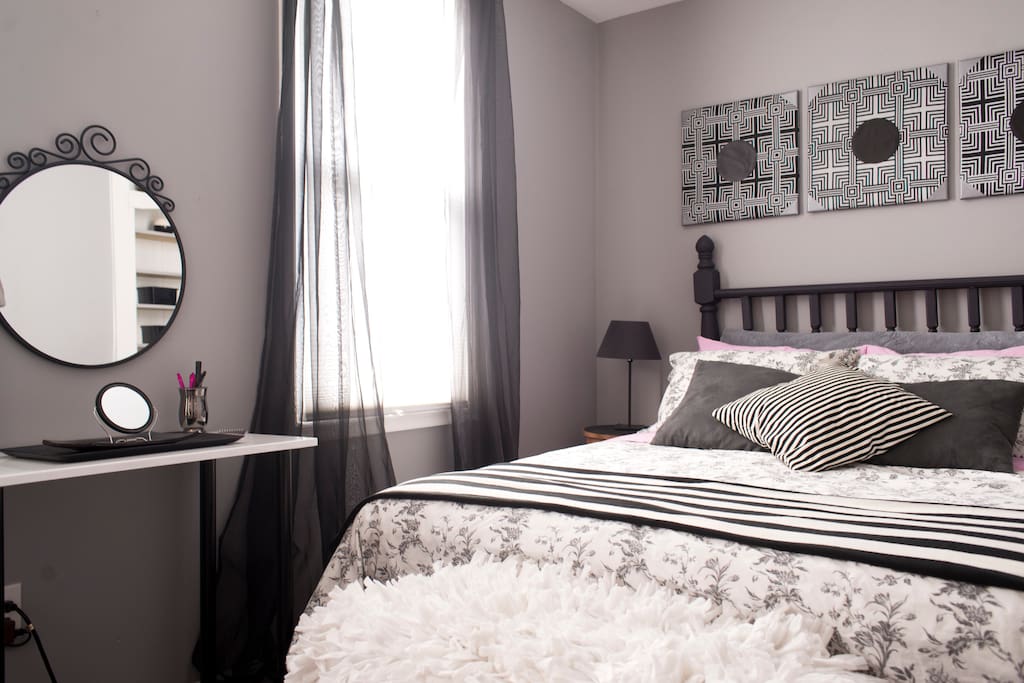 Chic little art-hotel style bedroom with queen bed, huge wardrobe, desk, bins, shelves, under-bed drawers and shared baths. Friendly home w/small dog. Walk to NJ/NYC trains. Week & month discounts! (Face photo, profile bio & 4 verifications a must.)
房源
Two shades of gray! This small restful room offers big comfort with a queen-sized bed, end tables, desk & swivel chair, a/c, under bed drawers, built-in shelves, tall Ikea wardrobe, open clothes rod, over-the-door clothes hooks, shelving unit with storage bins, built in book shelves, storage bench and a hamper.
IMPORTANT: All guests must have a profile with photo of themselves, a written description of them that gives me an idea of their character and four verifications! AND, they must read my comprehensive HOUSE RULES below designed to run a smooth home before booking a room with me.
Thank you!
房客使用权限
KEYS: Each room has its own key (as well as the keys to the front door and apartment) so you can lock your door when you leave or leave it open. Guests have been comfortable with both.
KITCHEN: We all share a full kitchen with large fridge, range, microwave, toaster oven, Keurig Coffee Machine, Nutribullet, Magic Bullet and Yonana ice cream maker!
Everything is labeled so it's easy to find your way around. If you are staying longer than three days, I can give you a designated area in the fridge and pantry to store your own groceries.
BATHROOM: We also share my newly renovated bathroom with full bath & shower (there's a second full bath downstairs next to the laundry room). There are plastic totes designated for each room for you to keep your personal toiletries. I provide you with as well as pump bottles of quality shampoo, conditioner, body wash. There are also guest toiletries you can dip into if you've forgotten something.
TOWELS/BEDDING: I provide you with a fresh set of towels and bedding (a few sets of sheets) - during your stay you are responsible for washing your towels and bedding.
GARDEN: There is a patio and garden out back with BBQ, table, chairs and 2 lounge chairs that you are free to use.
SMOKING: Smoking is banished from the house, but allowed on the front or back porch.
LAUNDRY: We have a brand new front-loading washer/dryer in the building - just a $2 fee per load.
ALLERGIES: For those who are allergy-prone, please be forewarned - I DO have a small dog - a 10 year old Pomeranian, Lily. I also use various nice-smelling scents around the house from time to time.
与房客的互动
ME: I'm very friendly and love conversation - I also enjoy offering snacks for when you get the munchies and, if our schedules coincide, I'm getting known for my fab French Toast. Other than that, I'm happy to make dining, entertainment, train & car route suggestions if needed or just leave you to your own itinerary.
For those who are without a car, I'm happy to take you grocery shopping with me or other kinds of shopping since I love to shop!
I'm ALWAYS available by phone or text to answer questions or solve problems.
MY NO-PET PET: My dog, Lily, is a rescue and was abused in a former life so her behavior with new people is often confusing. She's very friendly and loves company BUT gets frightened if you try to pet her. So your job, if you're a dog lover, is to enjoy her funny antics and play with her but refrain from actually touching her with your hands. Or, if you're not a dog person, just ignore her. She won't bother you.
其他注意事项
WELCOME MUNCHIES: When you arrive, you may find yourself in need of a few things. Once you get settled you can stock up, but when you are settling in feel free to avail yourself of the following.
HOT BEVERAGES: Keurig coffees, black & herbal teas, freeze-dried decaf coffee (disposable coffee to-go cups)
CONDIMENTS: butter, jams, jellies, cream cheese, mustard, mayo, ketchup
SNACKS: Microwave popcorn, fruit, nuts, cookies (whatever is in the house when you arrive!)
TAKE-OUT/DELIVERY: I provide menu books for all the local restaurants in a variety of ethnicities (American, Asian, Cuban, Italian, Portuguese, Polish, Fast Food, etc …)
---
---
HOUSE RULES:
As an Airbnb host, I've opened up my home to friendly folks from all over America and around the world and enjoy getting to know them and their culture. While I'm open to conversation, all I really require is politeness and respect for me, my belongings and my other guests. 
I strive to provide you with a homey, welcoming, artistic environment for you to relax in during your stay here in Rahway and I'm available to help you navigate the area by offering a wealth of information about our locale as well as Manhattan, so just ask!  
Due to NJ hotel laws, I can NOT provide my house-guests with food, cleaning or laundry services. But I'm happy to offer you a cup of tea and share some snacks when you arrive.
The following House Rules clarify how I run my home, they are based on common sense and common courtesy. It's your responsibility to not only read these rules once, but to be aware of and follow all of them throughout your stay here. You'll be provided with a printed version in the House Manual when you settle in.
____
AIRPORT: Newark Airport is only 20 minutes away, while New York airports are over 2 hours away. You can take a NJ Transit train directly to Rahway, cabs, Uber or I may be able to pick you up or drop you off for a small fee. Please make arrangements at least 24 hours in advance.
CHECK-IN: Anytime between 1 PM and 10 PM. Early check-ins (between 10 AM and 1 PM) are okay only if there are no guests in the room at that time. Please advise me of your anticipated time of arrival at least 24 hours in advance and keep me informed if this time changes.
CHECK-OUT: By 11 am. We can arrange for me to get your keys, check your room and collect any fees you may have incurred. (There is a $25 key replacement fee for lost keys and a $25 + postage fee charge to return items left after check out.)
PERSONAL INTERACTION: I enjoy a friendly, harmonious home, so all I require is to be spoken to in a pleasant, respectful manner and to exchange a nice "hello" when we cross paths. Please let me know if you need anything or if you need to ask permission for something before moving forward (texting is fine).
YOUR PRIVATE ROOM: Comes furnished with a bed, bedside table, desk, chair, clothes storage and a hanging closet area. Your door locks with a key, which is included with the 2 apartment keys. I provide you with fresh bedding and towels.
POSSESSIONS: Guests may not bring additional furniture and are limited to 2-3 suitcases. Please leave things as they are in your room: do not remove pictures from walls, don't move furniture around, and do not remove the duvet cover from the comforter.
CLEANLINESS: I don't monitor how neat you keep your private room, everybody is different that way, but I just ask that you do keep it clean in terms of removing trash and food items.
WI-FI: There is high speed Xfinity Wi-Fi with a Wi-Fi booster available for guests to use. I do not use TV cable.
NO SMOKING: If you must smoke outside, do not litter any butts on the ground.
FRAGRANCES: I DO occasionally use fragrances in my home - laundry detergent, sprays, oils or incense. So, if you are sensitive to these kinds of things, my home would not be for you.
LILY: Allergic folks, please note that there is an adorable 12 lb. Pomeranian sharing our home, She was abused in a former life and "LOVES people but HATES hands."  So you can't pet her. She has a medical condition and can NEVER have table food - only her special diet and treats.
NO PETS: No pets/animals may be brought to my home. I have a small dog who is enough.
VISITORS: For the security of my guests and residents, only the guests that are included on the booking are allowed onto the property. No visitors are allowed in the day or overnight.
INTOXICATION: I don't tolerate a guest in an intoxicated state. If a guest arrives home drunk late at night they will be asked to leave my house and find another place to stay.
NOISE: Please be mindful of others when talking on the phone, listening to music, watching movies or sports. There is an 11 pm noise curfew - earphones are a great way to get around that! 
MAIL: DO NOT use my address when ordering anything online. It may be convenient for you, but it's a lifetime of junk mail for me. There is a UPS store nearby that will receive your packages and mail for a small fee.
KITCHEN PRIVILEGES: When you are done using the kitchen, leave no dishes, food, crumbs nor grease in the sink, on counters, on the stove, or in any common area. Dishes and pots must be THOROUGHLY washed and put to dry immediately after eating. Once dry, whatever you have used must be put back where it belongs. The kitchen should look as though you were never there. NOTE: Failure to follow these rules will result in losing all kitchen privileges during your (website hidden): Anyone cooking on top of the stove must wash all the grease and food bits from stove, counters and tea kettle with soap and water then dry thoroughly after each use. Do NOT cook any form of FISH in my home.
BBQ: In the summer months, experienced BBQ-ers may use the backyard gas grill if they follow all safety procedures and clean up thoroughly afterward. That is where FISH may be cooked!
EATING: You may eat in the dining areas or in your room, but not on your bed. NO FOOD should be left in your room, and all cups, dishes, glassware must be removed each evening, washed and put away.
TRASH: We follow all recycling laws here and you must sort all trash and recyclables into their appropriate bins. Long-term guests (staying longer than one week) are expect to pitch in and take garbage and recycling bags out when the cans are full.
SHARED SPACES: Shared areas are cleaned once a week, and guest rooms are cleaned in between guest visits. Apart from this, guests are expected to remove their belongings and clean up after themselves after using any of our shared spaces: the kitchen, the lounges, the bathrooms.
LAUNDRY: You may sign up to do your laundry in our brand new Kenmore combo for a nominal $2 fee during certain hours. For $1 you may use our detergent and fabric softener.
There is an iron and full-size ironing board for your safe usage.
BATHROOM: We all share an upstairs bathroom as well as a downstairs full bath, so we all keep it clean & refill the toilet paper from TP shelf. Please keep your toiletries in your shelf and, gentleman, please put the seat down after use and wipe anything left behind
ELECTRICITY: Please turn air-conditioner and all lights off in your room or shared area when you are leaving that area for an extended period of time.
DOORS: Please always lock exterior doors and front apartment door when passing in/out.
FIRE: Due to danger of fire, no candles, space heaters or open flames may be used in the house.
BIKE PARKING: If you are planning to bring a bicycle, let me know as there is limited room in the lawnmower shed.
BACKYARD GATE: Feel free to use the backyard but watch where you step. A small dog shares it with you. Which is why the backyard gate MUST be closed at all times. Her life depends on it.
DAMAGES: Guests agree to pay for damages or loss of any property of mine that they have either damaged or lost.
RULES VIOLATION: Any guest refusing to follow house rules may result in immediate termination of the reservation and forfeiture of the total cost of the reservation.
ARBITRATION: All claims and disputes for total amounts greater than $5000, with the exception of Unlawful Detainer actions, arising under or relating to this Agreement are to be settled by Binding Arbitration in the state of New Jersey. An award of arbitration may be confirmed in a court of competent jurisdiction.
BOOKING is an AGREEMENT: Please note that by booking a room, you agree upon all rules outlined in this document and agree to all of the terms therein.
---
What a woman is Francesca! On the very first day, she will make you feel like you are her best friend that she has been looking so forward to see. And if you are lucky to have your birthday while staying with her, she will bake a cake to celebrate with you. Her house is very nicely organized and labeled, so that you will never feel lost looking for something. The room is small, but you will find everything in it you may need staying there, including a lot of storage options. The location is perfect for a short commute to NYC and all the other places in central NJ. But keep in mind that you will not be the only one guest. That house has two other rooms for Airbnb guests, and they will be using the same bathroom and kitchen with you. Also, take into consideration that the other guests will not necessarily have the same daily schedule as you, so you could be awakened by guests who stay up late. However, the overall experience staying in Fran's house was very nice!
Oops. Most of my guests are very quiet at night, but I did have a couple who did a lot of late-night cooking. Sorry they kept you up. And yes, guests do share a bathroom but there is a second full bath down by the laundry room for those times when schedules coincide. Good luck!
---
It was a great experience! my month long stay at Francesca's place. The room is super beautiful, perfect designed in organized clean house. There are many storage spots in the room suited all my needs and well organized. I felt right at home. Francesca is a very nice host, friendly and makes sure you have everything that you needed. It was an amazing experience. Thank you! Francesca
---
Such a great Airbnb experience! Fran is warm, welcoming, and extremely talented when it comes to interior design - the space is beautiful. She goes above and beyond to make sure you have everything you need, and will always accommodate any request you may have. The place is right near downtown Rahway which has some cute family owned shops/restaurants, and it's also near two major highways which makes it pretty central. There's a huge mall nearby, plus all groceries/theatres/other things you may need right there as well. Rahway train stn is about a 7 minute walk and can take you to NY penn station in about 40 mins! Her dog is very sweet - if you love dogs you'll love Lily, and if you're more weary then she really does keep to herself for the most part so it's still a comfortable place to be. I would highly recommend booking!
---
Francesca was a very kind host. The thing I liked the most about her is the detailed tour of house she took us upon checking in. She took a good amount of time in carefully walking us through what areas we have access to, what we can use and can't, what to find where, sharing details about her own schedule, and setting expectations on how she expects us to use the place (even though they were on the high end). This made us feel very comfortable about moving around in the house as we were not kept guessing as to "what is not okay". As well, she has the house stocked so well! You will find everything there, especially the small things of need which as a traveler are easy to forget.
---
I'm a multi-media actress/filmmaker/designer (whew! That's a mouthful) but it's actually true. I grew up in Westfield, NJ, spent 25 years living & working in NYC, and have been living in Rahway, NJ since 9/11. I've got a very big duplex apartment in an old-fashioned house with…
语言:
English