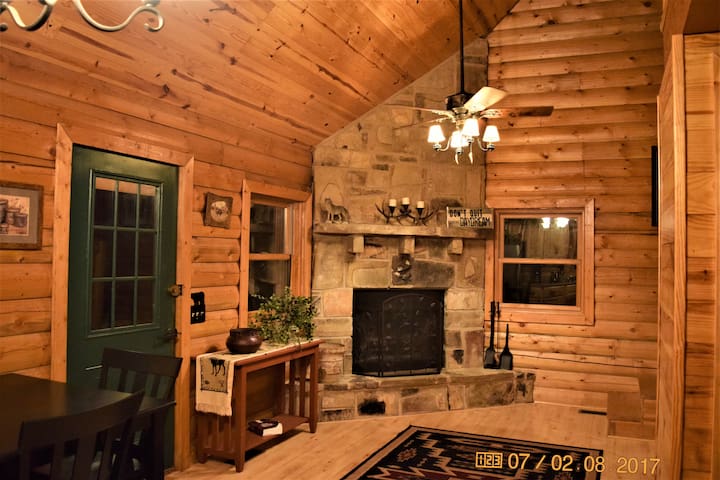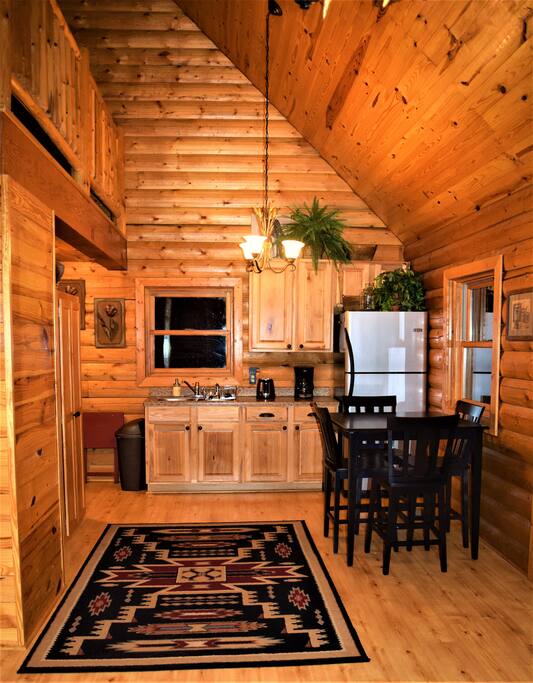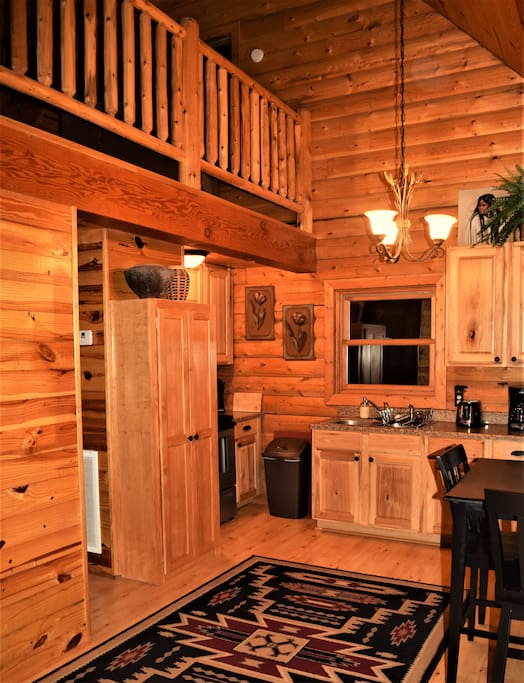 Wolf Ridge Retreat - Loft Style Real Log Cabin
This two bedroom, one bath, loft-style, real-log cabin is a cozy, luxurious, private retreat. You are surrounded by 30 private acres butted up to the National Forest in the middle of the beautiful Ouachita Mountains.  One of the most beautiful Wolf Pen Gap cabins, it is located just 1.7 miles from the East trailhead of Wolf Pen Gap, and 4.8 miles to Highway 8 and the Big Fork Store.  Other local attractions include the park areas of Little Missouri Falls, Bard's Springs, and Albert Pike.
房源
This cabin is unique in that it is one of the rare REAL log-cabins in the area. The rock fireplace is a wood-burning fireplace and was hand crafted by a local mason. You can see the beauty and love put into this cabin from every angle. We fell in love with it and we are sure you will too!
The location could not be better! It is a true rustic mountain stay atop Wolf Ridge, yet easily accessible and close to local points of interest, such as the ATV trails and more. So, whether you want to be away from it all, or right in the middle of the action, its your call.
房客使用权限
This booking is for the entire house and is secluded, so you will have privacy outside as well.
与房客的互动
You are free to contact us anytime, we are just minutes away if you need something or we have forgotten something.
其他注意事项
Let us know if you need ideas for things to do in the area, or the best places to fish, swim, hike, ride horses, and more.
---
Andy & Amanda were wonderful hosts, and they could not have been more pleasant and communicative. They were extraordinarily accommodating, and their cabin was very secluded and peaceful, which was exactly what we were looking for. It was very close to all the trails and areas of the Ouchita National Forest we were wanting to experience, and I cannot recommend staying here enough. I'm very much looking forward to our next trip there!
---
Wow. This cabin is fantastic. Beautiful scenery with a very secluded feel. The quiet atmosphere is nice and relaxing while listening for wildlife near by. Andy & Amanda kept in close contact and are very knowledgeable about the local area. We hope to come back in the future for sure. Due to unforeseen family issue, we had to pull the plug early and head home, but from what we saw, this is most definitely a 5 star stay with 5 star hosts!
---
We really enjoyed our stay. The cabin was great. You could ride ATV's directly to trails from cabin. The owners were great and very helpful. They even helped us find a place to stay for our friends. The cabin was a little more remote than I expected which was an added bonus. Trust in the directions on the web site, they will get you there. We will be back.
Thank you guys for your business! We truly enjoyed your stay, and appreciate your comment about the directions. There are 2-3 ways to get to the cabin, but we feel that we have given the quickest route with the least amount of dirt roads. We can't wait to have you back soon!
---
Six of us college seniors stayed here, and if was absolutely incredible. The directions to the cabin were very clear. It is very secluded, which we enjoyed. Cell phones work at the cabin (they have a booster), but they do not work within a 30 minute radius around it. The cabin is very clean, very homey, and well stocked. Of note: only spices present are salt and pepper. We used the charcoal grill, the outdoor fire pit, and the indoor fireplace, which we really enjoyed. There was plenty of hot water for all of us. Amanda was very quick to answer any questions over text, and Andy actually drove our pretty last minute to deliver us some firewood during the middle of our stay. An excellent value and place for making lots of fun memories. Access to good hiking trails is about 40 min drive. Also of note, the cabin is located in a dry county. Would recommend to anyone who wants a beautiful view with homey log cabin who is willing to drive to good distances to get places.
Thank you for your business and making some excellent suggestions. I wanted to let you know that we have added some spices, so there is now a selection of some Grill Mates for pork, beef, or vegetables. I would also like to clarify a couple of things on the distances. We have listed the distances to nearby attractions on our website in miles as opposed to time, since time is a variable of speed. Depending on what you drive, you may have to drive slower on the dirt roads, especially if you are in a minivan or car. But, if you are in a truck or SUV, you can drive a little faster and thus the rate of time doesn't take quite as long. Most trucks and SUVs drive around 30mph on the dirt roads, and so at that speed, you can estimate the distance to take 2 times the miles. For example, if you are driving to Little Missouri Falls, which is approximately 10 miles from the cabin and has excellent hiking trails, and you are driving at 30 mph, it should take you around 20 min. If you must adjust to drive slower than that in your vehicle, you can expect the time to be longer. On the cell booster, it only works in the cabin and the immediate areas around, such as the porch and firepit area - it certainly will not work in a 30 minute or mile radius. For those reading this that may be thinking about visiting the area, understand that this is a true rustic and rural area, where most places do not have cell service at all. We are lucky to have just one bar at the top of our ridge, so that our booster will actually work at our cabin and you can get up to 4-5 bars with it. Just wanted to make that clarification. Again we appreciate your business - And, hope to see you back soon!
---
The stay was wonderful! Everything thats shown is accurately presented in the pictures and descriptions. Its positioned in a beautiful location and the cabin is very clean and up to date, even with a cell booster that allowed for easy communication while staying at the cabin. The directions we recieved were extremely easy to follow and we had absolutely no trouble finding the location. Andy and Amanda were extremely prompt in responding to any questions we may have had at any time. As a side note, if you have ATVs/four wheelers, bring them! And just make sure to note there is only one bathroom so make sure you dont take people that require lots of time using it. We had 6 guys and didnt have a problem. In conclusion, it was an amazing stay and we had a wonderful time.
---
Owners, Andy and Mandi, have been long time residents of Mena and the Big Fork area.  They live just 5 miles from the cabin, in Big Fork, and own land and cattle in the area.  They have been married for 15 years and have two children who love the outdoors and simple country living. They felt a special connection to the cabin and the property it sits on from the beginning, and couldn't feel more blessed to be living their dream.

Andy is an avid hunter and very knowledgeable about the goings on of wild things in the area.  He is also a brown belt in Brazilian Jiu Jitsu and operates a small gym in Mena where he spends time sharing his art with locals.  If you have any special outdoor requests such as hunting, camping, or fishing guides; he would be the one to ask!   

Mandi is a high school teacher who spends her time managing the cattle farm and juggling activities between their two kids.  She is open to making any of your special requests a reality.  From finding special activities such as horseback riding or spas to birthday parties, weddings, or reunions; please let her know if you have special requests.

Feel free to contact us anytime by:
Email:  
Phone: Andy
Mandi
:
Website: