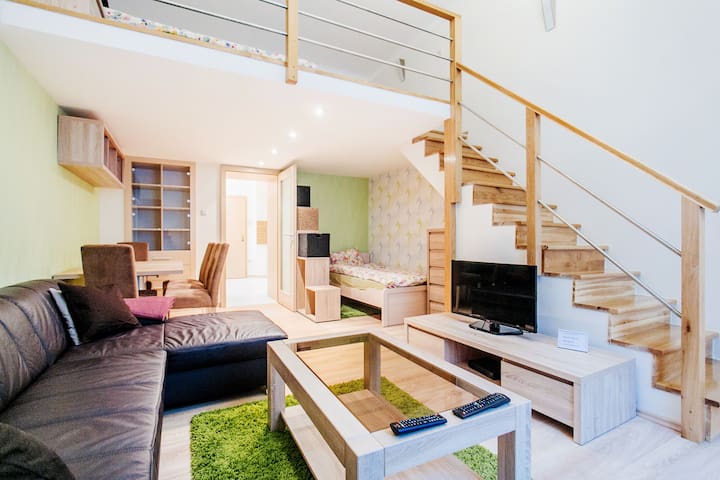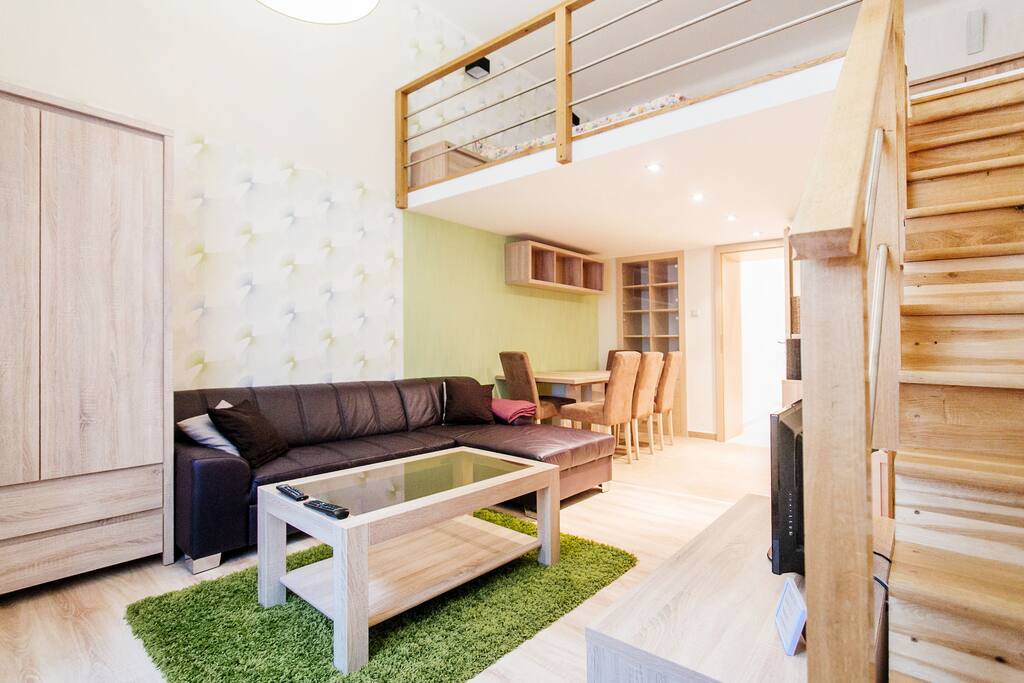 房源
现在,我们可以提供17EUR的机场接送。 (最大4个) 有人会在你的名字在终端机场等你。 背部是22欧元。 (最大4个) 火车站接送是10欧元(最多4人) 在这里喝你的卡布奇诺,成为真正的市中心感觉的一部分! 由于公寓是在布达佩斯的中心,它在旁边的大教堂,吸引游客,在附近有许多餐馆,酒吧和地方为那些谁爱葡萄酒。 从公寓步行5-10分钟即可到达布达佩斯的大部分景点! 当然,在公寓里有互联网,和一个智能电视,有互联网接入(YouTube,浏览器等)。 有一个卫星电视有超过3000个频道。 在温暖的天气,空调为亲爱的客人提供舒适。 公寓位于市中心,交通便利。公寓位于翻新的房子的一楼,实际上是第二层,因为有一个夹层楼。 在房子的第一层有一个银行。自然有房子里的电梯,虽然不是很大。公寓是从一个更大的公寓建立起来的。两个较小的公寓 建立,与单独的入口。 在现代化的厨房里,有洗衣机,洗碗机,Frigidaire,微波炉,以及为客人提供舒适的每一个工具。 厕所是分开的。 在浴室里有一个现代淋浴恒温,玻璃镶板和旁边的一个洗脸盆,一个大镜子。 睡眠的可能性 在客厅里有一个美丽的茄子皮沙发,可以转换成一张床,虽然不推荐睡眠超过3-4天。 在客厅的角落里有一张单人床,这可以叫很舒服。 楼上有两张独立的床,(PHONE NUMBER HIDDEN)英尺),可以自然放在彼此旁边做一张双人床。 因此,共有4个人可以有一个舒适的睡眠,但如果你转换皮革沙发,也5。
Now, we can offer airport pickup for 17EUR. (max 4persons)
Somebody will wait you at the airport in the terminal with your name.
The back way is 22Eur. (max 4persons)
Trainstation pickup is 10Eur (max 4 persons)
Drink here your Cappuccino and be the part of a real downtown feeling!

Since the apartment is in the centrum of Budapest, and it is beside the Basilica, which draws tourists, in the neighborhood there are many restaurants, bars and places for those who love wine.
Most of the sightseeings of Budapest can be reached on foot from the apartment in 5-10 minutes' time!
Naturally there is internet in the apartment, and a smart-Tv, wich has internet access (YouTube, browser, etc).
There is a Satellite tv with more than 3000 channels.
In the warm weather the air-conditioning serves the comfort of the dear guests.
The apartment is downtown, in a reduced-traffic area. The apartment is on the first floor of the renovated house, which is actually the second level, because there is a mezzanine floor.
On the first level of the house there is a bank. Naturally there is lift in the house, although not very big. The apartment was established from a bigger flat. Two smaller apartments were
established, with separate entryways.
In the modern kitchen there is the washing machine, the dishwasher, the Frigidaire, the microwave, and every tool that serves the comfort of the guests.
The toilet is separated.
In the bathroom there is a modern shower with thermostat, glass paneling and a washbasin beside it, with a big mirror.

Sleeping possibilities
In the living room there is a beautiful aubergine leather couch, which can be converted into a bed, although not recommended for sleeping longer than 3-4 days.
In the corner of the living room there is a single bed, which can be called very comfortable.
Upstairs there are two separate beds, 160*200cm, 35.4*78.4inches, 2.95*6,56feets) which can be naturally put beside each other to make a double bed.
Thus altogether 4 people can have a comfortable sleep, but if you convert the leather couch, also 5.