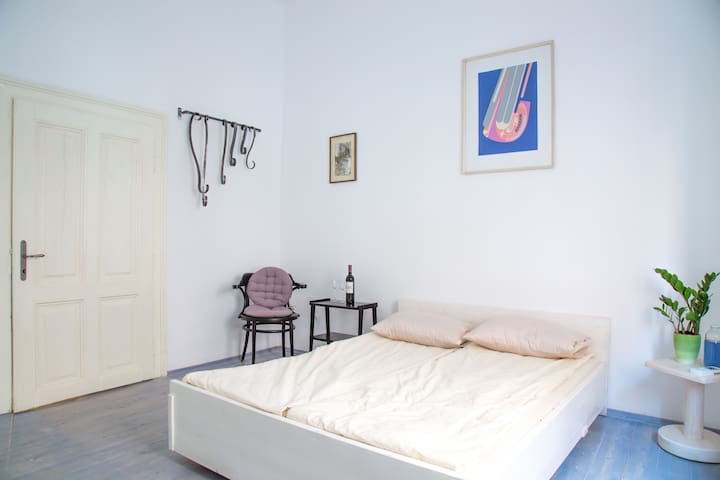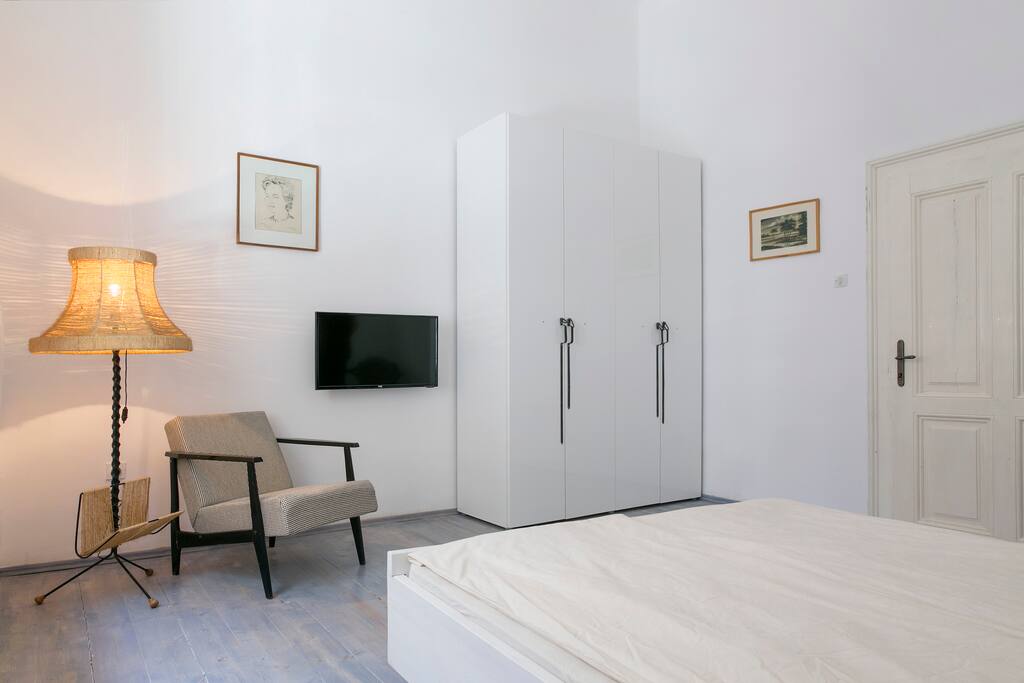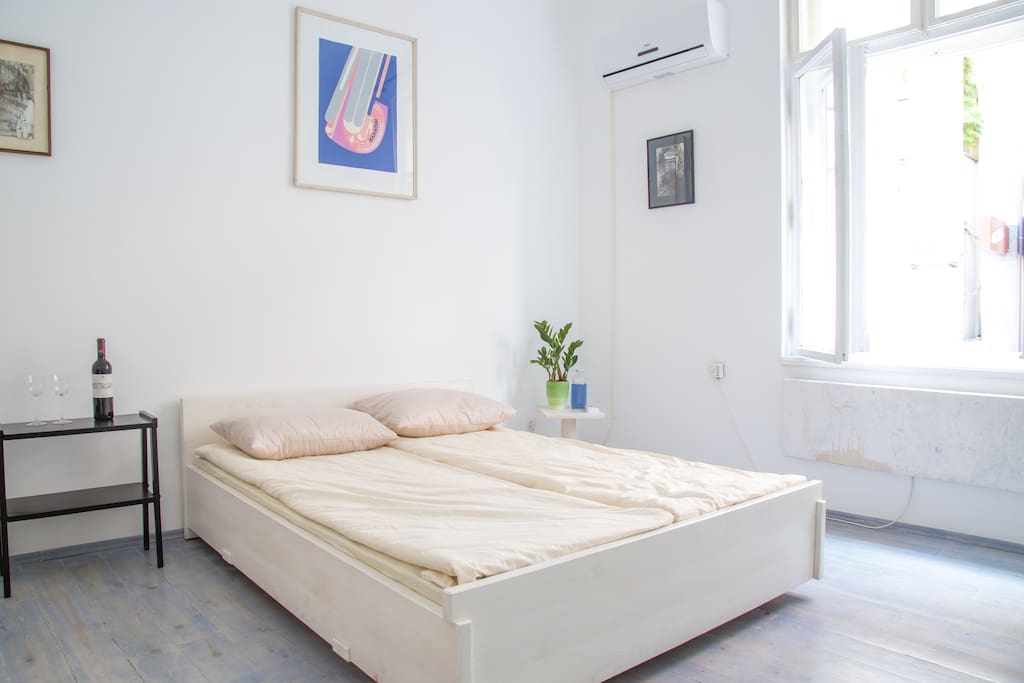 We found not so easy the adress,his phone was off when we arrived to the adress.We reached him after I send him a message on Airbnb, although the roaming was very expensive and I paid 35 Euros for 3 MB of internet... The apartment had no toilet paper and there were some hair on the floor. Also the lines and the blanked did not seem that they were clean. We also had a very bad experience with the parking because our car was picked up. Pay attention the the parking...although Bosko payed us the parking and told us that is ok to park there (in front of the house) they picked it up and we had to pay 130 Euros for the taxi and for the return service. Btw this is how our honeymoon started...we had to sleep in Belgrad because we were on our way to Croatia...Next time I won't stop there. Maybe it was bad of luck, but people pay attention and take care in order to don't have the same bad experience.
---
Well, we have mixed feelings with Bosko and his appartment. Sure he's a nice guy, very friendly and open minded, but there has been a few problems on our arrival : no toilet paper, trash in the appartment, dust, dirty bathroom, dirty sheets we had to change ourselves... Plus, the phone number on the annoucement wasn't Bosko's but one of his friend's, who luckily was in the street when we arrived, so he could help us to call Bosko on his real number... Bosko said after we arrived he would take care of the appartment, that it should take half an hour to clean, so we left for more than an hour... and came back and found the appartment just the same as when we left. I don't think these problems came from bad person, rather it came from bad organisation. We could discuss this with him via sms before we left - though we should meet during our stay but never saw Bosko again - Bosko's explanations had a bit of bad faith, but communication has been ok, then things should be better in the future, I hope.
---
新装修的独特公寓设有厨房和浴室,位于Vračar宁静而充满活力的社区,距离圣萨瓦神庙(贝尔格莱德中心地带)仅有250米。步行距离着名的Kalenic Greenmarket和良好的公共交通连接只有几步之遥。欢迎!
A newly refurbished, unique apartment with kitchen and bathroom, in the peaceful yet vibrant neighborhood of Vračar, only 250m from Temple of St.Sava (one of Belgrade's great central features). Walking distance from famous Kalenic Greenmarket and with good public transport connections only steps away. Welcome!
房源
这个独特的公寓是由塞尔维亚电影导演设计的。一个质朴而又经过翻新的空间,配有木质和金属元素的现代泛音。这个空间非常舒适。但可以容纳四个,额外的双人床折叠到地板上。
This unique apartment was designed by a Serbian movie director. A rustic yet refurbished space with a modern overtone incorporating wooden and metal elements. This space is very comfy for two. But can accommodate four, with the extra double bed that folds to the floor.
房客使用权限
Free towels, wi-fi, air conditioning and heating.
与房客的互动
简而言之,非常友善,热忱和渴望帮助您,使您的逗留最愉快!
In short, very friendly, engaged and eager to help you and make your stay most enjoyable !
其他注意事项
我们对尊重贝尔格莱德房屋规则表示赞赏,这意味着在22小时之后保持噪音降低,除非需要提前公布和确认的偶然的政党。
We appreciate respecting the Belgrade house rules, which means keeping noise down after 22h, except in case of an occasional party which needs to be announced and confirmed in advance.
---
---
---
Anyone and everyone who books needs to acknowledge the following : When booking a stay the same day you are arriving, you cannot expect to just book and check in immediately. You HAVE to accept THAT AFTER BOOKING, YOU HAVE TO GET IN TOUCH WITH THE HOST, BY PHONE, OR AIRBNB MESSAGE SYSTEM, and when, and ONLY WHEN THE HOST RESPONDS WITH A POSSIBLE SOONEST CHECK IN TIME, YOU CAN COUNT TO COME INTO THE APARTMENT AT THAT PARTICULAR TIME.
When and if you receive a response from the host, you can count on the apartment being ready in no less than two hours from that time, or earlier, depending on host's response. Don't expect miracles.. we do a few jobs, and even 'though check in time IS flexible, don't expect to check in anytime you like... flexibility means the host will TRY to do his best to check you in as soon as possible, and this can take time depending on various days and circumstances. DO NOT BOOK TODAY FOR TODAY, UNLESS YOU FULLY UNDERSTAND, AGREE WITH, AND ACCEPT TO COMPLY WITH THIS RULE.
Additionaly, about parking. There is Zone parking surrounding the apartment, Parking in Belgrade is dividied into central area parking, and parking outside central area. Since our apartment is in the immediate vicinity of St. Sava Church, it is considered CENTRAL AREA. This means you have to pay for parking. Our area belongs to Parking zone 3. Parking zone 3 is marked with a white dashed line, combined with green. Staying in zone 3 is limited to three hours at a time. After three hours you need to move your car into a another paying zone, or outside of payment zones. To pay for the three hours, you need to send an sms to number 9113, with the message containing only the licence plate registration number of your car. Each message will buy you one hour for the price of 40 or 50 dinars (about half a euro) per hour, IN DOMESTIC mobile traffic. IN THE CENTRAL ZONE, YOU CAN ONLY PARK IN GARAGES, OR ON MARKED SURFACES, SURFACES MARKED WITH A DASHED WHITE LINE COMBINED WITH EITHER GREEN, ORANGE, OR RED. Parking on COMPLETELY YELLOW SURFACES WITHOUT THE DASHED LINE MEANS YOUR CAR WILL BE TOWED.
Also, TAKE INTO CONSIDERATION, THAT ANY ADVICE GIVEN BY HOST, IS JUST ADVICE. WE WILL NOT BE HELD RESPONSIBLE FOR ANY DAMAGE, INJURY OR LOSS THAT CAME FROM FOLLOWING ANY OF OUR ADVICE, UNDER NO CIRCUMSTANCES WHATSOEVER. We are very eager, outgoing hosts, who go the extra mile to make your stay more comfortable or enjoyable, but by no means will we, as human beings, or legal entities accept being accountable for any of YOUR ACTIONS resulting directly, or indirectly from following our advice, guidelines, or hanging out with us. We will not accept any spiritual, moral, or legal responsibility for what you do when you come to Belgrade, become our guests and decide to follow on any recommendations, advice we give you, or as a result from an action that happens when hanging our with us. We dedicate you our time wholeheartedly and without reserve, but WE WILL BY NO MEANS, I REPEAT, BE HELD RESPONSIBLE FOR ANY ACTION OR EVENT RESULTING FROM YOUR DECISIONS AND CONDUCTS.
I write all this because we recently had a very disappointing experience, where we gave exact guidelines to a couple of our guests regarding parking, and their car eventually got towed, because they did not listen carefully, and double checked their parking space.
At the end, they accused us for the resulting bill and hassle of their car being towed away, and we will NEVER WANT TO GO THROUGH THAT AGAIN. If you book with us, YOU ACCEPT YOU WILL NOT, BY ANY CIRCUMSTANCE ASK US FOR MONEY IN CASE OF DAMAGE OF YOUR PROPERTY, POSSESSIONS, ANY KIND OF INJURY, OR HEALTH ISSUE, OR ANY DISAPPOINTMENT. We have the best intentions, and if something happens, we won't consider accepting any accusations, reclaims, extortions or money requests. We ALWAYS, as responsible HUMAN Beings, try to find the best solution for you when you are here... if you don't accept your responsibility in life, don't listen to our advice.
Since we have had a bad experience with parking, we have to assure ourselves of considered being completely NOT guilty for any damages, injuries, health issues, or death resulting from you being in our apartment or around us. Our apartment is refurbished, beautiful, AND SAFE by our standards, BUT, if anything, literally anything BAD happens inside the apartment as a result of ANYTHING (being exposed to electricity, or drinking our cleaning fluid thinking it is juice, or anything else), before you book, you need to accept that we, as hosts, citizens and legal entities WILL NOT BE HELD RESPONSIBLE IN ANY LEGAL WAY, SHAPE OR FORM for ANYTHING that happens in the apartment, or when hanging with us, as a result of the apartment general safety or safety of hanging out with us.
SO, WE HAVE WRITTEN HERE, WE WILL NOT ACCEPT, ANY RESPONSIBILITY WHATSOEVER, AND DO NOT BOOK, UNLESS YOU REALIZE THIS, AND ACCEPT IT TO THE FULLEST.
That being said, we will do our best to make your stay the most beautiful one, as most of our guests can attest to.
Sincerely happy to have you at Temple Nook!
---
---
---
---
Hi!

I am a physical education major, with an artsy and a foodie side. I am a bit of a musician, a part time cook, and a nature and animals lover. I guide one of the best (if I may say so) foodie tours in Belgrade, so feel free to ask me about food in my hometown, or join me in one of my tours! During the tour we also visit the food unrelated highlights, walking the nicest parts, and commuting by my car for longer distances.

Hope we get to meet each other!

Salut!

-Bosko