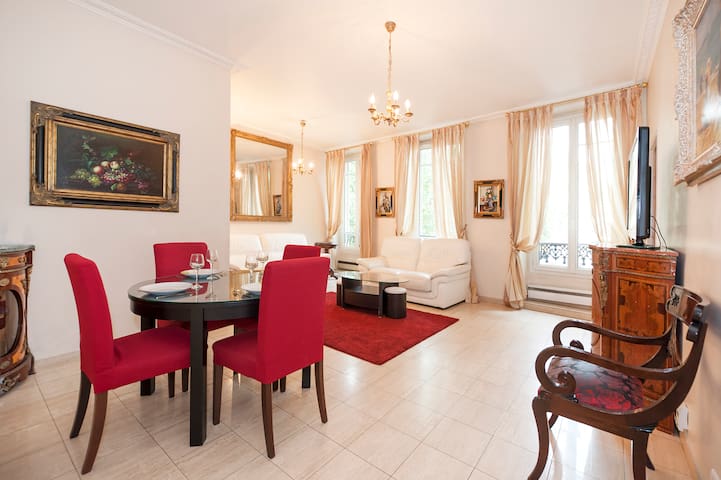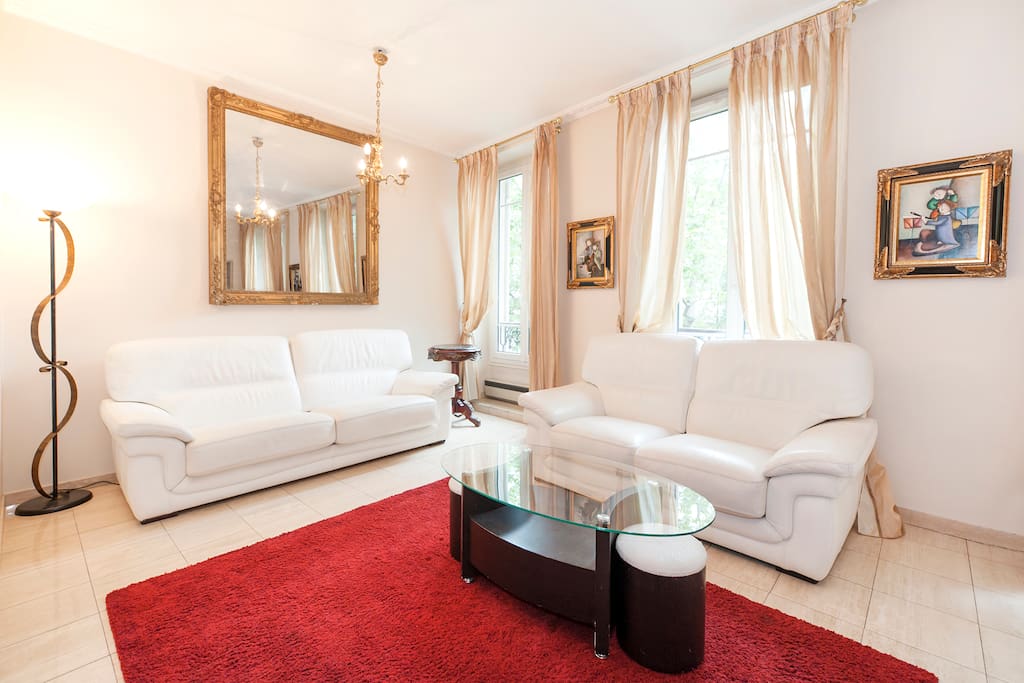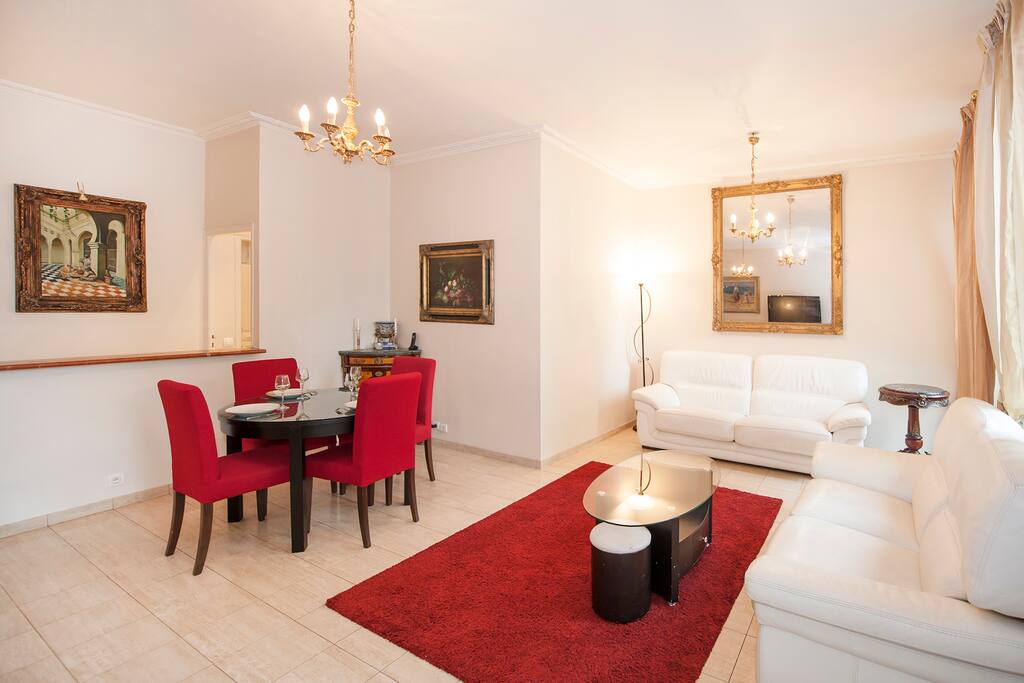 This spacious apartment can accommodate 4 people comfortably, and comes fully furnished with modern equipment and appliances (WiFi Internet access, cable TV, washer/dryer). It's in the Marais, one of Paris's most charming and historic neighborhoods.
房源
Spacious and charming, this apartment can accommodate 4 people comfortably, and comes fully furnished with modern equipment and appliances (WiFi Internet access, cable TV, and washing/drying machine).
There are two bedrooms which each can sleep two people: one with a double bed, one with two single beds.
There are two bathrooms: one with a bathtub, the other with a shower. The apartment has one toilet, which is located next to the kitchen.
The kitchen is large and fully equipped with a fridge, oven, stove, microwave, toaster, etc.
Located on the first floor with an elevator, this flat is in a peaceful neighborhood, full of cute boutiques, bars, and restaurants. It's in the historic Marais district, near the Centre Pompidou, Place des Vosges, and the Place de la Bastille. The area is one of the oldest and most charismatic in Paris; you'll love exploring the winding Medieval streets, lined with charismatic boutiques, boulangeries, and cafés.
房客使用权限
The unit is private, so all facilities (tv, washing machine, kitchen, etc.) are accessible. You can also make unlimited phone calls within France and to the USA.
与房客的互动
We'll greet you with the keys and remain available for support throughout your stay, in case a maintenance issue arises.
其他注意事项
To be in compliance with French law, we ask all renters to:
a) sign a rental contract
b) provide us with their address (to prove that their permanent residence is elsewhere than this apartment)
c) A verified ID is required in order to book this unit. If your ID is not verified then we reserve the right to require a passport copy when reserving and/or at check-in.
Let us know if you have any qualms or questions about these procedures!
We can help provide a babycot, extra mid-stay cleaning, and in reserving taxis.
We can meet you during office hours (Mon-Sat, 10h-19h). However, arrivals on Sundays, holidays, and after 7pm on any day of the week incur a cash fee: 50€ before 22h, 75€ after 22h.
---
They communicated well and showed up to let us into the apartment within 5 minutes of our arrival. The apartment was clean, well furnished and is located in an excellent Paris neighborhood. The person who met us and let us in was very helpful in showing us the apartment, explaining how all the appliances worked and were very clear in communicating their expectations on what to take care of when leaving.
---
Были в Париже в ноябре 2015. Позвонили из аэропорта в агентство Гламапари и, когда приехали, нас уже ждал представитель (русскоговорящая девушка Лязат). Лязат всё нам показала, записала реквизиты банковской карты (залог за сохранность имущества 1000 Евро, но сумма не блокируется; в итоге ничего с нас не удержали, т.к. происшествий не было). За время проживания у нас возникало несколько вопросов - писали по почте, агентство отвечало довольно быстро. Уезжали мы в выходной день, поэтому просто захлопнули ключи внутри квартиры. Квартира очень понравилась! Жили вчетвером (две семейные пары), места хватало всем. Старый дом с высокими окнами, просторная гостиная, довольно большая кухня со всем необходимым. Окна кухни выходят в уютный внутренний двор. Окна гостиной и большой спальни выходят на Бульвар Бомарше с его магазинчиками и платанами. В маленькой спальне нет окна, зато в ней тишина и отдельная ванная комната с душем и раковиной. Почти весь пол выложен плиткой, так что босиком ходить холодно. Wi-Fi работает замечательно. Телевизор ни разу не включали:) Пребывание в Marais оставило самые приятные впечатления! При бронировании возникла проблема с ценой квартиры, хозяин утверждал, что на сайте Airbnb указана неверная стоимость и нужно доплатить. Мы обратились к Airbnb за разъяснениями и проблема была решена, доплачивать не пришлось (хотя цена на сайте после этого действительно стала выше). Спасибо Airbnb и спасибо Glamaparis!
---
The apartment is situated in a great area near restaurants, cafés, and sights. Very easy access to other arrondissements. There were a few issues with the apartment, however, the hosts seemed quick to reply. We would of liked to have seen a few more conveniences left in the kitchen as well as a reasonable amount of towels & toilet paper left for the amount of people staying & for the length of time.
---
I founded GLAMAPARIS (Gestion Location Appartements Meublés A PARIS) in 2008 after having discovered short term rental in Barcelona.
The agency GLAMAPARIS is a licensed real estate agency specializing in property management specifically in the 1st, 6th, and 8th arrondissements. With over 700 reviews on renowned websites such as Airbnb, TripAdvisor and others, we always do our best to ensure the high quality of services in all the properties we manage.
Our team works with dozens of individual property owners who trust us . We aim to make the renting process simple and secure, facilitating the reservation process, and providing support throughout your stay.
Our services include on-site check-in, maintenance, and professional cleaning services. We also create rental contracts and accept credit card payments.
语言:
English、Español、Français