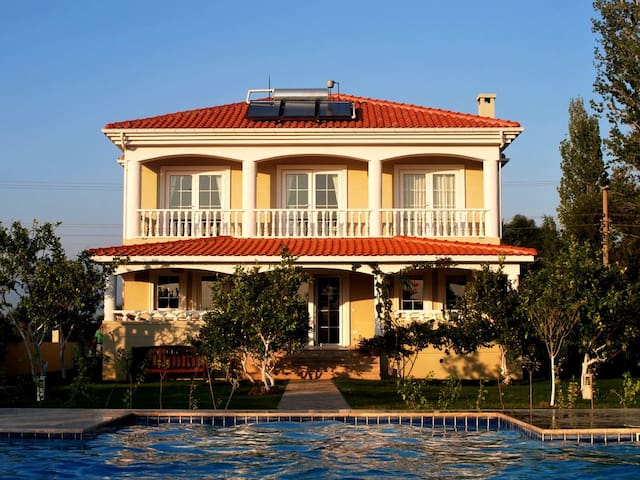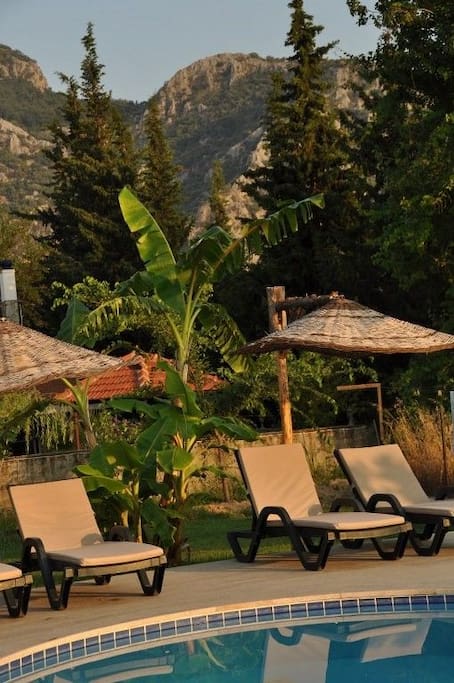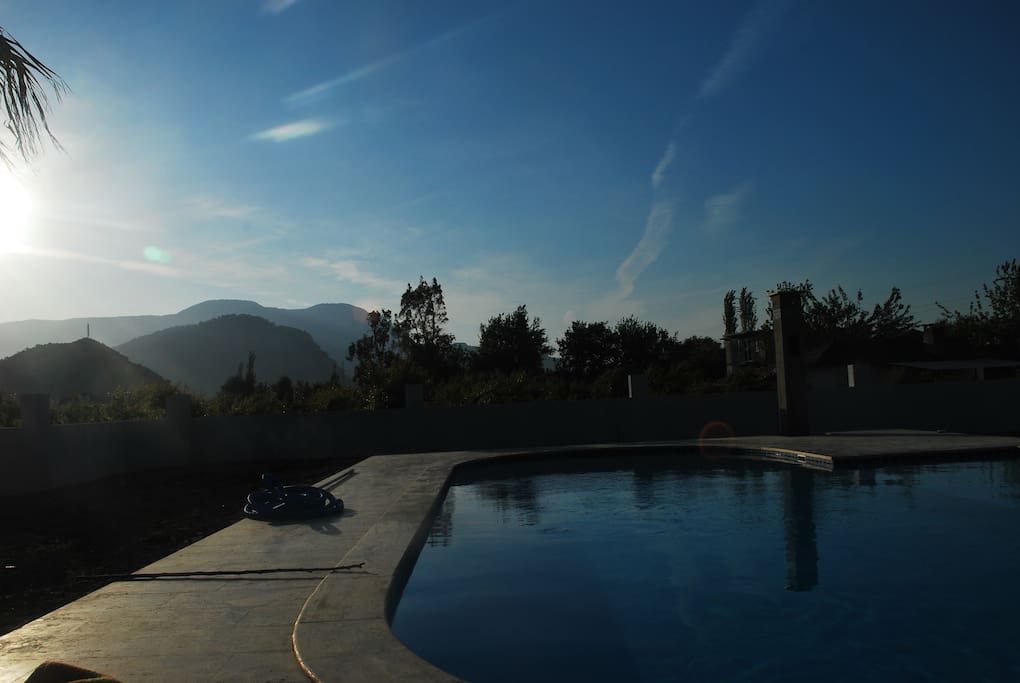 Beautiful villa (10 p), with private pool just outside Dalyan.
The house is fully equipped all rooms air conditioned. Spacious lounge with fireplace. Modern fully furnished kitchen. Wifi. Large veranda with multiple seats and big table. Big garden (1100 sqm) and offering a splendid view over the mountain
Big garden with orange-, fig-, lemon-, banana trees and more. Barbecue, large swimming pool (40 m2) , sun chairs and umbrellas.
房源
Dalyan is a small town in the province of Mugla on the southwest (Lycian) coast of the Mediterranean Sea. It is approximately 25 minutes from the international airport of Dalaman. The town is situated in the center of a broad delta of special and unspoiled natural beauty that is assigned a protected status. In addition, the area is of great historical value: the ancient city of Caunos lies on the opposite side of the river that runs along Dalyan.The ruins of this ancient city from the 3rd century of our era are so extensive that they are still not fully uncovered.
The Dalyan River, allowing water to flow from the Köycegiz lake to the Mediterranean runs right past the town, where it is flanked by numerous terraces where you can enjoy the always warm summer evenings and have a refreshing drink or enjoy the delicious local Turkish cuisine. And why not order fresh fish, newly caught while you watch? From here one has a breathtaking view of the river that passes the famous ancient Lycian rock tombs and then meanders through a network of lakes and waterways. Through this mixture of fresh and salt water, these vast wetlands provide habitat for a large species of fish, birds and other life in and around the water.
It is therefore the town had retained its natural charm and beauty and has become a small center for tourism, where massive tourism and big hotels near the beach are taboo. There are many restaurants in the center, which offer a wide choice of lively shops and nightlife. A regular dolmus service operates a shuttle service, not only to larger towns in the region such as Fethiye and Marmaris, but also to smaller towns in the immediate vicinity.
In short: this is a unique and unspoilt destination with lots of culture, charm, history and spectacular scenery, excellent local cuisine and above all an unforgettable hospitality. Really a very suitable destination for families - no doubt, before your stay ended, you will look forward to come back for another visit.
The beach
The Iztuzu beach, regarded as one of the most beautiful beaches in the world, lies 5 km south of the river that cuts through the delta.
The spotless sandy beach together with the turquoise sea is an ideal place for tourists who in search for an attractive subtropical beach, ideal for swimming, snorkeling and other forms of entertainment but far from mass tourism. The area around the beach is protected in favor of the turtles and therefore there are no buildings directly near the beach and it takes a short but beautiful trip to get there, The beach can be reached by a wonderful and relaxing 20 minute trip with one of the numerous turkish boats from the municipal boat company, but you can also get there by car or by minibus.
Say Dalyan and you say turtles. The Iztuzu beach at Dalyan is one of the last beaches in the world where the great sea turtle Caretta caretta (which can reach a weight over 350 lbs) breeds. This special turtles return every summer since time immemorial to lay their eggs and bury them in the sand to be hatched by the heat of the sun. The discovery that Iztuzu Beach is one of the last places on earth where these turtles (Caretta caretta) lay their eggs, was the reason this beach was declared a protected wildlife area of international importance.
The turtle has become the symbol of Dalyan, a place that has set the goal of protecting this beautiful endangered species. The nature in this region is the reason this is one of the few officially protected areas in Turkey. And for this reason there is no building near the beach, so you can be sure that the small-scale tourism and beach stays calm, even in high season.
As nature in and around Dalyan is carefully protected, Dalyan is not a destination for mass tourism but is retained as an authentic paradise for Turkey where peace, nature and beautiful bays and beaches remained almost untouched. For just a few lira, small taxi boats will bring you via Dalyan harbour on a scenic route across the river to an even more quiet part of the beach which is not accessible for cars.
The environment
In the immediate vicinity of the villa, there is much nice to see, to do and to experience. There is a beautiful untouched nature: this region is even on of the few officially protected areas in Turkey and offers many opportunities for beautiful walks with breathtaking views. Walking through this area, chances are that you will meet several wild turtles crossing your path. Then there are the ruins of the millennial-old city of Caunos (3000 BC) and the famous rock-cut Lycian tombs. A local family will gladly bring you in their rowing boat to the other side of the river where the ruins are located. Nearby are the famous mud baths of Sultaniye that are said to cure many ailments, and even to have an anti-aging effect. After a healthy and rejuvenating mud bath, there is the possibility of a refreshing bath in natural sulfur-rich hot spring with 40-degree warm water.
The Lycian coast is characterized by rugged mountains, olive groves, countless orange and lemon trees and vast forests. The beaches are very clean and the coast has countless unspoiled rocky coves and small sandy beaches. The sea is clear and contains a wealth of fish. In short, this area is really a natural paradise.
Authentic fishing villages, idyllic resorts, the remains of antiquity that witnesses thousands of years of history, culture and mythology of this region make it to a destination that offers something for everybody, whether you are a nature lover, sun addict or looking for a more active holiday. Only if you are looking for mass entertainment and huge tourits buildings directly at the beach, you will have to look elsewhere.....
房客使用权限
Guest have access tot all the rooms in the house. The large pool is private, offers full privacy and can be used freely.
After booking, we will on request send you a dedicated app with practical information about the house and neighbourhood.
其他注意事项
For more details and guest reviews take a look at our (EMAIL HIDDEN) search for accomodation D (PHONE NUMBER HIDDEN).
---
Villa Jakaranda was beyond our high expectations. It was better than advertised. The villa was luxurious and had everything we needed. The owners gave us lots of advice, all of which we took and thank goodness we did. We were met at the airport in a mini bus, care of the villa manager Select and rented a seven seater through them which was very reasonably priced. I have absolutely nothing negative to say. We will be back. Thank you Jan.
---
Guests are free to contact us directly. Mails will usually be answered within 1 day. Our goal is to offer a very pleasant stay in a marvellous villa with very special atmosphere.
Saskia and Jan are the owners of Villa Jakaranda. They live in Holland, near to the coast, where Saskia works as an artist, making paintings inspired on her great respect for the women Africa, where she lived for many years. Her paintings can be . She created the very special cosy atmosphere in the villa that our guests appreciate so much.
Jan is a family doctor in a medical centre in Bergen op Zoom . Sometimes he travels back to work in the country he can't live without: Sweden.
Saskia and Jan designed and builded there dream villa in Dalyan in 2009 and often visit the villa with their family and friends. In between, we try to travel on adventurous journeys to the countries that gained our passion.
Our goal is to offer our guests a very pleasant stay in Jakaranda, with an informal and personal service.
语言:
Deutsch、English、Nederlands、Svenska