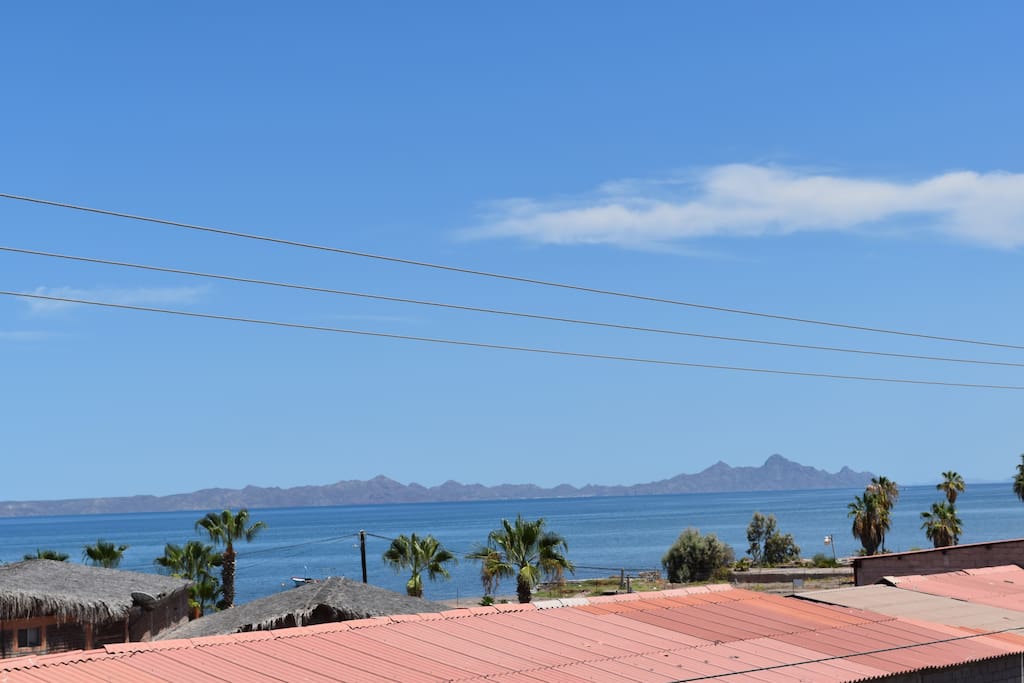 We have 4 private studios with their own bathroom in a safe neighborhood just a couple hundred yards from the beach and within walking distance to downtown and the malecon. We provide gated parking and a lounge on the 3rd floor with a bathroom, kitchenette and a BBQ for exclusive use of registered guest. Our rooms are equipped with 1 Queen and 1 Tween size bed TV, A/C a small fridge and a coffee pot .
---
My husband and I stayed at Vistas de Loreto in July 2017. The property, which is a sturdy new construction and in great shape, is located in a quiet neighborhood of Loreto, just a block away from the beach, where we walked for ever. That was a great advantage for us as we wanted to relax, however we needed to take the car to get food, go to the city center, or walk along the "Malecon". The rooms are spacious and the furniture, mattresses, sheets, comforters, and the bathroom were spotless clean. Our room had 2 beds and it could sleep 4 people, it also included a table 2 large chairs, 2 bed-side tables, a closet area with hangers, a cabinet with an old-school TV (cable and Wi-Fi were included), and a fridge. Moreover, the room's Air Conditioner did a great job in keeping the room cool at all times. Our room was on the 2nd floor whose balcony had table and chairs, but the "Awesomest" spot was the third floor which was a covered open area where we could enjoy the beach/palm view while breathing the fresh beach breeze on the hanging chair and hammocks. There was also a stereo, BBQ, refrigerator, tables and chairs there available to make our stay in Loreto memorable. The hosts, Eva & Ben apart from being bilingual in Spanish and English are very friendly, respectful, and available when needed. They are both great resources when it comes to asking information about fishing, stores, good local food, and sightseeing. We definitely recommend Vistas de Loreto to our friends and family as its a quiet, family, and budget friendly place to stay!
---
Eva's place is just what the doctor ordered for tranquility. It's located in a very secure neighborhood in Loreto. It's a bit far from downtown and the Malecon however, to have miles of beach to yourself, a room with cable and hundreds of movies, a hammock on the top roof that sways in the breeze, and gracious hosts, it's a pretty nice trade off. There's a BBQ there that you can use so I suggest if you want to eat there to grab groceries before heading there. There's a couple little stores around but it's a hot dusty walk to them and the selection is small. The walk to the beach is about a block and there's tons of shells to be found. The a/c works wonderful, the hosts are from the states so communication is no problem, the beds are nice and firm, and if you enjoy a relaxing glass of wine with a wonderful view this is the place to stay!
---