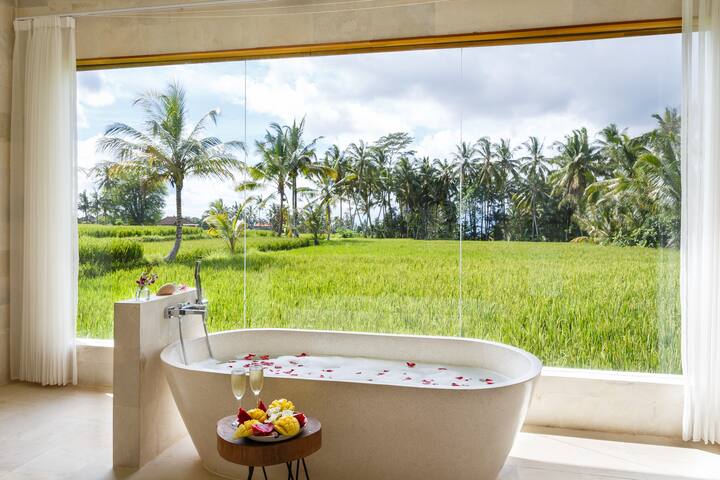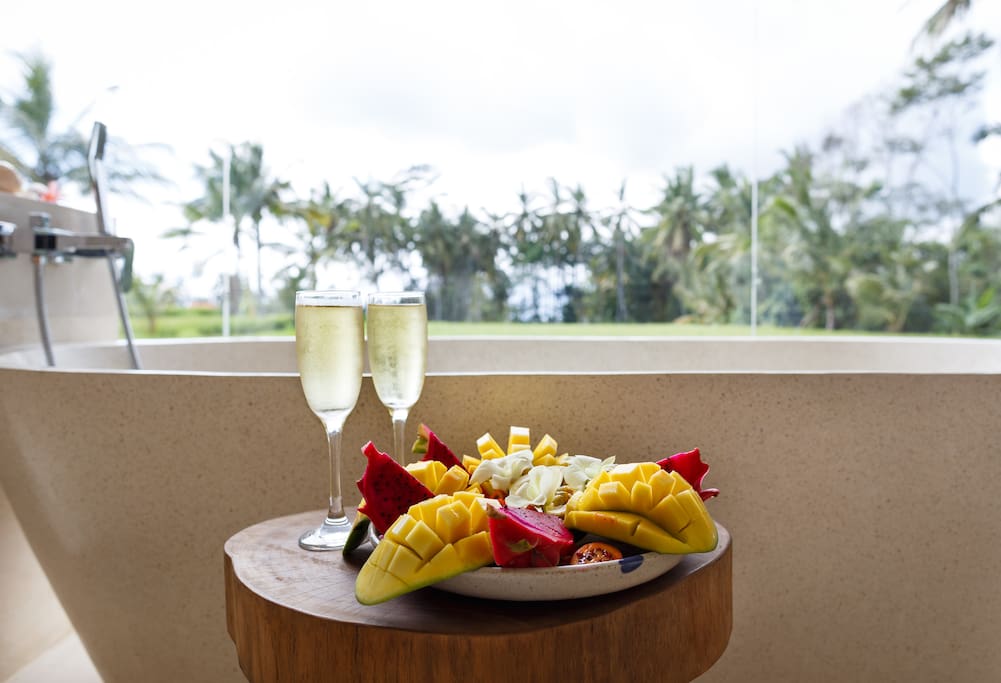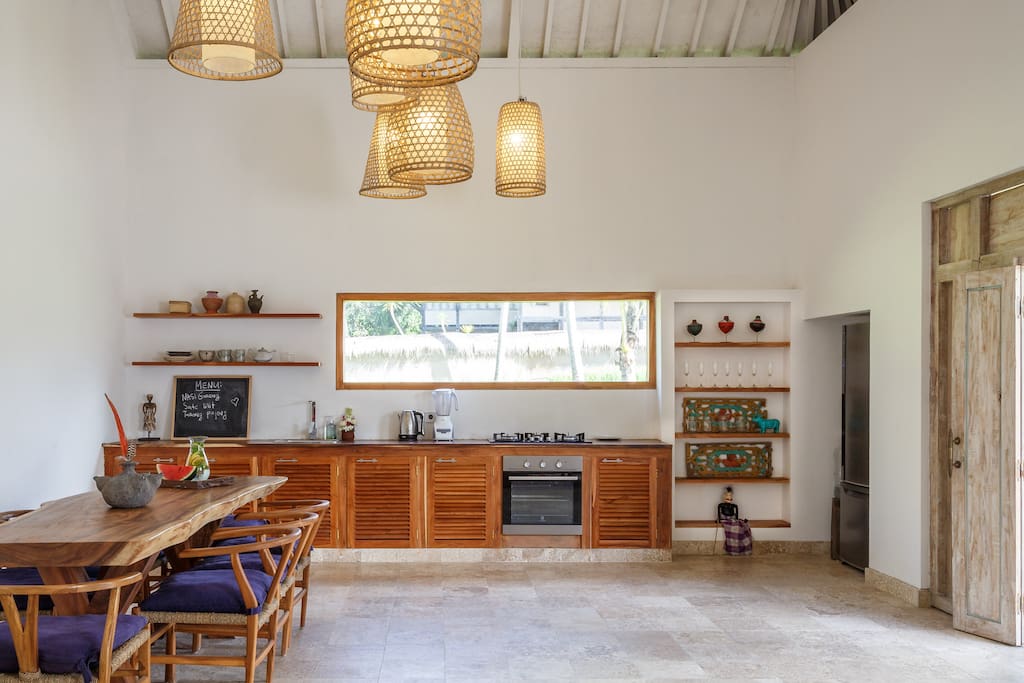 新建的三卧室豪华家庭别墅在乌布,建于2017年1月! 新别墅推广今天-40%。 距离乌布中心不到10分钟,非常平静的位置在稻田之间,就在河上! 大泳池,按摩浴缸和儿童游泳池(60厘米),可能安装游泳池围栏! 工作人员将帮助您满足您的所有要求。 我们很乐意迎接新客人。谢谢!
New 3 bedroom luxury family villa in Ubud, built in January 2017!
New villa promotion today -40%.
Less then 10 minutes from Ubud center, very calm location between rice fields and right above the river!
Big pool, jacuzzi and kids pool (60 cm), possible to install pool fence!
Staff will help you with all your requests.
We will be happy to welcome new guests. Thank you!
房源
华丽的新家庭别墅位于一个非常安静的位置,没有运输噪音,没有村庄的鸡和狗 - 只有大自然,鸟,蝉的声音,从小溪流中的水的声音,通过财产。 别墅两边最美丽的稻田和主卧室的丛林景色。天气晴朗时,您甚至可以看到火山阿贡 - 最神圣的巴厘岛山。在米田中间非常美丽的小径开始在房子的后面,所以你可以在早晨和晚上徒步旅行,享受大自然的美丽。然而,只有10分钟车程或自行车到乌布中心,所有的兴奋的好餐厅,伟大的瑜伽课程和美丽的画廊。别墅非常宽敞 - 总面积200平方米。 (1800平方英尺),是一个大家庭或一群朋友的理想选择。两间主卧室设有特大号床,最舒适的矫形床垫和枕头,连接浴室可欣赏稻田或丛林和大浴缸的美景。在每间卧室的玻璃门完全打开了天井,您可以欣赏花园的壮丽景色。对于儿童,设有一间装有双层床的独立装饰精美的卧室和带舒适浴缸的浴室。 我们非常自豪我们的大游泳池与按摩浴缸,也可以用作儿童部分(深60厘米)。我们的大客厅与厨房(50米)结合在一起。由罕见的檀香木制成的餐桌最多可容纳10人。厨房内设有大冰箱,水壶,烤箱,搅拌机和烤面包机。别墅的所有家具和装饰都是完全天然的 - 大理石,柚木,su。。我们从印度尼西亚 - 婆罗洲,苏门答腊和巴布亚的各个岛屿带来的所有装饰。 高速Wi-Fi互联网让您即使在视频会议或在线观看电影时也可以享受舒适的工作和娱乐 我们的房子团队非常好,专业人士,他们每天在别的时间清洁别墅,方便你。我们很乐意安排旅行,出差,转机,租车或骑自行车,并在乌布推荐咖啡馆,餐馆和商店。另外,如果你需要一个保姆或厨师,我们会帮你找到他们!
Gorgeous new family villa located in a very quiet location, no noise from transport, no village chicken and dogs - only sounds of nature, birds, cicadas, the sound of water from the little stream, which passes through the property.
There are most beautiful rice fields on two sides of the villa and a jungle view from one of the master bedrooms. In fine weather you can even see the volcano Agung – most sacred Balinese mountain. Very beautiful trails in the middle of the rice fields start directly behind the House so you can hike in the morning and in the evening and enjoy the beauty of nature. And yet it is only 10 minutes by car or bike to the Ubud center with all the excitement of nice restaurants, great yoga classes and beautiful galleries. Villa is very spacious - total size 200 sq. m. (1800 sq. feet), and it is ideal for a large family or a group of friends. Two master bedrooms have king size beds, most comfortable orthopedic mattresses and pillows, ensuite bathrooms with incredible views of the rice field or jungle and large bathtubs. In each of the bedrooms glass doors open completely to the patio and you can enjoy splendid views of the garden. For children there is a separate nicely decorated bedroom with a bunk bed and a bathroom with a comfortable bathtub.
We are very proud of our big pool with jacuzzi which can also be used as a children's section (depth 60 cm). Our large living room combined with kitchen (50 m). The dining table made of rare suar wood is good for up to ten people. In the kitchen you will find a large refrigerator, kettle, oven, blender and toaster. All furniture and decoration of the villa is totally natural - marble, teak, suar. All the décor we brought from various islands of Indonesia - Borneo, Sumatra and Papua.
High speed WI-FI internet allows you to work and play with comfort even do video conferencing or watch movies online
Our house team is very nice and professionals, they clean the villa every day at the times that would be convenient for you. We will be happy to arrange any excursions, trips, transfers, rent a car or bike and recommend cafes, restaurants and shops in Ubud. In addition, if you need a nanny or cook, we'll help you find them!
---
This Villa ended up being exactly what my wife and I needed right outside the hustle and bustle of the high traffic tourist areas of Ubud - we found this quiet and quant sanctuary to relax in. From its spacious living space (which included 3 very adequate bedrooms with comfortable beds, a lounge "relax" area, and equipped kitchen) to our favorite part of the house - the most romantic/sexy "fully immersed in nature" glass-walled bathroom that seems to dissolve into the fields outside; all tastefully and classically equipped with Indonesian furniture and decor and has that new house feel (very clean and tidy) - my wife and I were both comfortable and our spirits were lifted. We enjoyed the swimming pool and especially the jacuzzi at the end of each day. We are already planning another trip back and will definitely be choosing this Villa to stay at again. We would also like to highlight that dealing with Sri and the Villa manager were a joy and they were very accommodating to our needs and providing useful information on every aspect of our trip. They were quick to communicate and we never once had any issues. Thank you again for making our trip so enjoyable!
---
I have been to Ubud several times before but only this time I was able to find such a perfect location. Very quiet - no dogs, no roosters, no road traffic – and yet just 10 minutes from downtown Ubud! And the views! Two sides of the villa facing most beautiful rice fields and one side facing the jungle. Overall the best combination of staying in a very private and secluded space and being very close to everything! The communication with Sri was very easy and the villa manager Made took such a good care of us – starting from meeting us at the airport and arranging all the need trips and excursions. The house was cleaned every day by a very nice lady Ayu. The villa itself is soooo nice and comfortable, the rooms are very spacious and the beds are great too. All our family loved the design – simple yet very elegant, no unnecessary stuff that you sometimes see in other houses in Bali. Probably the happiest members of our family were our kids! They just loved the kids room and especially the kids part of the swimming pool. Adults had difficult time kicking them off the pool when we wanted to enjoy the jacuzzi. Thank you so much, Sri, Made and Ayu! We will be back)
---
There are several négative points and one very good one. The négative ones are : dirty environment, too far away from ubud, rice terras more brown than green and cleaning not so good. Very good point is our guide ( comes with the jouée renting): Made. Very Nice and smart balinese guy. Excellent english. We learnt a lot with Heim about balinese culture and religion. He also took us in many very interesting and not so crowded places.
---
The villa is beautifull, well decorated, but during our stay we faced quite a lot of issues, electricity stop many times during the day, as well the water. There was no hot water in the main bathroom during all our stay. The bottle of gas was empty for cooking. Moreover the villa is difficult to find, you have to passby another villa to access it, better location information should be provided. Nevertheless the staff is very friendly and was always supportive to try to fix the issues. Overall our stay was good but these things could be improved to justify the price per night.
Good day, Thank you for your feedback and thank you for been one of our first customers at our new villa. These problems at villa were connected with electricity problems in area, governmental electricity company was installing new line. We are sorry about that and we will be happy to see you again next time!
---