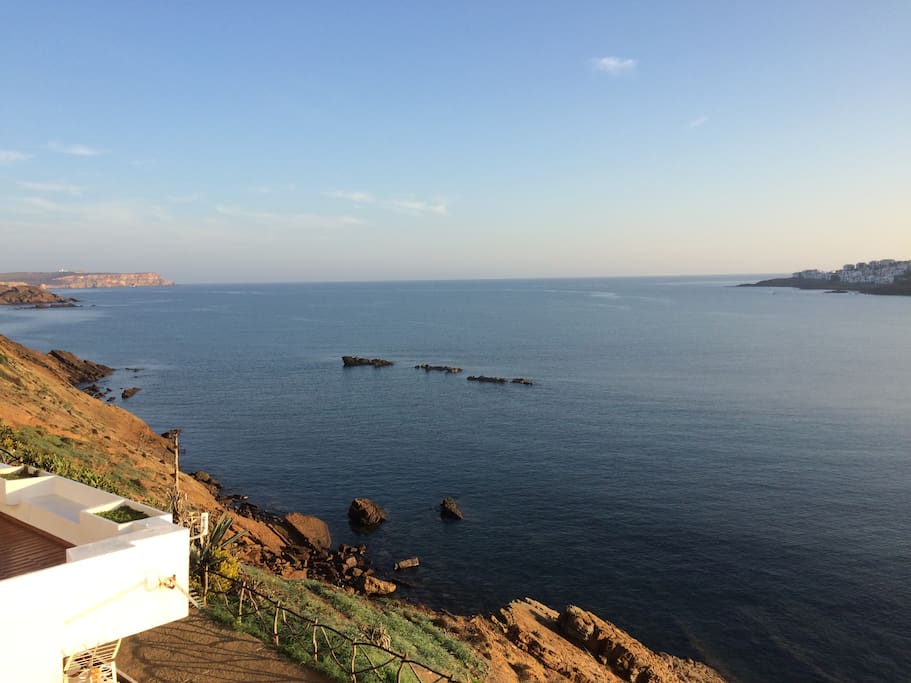 Amazing terrace on the sea in natural parc !!
COMPLETE RENOVATION FOR MAY 2017
Apartment of (PHONE NUMBER HIDDEN)) including a huge terrace with a view from above the sea. The beach is accessible by foot right below the apartment!! Located in the center of a natural park at 5 min by car from the gorgeous beaches of Cavalleria and Cala Pregonda.
You will appreciate the peace of mind, the brightness and the comfort of this spacious apartment. Free wifi, parkings and fully equipped.
In July & August we only rent from Saturday to Saturday (7 days).
房源
Terrace de 200 ft², 3 rooms and a sofa in the living room. 2 bathrooms. Washing machine et kitchen fully equipped. Parking.
其他注意事项
In July and August, we rent only from Saturday to Saturday (7 nights).
Because of the terrace, children shouldn't be left alone.
---
The appartement is very nice, spacious and everything we needed was there. Most importantly the view of the sea was incredible!!! It's like being on a boat. Even though we did not have such a nice weather, we really enjoyed the place! ! We came with our 18 months daughter and everything we needed was there. We were supposed to come with some friends and their baby (they did not make it) and Othello bought an additional baby cot specially for us, this was very much appreciated from him. Leticia welcomed us and she was very nice too. We definitely recommend their place!
---
This is a fab apartment. We stayed with our 4 kids aged 6-14. The rooms are spacious and the bathrooms really nicely done too. It's part of a block of apartments and we loved that all the other people staying were Spanish families and really quiet and friendly. The terrace is gorgeous. It is literally a minutes walk down a path to Cala Tirant - not crowded at all in July when we stayed.even on the warmest days there was always a breeze. It's the bay opposite Fornells - the one night we ate out there we walked along the beach takes 10/15 mins, nice to be able to walk to local restaurant but nice too not to be staying in Fornells which felt much more generic than our lovely characterful apartment. We only ate out a few times - Tapas in Es Mercadel which was nice great service (but not that authentic) and at Cafe de Nord in Fornells - friendly service but we didn't think the food was so good there. Our best day we hired Kayaks in Port Addaia and explored the local beaches which was great for our teens even though the swell was quite alarming when we got out of the bay! We left it too late to do horse Riding with the 2 companies so book in when you arrive if you want to do that. We also went to Splash Menorca for a day which was about 35 mins away for water slides. as well as hanging out on Cala Tirant we found some other amazing beaches some crowded but some not so much. (Turqueta our fave). Sam and Leticia were really helpful every step of the way. All in all a lovely 5 night stay!
---
Othello, Tito, Sam, and his friends were awesome is communicating to us and helping us in our first visit to Menorca. Sam was our point guy for the seven days, and he was very helpful if we had any minor issue or question. He greeted us at the apartment with crisps and wine for me and my wife, and ice-lollies for the kids. We were privileged to be the first in the property, and we could tell the guys put a lot of thought and care into getting the place ready for us. There are a few places that could be improved on (paint in the master bath, extra fan, few extra helpful kitchen utensils, grill tray) - but NOTHING to prevent a couple or family from having an amazing time. The views from the apartment are breath-taking. A full panoramic view includes a lighthouse in the distance, the crystal clear blue sea, the city nested on some hills, and the beach. The location is perfect. At night, there seem to be some serious night parties at the resort across the beach where the city is. If your looking for a quiet holiday, this is the place. The parties were only a faint whisper for us. The city is an easy walk across the beach if you wanted to join the fun. There is a supermarket in the city across as well for any grocery needs. Also, Cafe del Nord is the best restaurant over there. We ate at the resort once, and didn't care for the food quality. Anyone holidaying in Menorca should know that grocery prices are really high. Just budget a little extra. Definitely way cheaper than eating out, but be prepared. It's nice to have a car to swing around to the city to get groceries so you dont have to drag them across the beach. The beach itself was amazing. The water is amazing and the beach itself seems really clean. About half of the women on the beach were topless, a few naked kids, and there were a total of 3 nude men the seven days we were there. We were not really completely prepared for that part, but had to have a chat with our kids on what that was all about. We were able to swim in the resort pool for £8/adult and £4 per kid if we didn't care for the beach that day (full clothes requirement). The Splash park is really nice as well for the kids and the resort pool in included in that if you get those tickets. Overall - great apartment, awesome hosts, perfect location. We highly recommend and hope to be back!
---