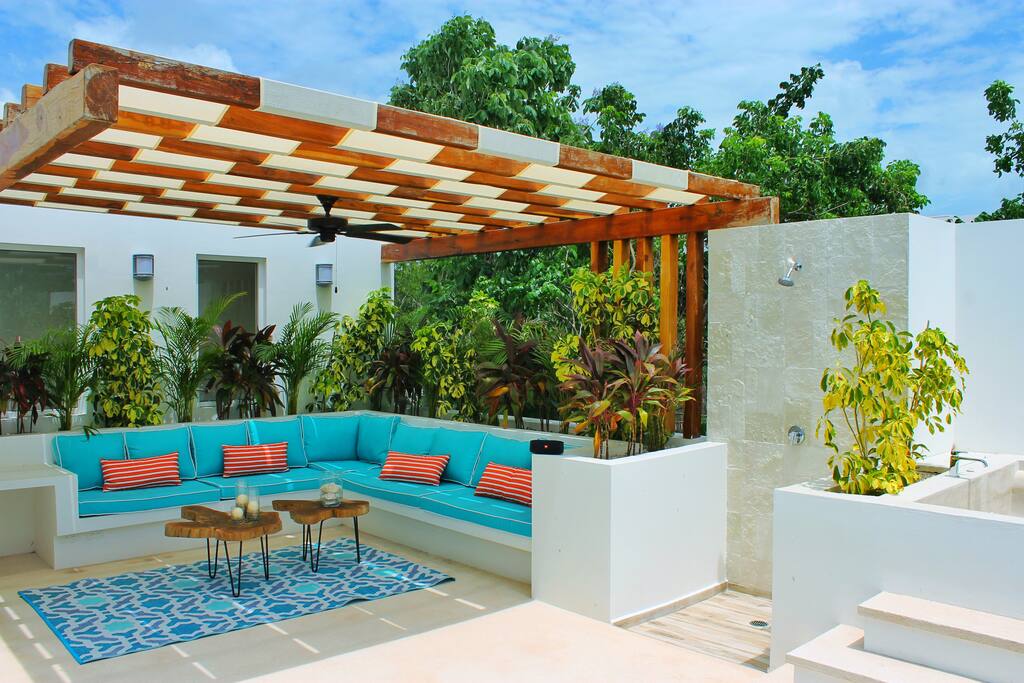 此房源的描述已由谷歌翻译从英语翻译成您的语言,但谷歌翻译并不能保证翻译的准确性。
新的私人豪华别墅于2017年2月完成,位于图卢姆市中心。享受加勒比海的一天,在淡水丛林cenotes游泳,或探索古老的玛雅遗址,然后回到家中,走出去在图勒姆普埃布洛的各种餐馆和商店。感受在家,并成为这个加勒比城镇为您提供的独特能量的一部分。
其他注意事项
如果周围地区不要垃圾,我们将非常感激,当您离开家中以节省当地的能源,并且尊重自然栖息地的动物时请关掉灯光和AC。
---
---
---
---
LATE CHECK OUT POLICY
Dear guest, it is important to make it known that we do not have reception staff 24 hours a day, Departures after 11 am, will incur an additional charge of 30 USD.
The "late check-out" service must be requested 24 hrs in advance and is subject to availability.
In the case of a late check out without having been confirmed before, the guest agrees to pay $ 100 penalty per hour.
Thank you very much for your understanding!
POLITICA DE SALIDA TARDÍA
Estimado huésped, es importante hacer de su conocimiento que no contamos con personal de recepción las 24 horas del día, por lo que La salida del PH después de las 11 am generá un cargo adicional de 30 USD.
El servicio de "salida tardía" deberá ser solicitado con 24 hrs de anticipación y queda sujeto a disponibilidad.
En el caso de una salida tardía sin haber sido confirmada 24 hrs antes, el huésped se compromete a pagar una multa de $100 usd por hora.
¡Muchas gracias por su comprensión!
---
---
---
---
This is a great value and lovely house. It has two bedrooms and two baths, a full kitchen, pool, and outdoor space. The villa is situated in a compound with a security guard at the front gate that oversees the 6-8 other villas of the same type. Think of it like a gated community, but on a much smaller scale. Very friendly staff working the front gate. I think it's perfect for two couples or a couple + two other friends, because one of the bedrooms has two queen sized beds. Everything was clean when we got there. Marc was very responsive and helpful. Christian was also very responsive. He also gave me the numbers of a few taxi cab drivers who he trusted. We didn't get to use them, but I recommend reaching out to them. My only issue was that the sliding door from the living room to the pool was broken. It didn't lock. They were responsive, but it took a couple of days to fix, however, I don't think it was completely fixed. This was my biggest concern, but yes there is security at the front and it's pretty much jungle in the back so you're probably safe. The pool started to grow algae, which was cleaned up the next day. In terms of the location, it is about a couple of blocks away from the main drag in Tulum. Overall, we enjoyed our stay!
---
Beautiful villa. We had a lovely stay and would highly recommend to anyone going to Tulum! The villa is a 15/20 minute drive from the beach but a short walk from downtown Tulum.
---
Great host. Checked in 5 minutes after booking the home. The house looks just like in the photos. The only downside was the a few things were broken (portable speaker and the sofa bed). Overall, good experience.
---
Overall we had a great time in Tulum and Marc's home is beautiful. Future guests should be aware that while the home is located in a beautiful, private community it is the back house in the community and backs up to a construction site. We were awakened every morning at 7 or 8am by loud banging and hammering. The home is located at least a 30 minute bike ride to our preferred beach (Playa Paraiso) and a 15 minute walk to the main restaurants and shops of the main road through Tulum but again, the house is beautiful and very comfortable for a group of 6. Communication was overall fine. I would highly recommend arranging transportation to/from the airport on your own as opposed to going through the host as we booked through the host and, long story short, the taxi cab mafia is CRAZY and we were not able to take this transportation and had to scramble for another option. Again, overall, we had a great stay and would recommend this home for future guests. Just be sure you pack some ear plugs ;)
---
Born in Barcelona Spain, he moved to Ireland with 13 years old to learn English. After three years living in there (Dublin and Sligo), he went back to Barcelona to finish high school. With 18 years old he started his bachelor degree in Business Administration and Finance, where he met his life friends and work buddies to this point. On third year, he moved to Shanghai China to learn Chinese and explore a completely different business market, where relationships mattered to an extend that you would like all stakeholders of your business to be happy in order to have a successful business career. This standards are the ones that helped Marc forged his values. After 5 years living in China and exploring the Relocation services, Tourism and Real Estate market by founding and successfully growing his company IntuuChina, he sold that company to move back to Spain and take care of a family business that his father left to him when he past away. It was a building in Barcelona that had a very low profit margin. After remodeling it and start renting it through Airbnb, he became well known in the Barcelona community and created a reputation in the vacation rentals community. In 2013, after the new major of Barcelona prohibited apartments for vacation rentals in Barcelona, he completely focused on his second strongest market, the Mayan Riviera. He started a consulting business for vacation rental companies, helping them optimize their customer service and increase reviews. Three years later, Marc decided to start by its own, managing his own apartments in order to have streamline communication between owners and guests. Marc manages his owners apartments like if they were their own, and you will see him running at 11pm trying to find a solution for any problem that guests have. Client satisfaction is the key aspect for any kind of business and that is something Marc has very much in mind. Marc strives to make vacations of his guests unique by recommending them places to visit and designing tailored experiences for their guests. Marc also has a transparent communication with owners, which makes him a very special vacation rental expert in Riviera Maya.

"A journey of a thousand miles, begins with one single step"
语言:
English、Español、中文