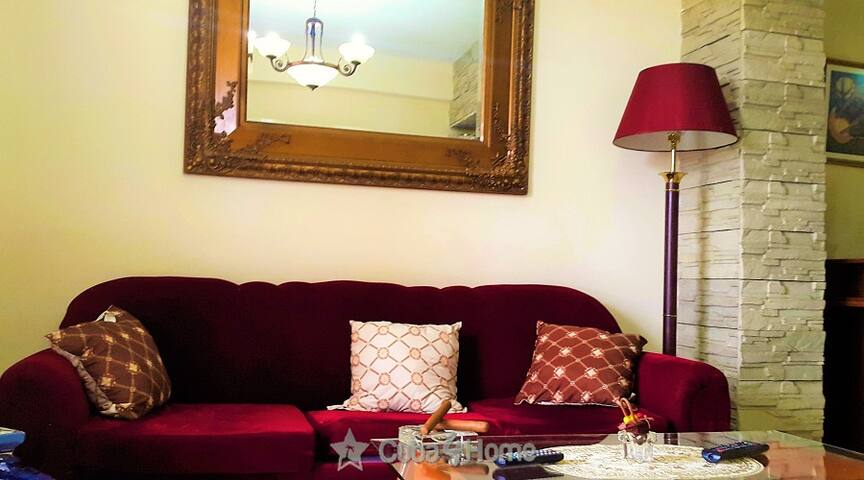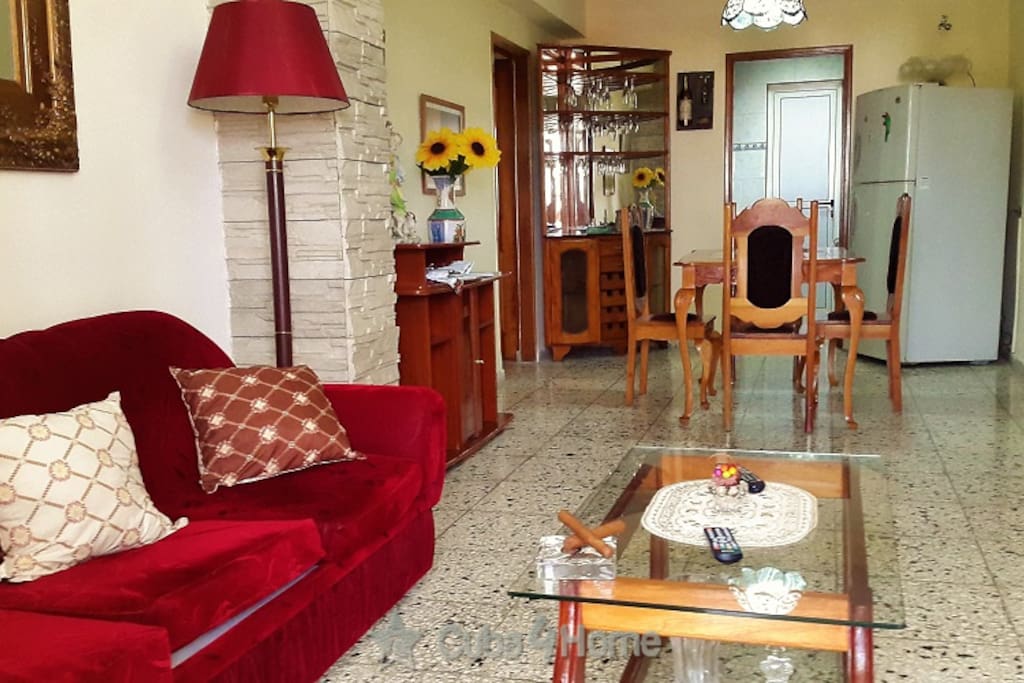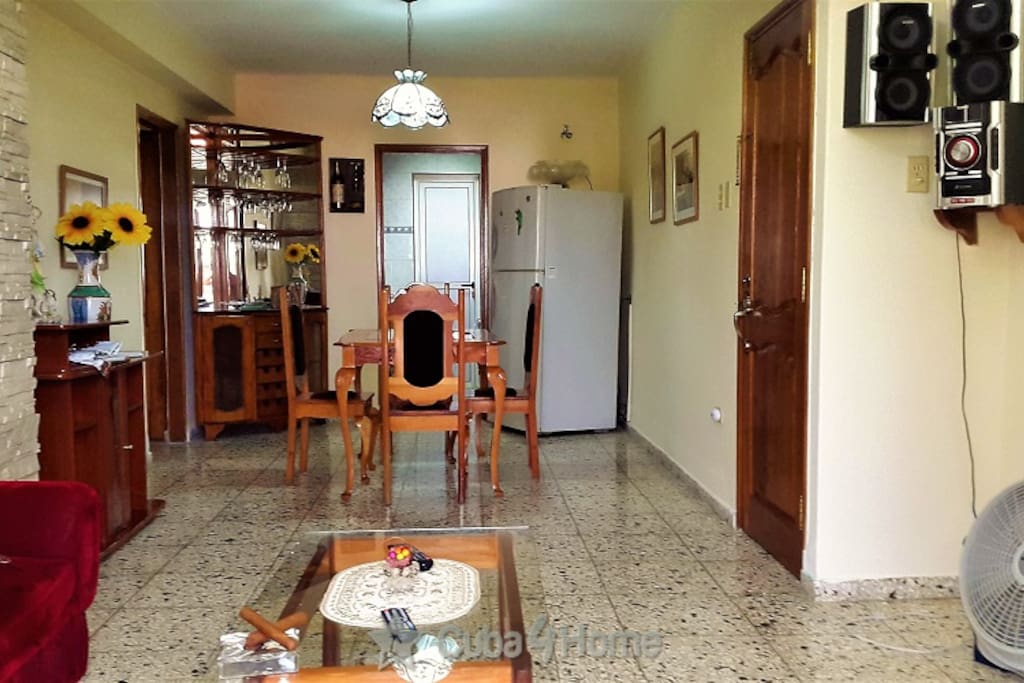 Independent 2 bedrooms apartment located in the 3 floor on a building in the border of the residential neighborhood of Miramar with a wonderful view of the city.
房源
The house has 2 double bedrooms, each room is provided with A/C, bed queen size and closet.
The house has also kitchen, spacious living room with dinner area, bath, balcony and garage.
The house is also equipped with microwave, iron, tv, stereo and washing machine for a very comfortable stay.
其他注意事项
Daily cleaning and delicius tradicinal breakfast with tortillas, coffe, tropical fruits and more, only 5 CUC person.
---
Gorge and Olema are warm and accommodating, they made sure we had everything we needed to make our stay in Cuba relaxing and enjoyable. The place looks exactly as portrayed and more. We kept the windows Open the entire time and never had a problem with bugs of any kind and it was so breezy we never had to run the air conditioner. the breakfast of fresh tropical juice fruits and vegetables eggs assorted meats and cheeses delicious bread and superb coffee was beyond words and a habit we will continue in mi casa. Two of THE best spots to eat both walking distance one of them you can see as you stand on the beautiful balcony that overlooks the charming town as well as the beautiful Caribbean Sea. We walked about a mile only to come back with every recommendation sending us back to the first café that the locals love. The next restaurant also in walking distance is a little bit expensive for the locals of though there are many locals that come and visit on date night in random nights of the week it's open 23 hours. There was also a club upstairs and it has some of the best food and some English speaking staff. The neighbors are friendly and helpful and my husband strolled to the afformentioned club and another one at 3am and never felt uncomfortable or threatened. So yes great neighborhood! Finally I saw a review that said Gorge asked them to pay $20 to stay in the extra room however our experience was very different. We ran into a leap a young lady who was traveling alone on an educational visa on our way to Cuba and offered her our spare room it worked out perfect because she's fluent in Spanish. When she explained they refused money and registered her. We will return
---
I had a wonderful stay at this home in Cuba. The hosts were very polite and willing to assist in every way. I even wanted my nails done and they were able to set that up for me, it was pretty cheap as well and she did an amazing job. The family is amazing and a jack of all trades. They can do just about anything or find someone for you who can. This was very helpful, as I did not have much of a plan set out. - Location: About 15 minutes from Old Havana, but there is a lot to see on the way. There is a bit of trash on the ground outside the house, but it's Cuba, so it's expected. There are 3 flights of winding stairs that you'll will have to climb, so get ready for exercise. - Host: Very accommodating. Even came in to clean one day and washed some of our dirty clothes. If you don't speak Spanish it may be a little hard to communicate, but her daughter knows a little bit of English. -Food: I would try the BBQ places that roast the whole pig. They were the best. There is one not too far from the house. Also, ropa veja is almost your best bet anywhere you go to eat. - Refrigerator: There are drinks provided in the refrigerator for a cost. KEEP your own count of those drinks. I kept a count, but did not write it down, and when it came to check out, she said more beer were drank than I originally counted. Your best bet would be to go to the liquor store and get your own case of beer. It is also cheaper that way. - Taxi: There is a main road, about a block away that you can catch a taxi. They also offer an all day driver for a set price. I would only use this service if you speak fluent Spanish and you have a set list of places that you want to go. - Breakfast: They offer a breakfast that they will come in to cook for you. This was priced 5CUC and 8CUC depending on what you choose. While this is convenient, it is a bit overpriced, but still very convenient. I would recommend trying the breakfast for one day to see if you like it. Go somewhere else for breakfast the next day and compare. - Clubs: Ask for recommendations from the host. They have really great suggestions and can even tell you what to wear. FYI: you can almost ask the host for anything and they are willing to accommodate. The place is stocked with towels, tissue (which you'll find most places are not), soap, toothpaste, shampoo, etc. The pictures do not do it justice as it is VERY beautiful and VERY clean. We truly enjoyed our stay and would love to stay here again. Thanks!
---
This was my first trip to Cuba, and it was a great experience. The apartment is exactly as described and pictured. It is very clean, and in a secured building I felt safe. The best part was our host Roland. He was so gracious, and accommodating. He picked us up from the airport, brought us fresh flowers, cleaned, took us to the club where we walked in VIP, and took us on a tour of Havana. We wouldn't have survived without him, such a pleasant surprise. I will definitely book with this company again. Thank you for everything
---
Great place to eat right across the street $2 per person for big dinners. And there is a great dance club a block away one of the best in town. The host was very helpful when possible. And great value for the money. Would be nice if there had been wifi in the apartment. You need to walk to parks or hotels and pay for wifi. It's sucks. So plan ahead. Also no data service on their cell network. But would rent again from these guys!!!
---
The house is very confortable, clean and wide, perfect for 4 people. It's located in a quiet neighborhood. We have reached old havana in about 15 minutes. Rolando is a great host!!!helpful, nice, and ready in our needs. He has given us many good suggestions about to move and to do in Havana and also he has prepared us a great breakfast. Rolando thank you so much, Surely a great place to stay!!!!
---
We are specialists in holidays to Cuba.
We offer B&B, holiday homes and villas, providing a complete customer service during the whole stay at our accommodations, to make your holiday in Cuba a perfect trip.