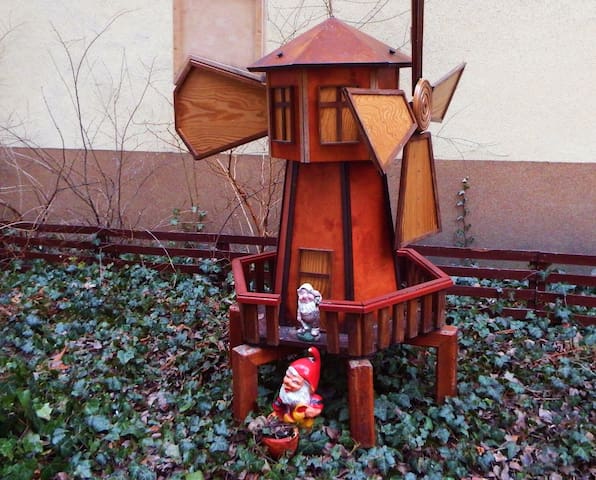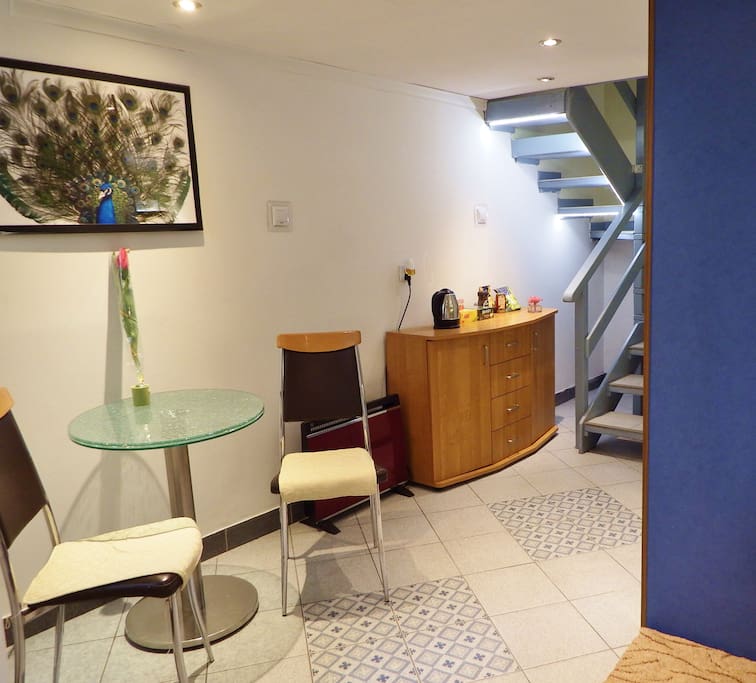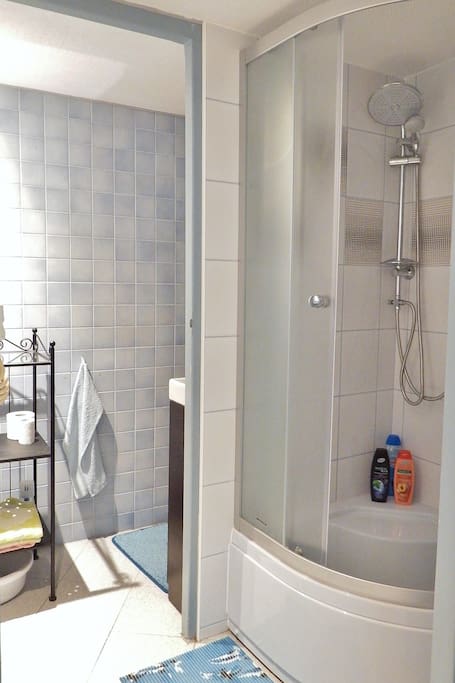 Atelie"孔雀羽毛"是在Krakow的中心的2级公寓。位于从十八世纪的历史建筑的一楼。楼下是一个小厨房(配备齐全),浴室和带玻璃桌的小型休息室。在顶部的卧室,衣柜和一个地球仪书桌。到处是接近的游客。许多咖啡馆,餐馆和杂货店附近。 "孔雀笔"指的是传统服装的克拉科夫。小窗口俯瞰花园提供了私密性。
---
---
---
---
4 zasady: 1.W mieszkaniu nie ma pralki i mieszkanie nie jest przygotowane na suszenie w nim prania. Jeśli planujesz pranie, daj mi znać, a pomogę Ci w tym.
2.Jeżeli pobrudzisz pościel lub ręczniki w znacznym stopniu, lub czymś trudnym do usunięcia, daj mi informacje. Jeśli plamy nie dadzą się usunąć, będę musiała to odkupić i użyć Twojego depozytu. Aby tego unikną, w mieszkaniu znajdziesz płatki kosmetyczne do demakijażu, oraz husteczki higieniczne.
3. Jeśli potłuczesz lub uszkodzisz cokolwiek z wyposażenia, daj mi znać. Muszę to dokupić dla następnych gości.
4. Gdy umyjesz naczynia wytrzyj proszę blat zlewu do sucha. Dziękuję.
---
---
---
最少住宿3晚。
从2017年10月01日 - 2017年12月15日起最少住宿7晚。
---
Grazyna's place is very comfortable and a great value. It is very easy to walk to the major attractions, while not being so close that the area is filled with souvenir shops or other tourists. Quiet most of the time but comes alive on the weekends. The place itself was very private and had everything you could need. Grazyna was very welcoming and took the time to describe where Krakow's hotspots are during my arrival. Only potential problem of the apartment were the windows. There were two tall narrow windows that let light only into downstairs area (the apartment has two floors but is basically one space plus a bathroom) which is great for people who don't want to be woken up by bright sunlight. But they don't close or open very easily so I could see it becoming stuffy during the hottest part of the summer. I had no problem because Krakow had perfect weather during my mid-August stay!
---
Świetna lokalizacja apartamentu, idealne miejsce dla pary na spędzenie weekendu w Krakowie. Na piechotę do rynku można dojść w parę minut, po drodze mijając mnóstwo restauracji czy sklepów. Pani Grażyna przywitała nas uśmiechem, wyjaśniła nam wszystko i oprowadziła po mieszkanku. W apartamencie było wszystko co potrzebne. Jak najbardziej zatrzymałbym się jeszcze raz! :)
---
We had a really nice stay in this cosy wee apartment. On the day we checked in, Grazyna had some unexpected urgent maintenance to deal with and made every effort to complete it that evening. However, it was necessary to provide us with alternative accommodation, which Grazyna sorted out and it was no hassle for us. Grazyna's husband picked us up the next morning and drove us to the apartment with our luggage. The apartment is small but cosy, in a nice, mostly quiet area, about ten minutes' walk to Old Town. Grazyna has thought of everything you need, and is very helpful regarding things you can do and places you can eat etc. I would recommend this as great value for money.
---
L'appartamento si trova a 10 minuti a piedi dalla piazza principale della città ed è vicinissimo a supermercati, mezzi pubblici e vita notturna. Grace ha curato nei minimi dettagli tutto l'arredamento, fornendovi il necessario per un perfetto e comodo soggiorno. Inoltre vi farà subito sentire a vostro agio accogliendovi con informazioni preziose sulla città. Assolutamente consigliato!
---
Our stay at Grażyna's place was perfect. The studio is cosy and has everything you need, it's also just a short walk away from the beautiful main square in Krakow but is situated in a lovely quiet complex near to some shops and cafes. Grażyna was the perfect host, she was so friendly and helpful and keen to tell us about what Krakow and the immediate area around the air bnb had to offer! Thank you Grażyna for a lovely stay!
---
Lovely place to stay if your a couple. About a 15min walk into the centre. If visiting in the summer months expect a muggy and humid room. Grażyna was very good when one of my friends had left a passport after checkout, so she drove straight to the apartment to help out. Unfortunately, he still missed his train and is now £20 poorer and furthermore, his intelligence rating has dropped to 23. For the value and extremely good apartment!
---
Piccolo appartamentino a pochi passi dalla piazza del mercato principale, ottima posizione per esplorare la città a piedi. L'appartamento è dotato di tutto il necessario e la proprietaria ha gentilmente provveduto a fornirci guide e consigli per visitare la città. Il bagno è molto piccolo e la doccia e il lavandino sono piuttosto scomodi, ma comunque funzionali. Grazie all'aggiunta di un materasso sul pavimento abbiamo potuto soggiornare in tre.
---
Zapraszam również do nowego apartamentu:
https://www.airbnb.pl/rooms/16978512?preview
Jeśli będziesz moim gościem kilka dni (powyżej 3 dni) to mogę zaprosić Cię na zwiedzanie Nowej Huty, czyli poznanie czasów komunizmu w Polsce i na (specjalność kuchni polskiej) najlepszy w Krakowie kotlet schabowy!